The Ragnals are considered one of the most well known families in wrestling, best recognized in Extreme Wrestlecrap Threaderation. They would split off into seperate promotions, but still recognize one another as family.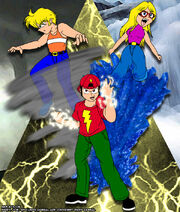 Scranton Area Wrestling
The Ragnals would begin their wrestling careers with SAW, looking to make an impact immediately. Unfortunately, they would each be stuck with idiotic and cliched indy gimmicks-
Mike as Scotty Dos, Illegal Mexican Immigrant
Joe as the Pumpkin King, which was actually him wearing a pumpkin for a crown while dressed as a farmer
Linda as the Sissy Slave, which pretty much says it all
None of the Ragnals won any titles under these gimmicks, until Mike won the Coal Miner's Championship (Their version of the Hardcore title), only to lose it a week later to Saint Andreas. After the match, which ended up being brutal, Joe and Linda would run out and help their brother to his feet, and the crowd would look on, confused with what was going on. Mike would shoot to the crowd, explaining how they were fed up with how things were run, even going so far as to say that "they were the only good thing to ever happen for this company". They would then finish the night by destroying the SAW World Champion, Victor Rodriguez, and then letting the fans know that they would forever be the Ragnals.
After this, their close friend Chuck Harris would buy out the promotion, and change things around, even helping the Ragnals with their elemental gimmicks. Mike and Joe would dominate the tag division, even holding the tag team titles for four months, while Linda would show that she was better than any woman (or man) the promotion threw her way. The Ragnals would soon be signed onto EWT, having brought the promotion into glory and defeated anyone thrown at them.
EWT
Mike Ragnal would be first to wrestle for the promotion, with Joe and Linda following a month later to help out against psychoapeguy. The three would often be recognized as "The First Family of EWT". Mike and Joe would soon win the Tag Team Championships, while Linda helped get the newly revived Girl Next Door division off the ground. The team would also help train Tanya Flaire on her way to becoming a better wrestler, while taking care of Chrysta and the Connection at the same time. Mike and Joe would split from tag team matches in April of 2006, but still keeping to good terms. Mike and Joe would also feud in late fall in sixty minute Iron Man FUN House match, with Joe losing the match. Mike would stick around with EWT, while Joe and Linda would leave while under good terms with the promotion.
GWC
After a month into Joe's GWC return and Mike's reign as Television champion, the Ragnal brothers reunited as a tag team for the first time since EWT. They had lost their initial return match to Ebony & Ivory, but would rebound when they won a non-title match against then champions, Motor City Mafia. They would defeat the team once more in the Tribulation match, which also included Dead End and Strike Force Two.
They are scheduled for another nontitle match against the Motor City Mafia, still the champions.
Tag Team Moves
Thunder Cracker is a finisher used by Mike and Joe throughout their tag runs. Mike would lift the opponent halfway up for a powerbomb, allowing Joe to hit them wiht an enziguri, stunning the opponent. Mike would then pick them higher up, then drop them for a sit-out powerbomb.
Elemental Disaster is a rare move used by all three siblings. Linda would hurracanrana the opponent from out of a corner and into Mike's arms for a powerbomb, which sets up for a Thunder Cracker.
Rice Krispies Bowl Spill is another rare move only used once in a match against Coming Attraction Productions. The Ragnals would each leap one after the other to the outside, while yelling out "Snap", "Crackle", or "Pop". Linda is said to be embarrassed by this move.
Championships Combined
EWT World Champion (Mike x1)
EWT Tri-State Championship (Mike x2)
EWT Toolshed Champion (Joe x1)
EWT Tag Team Championships (Mike & Joe x2)
EWT Girl Next Door Champion (Linda x1)
ROS No Limits Pure Champion (Mike x1)
KPW World Heavyweight Championship (Mike x1)
WCF Television Championship (Mike x1, last of v.6)
DU Askai Champion (Linda x1, current)
SAW World Heavyweight Champion (Mike x1)
SAW Lackawanna County Champion (Mike x1, Joe x1)
SAW Coal Miner's Championship (Mike x1, Joe x2)
SAW Tag Team Championships (Mike & Joe x1)
SAW Women's Championship (Linda x3)