Terry Chambers

Terry Chambers as the EAW Champion in March 2021.
Birth name
Terry Chambers
Born
April 23, 1989 (age 30)
Resides
Los Angeles, California
Spouse(s)
Trinity Jan (m. 2013; d. 2019)
Children
3
Professional wrestling career
Ring name(s)
Terry Chambers
Billed height
6'7 in
Billed weight
257 lbs
Billed from
Detroit, Michigan
Trained by
Jason Maunz
Debut
2014
Terry Chambers is an American professional wrestler currently signed to Elite Answers Wrestling where he competes on the Voltage brand. He is the current EAW Champion in his first reign. He is also a former Interwire Champion. He is also known for his appearances in other wrestling promotions and other media. 
Early life
Terry Chambers was born on April 23, 1989 in Detroit, Michigan. Right out of the gate Terry Chambers had a rough childhood growing up without his father who ditched him. His mother just didn't care for him as a mother should. Terry pretty much had to raise himself while he was growing up. He didn't have many friends throughout school because of his lone wolf mentality. Sports and watching wrestling was the only thing that seemed to cheered him up. He joined the wrestling team in high school to take out his aggression and it turned out he was pretty good at it as he got a D1 scholarship to the University of Michigan and became state champion. 
Professional wrestling career
Training and early career
XCW (2009-2011)
Terry Chambers decided to give wrestling a try at only 20 years old with only 1 year of college at Michigan under his belt and attended a random wrestling school in Ann Arbor next to school. He picked it up quicker than others and was told he could do this now if he wanted to. Soon after, he took his first indie booking and got positive reviews, and those got him to withdraw from Michigan and focus full time on wrestling. In late 2009, he joined his first company, a small federation by the name of XCW (Xtreme Championship Wrestling). He got off to quick start going 4-0 before losing his next 2. His momentum began picking up again and he ended up winning their United States Championship with a reign of 103 days and then months later the company ended up shutting down. 
EHW (2012-2013)
Terry Chambers from persuasion from other wrestlers joined the company EHW run by Latino Game. (Extreme Hardcore Wrestling). The rust showed from him and he did not start good. Terry's rivalry with rival Nemesis started around this time as they faced off several times. A month passed and Terry Chambers is on the rise and had just won the Interbranded Championship from Tyson Michaels. A few weeks later at their Aftershock PPV, Terry Chambers won their Prosperity in the Case Ladder Match guaranteeing him a World Title shot. A few minutes later Terry Chambers lost his Interbranded Championship due to Isaac Hunter using a cash in of his own he had won. Terry held on to the case for months on end even feuding with Ethan Hayes for it in mid summer of 2013. Terry defeated Ethan Hayes in a Extreme Rules Steel Cage Match at EHW's Extreme Warfare PPV to retain his briefcase. Terry Chambers eventually teamed up with Chris DeAngelo and at the Path Of Extreme PPV, he and Chris won the World Tag Team Championships from the Xtremists. Later that same night, he and Chris DeAngelo aligned themselves with Chris Anderson who was another co-founder of the company, helping him defeat Latino Game. They attacked Latino Game and afterwards went on the mic and called themselves "Far From Sober." The group was short lived though as the company eventually folded, leaving Terry with the case not cashed in. 
AWL (2013-2013)
When EHW folded, Terry Chambers joined the AWL (Alpha Wrestling League) and started out 9-0 in the promotion. Terry Chambers was the fastest rising star in the company and a few months later was chosen to be the final member on their Survival team but a few days before the PPV took place, Terry Chambers and AWL butted heads and Terry Chambers walked from the company. 
EAW (2013-Current)
Early EAW career; Terry's rise, fall, and rise again (2013-2019)
Terry Chambers signed with EAW in early 2014 and was placed on the EAW NEO developmental brand. He quickly rose up the ladder and defeated Ryan Savage to become EAW Young Lions Cup holder. Terry went on to run the brand for the remainder of it's existence and became the final holder of the Young Lions Cup up until it's revival in 2016. Terry Chambers defeated The Nas and Monstro in a triple threat match at EAW Pain for Pride Seven (2014) in Michigan Stadium to become the final Young Lions Cup holder. After that, he went on to the main roster and had a huge ego demanding things he wasn't ready for resulting in him losing a lot of matches and him leaving the company. He returned several times not resulting in a lot of success winning very few big matches and lasting only a two seconds in the Grand Rampage match in 2016. He came back again with this movie star persona stating that when he walked away from his original run with the company, he found his footing in Hollywood. That didn't work for Terry as things continued to get worse for him and his ego got bigger.  A year and half later in mid 2017, Terry had enough of the embarrassment and went home. He went on to state that while he was home something just woke inside of him. Terry Chambers made his EAW return in the 2018 Grand Rampage match and was humble and repackaged. Terry finally got the monkey off his back of never being able to cleanly defeat Nemesis in other promotions when him and Nemesis faced off at the EAW Pain for Pride Festival (2018). Terry Chambers went on to have many classic bouts over the past year with the likes of Diamond Cage, Malcolm Jones, Heart Break Boy and more but came up short. He still has the monkey on his back he can't get the job done.  The Round Table with Drake King, Jake Smith, Josh Nicholus, and Jax Walker on the March 30, 2019 edition of EAW Showdown attacked Terry Chambers brutally almost killing him. Terry Chambers came back on the April 27, 2019 edition of Showdown and made his intentions clear he was coming after Drake King and all of the Round Table. At Wrath Of The Dragon on May 17, he and Drake King faced off for Drake King's EAW Interwire Championship but the rest of Round Table came out and and assisted Drake King to victory, That just made Terry's mission more stronger to take Round Table down and continued to target them and on the June 2, 2019 episode of Showdown, it was announced that Terry Chambers would face Drake King again for the Interwire Title at EAW Pain for Pride XII during the weekend of June 21-23. Terry Chambers went on to defeat Drake King at Pain for Pride to capture his first championship in the company. One week later at the EAW Draft, he was drafted to the Voltage brand.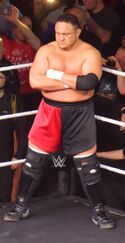 Voltage (Season 13) (2019-2020)
 Terry Chambers defended the EAW Interwire Championship against Korey Gaines at EAW Bloodsport (2019) in a No DQ Submissions Match. He defeated Korey Gaines and completed his first defense. His next defense came at EAW Territorial Invasion (2019) against the #1 Contender, Dr. Bethany Blue. Bethany made the rivalry personal by drugging and kidnapping Terry, and eventually turning Terry's now ex-wife Trinity against him. Terry lost the Interwire Championship to Bethany at Territorial Invasion thanks to many distractions from Nurse Goldstein. This just pissed Terry off, and Terry would stop at nothing to get his rematch and end Bethany. The rematch came at EAW Wicked Games (2019) in a Stretcher Match. Bethany Blue retained thanks to interference from Goldstein and rolling off her stretcher as both were stretchered into the ambulance. Terry and Bethany would go separate ways with Terry stating "the war's not done." Terry would then set his eyes on the main event scene. On the November 25th, 2019 edition of Voltage, Terry defeated Serena Riot in an Extreme Elimination Chamber Qualifying Match. At EAW Road to Redemption (2019) Terry competed against Charlie Marr, Ms. Extreme, Rex McAllister, Jack Ripley, and Andrea Valentine for the EAW Championship in an Extreme Elimination Chamber Match. The match was ultimately won by Andrea Valentine. A week later at EAW Christmas in Dubai (2019), Terry closed his 2019 going up against Dynasty's Justin Windgate in a winning effort. On the January 5th 2020 edition of Voltage, Terry fell short in the first round of the EAW King of Elite Tournament against Charlie Marr due to outside interference. One week later, Voltage Commissioner Captain Charisma offered Terry a chance at any title of his choosing to challenge for at EAW King of Elite (2020), he would choose the EAW Championship against Andrea Valentine. Terry and Andrea would exchange words over the next few weeks but made it known they respect each other in the end. They upped the ante to their title match, making it a Razor Wire Chain Match. At EAW King of Elite (2020), Terry came up short of capturing the title, he was blinded by blood as he accidentally threw Andrea into the final corner, which was the last one she needed to hit in order to win. Later that night, Terry checked on his good friend Consuela Rose Ava in the trainer's room after her brutal match with Lars Grier earlier in the night. There was chemistry between the two, but it was short lived as Lars Grier and The Corvus laid out Terry, Consuela, and Ms. Extreme. A few weeks later at EAW Shock Value (2020), Terry and Ms. Extreme would face off against Lars Grier and Terry's former bitter rival, Dr. Bethany Blue in a Shock Dog Collar Tag Team Match. Terry and Camille went on to lose as Camille was pinned by Bethany. On the March 15 edition on Voltage, during a backstage heart-to-heart conversation with Consuela Rose Ava, Captain Charisma walked in, and offered Terry a spot in the Grand Rampage match. On the March 22 episode of Voltage, Terry and Consuela would pick up their first win tagging together against the team of Komatsu Ogawa and Alum Wyn Jones. At EAW Grand Rampage (2020), Terry would assist Consuela Rosa Ava in taking out the Corvus, and her cashing in her 24/7 Contract to become the new Interwire Champion. Terry entered the Grand Rampage match later that night as the twelfth entrant out of forty, and he lasted until the final seven, where he was eliminated by Charlie Marr. On the May 3 episode of Voltage, Terry defeated Ms. Extreme in a hard fought battle between the two. At EAW Fighting Spirit: Omaha (2020), Terry would be forced to tag with former bitter rival, Dr. Bethany Blue against The Grand Athletes, Mark Macias and Limmy Monaghan thanks to the order of interim GM Malcolm Jones. Terry and Bethany would come away with the victory, after Bethany showed up to the match late due to a fight backstage before the show went on the air between Bethany and Terry's younger sister, Alexis Chambers. On the May 24 edition of Voltage, during a intimate conversation with Consuela Rose Ava, Terry hinted at wanting to redeem himself with the Interwire Championship, the title Consuela currently held. On the June 7 edition on Voltage, Terry was entered in a mini-tournament to determine the number one contender for Consuela Rose Ava's Interwire Title at Pain for Pride. Consuela didn't know how to feel about this. Terry assured her it was nothing personal against their friendship. Terry went on to defeat Cepheus St. Claire in the first match, moving to the finals match next week, where he would defeat SEBAS to become the number one contender. Terry and Consuela hoped this match wouldn't wreck their friendship, but they both welcome the challenge of one another and neither refused to back down. At EAW Pain for Pride XIII, Terry Chambers and Consuela Rose Ava faced off for the EAW Interwire Championship. Terry would lose the match to Consuela in a hard fought battle between the two. After the match, the two embraced in the ring with a kiss, making their relationship official before the two walked out together hand-in-hand.    
Season 14
Terry Chambers was drafted back to the Voltage brand. He defeated SKA in the season premiere, and later that night that the new Ms. Cash In The Vault winner, Darcy May Morgan interrupted his interview oozing with confidence and then challenged him to a match at EAW Bloodsport (2020). The next week, Terry would defeat Kasey Kaos with Darcy trying to interfere. The two would later spin the wheel to find out what match type they would have, and it was revealed to be a Scaffold Match, a match where they fight on a Scaffold with a barbed wire net below. The two would attack one another and play mind games leading up to the match. At Bloodsport, Terry would defeat Darcy at Bloodsport by making her pass out from his "Torture Chamber" submission. Earlier in the night before the match, Voltage Commissioner Captain Charisma approached Terry during a moment with him and his girlfriend, Consuela, now on the Showdown brand, and announced Terry was the first person chosen from the roster to represent Voltage in the Brand Warfare match at EAW Territorial Invasion (2020). He and his teammates Minerva, Ahren Fournier, Myles, TLA. They had bonding sessions with several activities over the next few weeks. Terry would capture a victory over MITSUBACHI and SKA in an episode of Dynasty, and come to a no contest with Harlow Reichert and Xander Payne in a triple threat match on an episode of Voltage. Team Voltage would go on to dominate Brand Warfare. Terry was eliminated minutes before Voltage won, but Terry eliminated longtime foe Charlie Marr in the match. The following Voltage, Terry and his teammates Minerva and Ahren Fournier would competed in a contendership triple threat match for the EAW Championship. Terry had the match won on Minerva by the looks of it, but Ahren came in and stole the victory. Minerva and Terry had altercations afterwards with Minerva taking offense Terry had her beat, and spewed her mist in his face. She would even cost him a match against Drake King. Terry and Minerva would square off at EAW Wicked Games (2020). Minerva seemed to have the match won, but Sienna Jade distracted Minerva, and Terry would finish the job beating to a pulp with a chain and "T-5ing" her for the win. On the November 8, 2020 edition of Voltage, Captain Charisma announced Terry as the first competitor to compete in the Extreme Elimination Chamber match for the EAW Championship. The EAW Champion SOSA Henderson would come out and two exchanged words. On the November 22 episode, Terry would take a loss against his part time tag team "Corona Hombres" partner, TLA. The next week, Terry would defeat the EAW Champion SOSA Henderson. At EAW Road to Redemption (2020), Terry would compete against Azrael, SOSA Henderson, TLA, Ahren Fournier, and Rex McAllister. Terry would eliminate TLA and make it to the final two with the champion SOSA. SOSA barely escaped with the win, and Terry's shoulder was never down, but wasn't seen by the referee, and SOSA got rid of the evidence. On the January 3rd episode of Voltage, Terry made a vow to become champion and called out SOSA. SOSA came out and accepted a challenge for EAW King of Elite (2021). Over the next few weeks, both would take jabs at each other both physically and mentally. SOSA would call Terry a forever B+ player, while Terry says SOSA is a lazy worker who was in the right place at the right time when he won the title. SOSA would propose to make the title match a Four Corners Chain Match, the same match Terry failed to win this same title at this same FPV last year against Andrea Valentine. At King Of Elite, Terry would conquer his demons in an emotional moment and defeat SOSA to win his first world title and become the EAW Champion. Terry vowed on the next episode of Voltage to be a fighting champion, which caused Minerva to attack him from behind after he defeated the new EAW Specialists Champion Constance Blevins, challenging Terry for a title match, which he accepted. Minerva was attacked by Raven Roberts before the match could finish, leaving a debate if Terry was about to lose. He's been on a mission since then to prove he's worthy of being champ. SOSA Henderson would cash in his rematch clause for Shock Value. Terry's former rival Drake King would come to him and say his New Eden stablemate Minerva is the uncrowned World Champion. The two would exchange more words before Terry offered to add him to the title match at Shock Value.
Personal life
Terry Chambers has a younger brother Tyler and a younger sister Alexis. He married his high school sweetheart Trinity Jan in 2013 and the couple have 3 children together, 8 year old Landon, 4 year old Savannah, and 2 year old Zachary. The couple split in February of 2019 due to irreconcilable differences and the divorce of them was final in May 2019. The two agreed to a no fault divorce and joint custody. Terry is currently in a relationship with fellow EAW Elitist, Consuela Rose Ava. Terry resides in Los Angeles. He also owns a house in his hometown Detroit to be closer with his kids.