TLA
Birth name
Unknown
Born
September 11, 1991
Tlaxcala, Mexico
Resides
Miami, Florida
Spouse(s)
Single
Professional wrestling career
Ring name(s)
TLAKING
TLA
El Tlatoani
Pantera Negra
Prince Pantera
Pantera Jr.
Billed height
5 ft 9 in (1.75 m)
Billed weight
210 lb (95 kg)
Billed from
Miami, Florida
Trained by
Self-Trained
Debut
2007
TLA (born September 11, 1991) is a Mexican-American professional wrestler, actor, filmmaker, socialite, and television personality currently signed to Elite Answers Wrestling competing as part of its brand Voltage.
Despite having wrestled most of his career unmasked, TLA's real name is not a matter of public record, as is often the case with masked wrestlers in Mexico where their private lives are kept a secret from the wrestling fans.
Prior to joining REVOLT!, TLA wrestled for various companies. He wrestled for the New-Age Wrestling Federation (NWF) from 2009 to 2012, where he was a three-time NWF Undisputed Champion, and was recognized as having the longest title reign of any championship in company history. TLA was inducted into the NWF Hall of Fame in 2010 by his longtime rival Blade.
TLA also wrestled sporadically in the Alpha Wrestling League from 2012 to 2014, winning the AWL Tag Team Championship on two occasions with longtime friend Steve and the AWL Interstate Championship in which he had the longest reign in company history. Prior to the folding of AWL, TLA was scheduled to headline the company's premier event, Battle for Supremacy in 2014.
From 2014 until 2017 TLA competed for Elite Answers Wrestling where he held the New Breed Championship and the Interwire Championship. TLA competed for all three brands in that company headlining numerous shows and participating in several World Championship matches. TLA competed in REVOLT! Pro Combat in 2018 until its merger with EAW later that year winning the REVOLT! Welterweight Championship in the promotion's final show.
In total, TLA has won over a dozen championships in his career, with some sources recognizing up to fifty different title reigns, the majority of which are unrecognized by mainstream promotions.
Outside of wrestling, TLA has been a regular presence in televised media for many years. His lifestyle and numerous controversies have made him a regular media sensation. As the founder of Sexual Panther Productions, TLA has directed numerous cult films including: The A-Team (2010), Make a Wish documentary (2010), Holy Water: Gettin' It In Elite's Name (2014), The Assvengers 2: Age of Asstron (2015), and Assvengers 3: Infinity Weeb (2018).
Professional Wrestling Career
Early Career (2007-2009)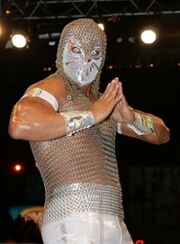 TLA debuted at age 15 under a mask sometime in 2007 under the ring name TLAKING as part of an intergender tag team with his sister who was competing under the name Shion. They competed for numerous companies winning many championships together, most notably in the primarily Spanish language Insane Online Wrestling promotion where they won approximately twenty titles together due to IOW's reputation for frequent title changes.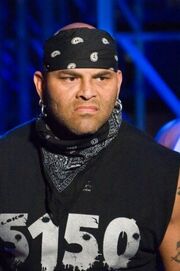 TLAKING branched out into a singles career in early 2009 feuding with La Bestia Rabia who in the course of the rivalry unmasked TLAKING for the first time. TLAKING returned with a new look and gained his revenge capturing the IOW Global Championship his first singles title.
At the time of IOW's closure in 2009, TLA as the IOW Global Champion and half of the IOW Tag Team Champions defeated his sister Shion, the IOW World Heavyweight Champion and the other half of the IOW Tag Team Champions in the final show to capture his first world title in wrestling and unified all of the championships in IOW. Shion would retire shortly afterwards due to a number of sexist incidents in other companies and a loss of passion for the business.
Slammer Championship Wrestling/Sports Entertainment Xtreme (2009)
TLAKING shortened his ring name to TLA for the first time while competing in Kevin Devastation's Slammer Championship Wrestling promotion, later renamed Sports Entertainment Xtreme. TLA was a one time S.E.X. Xtreme Champion and arguably received his first big break here in the English speaking wrestling world.
Extreme Answers Wrestling (2009)
TLA briefly competed for Extreme Answers Wrestling in 2009. He had little success and was fired from the company after only a couple weeks by the company's founder CM Banks for supposed sexual harassment of Maria.
New-Age Wrestling Federation (2009–2012)
Through his connections with Kevin Devastation and Tougie, TLA was signed to the New-Age Wrestling Federation when it started in 2009. Early on TLA was given an extremely racist gimmick as "The Flying Taco" and competed in a tag team with Joseph Garcia better known as Steve as the Mexican Warriors. They soon captured the NWF Tag Team Championships despite offending the Mexican community due to TLA's gimmick as well as Joseph Garcia being blatantly not Mexican.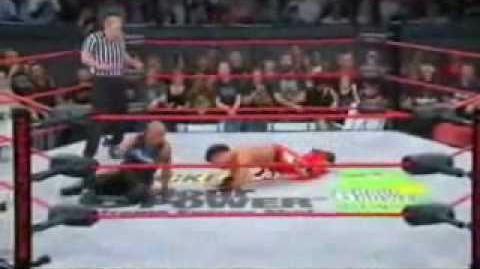 After Joseph Garcia was fired from NWF, in 2010 TLA began a singles career quickly capturing the NWF Pure Championship by forfeit after the champion quit due to TLA fucking his mother. It would be during this time that TLA began his rivalry with his biggest challenge in NWF, Blade. Blade screwed TLA out of the NWF Pure Championship on two occasions and soon after captured the NWF World Heavyweight Championship cementing himself as the most dominant man in NWF.
After numerous matches between the two, TLA finally upset Blade as well as the NWF Champion Demo in a unification match to become the first NWF Undisputed Champion. TLA would reign for over seven months in the longest reign of any champion in NWF history, before dropping the title to Tougie in December. Also in the same month, TLA was inducted into the EAW Hall of Fame by Blade finally settling their long feud.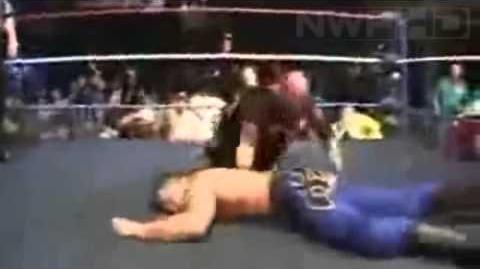 In 2011, TLA quickly recaptured the NWF Undisputed Championship from Tougie in January and reigned for another four months before he was screwed out of the title by Drew Stevenson and his stable. TLA would briefly regain the title for a third and final time before losing it to the rising Suicide Kid in October. After this TLA primarily took on a behind the scenes role in NWF due to the departure of Tougie and his promotion to NWF Chairman. Despite this, TLA frequently competed due to popular demand and captured his final NWF title, the NWF Hardcore Championship from Francis McDaniels.
In early 2012, NWF finally folded and was sold to Jacob Steele's Xtreme Mayhem Wrestling. TLA did not participate in XMW at this time, and XMW for the first of many times, closed soon after.
Frontline Wrestling Evolution (2012)
TLA briefly competed for Hass Johnson's Frontline Wrestling Evolution promotion. TLA did not approve of Johnson's management style and left the promotion soon after causing a long time falling out between the two.
Alpha Wrestling League (2012)
After leaving FWE, TLA joined Krysis' Alpha Wrestling League where a large number of NWF talent had gone to after the death of that company as well as XMW which had closed at least two more times by this point. In AWL, TLA reunited with Steve as The Hottest Tag Team Out and quickly captured the AWL Tag Team Championships. However, in a weird twist of deja vu, Steve was fired again and TLA was stripped of the championships without being given an option to find a new partner. TLA upset by this decision left AWL again until 2013, taking the longest hiatus from wrestling since his debut.
Sexual Ass Wrestling (2010-2013)
TLA first debuted for Steve's Sexual Ass Wrestling in 2010 and the promotion held events extremely sporadically over the next two years due to Steve's numerous firings from other promotions he worked for. In 2011, TLA won the prestigious SAW Golden Dildo award and also served as the company's General Manager. Between 2010 and 2013 TLA won approximately nine or ten SAW World Heavyweight Championships due to extensive use of backstage politics.
SAW finally folded for good in mid 2013 when both TLA and Steve were rehired by Krysis to AWL.
Alpha Wrestling League (2013)
TLA and Steve returned to AWL in the summer of 2013 as The Hottest Tag Team Out and again captured the AWL Tag Team Championships they had never lost and enjoyed a long reign. When they finally lost the titles, in a shocking betrayal, Steve turned his back on TLA starting a long rivalry between the two. To make things worse, TLA was fired from AWL shortly afterwards after a number of incidents with the new Chairman Diamond Cutter.
Alpha Wrestling League (2013-2014)
TLA briefly considered joining XMW before it died again, and spent most of his time backstage at Rated R Shaman's promotion as well as the one co-owned by Carlos Rosso and Donovan T. However, TLA did not compete for any of these promotions and was rehired by Diamond Cutter to AWL in December 2013, a move that TLA still regrets to this day. TLA quickly captured the AWL Interstate Championship and in January 2014, ended his rivalry with Steve by defeating him in a title match. Steve would be fired from AWL soon after and for the last time, as he retired soon after having been banned from every other company out there.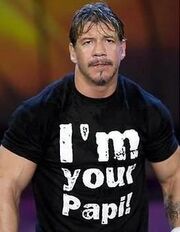 TLA became the longest AWL Interstate Champion despite AWL's notoriously terrible booking and backstage politics under the reign of the third and final Chairman Moongoose McQueen. Shortly after dropping the title, TLA was booked to compete for the AWL World Heavyweight Championship at Battle for Supremacy, AWL's biggest event of the year. However, dissension among AWL management and terrorist attacks by Frog Lesnar led to AWL closing soon after. TLA was made the final Chairman before closing AWL and agreed to a partnership with Jacob Steele to be co-owner of XMW.
Xtreme Mayhem Wrestling (2014)
TLA should not have trusted Jacob Steele as they were only partners in name. Steele ignored all of TLA's advice and ran the company straight into the ground. TLA held the XMW Hybrid Championship during his brief stay in XMW a title which functioned as a tag team title but could be won and lost individually. TLA never lost this title despite having two different partners. TLA still held this title when he and Jacob Steele agreed to join EAW and close XMW for good (hopefully).
Elite Answers Wrestling (2014-2015)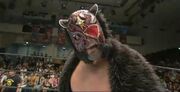 In late 2014, TLA made his long awaited return to EAW again competing under a mask under the new gimmick of Pantera Negra. Negra made his PPV debut in EAW at Shock Value 2014. Negra had little success in his early days in EAW having two of the longest losing streaks of TLA's entire career. In spite of this, TLA scored an upset win over Tyler Parker the week before Parker captured the EAW World Heavyweight Championship.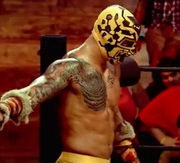 TLA then feuded with Christopher Corrupt over the EAW National Elite Championship, but was unsuccessful in winning the title even in a Scramble Match at Reckless Wiring 2015. TLA also made his Grand Rampage debut at Grand Rampage 2015 but was eliminated by the team of GI Styles and Carlos Rosso.
However, after removing his mask, admitting his true identity and remembering who he truly was, TLA began to work hard to get his career back on track. This culminated with TLA capturing his first EAW championship, the EAW New Breed Championship at Pain for Pride 8 in an Ultimate X Match against the champion Stark, J.D. Damon, and Charlie Scene. However, despite this win TLA found himself again unemployed from EAW after the fall of Dynasty earlier in the show.
Dank Championship Wrestling (2015-2016)
In 2015, TLA began competing for Brian Kimbo's Dank Championship Wrestling. TLA is currently the reigning DCW World Heavyweight Champion. TLA was no longer DCW Champion when DCW Season 2 started. TLA refuses to acknowledge this however, because he doesn't remember if he lost the title or not. As of 2016, DCW appears to be defunct.
Dynasty Wrestling (2015–2016)
In July 2015, TLA was among the members of the Dynasty roster who walked out on Zack Crash to form their own independent promotion. TLA led Team Dynasty to a victory over Zack Crash at Territorial Invasion. TLA reigned as New Breed Champion until December having successful defenses against JJ Silva, Tig Kelly, Donny Diamond, and more. TLA was ultimately defeated for the title by Clark Duncan at Road to Redemption. Following this loss, TLA was betrayed by his manager King Mustafa and traded to Showdown.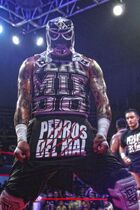 Showdown (2016)
After arriving on Showdown, TLA once again began wearing his "father's" mask of Pantera and claiming he had come to the "dark side" among other erratic behavior. TLA immediately targeted Cameron Ella Ava and her EAW Interwire Championship ultimately winning it on the February 13th edition of Showdown. After a retaining his championship in a controversial disqualification loss to Mexican Samurai at Reasonable Doubt, TLA dropped the title soon after to Samurai on Showdown in a triple threat match also featuring Jacob Senn. TLA appeared to be injured before and after the match. Later, it was reported that TLA had been fired by EAW due to behind the scenes disagreements with upper management.
Return to Showdown (2016)
At Grand Rampage, TLA made his return to EAW as a surprise participant in the Grand Rampage match ultimately won by Y2Impact. TLA would go on to capture the EAW Interwire Championship for a second time against Mexican Samurai at Pain for Pride IX.
Return to Dynasty (2016-2017)
In the 2016 EAW draft, TLA was drafted back to Dynasty bringing the EAW Interwire Championship with him. For the second year in a row at Territorial Invasion, TLA competed on Team Dynasty. Despite being the only member of the team to eliminate members of the opposing Team Voltage, Team Dynasty was ultimately unsuccessful. At House of Glass, TLA successfully retained the Interwire Championship against Tig Kelly in a rematch from their encounter at the previous year's House of Glass. One year after losing the EAW New Breed Championship, TLA was defeated for the EAW Interwire Championship at the same PPV, Road to Redemption. TLA was the runner-up in the 2017 Grand Rampage but received his first World Heavyweight Championship shot at the Dynasty Burning Desire supershow. TLA also competed in his first Cash in the Vault Ladder Match at Pain for Pride X.
Voltage (2017)
In the 2017 EAW draft, TLA was drafted to Voltage marking the first time he had been a roster member of that brand. TLA defeated Aren Mstislav in an I Quit Match at Territorial Invasion to become the number 1 contender to the EAW World Heavyweight Championship. However, TLA was unsuccessful at capturing the title at Ground Zero following interference from special guest referee Cameron Ella Ava. TLA again competed for the EAW World Heavyweight Championship at Road to Redemption but was again unsuccessful at capturing the title in what was ultimately his final appearance for the company.
REVOLT! Pro Combat (2017 - 2018)
In December 2017 it was announced that TLA had signed a contract with the newly formed promotion REVOLT! Pro Combat. TLA debuted for that promotion in 2018 as part of its Welterweight division. At REVOLT 1 TLA became the number one contender to the REVOLT! Welterweight Championship. TLA won the REVOLT! Welterweight Championship at REVOLT 2 in what was the promotions final show before the merger with EAW.
Second Return to Showdown (2018 - 2019)
When REVOLT! Pro Combat merged with Elite Answers Wrestling TLA was placed on the Showdown brand making his return to that brand after a two year absence. TLA made his return at Grand Rampage but was eliminated by the eventual winner Carlos Rosso. TLA brought over the REVOLT! Welterweight Championship to Showdown defending the title up until Pain for Pride Festival where the title was unified into the EAW Openweight Championship by Andrea Valentine. Following the 2018 EAW draft, TLA was drafted to remain on Showdown. For most of 2018 on Showdown TLA engaged in a bitter rivalry with Cody Marshall with both men repeatedly attacking each other backstage, in each other's matches, and even in other people's matches. TLA defeated Cody Marshall at Midsummer Massacre but the rivalry continued eventually involving EAW Champion Diamond Cage when Marshall interfered in a title match between Cage and TLA. This led to a Triple Threat Match at Territorial Invasion which Cage won after pinning TLA. Blaming TLA for not winning the title Cody Marshall and TLA finally settled their rivalry once and for all in a Last Man Standing Match at No Regards. TLA would go on to win the match to become the number one contender to the EAW Openweight Championship. Shortly after, TLA challenged the champion Kevin Hunter on an episode of Showdown and defeated him to become the new EAW Openweight Champion marking TLA's first title victory in EAW in over two years. Finishing up 2018, TLA also successfully defended his new championship against the sister of his former rival Consuela Rose Ava at Road to Redemption. TLA also defended his title against Lethal Consequences at King of Elite. At Under Siege in the latest chapter of their historic rivalry Chris Elite defeated TLA in an Ironman Match. The match went the distance with Elite picking up the win in overtime. At Ides of March TLA defended his Openweight Championship yet again defeating Erebus Jennings. As a result TLA earned a shot at the EAW Championship at the Grand Rampage. However, Chris Elite used his Gawd Contract to insert himself into the match and ultimately took the pin costing TLA the championship which was won by Malcolm Jones. Due to his long history of losing championship matches in EAW TLA was denied a match with Malcolm Jones by Hurricane Hawk after Chris Elite used his Gawd Contract yet again. Instead he was given a shot to qualify for the Cash in the Vault Ladder Match at Wrath of the Dragon but again despite not directly losing the match came up empty. Following these events, TLA attempted to get himself inserted into the Malcolm Jones vs. Chris Elite match at Pain for Pride XII. However, he soon came into conflict with Diamond Cage yet again after the former champion himself wanted to be added to the match. TLA ultimately resolved his conflict with Hurricane Hawk after he chose to instead face Diamond Cage at EAW's biggest event rather than pursue a championship. TLA defeated Cage at Pain for Pride XII and despite the violence of the feud the two men shook hands in a show of respect after the match.
Second Return to Dynasty (2019 - 2020)
In the 2019 EAW draft, TLA was again drafted to Dynasty marking the third time he competed as a roster member for that brand. Soon after TLA began a feud with Darkane who defeated him at Operation Doomsday. However, the match was controversial due to the referee failing to notice TLA's foot on the bottom rope. Soon after the two were forced into an unlikely partnership on Team Dynasty at Territorial Invasion on the team led by Serena Bennett. Their team was ultimately defeated with Darkane taking the loss for their team. In the aftermath, both TLA and Darkane began efforts to dethrone the EAW World Heavyweight Champion Impact. At Battle of Egypt, Impact retained his title after controversially using his Gawd Contract to call off the match. TLA had been on the verge of defeating Darkane and was attacked by Sienna Jade after the match in an impromptu title match Impact made with his Gawd Contract and quickly defeated TLA to retain after Jade's interference. However, things did not end there as in Mexico City at House of Glass, TLA would defeat Impact in a Glass Wallz match to become the EAW World Heavyweight Championship. This was TLA's first World Title victory in EAW after competing in numerous title matches since 2017. TLA went on to defend the title successfully at Road to Redemption in an Extreme Elimination Chamber match where he personally eliminated Kassidy Heart and went on to win the match by simultaneously pinning both Drake King and The Visual Prophet. This sparked a rivalry between TLA and Drake who would eventually go on to defeat him for the title at King of Elite. At Reckless Wiring, TLA was unable to regain the title in a Triple Threat Dome of Death Match that also included Osamu Arcichida who had been one of the people TLA defended the title against during his reign. TLA's efforts to remain in the title scene were derailed soon after when he began to be targeted by Kensingten Calhoun-Astor who brought ICE officials to Dynasty in an effort to deport him. Despite this TLA managed to defeat her at Gateway to Glory and soon after she was dismissed from Dynasty for unprofessional behavior. After accidentally breaking Lethal Consequences' laptop the Hall of Famer began to target TLA and eventually defeated him at Pain for Pride XIII.
Return to Voltage (2020 - Present)
In the 2020 draft TLA was returned once again to Voltage for the first time since he had been fired in 2020. TLA continued to make a habit of accidentally pissing people off when he came into conflict with Malcolm Jones after attempting to recruit his girl Keisha to the Poon Palace and offending him in the process. TLA's bad luck continued when he suffered a loss to Malcolm at Bloodsport when Drake King made his return to EAW claiming to be a messiah-like figure and vowing to save the company from people like TLA.
Filmography
Filmography
| Year | Title | Role |
| --- | --- | --- |
| 1990s* | Unnamed Sitcom | Doctor Pantera |
| 2010 | Make A Wish | Himself |
| 2010 | Nation of Domination: Enter the Lair | Himself |
| 2010 | The A-Team | Juan "TLAnnibal" Smith |
| 2013 | Big Stevie D's Weight Loss Adventure | Narrator |
| 2014 | Truth Wars | Himself (5 episodes) |
| 2014 | Holy Water: Gettin' It In Elite's Name | Tladius |
| 2014 | Getting Richard Enraged | Director Only |
| 2014 | Swag Yolo Weed | Himself |
| 2015 | Assvengers 2: Age of Asstron | Captain Mexico |
| 2015 | Star Whores Episode 69: The Fuckboi Awakens | Si-3PO |
| 2016 | Guerrillas in Paris | Bipolarion Deathheart |
| 2018 | Assvengers 3: Infinity Weeb | Captain Mexico |
*TLA has claimed to have starred in a sitcom in the 1990s with Chris Elite known at that time as the Suicide Kid.
Personal life
TLA has been involved in relationships with numerous women but his longest lasting one is with Michelle McGillislutty who assists TLA in running his Sexual Panther Productions studio. In more recent years Michelle has also become TLA's top girl at the Poon Palace. Using her veteran skills on the pole she keeps the new girls in line and teaches them the skills they truly need to suceed in life.
TLA has numerous celebrity friends including 2 Chainz, Kim Jong un, Brian Williams, and Robert Mugabe.
TLA converted to Islam some time after the closure of NWF. TLA claims that this occurred during a stint in prison where he met his former manager King Mustafa and joined the Nation of Islam. TLA has since distanced himself from his former faith claiming that he was just pretending to score hot Muslim bitches.
In wrestling
Finishing moves

Burnout (Corkscrew 360 Senton)
Mexican Destroyer/Miami Destroyer (Canadian Destroyer)
Crossed Paths (Cross Armbreaker)

Signature moves

420 (Shooting Star Press)
305 (Tiger Feint Kick/619)
Swag Shot (Pimp Slap)
Panther Plunge/Yolo Plunge (Suicide Dive)
You're Done (Zig Zag)
Pantherplex (Tiger Suplex)
Very Mexican Uppercut (European Uppercut)
Cartel Kick (Pele Kick)
AR15 (Lasso from El Paso)
Panther Pain (Mandible Claw)
Lead Pipe (Usually carried to the ring hidden in TLA's hoodie)
Nicknames

The Flying Taco
The Lucha Thug
The Mexican Warrior
The Franchise of NWF
Leader of the TLArmy/TLArmada/#ouTLAwz
The Sexual Panther/La Pantera Sexual
The Prophet of Allah
The Beastin' Badass
The Feastin' Fighter
The Rope (as Pantera Negra)
The Mexican Mutilation Machine
The Realest Revolutionary
King Kale
Managers

Michelle McGillislutty (2010 - 2013; 2015; 2017)
Steroid Dawg (2011 - Present)
King Mustafa (2014 - 2015)
Gloria Tightpussy (2017)
Entrance themes

"Respect" by The Notorious B.I.G.(2007-2009)
"Sound of Madness" by Shinedown (2009-2009)
"Paralyze" by ??? (2009-2009)
"Ambitionz az a Ridah" by Tupac (2009-Present)
"Boss Ni**er" from the film "Boss Ni**er" (2012-2014, mostly used in an authority role)
"i" by Kendrick Lamar (2015-2016)
"Intro" by DMX (2016)
Championships and accomplishments
Alpha Wrestling League

AWL Tag Team Champion (2 times) - with Steve
AWL Interstate Champion (1 time)
Dachs Championship Wrestling

DCW World Heavyweight Champion (1 time)
Elite Answers Wrestling

EAW World Heavyweight Champion (1 time, current)
EAW New Breed Champion (1 time)
EAW Interwire Champion (2 times)
EAW Openweight Champion (1 time)
EAW Superlative Awards

Businessman of the Year 2018
Pimp of the Year 2019

Elitist of the Month - November 2019
MVE Beef of the Week (4 times)

Dynasty 1/4/15 - TLA vs. Jacob Senn
Dynasty 3/3/17 - TLA vs. Sheridan Muller (MVE #84)
King of Elite 2/2/19 - TLA vs. Lethal Consequences (MVE #168)
Operation: Doomsday 8/17/19 - TLA vs. Darkane (MVE #192)

Most Valuable Elitist (8 times)

2/19/16 - After winning the EAW Interwire Championship
8/3/16 - After defeating Diamond Cage on Dynasty
4/28/17 - After becoming #1 Contender for the World Heavyweight Title (MVE #92)
7/9/17 - After defeating Aren Mstislav on Voltage (MVE #101)
5/17/18 - After defeating Jack Ripley, Lucian Black, and Daryl Kinkade (MVE #135)
11/8/18 - After defeating Kevin Hunter to win the EAW Openweight Title (MVE #158)
11/2/19 - After defeating Impact to win the World Heavyweight Title (MVE #202)
1/25/20 - After defeating Osamu Arcichida to retain the World Heavyweight Title (MVE #210)

MVE Champion of the Week (3 times)

8/3/16 - As EAW Interwire Champion
After House of Glass 2016 as EAW Interwire Champion
After Road to Redemption 2019 as World Heavyweight Champion

MVE Match of the Week (11 times)

vs. Heart Break Boy on Dynasty 10/21/16
vs. Jamie O'Hara at Burning Desire 5/19/17 (MVE #95)
vs. Aren Mstislav on Voltage 7/9/17 (MVE #101)
vs. Chris Elite in an Ironman Match at Under Siege 3/9/19 (MVE #173)
TLA & Chris Elite vs. Drake King & Jax Walker on Showdown 4/27/19 (MVE #179)
vs. Raven Roberts vs. Jamie O'Hara - Triple Threat on Showdown 9/7/19 (MVE #195)
TLA & Jenny Cien vs. Jaded Hearts on Dynasty 10/25/19 (MVE #201)
vs. Impact in a Glass Wallz Match at House of Glass 11/2/19 (MVE #202)
Dynasty Brand Extreme Elimination Chamber at Road to Redemption 12/15/19 (MVE #206)
TLA & Darcy May Morgan vs. Drake King & Sierra Bradford on Dynasty 1/10/20 (MVE #208)
vs. Drake King vs. Osamu Arcichida at Reckless Wiring 3/21/20 (MVE #217)

MVE Promoer of the Week (5 times)

vs. Sheridan Muller on Dynasty 3/3/17 (MVE #84)
4/28/17 - After becoming #1 Contender for the World Heavyweight Title (MVE #92)
7/9/17 - vs. Aren Mstislav on Voltage (MVE #101)
4/20/19 - Won by everyone in Grand Rampage (MVE #178)
4/19/20 - Won by everyone in Grand Rampage (MVE #220)
Insane Online Wrestling

IOW Tag Team Champion x 20 (w/ Shion) [Estimated number of reigns.]
IOW Global Champion x 1
IOW World Heavyweight Champion x 1 [Held all three titles at the time of IOW's closing.]
New-Age Wrestling Federation

NWF Tag Team Champion (1 time) - with Steve (later recognized as Randy Bourne)
NWF Pure Champion (2 times)
NWF Championship (1 time)
NWF World Heavyweight Champion (1 time)
NWF Undisputed Champion (3 times)
NWF Hardcore Champion (1 time)

REVOLT! Pro Combat

REVOLT! Welterweight Championship (1 time) [Also defended in EAW after merger]
Slammer Championship Wrestling/Sports Entertainment Xtreme

S.E.X. Xtreme Champion x 1