This article or section is about a championship title, character, event, or contains information about a company, and/or the outcome of current status, that is either under development or construction and yet to be released to the general public. It may contain spoilers and features that are mentioned here may be radically different in the finished product, or excluded altogether.
Souxise Laveaux

Laveaux performing with Dead President at 2016 New Year's Festival in Dublin, Ireland.
Born
Aoife Katerina Gallagher

February 27th, 1993 (age 29)
Dublin, Ireland

Years active
2013-present (wrestling)


2016-present (singer)
2018 -present (actress)


Spouse(s)
Matthew D. Andrews (m.2020)
Children
1
Professional wrestling career
Ring name(s)
Souxise Laveaux
Billed height
5 ft 5 in (165 cm)
Billed weight
114 lb (52 kg)
Billed from
Dublin, Ireland
Trained by
Fit Finlay
Debut
July 26th, 2013
Musical career
Genres
Punk rock
Instruments
.
Labels
.
Associated acts
Dead President
Aoife Katerina Matthews (née Gallagher; born February 27th, 1993), known professionally as Souxise Laveaux, is a Irish professional wrestler and singer. She's currently signed with All Pro Wrestling Elite, appearing on the Smackdown brand, and is a member of ANXieTy. Before signing with PWE, Laveaux had previously been signed to and completed in Major League Wrestling. She is best known for her appearances in Bellatrix Female Warriors, where she is a former and longest-reigning Women's Champion.
Professional wrestling career
B (2013–2016)
Under Construction.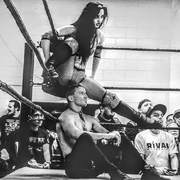 Bellatrix Female Warriors (2013 - 2016)
Under Construction.
Championships and accomplishments
Personal life
Laveaux's relationship and marriage to Matthew D. Andrews, who has been famous in her own right as part of the wrestling stable ANXieTy and punk rock band Dead President, contributed to his fame beyond wrestling and music.
She and Andrews became inseparable, which caused problems with the band, whose members did not like her. According to Pandey's wife Nadia Forster, Andrews often hit Souxise and, in her last conversation with her Foster, Laveaux admitted that the beatings which she had previously adored were at the hands of strangers actually came from Andrews. They shared an infatuation with knives.
On August 12, 2020, she announced her engagement to fellow professional wrestler Matthew D. Andrews. The two announced that she was pregnant with their first child. The child, Matthew Dewitt Andrews II, was born on March 11tth, 2021.