This article is about the original iteration of Sex N' Violence that existed from 2010 to 2011. For the upcoming revival, see Sex N' Violence 2.0.
Sex N' Violence

Billing information

Members

RRS
Robbie V

Former member(s)

N/A

Other name(s)

SNV

Heights

6'3", 6'0"

Combined weight

462 lbs

Hometown

-

Theme music

"Old Times Sake" by Eminem ft. Dr. Dre

Affiliation(s)

N/A

Federation(s)

Extreme Answers Wrestling

Brand(s)

Showdown

Previous federation(s)

-

Wrestling information

Alignment

Face

Wrestling style

Hardcore

Finisher(s)

•Stigmata
•Corkscrew Neckbreaker
•Concussion
•Five-Star Frogsplash

Will

-

Won't

-

Trainer

-

Handler(s)

-

Professional career

Debut

February 19, 2011

Record

Accomplishments

•EAW Unified Tag Team Championships
•See complete list

Disbanded

EAW Pain For Pride IV
The original incarnation of Sex N' Violence, also abbreviated as SNV, was a professional wrestling tag team consisting of RRS and Robbie V. The team appeared in Extreme Answers Wrestling under the brand, Showdown. Sex N' Violence is most notably known for being the first two EAW extremists to be going for their second Unified Tag Team Championships, as well as being later involved in the main event program of EAW Pain For Pride IV. The name "Sex N' Violence" was agreed upon by the group as a combination of RRS's promiscuity ("Sex") and Robbie V's hardcore wrestling style ("Violence").
History
2010
Despite eventually becoming a successful tag team, RRS and Robbie V had previously crossed paths on several occasions. Though both were at different stages of their career, both Robbie V and RRS were returning from their own wrestling hiatuses from Extreme Answers Wrestling in 2010. Robbie V, who had just been promoted to acting general manager of Showdown, quickly signed RRS to a brand deal that would have him return to action with Showdown for the first time in over a year and a half. Focused on a potential run at a World Heavyweight Championship opportunity, RRS interfered repeatedly with matches between then-champion H-R-D-O and Impact. Robbie V, outraged by RRS's persistence would bar RRS from competing for the championship at EAW No Regards (2010).
Formation
Months later, RRS and Robbie V began developing an on-screen friendship, branching off of having similar difficulties in EAW over the last several months. While Robbie V made his in-ring return and began a feud with Ashten Cross, the man who injured him, RRS was backstage talking to Robbie V about the feud. Robbie V eventually decided to make Ashten Cross face RRS during a "Pick Your Poison" style match. From there, the two bonded and continued to interact backstage leading up to, and going through Reasonable Doubt III.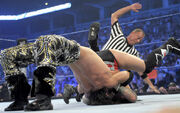 Coming off of a victory at Reasonable Doubt III, Robbie V teamed with RRS to form "Sex N' Violence" and participate in a number one contenders match for the Unified Tag Team Championships. Sex N' Violence faced then-Interwire Champion, Kawajai, and then-King-of-Extreme, Power in the main event of that night's Showdown. With a successful victory, Sex N' Violence was guaranteed a Unified Tag Team Championship match against Dynasty X. Surprisingly, the pair took on Dynasty X at the next show, Dynasty, which happened to be just twenty-four hours from the time they won the number one contenders' match. They defeated then-Unified-Tag-Team Champions, Dynasty X, that night and prepared to take on Damage Inc. (Siberian Wolverine & MA Beast) at the upcoming FPV, Reckless Wiring III.
Prevalence
In the weeks leading up to Reckless Wiring III, Sex N' Violence had mixed results in matches involving individual members of Damage Inc. However, at the actual FPV, Sex N' Violence had a notable advantage because of the fans' decision to have the match contested as a Glass Walls Match rather than the other two options: Submissions Count Anywhere Match or Ultimate Tables Match. In one of the top matches of the night, the two teams fought against each other only to have RRS hit his finishing move, the stigmata, on MA Beast leading to a pinfall and victory for Sex N' Violence. The victory served as the first Unified Tag Team Championship defense by the team as well as RRS' first successful championship defense in his entire career.
Following the successful championship defense, both members of Sex N' Violence became involved in the EAW World Heavyweight Championship scene. By order of then-World Heavyweight Champion, Hurricane Hawk, Robbie V and RRS would have to face each other to determine who would become the Number One Contender and subsequent challenger at the upcoming Grand Rampage IV. After a tense battle between the teammates, RRS was able to emerge victoriously and receive the Number One Contendership. Although there was much tension during the match, the two opponents remained tag team partners and Robbie V agreed to stand by RRS during his spot as a challenger to the EAW World Heavyweight Champion. RRS would go on to defeat Hurricane Hawk on an episode of Showdown where he would capture his third EAW World Heavyweight Championship.
Eventual Fallout
Though there was no apparent hostility between the pairing despite the comparative individual success of RRS, the two would be pitted against each other in the upcoming Grand Rampage Match. RRS would become the first world champion to compete in the elimination match, vying for an opportunity to face another world champion at EAW Pain For Pride IV, while Robbie V would enter for the purposes of evening the score between him and his partner. Both members of the team would make the final four of the match, but Robbie V would ultimately win the match by last eliminating Extreme Enigma.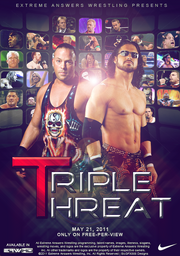 The dynamic between RRS and Robbie V did not change as a result of Robbie V's Grand Rampage victory. Instead, the two enjoyed a professional and competitive partnership together. At the penultimate event of the season, EAW Triple Threat (2011), RRS would face Y2Impact and Heart Break Boy in a triple threat where the loser of the match would become Robbie V's Pain 4 Pride opponent. At the conclusion of the match, RRS purposely positioned himself to take four consecutive superkicks from Heart Break Boy in order to take the pinfall and face his partner in the main event of EAW Pain For Pride IV.
In the final weeks before Pain 4 Pride, RRS and Robbie V remained partners and showed little to no hostility toward each other. In the final Showdown before Pain 4 Pride, the pairing put their EAW Unified Tag Team Championships on the line against the team of Kawajai and Apollo Calix, Channel Zero. This would be both Sex N' Violence's first championship defense since the announcement of their EAW Pain For Pride IV main event match and their last defense before splitting. In a shocking turn of events, Robbie V hit his signature move, the concussion, on RRS, before abandoning him and leaving him to be pinned by Channel Zero.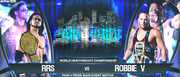 Robbie V and RRS would meet at EAW Pain For Pride IV in their first singles match against each other since the #1 Contender's match months earlier. The match was widely regarded as the most anticipated of the year and showcased an array of tense moments between two former friends. In the end, Robbie V would score the pinfall over RRS, becoming World Heavyweight Champion. Following the match, Robbie V congratulated and thanked his former partner and promptly announced that he would be retiring from EAW effective immediately. Though it would not be Robbie V's last appearance on EAW programming, it would vacate the championship. Only two months later, RRS would unofficially announce his retirement from the company as well, citing similar grievances as his partner had.
In E-federations
Moveset
Signature Moves

Double Dropkick
Double Leg Drop
Poetry in Motion
Finishers

Stigmata (Springboard Corkscrew Moonsault; RRS)
Concussion (VanDaminator without a chair; Robbie V)
Five-Star Frogsplash (Robbie V)
Miscellaneous
Theme Music

"Old Times Sake" by Eminem ft. Dr. Dre
Championships and Accomplishments