Serena Bennett

Bennett in November 2020
Birth name
Samira Marie Bennett
Born
January 3, 1994 (age 26)
Compton, CA
Resides
Los Angeles, CA
Professional wrestling career
Ring name(s)
Serena Bennett
Billed height
5 ft 5 in (1.65 m)
Billed weight
114 lb (51.7 kg)
Billed from
Compton, CA
Trained by
N/A
Debut
2016
Samira Marie Bennett (born January 3, 1994) is an American professional wrestler currently signed to Elite Answers Wrestling where she currently performs on the Dynasty brand under the name Serena Bennett. She is also a former Specialists Champion, Women's Grand Rampage winner, the former and inaugural Universal Women's Champion, and 2020's Female Elitist of the Year.
Early Life
Samira Marie Bennett was born on January 3, 1994 in Compton, California, daughter of Shauna Bennett (née Brown) and Mark Bennett. She has two older brothers, Malik and Marcus, and a younger sister, Shiya.
In 2008, Bennett began attending Compton High School in Compton, California. Bennett has stated that her high school experience was not a positive one. In her freshman year, her boyfriend was arrested for possession of marijuana and her cousin was murdered by rival gang members. Her frustration with the American justice system, the Compton school district, and the negative attitudes of her teachers motivated her to work hard in school and push herself to apply for admission at UCLA to prove that she was worth more than her teachers had ever thought of her. Bennett was accepted, although she only spent one year at UCLA before deciding to pursue a different path to accomplish her goals.
Bennett has admitted to being a fan of professional wrestling throughout most of her life, mainly due to her older brothers' influence. In an interview, she has cited Jenny Punk and MaK as her two favorite AWF/EAW Extremists to watch growing up.
Professional Wrestling Career
Early Career (2014-2018)
In late 2014, after watching a UCLA wrestling match, Serena decided to pursue a career in professional wrestling. After leaving school, she began her training at a local wrestling school in Los Angeles.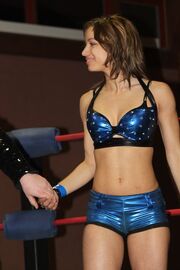 Serena made her professional wrestling debut in 2016. She is known for her record-breaking undefeated streak in the independent circuit, where she was undefeated for 2 years, 2 weeks, 6 days, and 206 matches throughout multiple promotions across the United States, Asia, and South America. During this time, Serena captured multiple singles championships which she eventually relinquished after being signed to Elite Answers Wrestling through a tryout held by FOX.
Elite Answers Wrestling (2018-Present)
"FOX Cares" Initiative (December 2018 - January 2019)
After her tryout, Serena Bennett was handpicked by FOX Network's representatives to appeal to multiple demographics during their "FOX Cares" initiative on Empire. During this time, she worked very closely with Stephon Hunte in hopes to improve the Empire product and to suit the network's needs. While under the guise of Stephon's loyal assistant, Serena confessed to Kendra Shamez and Flannery McCoy on Empire that she was just as frustrated with Stephon as they were, and was rooting for them to win back control of Empire, hoping that they would get rid of Stephon sooner or later. Upon finding out this information, Stephon placed Serena in the Empire Extreme Elimination Chamber at Road To Redemption for the Specialists Championship as a punishment for her disloyalty. If Serena were to lose, she would lose her contract with FOX and be kicked off of EAW television.
Serena was defeated by Andrea Valentine in the Extreme Elimination Chamber, the last participant to be eliminated and the longest lasting. That same night, Stephon provided Serena with her termination notice, only to be presented with an Empire contract by Kendra Shamez.
Specialists Championship and Feud with Andrea Valentine (January 2019 - March 2019)
Not long after receiving an official EAW contract, Serena started feuding with Andrea Valentine, initiating conflict by sneakily attacking Andrea at the end of one of her Empire matches. The two traded blows for several weeks until Andrea accepted a challenge from Serena to face Bennett for the Specialists Championship at King of Elite. Andrea accepted and the stipulation was set to be a non-traditional chain match. Serena came out of the match victorious and was crowned the Specialists Champion after Andrea Valentine submit.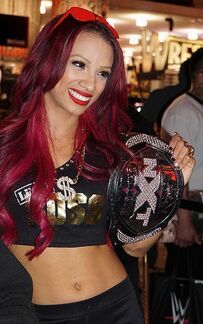 After King of Elite, Serena debuted a new talk show on Empire called "The Blue Carpet," a reference to Snoop Dogg's album title "The Blue Carpet Treatment" and homage to her hometown, Compton. On the first episode of the show and during her segment "#AskSerena," a fan had asked Serena if she would be competing at the second annual Iconic Cup. Initially, Serena said she was not going to be, but her guest, Stephon Hunte, revealed that a rematch between Andrea and Serena was arranged for the Iconic Cup, and a brawl broke out between Serena and Andrea. A few weeks later, it was confirmed that the stipulation for their rematch would be a "Last Chance" match, a championship match where, if the challenger does not win the title, they are banned from challenging for it again as long as the winner of the same match holds it. At the Iconic Cup, during Serena and Andrea's match, Stephon Hunte stormed to ringside and demanded that the referee rang the bell and end the match as Valentine held Bennett in a submission hold, even though Bennett did not submit. Upon realizing what Stephon was attempting to do, Valentine released the hold and confronted Stephon at ringside resulting in both Bennett and Valentine teaming together to brutally beat Stephon and severely injure him. Despite this interference, Serena successfully retained her championship at the Iconic Cup.
After the Iconic Cup, Serena took it upon herself to issue an open challenge to any member of the Empire locker room who wanted a Specialists Title opportunity. Her first challenger was Remi Skyfire, who Serena defeated in a submissions count anywhere match. The following week, Bennett faced the returning Consuela Rose Ava in a standard submission match where she was defeated after being distracted by interference from Felix Hartley, after Felix's segment was interrupted by Bennett earlier that evening. The two engaged in a heated exchange which left Felix feeling robbed of her airtime.
Feud with Felix Hartley (March 2019 - May 2019)
After losing the Specialists Championship, Bennett redirected her focus and decided to set her sights on winning the 20-Women Grand Rampage at the 2019 Grand Rampage. Bennett was the first entrant in the matchup and outlasted 19 of her fellow EAW Elitists to become victorious after eliminating rival Felix Hartley.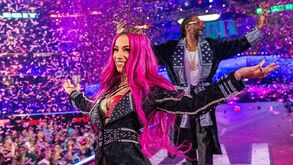 On the first Empire after winning the Grand Rampage, Serena hosted a celebratory edition of her show, The Blue Carpet inviting rapper and fellow Californian, Snoop Dogg, as a special guest. In the middle of the segment, she was interrupted by the runner up to the Grand Rampage, Felix Hartley, where they would end up engaging in a verbal back and forth. This prompted Felix to further crash her celebration by seducing Serena's special guest Snoop Dogg. She caught his attention enough to make him decide to leave Serena's party and go with her backstage instead. Not to be outdone, Serena crashed Felix's match later in the night against Cleopatra in an attempted to distract Felix. She charged down to the ring and mocked Felix, grinning and taunting exactly the way Felix did. Despite Felix's victory, Bennett attacked Hartley immediately after the match concluded and locked her in the Trap Queen until she tapped.
During the May 2nd episode of Empire, security had to physically separate Felix and Serena when Serena went to attack Felix during her Instagram Live segment. It would be announced then that Felix and Serena would be facing off at Empire's event, Terminus. The match was later announced to be an Ironwoman match. With Felix in the lead with 3 falls over Serena, Serena was quick to make a comeback and tie, 3-3. In what would go down as the most iconic feud on the Empire brand that season, Felix pulled a quick win 4-3 with five seconds to spare in the match.
Women's World Championship Pursuits (May 2019 - June 2019)
Naturally, after winning the Women's Grand Rampage, Serena set her sights on the Women's World Champion, Sienna Jade. The two had several heated encounters on Empire before their match scheduled at Pain for Pride 12. Sienna was even a guest on an episode of The Blue Carpet Treatment, the same episode where Veena Adams announced that with Empire's closing, a new women's title would be introduced - the Universal Women's Championship. Sienna and Bennett went on to the main event the second night of Pain for Pride 12, with Serena coming out victorious and marking herself as the inaugural Universal Women's Champion. However, immediately after the match, Kassidy Heart cashed in her Iconic Cup on a worn-down Serena, defeating Bennett in under five minutes to become champion.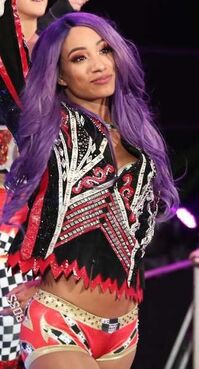 Feud with Kassidy Heart and Captain of Team Dynasty (July 2019 - September 2019)
In the Season 13 Draft, Serena Bennett was the number one overall draft pick to Dynasty. At the EAW Draft Show, Bennett vows that Heart's title reign will be a short one and that she will have no one to blame, but herself. The next few weeks on Dynasty involved Bennett and Heart taking shots at each other, building up for their official match which was announced for Operation: Doomsday. Heart was declared the victor at Operation: Doomsday, as Bennett had suffered far too much blood loss to continue competing.
Upon failing to regain the title, Bennett invested her energy elsewhere after General Manager StarrStan announced her as the Captain of Team Dynasty for EAW's Territorial Invasion free-per-view. She chose Darkane and TLA as her partners, a questionable decision to some as there had been quite a bit of heat between the two before the War Games match-up. As captain, Bennett managed to unify her team long enough to withstand the War Games match, but not enough to secure a victory.
Feud with Sienna Jade and Hiatus (October 2019 - March 2020)
On the episode of Dynasty immediately following Territorial Invasion, Bennett was attacked by an unknown assailant, left bloody and beaten backstage. This put Bennett out of action for several weeks, as she did not return to EAW television until the House of Glass free-per-view. During TLA and Impact's EAW World Heavyweight Championship match, Sienna Jade took it upon herself to interfere in favor of her husband, Impact. Unable to withstand the unfair tactics of the couple, Bennett began to play footage of her assault on Dynasty, revealing Sienna Jade to be guilty of the attack. Bennett then immediately ran to the ring, confronted Jade, and removed her from the equation, allowing TLA to be crowned the new World Heavyweight Champ.
After Serena's return to Dynasty, a match was made for Road to Redemption between Jade and Bennett to name the #1 contender to the Universal Women's Championship, who at the time was Raven Roberts. On the night of Road to Redemption, as she was making her entrance, Bennett was again brutally blind-sighted by Jade, allowing Jade to secure a quick victory. The injuries Bennett suffered at the hands of Jade that night were enough to keep her off of EAW television for another three months, as she did not return until March.
Return to EAW, Feud with Impact & Sienna Jade (March 2020 - June 2020)
At the EAW free-per-view Reckless Wiring, Serena interrupted Ronan Malosi in the ring as he was calling out another Elitist, much to the surprise of the EAW Universe. After taking Ronan's microphone, she proclaimed that she was going to get her revenge against Sienna Jade, one way or another. When Ronan put his hands on Serena, she took him down with a headbutt and put him in the Trap Queen, prompting him to tap right away, thus resulting in a very strong statement from Bennett.
The following week on Dynasty, Bennett hosted an episode of The Blue Carpet where Bennett invited Jade to come out and face her. As Bennett continued to insist, she was instead greeted by Impact who berated and criticized Bennett. He encouraged her to implode as she has been known to and strike him, but she instead refused and stayed silent. After Impact interrupted an interview with Bennett the following week, she ran out to interfere in his matchup, much to Impact's surprise. Later, a match between the two was announced for Grand Rampage.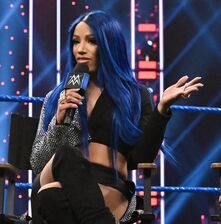 At Grand Rampage, Sienna Jade made her return to EAW television by interfering in Impact and Bennett's match in favor of her boyfriend, Impact. Bennett ended up losing due to a referee being unaware of the interference by Jade. The next night on Dynasty, in a segment with Kassidy Heart, Impact, Sienna Jade, and Chris Elite, Serena was placed in a tag-team match at Gateway To Glory by Chris Elite with the use of his Gawd Contract. The spiteful decision-making of Chris Elite was a surprise to all four Elitists, especially Kassidy and Serena who have been bitter rivals since the end of Pain for Pride 12. However, despite their differences, the duo came together to secure a victory over the team of Impact and Sienna, with Serena securing a pinfall victory over Impact after debuting a new finishing maneuver, Tip Toe.
After defeating Impact and Sienna Jade, Serena, considering herself the expert in what it takes to overcome Impact's psychological warfare, invited both Chris Elite and Cage to an episode of The Blue Carpet to offer her advice on the situation, as the two were also victims to Impact's interference over the past few months. Both men, unable to put their egos aside to hear her out, instead berated Serena on her own show while also throwing insults around at each other, resulting in a fight breaking out in the center of the ring. In the following weeks on Dynasty, Chris Elite, with the use of his Gawd Contract, scheduled a "Dream" Fatal Four Way match-up between Impact, Elite, Cage, and Bennett for Pain for Pride XIII. Chris Elite walked away with the victory after securing a pinfall on Cage, due to Serena failing to stop the pinfall in time as her leg gave out due to too much blood loss.
Championship Pursuits and Feud with Andrea Valentine (June 2020 - August 2020)
At the EAW draft show, Serena has drafted back to Dynasty for a second season. While the crowd was listening to Universal Women's World Champion Minerva issue a notice to the entire Women's division, Serena interrupted her and challenged Minerva for the Universal Women's Championship, a match set to take place at the Voltage free-per-view, Bloodsport. Minerva accepted, but not without a shot to the head from Serena using a microphone.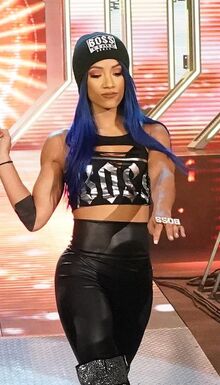 The following week on Dynasty, Serena issued yet another challenge to Andrea Valentine for a match at the Dynasty exclusive, Operation: Doomsday, thinking that Andrea would be the perfect warm-up before her Universal Women's Championship match. Andrea accepted and successfully countered a sneak attack from Bennett, making it clear that Andrea was no easy target and fully focused and prepared to take Serena on. That same night, while Serena was competing in the main event against World Heavyweight Champion, the Visual Prophet, Minerva interfered at the tail end of the match up by shutting the lights on and off then appearing suddenly in the center of the ring with Serena. Serena, distracted, was taken out by Minerva. The same weekend on Voltage, however, Serena returned the favor by interfering in Minerva's own main event match against Ahren Fournier.
The next week on Dynasty, as Andrea was cutting an in-ring promo, Serena took it upon herself to yet again interrupt Andrea. As the two engaged in a verbal back and forth, Minerva, via satellite, revealed herself on the titantron. Serena and Andrea watched as Minerva walked through the streets of Compton and defaced a mural dedicated to Serena's cousin, Rashawn Wallace, who was murdered by rival gang members. Distraught and disturbed, Bennett buckled down crying in the ring, but that did not stop Andrea from attacking Serena from behind.
In the next coming weeks, Serena would retaliate against both Minerva and Andrea for their comments and actions. She visited Voltage on two other occasions, once to ambush Minerva at ringside, and another to interfere in Minerva's match against Darcy May Morgan, the Cash in the Vault holder. Morgan was moments away from cashing in on Minerva's Universal Women's Championship, but Serena successfully prevented the cash-in and assisted Minerva in getting the victory, ensuring that their match for Bloodsport was going to happen as planned. That same week, the stipulation for the title match was announced: 3-Stages of Hardcore Hell.
Meanwhile, on Dynasty, Serena was scheduled to compete in a tag team match against the Visual Prophet and Charlie Marr with Valentine as her partner. Not at all excited to rely on Valentine as a team member, earlier that evening, Serena interrupted Valentine as she was delivering an in-ring promo. The encounter ultimately resulted in a brawl that required officials to pull the two apart. Later that same evening, after Valentine secured the pin-fall victory over Marr, capitalizing off of Serena's hard efforts throughout the match. Frustrated with the result of the match, Serena initiated another physical altercation with Valentine, resulting in another out of control in-ring brawl.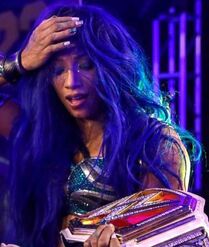 The week just before Operation: Doomsday, Minerva took it upon herself to invite Andrea Valentine to the ring on Dynasty to request that Andrea call off the match between her and Serena. Andrea denied her request, insisting that she was going to have her way with Serena and make an example out of her. Serena eventually joined both women in the ring as they quarreled over out-performing one another and made it clear that she was ready to take both women on and would be successful no matter the circumstances. At Operation: Doomsday, Bennett and Valentine put on a match that could easily be considered a match-of-the-year candidate. However, it was considered a no contest the moment Minerva shut off the lights and entered the ring, throwing Andrea over the ropes and laying Serena out with Atlas Falls before leaving. The following week, at Bloodsport, Bennett and Minerva would main event the evening with a Street Fight, Barbed Wire Chain Match, and Traditional Deathmatch being the Three Stages of Hardcore Hell. The Street Fight went in Bennett's favor after causing Minerva to pass out while Serena locked in the Trap Queen. Minerva would go over in the Barbed Wire Chain Match having successfully touched all four corners in the ring. Serena would gain the pinfall victory over Minerva in the final stage after hitting Minerva with three Tip Toes back to back to back to call herself a two-time Universal Women's Champion.
Two-Time Universal Women's Champion & Second War Games (August 2020 - October 2020)
Two weeks after winning the Universal Women's Championship, Serena hosted a celebratory edition of The Clue Carpet where she highlighted her own success after defeating Minerva at Bloodsport. While basking in her own perceived greatness during her #AskSerena segment, a fan asked Serena which of the four Ava sisters was her "least favorite." Serena, amused by the question, found it difficult to decide, as it is no secret that she's not particularly fond of the Ava sisters and proceeded to deliver insults to Cameron, Consuela, and Camille Ava. However, she was eventually interrupted by Candice Blair. Candice entered the ring and spoke against Serena's criticism of the Avas in defense of her family name. Taking it a step further, knowing that Serena needed a challenger at Territorial Invasion, Candice challenged Serena to the Universal Women's Championship and the champion happily accepted.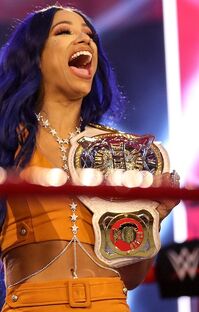 In the coming weeks, Serena would be invited to Voltage to serve on commentary during one of Candice's matches. To no one's surprise, Serena interfered in the matchup by throwing Crip-A-Cola bottles into the ring while Candice and Minerva were competing. On Dynasty, Serena claimed to have found the "fifth Ava sister" and introduced her to the EAW Universe. Knowing that the woman was a paid actress, Candice came out to the ring again to defend the Ava name as well as deliver a slap to Serena's face, ultimately resulting in a quick scuffle that ended in Serena being hit with the Candy Destroyer outside of the ring. The very next week, Serena, faking an injury, went out to address the audience in crutches, a cast, and a neck brace to hint at potentially taking another medical leave of absence. After receiving the fan response she desired, Serena tore the orthopedic accessories off, admitted to making fun of herself as well as some members of her division, and vowed that the only way Candice or anyone else would be taking the UWC from her was "off of [her] dead body."
However, Candice's & Serena's match would still end up being postponed, but not due to injury. Team Dynasty's War Games team ended up being short one member after Mr. DEDEDE ended up firing Team Captain Sarah Price and stripping her of the Specialists Championship. Now one member short, DEDEDE introduced Serena as the final member of the War Games team in a later segment the same night on Dynasty, only a week before Territorial Invasion was scheduled. At Territorial Invasion's main event, Serena Bennett would capture the pinfall over Team Showdown's Xavier Williams after Mr. DEDEDE indisposed of him with the Northstar off the top of the War Games cage, bringing Team Dynasty the victory. The following week on Dynasty, Serena would main event the evening and successfully defend her Universal Women's Championship against Candice Blair.
Tag Team Grand Prix & Various Free-Per-Views (October 2020 - December 2020)
Alongside the Visual Prophet, Bennett would participate in her first Tag Team Grand Prix tournament as a member of the Shea Butter Babies. In the first round, Bennett received a victory for her team against Team Wilson (Ryan Wilson and Christian DeMarco) by submitting Wilson via Trap Queen on Dynasty. In the second round, Bennett received a pinfall victory over the team MASOCHISTxMANIFEST (Myles and Minerva) on Voltage to advance to the semi-finals of the tournament. In addition to their Grand Prix performance, the Shea Butter Babies had also teamed up on an additional episode of Dynasty, picking up a victory against the team of Limmy Monaghan and Mason Massacre. In the semi-finals the following week, the Shea Butter Babies were defeated by the Liquid Swordz (Impact and Mr. DEDEDE) thanks to interference from Ms. Extreme on Dynasty, whom Bennett had been feuding with at the time.
Feud with Harlow Reichert (October 2020)
On the second episode of Dynasty after Territorial Invasion, Serena Bennett held an "open forum" where she invited any Elitist who was willing to utilize the opportunity to tell Bennett how they "really feel about her." No one came to the ring to address Bennett, and she used the opportunity to cut a promo and continue to uplift herself as one of the best technical wrestlers in the company. This statement drew the attention of Harlow Reichert, former PURE Champion, who then came to the ring to confront Serena, believing that not Serena, but she was the best technical wrestler in the company. Unable to come to a compromise, the women agreed to a match at House of Glass, where Serena put her title on the line. It was later announced that the match between the two would take place in the infamous Red Wallz structure, the first Red Wallz match where a woman would be competing in. Serena managed to pull a victory over Harlow after a grueling match, as Harlow was deemed unable to continue by the referee after passing out to Serenity.
Feud with Ms. Extreme (November 2020 - December 2020)
While appearing on the main event of Voltage as part of the Grand Prix tournament, Serena interrupted an interview involving Ms. Extreme, berating the Ava and accusing her of being afraid of Bennett, to which Ms. Extreme was not entertained by. Bennett encouraged Ms. Extreme to step in the ring with her for the Universal Women's Championship, again not at all shy to put her title on the line to prove a point. Ms. Extreme agreed, but not without Serena taking a chance to slap Ms. Extreme across the face, resulting in a short backstage scuffle between the two. Shortly after, Voltage General Manager, Captain Charisma, stepped in and made the match official for Road to Redemption.
The following week on Dynasty, Ms. Extreme hosted her own version of Serena's talk show calling it the Orange Carpet Treatment. Ms. Extreme used this opportunity to brag about both instances where she shared a ring with Serena: Territorial Invasion's 2019 War Games and on an episode of Dynasty where Ms. Extreme picked up victories at both events. Bennett was quick to come out to the ring and correct Ms. Extreme, reminding her that she never once laid a hand on Bennett in either one of those instances. That same night, Ms. Extreme came to the ring after the Shea Butter Babies' victory against Limmy Monaghan and Mason Massacre with an assault on Bennett.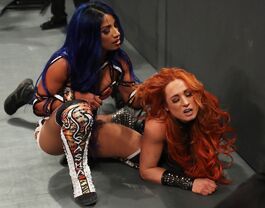 The next week on Dynasty, Serena would open the show to cut a promo, but it was cut short after Ms. Extreme came down to the ring, held back by security to prevent another attack on Bennett. Disregarding the security guards, Serena, from the ring, leaped towards Ms. Extreme, allowing a brawl to then follow all throughout ringside and even in the virtual crowd. It took several members of security to separate both women. In the same episode of Dynasty's main event, Ms. Extreme interfered in the Shea Butter Babies' semi-finals Grand Prix match against the Liquid Swordz, allowing the Liquid Swordz to pick up the victory over the Visual Prophet. That same week on Voltage, Serena was a guest commentator during Darcy May Morgan and Ms. Extreme's match. Throughout the match, Ms. Extreme would spend time aggravating and taunting Bennett from a distance. It wasn't until Darcy and Ms. Extreme's match reached the outside, knocking Serena over at the announce table. Bennett would then illegally enter the ring, taking out both women with a plancha, resulting in a no-contest. An in-ring brawl then ensued between Ms. Extreme and Bennett.
On the Thanksgiving weekend episode of Dynasty, Serena would reveal footage from her mock-reality show, True Bennetts, a nod to the hit E! Network show True Avas. On the show, Serena would be shown wearing various colored wings, representative Serena of different stages throughout her EAW career as they interact with one another, starting from the very beginning and leading to now. She segment ended with Serena proclaiming proudly that she is "strong-willed, reckless," and had no intentions of losing her UWC anytime soon. That same weekend on Voltage, Serena would make another ring-side appearance, watching as Ms. Extreme competed in a singles match against Donovan Duke. Bennett would serve as a distraction throughout the match, ultimately resulting in another ringside brawl where Bennett stood victorious.
On the Dynasty before Road to Redemption, Bennett and Ms. Extreme would attend a contract signing for their match hosted by Veena Adams, where dozens of security were already present at ringside in the event of an incident. Upon arriving to the contract signing, and after signing her name, Bennett slapped Ms. Extreme across the face, immediately prompting a raucous brawl between the two women. It required all of security as well as nearly every Elitist in the locker room to separate both women who were determined to get their hands on one another before the Free-Per-View. At Road to Redemption, Serena retained her title thanks to assistance from Eris LeCava, former Vixen's Champion. Upon making her surprise return at Road to Redemption, Eris woke a downed referee after smashing a bottle of Crip-A-Cola into the face of Ms. Extreme, buying Serena enough time to hit Captain Hook on Ms. Extreme and lock in the Trap Queen, which Ms. Extreme passed out to.
Feud with Eris LeCava (December 2020 - February 2021)
Other Media
On June 23, 2019, Bennett appeared at the 19th BET Awards. She presented the award for Best International Act with a recording artist Ne-Yo.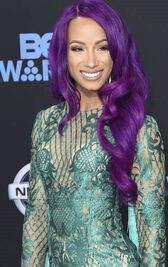 Bennett was named an ambassador for Fenty Beauty in June 2019 not long after revealing on EAW television that she is a loyal customer of Fenty products. She has starred in various commercials for Fenty and has since become very close with Fenty owner, Rihanna, since the announcement of their partnership. In 2020, Bennett was also named an ambassador for Fenty Skin before its launch.
On August 25, 2019, Bennett attended Black Girls Rock!, an annual awards show that honors and promotes Black women in different fields involving music, entertainment, medicine, entrepreneurship, and visionary aspects. Bennett also was invited to attend the 4th annual BGR!FEST on March 5-8, an immersive multi-day live experience, and an extension of the Black Girls Rock! brand, providing another empowering platform, to showcase the talents, voices, vision, and innovation of women of color.
Throughout her career, Bennett has also been named a spokeswoman for various products and companies such as Halo Top Creamery, Mattel, Nike, King's Hawaiian, and Puma. Her partnership with Mattel included heavy involvement from Bennett for the implementation, design, and introduction of an exclusive, limited edition Bratz doll, a collection that also included a few other female Elitists. With King's Hawaiian, Bennett works with their bakeries nationwide to provide food drive donations in food deserts across the country.
In Fall 2020, Bennett made her debut as a playable character in EAW 2K21.
Personal Life
Serena Bennett is currently single, although some rumors have begun to surface regarding the level of her involvement with rapper Aminé after several photos and stories posted on Bennett's Instagram in mid-late 2020. Bennett has confirmed that she and the rapper are "really good friends," as she has also named one of her signature moves after his 2018 single, Reel It In.
Bennett was engaged to former Carolina Panthers quarterback Cam Newton until June 2020. After several years of being together, Serena announced her breakup with Newton on social media after their disagreements involving police brutality in the United States and Newton's failure to speak out and stand up for justice as passionately Bennett had been.
For a short time in early 2019, Bennett dated fellow EAW Elitist SOSA Henderson while on a break with Newton. The two had showcased certain aspects of their relationship on EAW television before splitting post Pain for Pride.
In Wrestling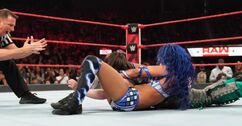 Finishing Moves

Trap Queen (Arm Trap Triangle Chokehold)
Serenity (Inverted Indian Deathlock Facelock)

Signature Moves

Tip Toe (Pele Kick/Wound-Up Bicycle Kick)
Reel It In (Tilt-A-Whirl Head-Scissors Takedown)
Moonlight (Running Neckbreaker, sometimes in succession)
With The Shits (Two Shoot Kicks and Jumping Back Kick Combination)
Captain Hook (Uppercut)
Bow and Arrow Stretch
Headbutt
Camel Lock
Chin Lock
Diving Crossbody
Diving Hurricanrana
Suicide Dives
Monkey Flip
Rolling Pin Variations
Baseball Slides
Somersault Clothesline

Entrance Themes

"She Knows (feat. Amber Coffman)" by J. Cole (December 2018)
"Surfin' (feat. Pharrell Williams)" by Kid Cudi (December 2018 - Present)
"Collard Greens (feat. Kendrick Lamar)" by ScHoolboy Q (as a member of Shea Butter Babies w/ Visual Prophet)
Championships & Accomplishments
Elite Answers Wrestling
EAW Awards
Female Elitist of the Year (2020)
Female Promoer of the Year (2020)
Women's Champion of the Year (2020)
Comeback of the Year (2020)
Female Match of the Year (2020)