Saint Anger

Billing information

Ring name(s)

St. Anger
Saint Anger

Height

7'3"

Weight

350 lbs.

Born

Unknown

Hometown

San Quentin Prison, California

Theme music

"Saw Theme Remix" by Unknown Artist

Affiliation(s)

Y2Impact

Federation(s)

None

Previous federation(s)

Extreme Answers Wrestling
The Classic Wrestling Federation

Wrestling information

Alignment

Heel

Wrestling style

Powerhouse, Sadist, Hardcore

Signature Move(s)

Equus Driver
Big Boot
Falling Powerbomb

Finishing Move(s)

Leg-Trap Sitout Chokeslam
Set2Rest
Ride the Lightning

Trainer

None

Handler

RRS

Professional career

Debut

EAW Showdown: November 7th, 2009

Record

30-1

Accomplishments

• EAW Unified Tag Team Championships
•Longest Undefeated Streak in EAW History
• Complete list

Retired

EAW Grand Rampage (2010)
Edward James Gein (supposedly born July 28th, 1984) was an American professional wrestler better known under his ringname, Saint Anger. As a wrestler, Gein is known for his particular dominance and sadistic ways. Little is known about him, but was able to attain the longest winning streak in Extreme Answerz Wrestling history until it was outdone by Jaywalker several years later. His string of domination led to the crowning of his stable, Order of the Angels, becoming both the World Tag Team Champions and EAW Tag Team Champions simultaneously along with his partner Y2Impact becoming EAW Interbrand Champion. Gein is also a current inmate at San Quentin Prison, California, placed on death row for the rape and murder of his girlfriend along with the murders of his brother, sister, and mother.
Edward Gein is no longer part of the professional wrestling circuit.
Career
Gein first appeared in the wrestling industry in early 2009 when he made various strange promos at Extreme Answerz Wrestling. It was originally planned to have Saint Anger booked to tag team with both Independent and the Dark Emperor. However, Gein disappeared from the industry due to personal troubles concerning his arrest and imprisonment at San Quentin Prison.
The Classic Wrestling Federation
Although his time at The Classic Wrestling Federation was extremely short-lived, Edward Gein joined the promotion prior to disappearing from the entire E-Wrestling Industry for quite some time. The newcomer decided to pick up a gimmick where he would switch between three different sorts of personas.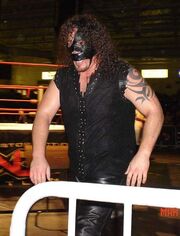 In one case, Gein would use the "Saint Anger" gimmick and display extreme tendencies including the use of many weapons whenever possible, a tendency to enjoy bloodshed in a match, and also no regards for any rules or stipulations set. His second persona went under the ringname "Saint Love". Under this name, Gein displayed a more cheerful side in which he played to the crowd and played a sort of hero role in TCWF. This was his closest gimmick to face that he held during his career. His third persona went by the ring name "Saint Hate" and displayed the most sadistic side of Gein. Under this name, Gein aimed to cause his opponents pain and misery and every shape and form. Anger retired from the promotion right before his debut due to personal problems regarding his imprisonment at San Quentin Prison of California.
Gein's initial appearance in EAW happened in the beginning of 2009. However, it was not until November 7th, 2009 that he debuted on the Showdown brand as the mystery partner for Y2Impact to take on La Secta Apocolyptica (Kevin Devastation and Dark Emperor). Much to EAW's surprise, the new-comer and former World Heavyweight Champion, Y2Impact, dominated and defeated the former World Tag Team Champion, La Secta Apocolyptica.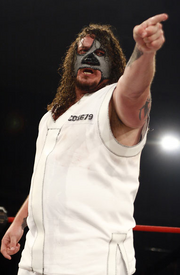 The victory sparked the beginning of the stable, Order of the Angels, which contained both Saint Anger and Y2Impact. Saint Anger continued to dominate members of EAW in matches including singles, tag, and handicaps in which St. Anger was the victor in every contest he participated in. Besides that, Anger also interfered in several other matches including Regualtor vs. Y2Impact and the Interbranded Championship Scramble, where Anger prevented the current champion, James Montell Johnson, from retaining his World Championship, this making St. Anger's tag team partner, Y2Impact, the Interbranded World Champion.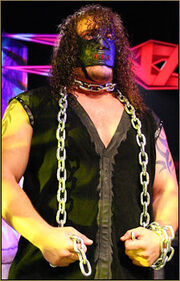 Following the match, The Order of the Angels announced their chase for both the World Tag Team and Tag Team Championships being held by Robbie V and Viper. At King of Extreme II, the Order of the Angels received their shot at the Unified Tag Team Champions, RoViper, and were successful in capturing the Unified Tag Team Championships with apparent ease. As champions, the Order of the Angels were dominant and Saint Anger extended his winning streak to pass MvM's previous record of a 21-0 streak. Saint Anger received three Interbrand Championship opportunities, none of which were one-on-one matches. With the disappointing pinfalls of other competitors in matches such as fatal four-ways for the Interbrand Championship, the streak was not broken and Saint anger was not crowned champion. Soon thereafter, Impact fell to a pin in both the Unified Tag Team Championship match with Mr. DEDEDE and Captain Charisma and, also, the following Number One Contender's match for the Unified Tag Team Championships against the Ryding Regulationz, Matt Ryder and Regulator. Saint Anger has since been part of various singles matches where he has stretched his streak to a near 30-0. However, in his attempt to become 30-0 since his debut, he faced his ex-partner Y2Impact at Grand Rampage. Due to interferences from various superstars, Saint Anger picked up his first loss via pin fall.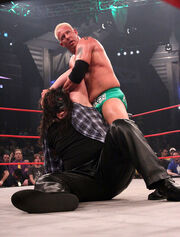 He has never submitted in his career and continued to become 30-1 before promptly being dropped out of programs for reasons unknown. It is rumored that the dying popularity of the extremist would take a critical hit when the streak was ended. This may be the reason that Saint Anger disappeared from EAW.
In Extreme Answerz Wrestling, Gein is notoriously known for making extremely strange promos. In these promos, he uses symbolism, poetry, and allusions to tragedy as well as other techniques in order to get his point across. In no way does Edward Gein explain things in a straightforward manner under the Saint Anger gimmick.
Personal Life
Although little is known about Edward Gein, some facts have surfaced from his promos and segments surrounding him. According to himself, Gein was born on July 28th, 1985. No record of his birth certificate or biological parents have been found. However, it is assumed that Edward Gein was the son of Joseph Michael Gein, Sr., and his mother, Allison Gein. He was supposedly born in England at a U.S. Naval Base.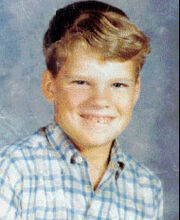 Gein has no record of finishing high school or college but aspired to be a military man like his father was before tragedy struck and Joseph Gein committed suicide after being shipped home on injury because of several amputations to his limbs. Edward Gein's step-father, Larry Steinback, married Gein's mother in September of 1990, when Gein was just 15 years old. Because of apparent abuse of Edward Gein and his siblings, Edward plotted to kill his step-father with a handgun that was kept in the basement. When Gein planned to shoot and kill his step-father, walking through the door of their house from a long day at work, Gein mistook his mother for his step-father and quickly shot her four times in the chest before realizing what he had done. Gein was arrested for unintentional manslaughter of Allison Gein in 1991 and served his time in Southern California.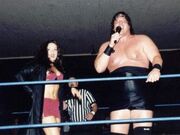 Edward Gein was released in 1996 when he aspired to be a professional wrestler. Soon thereafter, he met his then-girlfriend, Kaitlyn Johnson, whom he would eventually date for just over a year before problems in the relationships surfaced and Kaitlyn left Edward. Edward, subdued in a mix of emotions including anger and jealousy, disappeared on June 6th, 1998. That same night, Kaitlyn was reported missing and police set out to find the two lovers. Gein sent his brother and sister a message using his pager saying that he had injured himself at a specific location and asked to be helped by them without telling their step-father because he was honestly embarrassed about injuring himself. Both the brother and the sister disappeared that same night. The police were able to find the location as they found Edward Gein wearing a mask resembling his biological father's face along with his mother's scarf tied around his neck. He was maintained and arrested peacefully after claiming that Kaitlyn had attempted to kill his brother and sister. Supposedly, Gein killed his ex-girlfriend for self-defense. However, it was decided on January 18th, 1999 that Gein had killed Kaitlyn, his brother, Michael Gein, Jr., and his sister, Mariam Gein. Fearing a possible death sentence, his lawyer, Tom Hurtz, advised Gein to plead insane. Despite constant attempts to prove that Gein was not mentally well, he was sentenced to death in the state of California and sent to San Quentin Prison where he awaits his execution. He has, since then, been additionally charged with battery of an officer of the law, assault of various inmates, and the rape of Kaitlyn before her murder.
In an attempt to prove that Edward Gein was not, in fact, insane and was eligible for death row, The State of California decided to employ Edward Gein to Extreme Answerz Wrestling under the ringname Saint Anger.
In Wrestling
Signature Moves
Spear
Big Boot
Tombstone Piledriver
Electric Chair Drop
Sharpshooter
Backbreaker
Corner Clothesline
Diving Clothesline
Falling Powerbomb
Military Press Drop
Running/Scoop/Sidewalk powerslam
Uppercut
Wilt-a-whirl slam
Guillotine LegDrop
Reverse STO
Running DDT
Running Jumping Leg Drop
Running Leaping Clothesline
Death Valley Driver
Spinning Spinebuster
Equus Driver(Here it is Driver)
Cult Mutilation
Finishers
Leg Trap Sit-out Chokeslam
Set2Rest (360 Blackhole Slam)
Ride the Lightning (Backrack turned into a reverse F-5)
Nicknames
Satan's Sariphim
Lucifer
The Devious Divinity
The Dark Deity
The AntiChrist
Leather-Faced Lunatic
Demented Degenerate
Managers
Theme Music
"Freak on a Leash" by KoRn
"5150" by TheArtist
"Saw Theme Remix" by Unknown Artist
Championships and Accomplishments
EAW World Tag Team Championship(1 Time--Part of Unified Tag Championships) with Y2Impact
EAW Tag Team Championship(1 Time--Part of Unified Tag Championships) with Y2Impact
EAW Triple Crown Winner
Longest Winning Streak in EAW History(29-0)
EAW Most Valuable Extremist Award (Week 23)
EAW Champion(s) of the Week Award (Week 25)
EAW Most Valuable Promoer Award (Week 17)
EAW "Beef of the Week" Award (Week 17,20,&25: Order of the Angels vs. RoViper(17,20), Order of the Angels vs. Montell Smooth & Speedy(25))
EAW Match of the Week Award (Week 23&26: St. Anger def. Extreme Enigma(23), St. Anger def. Captain Charisma(26))
EAW Rising Star Award (Week 22)
EAW Tag Team of the Year (2010--Order of the Angels)