Ronn Banks

Banks speaking at Pain for Pride X Axxess.
Birth name
Christopher Ronald Bankerson
IV
Born
October 15, 1979 (age 37)
Newark, New Jersey, United
States
Resides
Newark, New Jersey, United
States
Spouse(s)
Briana Bankerson (m. 2012)
Children
2
Professional wrestling career
Ring name(s)
CM Ronn
CM Banks
Billed height
6 ft. 1 in. (1.86 m)
Billed weight
220 lbs. (91 kg)
Billed from
Newark, New Jersey
Trained by
Mr DEDEDE
HRDO
Debut
June 2007
Christopher Ronald Bankerson IV (born October 15, 1979), better known by his ring name Ronn Banks (formerly, CM Banks and CM Ronn), is a retired American professional wrestler and professional wrestling executive known for his tenures in several noteworthy American companies. He is known for his tenure in Elite Answers Wrestling, the company he founded in 2007.
Early Life
Bankerson grew up in Newark, New Jersey where he became a huge wrestling fan as it was always on in the house as a child.
Professional Wrestling Career
Answers Wrestling Federation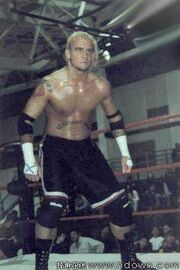 Introduction to AWF 
His passion for wrestling led to him joining local independent companies where he would compete and eventually make a name for himself which landed him a tryout match for one of the most reputable companies at the time, Answers Wrestling Federation. It was at the tryout where he impressed the scouts and trainers, among them was the head of their flagship brand War at the time, Mr. DEDEDE. DEDEDE took an immediate liking to then-CM Ronn signing him to a contract immediately and putting him on his brand, skipping developmental.
Ronn's first match was on a AWF FPV called "SNY Reunion" when he faced an 8 footer named Lights Out and won. He would go on to have various matches on War as a solid midcarder and a rising star. Notable matches include CM Ronn teaming up with Mak to take on the AWF Champion at the time, Crude, in a handicap match in which they lost. Another one is CM Ronn vs Johnny Payne on Legacy, the two men had legit backstage heat that spilled onto storylines, behind the scenes Ronn asked HRDO for a match against him on Legacy and won in a squash.
The Creation of EAW
Ronn liked the idea of AWF so much that he wanted to make his own E-Fed in hopes of achieving the same success. Seeking help from fellow AWF members such as Mak and Evan, EAW was born.
Out of character note on EAW's creation - Ronn sought help from AWF members in assisting with EAW in Jenny's chatroom, Mak and Evan both volunteered, Mak helped create the site, Evan didn't contribute anything but he was still credited as a board member for initially volunteering. While Mak helped build the site, Ronn recruited the members, among these members were Jaywalker, Killswitch, and Curious Girl. AWF Chairman WWEFan didn't take a liking to AWF members also joining which would lead to him making them quit. Tension between the two federations began. As the date of EAW's first show came close, June 24th 2007, Ronn would ask Mak to see part of the script but Mak refused to show him. Once the day of the show actually came, Mak postponed the date of the show using Chris Benoit's death as the excuse why. Once new date came around and Ronn got a random email from Mak saying he quit. After both men went back and forth editing the site making fun of one another, Ronn deleted it entirely and proposed to WWEFan to make EAW a third brand on AWF.
EAW's initial run as a federation didn't last long between AWF declaring war on EAW on an episode of "War" and internal issues between the federation's owners. AWF would go onto acquire EAW and use it as its third brand as EAW had a whole roster of new members who were waiting for work and there was an excess of AWF members who could use the change of scenery.
EAWF Endeavors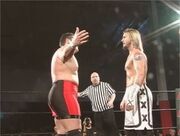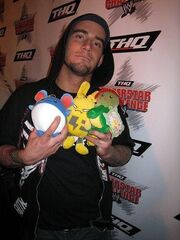 CM Ronn served as the General Manager during his time in the AWF subsidiary version of Extreme Answers Wrestling. The first EAW show finally happened under the guidance of Ronn, the main event included himself taking on then-newcomer, JayJayyyyy to crown the first ever EAW Champion. Ronn defeated Jay capturing the EAW Title, this would be his first championship in a major federation. He lost the championship a month later at AWF FPV Dia Del Diablo in an extreme elimination chamber which saw Mak walk out as the new champion. Mak won with help from Mr. Magic, who Ronn had eliminated earlier in the chamber. Mr. Magic didn't take a liking to that which led to him screwing Ronn out of his championship. The feud between Ronn and Mr. Magic began and lead to a match at Road to Redemption I where he defeated Mr. Magic and vowed to re-capture his EAW Championship.
Out of character note - Ronn wrote and booked the first ever EAW show but shortly after his laptop caught a virus which led him to be unexpectedly gone for a month. He was unable to contact any members and inform them of his situation which led the EAW brand to be taken over by Mak. When he finally returned Mak remained writer and booker, and Ronn had no more authority until AWF's closing.
Downfall of AWF; Birth of EAW
Backstage tension, politics, and bad leadership shook the very foundation of AWF to the point where it abruptly ended and went into closing. Ronn saw this as an opening to bring back EAW as an E-Fed and run it how he always wanted to. December 2007, Extreme Answers Wrestling was reborn and on it's own.
Out of character note - AWF's death was caused by tensions between members which started when Mr. DEDEDE came back from a 2 month hiatus to see his brand taken over by new AWF member MasterofPuppets(MOP) and wanted his job back. DEDEDE, like Ronn both lost their brands and were powerless but when Ronn found out DEDEDE was on the verge of getting fired due to his disputes with MOP this caused a divide in AWF as Ronn gathered members to rally behind DEDEDE while the other members rallied behind MOP. DEDEDE would get his job back but only because MOP would go onto quit AWF, creating his own federation, Answers Championship Wrestling(ACW) and taking members with him. The ACW vs AWF and eventually EAW feud began.
Both federations would regularly operate, AWF being the much bigger E-Fed would begin to get a bad reputation and slowly lose popularity. In late December 2007 WWEFan's incompetence as chairman led to him resigning and giving his position to Mak. A respected AWF newcomer at the time under the EAW brand was being verbally attacked by other members which led to him quitting. Mak who was angry at the news ended up quitting himself, leaving AWF to be ran by Ronn and HRDO. Ronn had his laptop taken away and was gone for a few days, when he came back he saw an announcement on AWF's website that they had merged with ACW with a link to the ACW website. Going to the ACW site and seeing several AWF members there led Ronn to plot as he refused to join ACW. It was then where he came up with the idea to bring back EAW as a E-Federation.
Ronn recruited key AWF members to join EAW and got Mak to become a co-chairman with him. Masters was an integral part of EAW's rise despite not being a major factor in AWF. He volunteered to help recruit members which helped EAW's growth tremendously being a respectable member of Yahoo! Answers. These members played key roles in EAW for months to come.
Extreme/Elite Answers Wrestling (2007 - 2012; 2017 - present)
Dynasty; Feud with WWEFan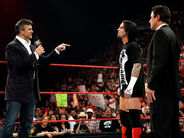 Ronn went on the next few months to successfully run EAW and was a member of the Dynasty brand. His first feud was against WWEFan. Ronn opened up the first ever episode of Dynasty cutting a promo for the fans welcoming them and announcing matches, but was soon interrupted by WWEFan. WWEFan dissed EAW and claimed to be a better chairman than Ronn and spit in his face therefore their feud was born. In the main event WWEFan faced Jaywalker in a WHC tournament and right when WWEFan was close to winning Ronn interfered and hit WWEFan with the GTS helping Jaywalker win. Throughout the next few weeks Ronn and WWEFan would go back and forth and WWEFan introduced his "new" masked protege which was a man named Zeon. Zeon and WWEFan would give Ronn hell for the next few weeks leading up to Ronn vs WWEFan at the Grand Rampage. Ronn defeated WWEFan and then unmasked Zeon revealing him to be former EAW extremist and AWF founding father and E-Fed veteran Mike Waggz.
Feud with HRDO; Introduction of Lethal Consequences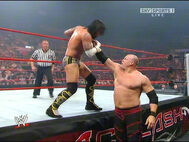 Fresh off of a victory against WWEFan at the Grand Rampage, Ronn was back to his regular chairman work. Meanwhile, a new feud was brewing between two of EAW's biggest legends at the time, Mr. DEDEDE and HRDO. Ronn inserted himself into the feud as the special guest referee in their match which was scheduled for Pain for Pride. He considered it to be a top level match and with the bad blood between the two men, he considered himself to be the only person who would be able to control them from getting out of hand. During HRDO and DEDEDE's marquee match up at Pain for Pride I, CM Ronn shocked everyone by performing a GTR on HRDO which cost him the match, thus beginning his feud with HRDO. HRDO would vow to seek revenge as the two would exchange in a heated rivalry for weeks on Dynasty leading up to a head to head match at Midsummer Massacre I. During that match, HRDO and Ronn had an extreme bout going at it head to head to the bitter end until the match was abruptly interrupted by what was thought to be the referee, but it was actually the then-newcomer CM Ronn hired named Lethal Consequences. Ronn and LC teamed up to attack HRDO and eventually set him on fire and dumping him in a casket to be taken out. This was the beginning of a long alliance between the two men.
Tag Team with Lethal Consequences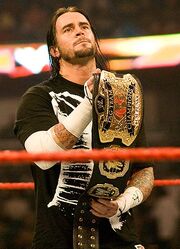 Shortly after Midsummer Massacre, Ronn and Lethal Consequences captured the Tag Team Championships in a bout on Dynasty against the Team of Y2Impact and StarrStan, also known as StarrPact. Ronn put Lethal Consequences under his wing and mentored him for several weeks as they reigned as champions. The future between the two looked bright as a duo until Ronn had an off screen situation which would then cause Ronn to slowly be written out of storylines. Lethal Consequences was quickly making a name on his own rising up the ranks in the company as it was only a matter of time before he had solo pursuits. The two would both compete in an elimination chamber match at Road to Redemption for Jaywalker's World Heavyweight Championship in a losing effort to Y2Impact. The duo would abruptly breakup during a match against The Backstabbers for the Tag Team Championships in which Lethal Consequences would turn on Ronn leaving him to fight two on one. Things only went down for Ronn from there.
Hiatus; Return (2009)
After losing his Tag Team Championships and being left on his own, Ronn was out of action for several months from late 08 to mid 09. During his hiatus, Montell Smooth was involved in a controversial segment on an episode of Showdown in early 2009 which prompted Ronn to return and face him at Pain for Pride II. Returning under the new moniker, CM Bank$, he reinvented himself and embarked on an upwards battle to return his status in the company to where it once was. Banks defeated Montell Smooth and went onto bigger endeavors. Later in the show Banks would interfere in the EAW Championship match costing longtime rival Mak his championship. This rekindled the feud the two men had on and off for years dating back to 2007. Mak's loss at PFP II was supposed to be one that costed him his career as a part of the stipulation, which would give birth to Banks' new finisher name, the GTR (Go To Retirement). Mak would return shortly after at the draft show in which Banks declared to put Mak down once and for all. The two men met at Territorial Invasion where Banks was defeated. Weeks later Banks would face Mak in a rematch on Dynasty in a victorious effort.
Return to Prominence; Feud with Heart Break Boy; World Champion
CM Banks would spend the rest of 2009 and 2010 in various feuds and storylines. Among those include competing in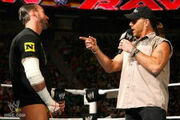 an extreme elimination chamber for the World Heavyweight Championship at Road to Redemption III against Heart Break Boy, Jaywalker, Matt Ryder, Regulator and MK in which MK successfully defended his championship. Banks would then go on to become a finalist for the 2010 King of Extreme, which he went on to compete in a losing effort against Robbie V. Following King of Extreme, CM Banks called out the Showdown General Manager Heart Break Boy and demanded to be given an opportunity to compete for his World Heavyweight Championship. Heart Break Boy and Banks would engage in a verbal and physical war week after week as Banks questioned HBB's motives and loyalty to the company. HBB would make the match official as a Hell in a Cell match at Reasonable Doubt II. Banks defeated HBB for the championship as he experienced his first world championship reign in almost two years. Banks would go onto defend his championship at the Grand Rampage in a rematch against Heart Break Boy where he successfully retained his title thanks to interference from Generation Genesis and Robbie V.
Generation Genesis
During Banks' World Championship reign he formed an All Star faction consisting of members he either brought into EAW or had a close relationship with off screen, it was called the Generation Genesis. Members included Jaywalker who Banks recruited to EAW, Y2Impact who Banks had a close relationship with, Lethal Consequences who Banks introduced to EAW, and Hurricane Hawk who Banks had a close relationship with. The set up was two veterans in CM Banks and Jaywalker, two modern day superstars in Lethal Consequences and Y2Impact, a rising star in Hurricane Hawk, and later added to the fold was one of the best vixens at the time in Maria who became an unofficial member due to her on-screen relationship with Banks. Generation Genesis would go on to become very successful as solo wrestlers and as a collective during their time together, capturing multiple championships and a Cash In The Vault. The collective was so dominant that they would compete amongst each other placing outlandish bets based on the outcome of matches in which they would have to meet, some of those bets may have shaken the very foundation of the group. The first of these bets were in the buildup for Pain for Pride III in which CM Banks spent weeks trying to find a worthy opponent until he finally reached the conclusion that the only worthy person was a member of his own group, Y2Impact. A friendly bet was placed that the winner of the match would not only walk away with the championship, but with bragging rights to be called the leader of Generation Genesis. Y2Impact would go onto defeat CM Banks for the championship and taking his position as the leader of the group. Another bet was placed in the following FPV, Midsummer Massacre in which Y2Impact defended his title against StarrStan and fellow group mate Jaywalker, where Jaywalker vowed to retire if he failed to capture the championship. Y2Impact would successfully retain his championship thus making Jaywalker retire temporarily, he would later return but not as an active member of Generation Genesis, he did however make a brief appearance helping LC and Impact win a match at the 3 Year Anniversary. Meanwhile Banks and Lethal Consequences went for another tag team championship run against the Ryding Regulationz at Midsummer Massacre but those plans were put to a halt when Banks abandoned LC by no-showing their match. It was later revealed that Banks was caught up spending time with EAW vixen at the time, Maria. There was no bad blood between Banks and LC as Generation Genesis continued to smoothly run as a unit. Maria became an unofficial member as she accompanied Banks while he was with the group. Post-Jaywalker the continued experiencing success as they successfully defeated Team Dynasty at Territorial Invasion.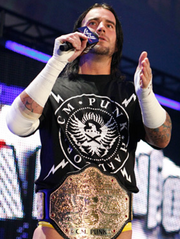 Feud with Hurricane Hawk; Generation Genesis' Breakup
CM Banks and his on-screen girlfriend Maria began to get serious as they got engaged with plans for a wedding following soon after. Banks' protege Hurricane Hawk was being considered as the best man. While all of this is going on, false rumors would begin to make their way onto the dirtsheets about a fling between Kendra Shamez and CM Banks. CM Banks didn't take a liking to these rumors and chalked them up to her being a stalker who wanted to be with him. She was also in a feud with Maria for the Vixens Championship at the time. Although Kendra wasn't behind the rumors, she was behind video snippets that would randomly play on the tron during Banks' matches. These videos would show Hurricane Hawk and Maria together the night of Banks' bachelor party in which Hurricane Hawk ditched CM Banks' to spend time with Maria. Banks knew Kendra was behind the videos getting played and looked at it as her trying to get even for not being given a chance, but he would later learn that her intentions were in fact genuine. Right when Maria was close to capturing the Vixens Championship against Kendra in a match at No Regards where CM Banks was the special guest referee, the video would play in full where CM Banks finally discovered the truth. This was the end of his marriage, his friendship with Hawk, and the beginning of a long bitter rivalry. CM Banks kicked Hawk and Maria out of Genesis and the group was down to a three man band with just Impact, LC, and Banks. To cap off the year, Banks competed in the main event of the 3 year anniversary show against Mr DEDEDE and HRDO, HRDO would defeat both men and retire after the match. All wasn't bad that night though as Banks took home two awards, stable of the year alongside Generation Genesis and World Heavyweight Champion of the year, he also furthered his rivalry with Hawk and Maria that night. Banks would go onto have a long bitter feud with Hurricane Hawk for months to come facing off at King of Extreme III, where CM Banks defeated Hurricane Hawk. Later that night Hawk cashed in his CITV briefcase against former groupmate Y2Impact and RRS where he captured the World Heavyweight Championship. Banks ended up feuding with Hawk and Viper for the World Heavyweight Championship which culminated in a match at Reasonable Doubt III where Hawk successfully retained.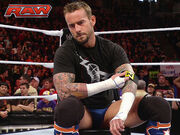 Retirement and Return; Feud with Mr. DEDEDE
Banks had a short lived retirement which happened on an episode of Showdown following his losing bout at Reasonable Doubt III. He faced Viper in a loser leaves Showdown match where he was defeated. He made a surprise return months later at the Grand Rampage, costing Mr. DEDEDE the match. Shortly after, Banks made it public that he halted the termination of Mr. DEDEDE's contract due, stating "If anyone should be the reason why Mr. DEDEDE retires, it's me." Banks also expressed his disgust for the degradation of Mr. DEDEDE's legacy and the legacy of the EAW Championship, a belt considered to be a prized possession by him. DEDEDE and Banks openly embarked in verbal and physical attacks, but agreed upon competing with each other at Pain 4 Pride in a match dubbed "Four Years in the Making". The two would assemble a team of five to pit against each other at the penultimate FPV, Triple Threat, pitting Team DEDEDE (Mr. DEDEDE, Alexander Da Vinci, Heart Break Gal, StarrStan and SG1) vs. Team Banks (CM Banks, Vic Vendetta, Kendra Shamez, Jason Cage and Christy Cruise). Team DEDEDE emerged victorious after DEDEDE would spear Banks and allow HBG to cover him for the three count. DEDEDE and Banks escalated their rivalry, and the stipulation for the match confirmed that if Mr. DEDEDE were to lose at Pain 4 Pride he would not be permitted to return and would be forced to retire from EAW. Also introduced as a guest referee to the match was HRDO, making his first appearance since retirement, and fulfilling the cycle stemmed from Pain for Pride 1 when the three were involved in a similar guest-referee scenario. DEDEDE and CM Banks would headline P4P in a Match of the Year candidate, although DEDEDE suffered defeat via the GTR (Go To Retirement) from Banks and was forced to retire. Following the match, Banks continued an onslaught that was broken up by HRDO as he and DEDEDE would put Banks down. DEDEDE and HRDO exchanged handshakes in the ring and celebrate in fanfare, ending a long storied rivalry between the two career-long rivals. 
Team Burial (2011)
Following Pain 4 Pride, Banks formed an alliance with one of the top talents in EAW at the time, multiple time world champion Alexander Da Vinci, appropriately naming themselves Team Burial. The concept of these two men of the stature they were at forming a duo in a relatively young tag team division at the time truly gave them a huge advantage in matches, where they would defeat their opponents in convincing fashions. Forming at the 2011 EAW Draft, these two men dominated everyone who crossed their path in brutal fashion. They earned a tag team championship match at Midsummer Massacre III against Sons of Mayhem. The match ended in a no contest as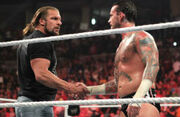 Team Burial brutally assaulted them instead of pinning them to end the match. Banks and ADV continuously beat them down with chairs and sledgehammers leaving them in a pool of blood to be tended to be EAW's medical staff. The team would dominate the tag team division for months to come while embarking on their own solo feuds, they finally captured tag team championship gold at Justified Reckoning 2011 when they defeated Mutiny for the titles. They would go onto lose the titles on an episode of Showdown where Mutiny took CM Banks out backstage before a triple threat tag team bout between the two teams as well as Foreign Prophecy, leaving ADV to defend the titles alone. ADV was attacked in the match by Montell Smooth resulting in the Foreign Prophecy capturing the championships. ADV and Banks would be on separate brands but continue to rep Team Burial, as well as share the same locker room during interbranded shows such as Road to Redemption V. That same show CM Banks competed in the Extreme Elimination Chamber where his weapon of choice was a shovel with "#burial" engraved on it, representing the alliance formed with ADV. When CM Banks returned to EAW a few months later, he made frequent appearances on Dynasty with ADV as Team Burial.
Feud with Superior Quality 85 (2011)
Superior Quality ended up becoming one of Team Burial's first victims. Banks and ADV made a statement at the draft show by putting SQ through a windshield and SQ would go onto seek revenge. It wasn't until a month later following Midsummer Massacre that SQ went after Banks and ADV, but this culminated at a match at No Regards where CM Banks lost to SQ in a singles bout.
Feud with Lethal Consequences (2011)
CM Banks' feud with Lethal Consequences began when Alexander Da Vinci helped CM Banks get into the main event of Territorial Invasion, making it a fatal four way between ADV, CM Banks, RRS, and Lethal Consequences for LC's Answers World Championship. Lethal Consequences lost his championship to ADV in that match, ADV would go onto feud with RRS and Banks would feud with LC. This led to a match at House of Glass where the men squared off in a glass tables match where LC defeated Banks.
Feud with Scott Diamond (2011 - 2012)
Tensions between CM Banks and Scott Diamond began to brew as Scott Diamonds group Mutiny wreaked havoc throughout EAW, taking out several members each week, all of those who Banks considered close friends. It came to a breaking point when Mutiny was about to take out Heart Break Gal until CM Banks made the save and fought them away. This resulted in a segment on Showdown where WWEFan would try to force CM Banks and Scott to reconcile their differences, but it just made matters worse as the two men would end up exchanging blows until Mutiny saved Scott from the confrontation. Both men would go onto compete in the Extreme Elimination Chamber at Road to Redemption V for the World Heavyweight Championship, in losing efforts. On the Showdown following RTR, Banks was brutally assaulted and taken out by Scott Diamond and Mutiny, putting Banks' career on hold for 3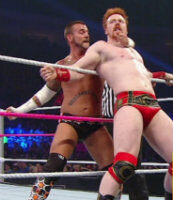 months. Scott would go onto Dynasty where he feuded with Banks' partner Alexander Da Vinci in a feud for his Answers World Championship. Scott defeated ADV at King of Extreme and would continue to feud with him for the months leading up to Grand Rampage where he defended his title for the last time against ADV. In this match, CM Banks made an unexpected return with a brutal assault on Scott, costing him the championship. ADV and Banks would celebrate as a team in the ring, as ADV captured the championship against a bitter rival of both men. This was supposed to be the start to a program between CM Banks and Scott Diamond that would end at Pain for Pride V, where CM Banks and Scott would compete in a match that would end up being the final match of Banks' career as Scott was booked to destroy Banks at PFP, ending his career forever as Banks was planning on retiring from E-Feds outside of scripts. Plans were changed at the last minute and this feud came to a halt once Scott Diamond went AWOL backstage, leaving the bookers and board members unsure of if he would come back and thus scrambling to find a new program for Banks' sendoff. In result, CM Banks instead fought Scott in an impromptu match on Dynasty where he vowed to "end this tonight" in which CM Banks defeated Scott leaving him to be stretchered out of the building until Banks pushed him off the stage while he was being stretchered out. Scott returned right before Pain for Pride, but by that time the wheels were already in motion for the Banks/Heart Break Boy program. Scott instead competed in the 24/7 Battle Royal.
Feud with Heart Break Boy; Retirement (2012)
Longtime rivals Banks and Heart Break Boy began to reignite their feud leading up to PFP on the episode of Voltage that followed the Defiance Free Per View. Heart Break Boy held an open challenge which was answered by Banks, who would question HBB's "GOAT" status, proclaiming himself to be the real GOAT. Banks would then challenge HBB to a match at Pain for Pride in which HBB accepted. Banks who had come out on top during their previous feud for the World Heavyweight Championship was favored to win the match going into it, as no one was anticipating his retirement outside of the board. The two men would engage in a bitter war of words and one up each other for the weeks leading up to PFP. HBB would mock Banks by having Flashback come out dressed as him, Banks would attack HBB's partner Christine Lee locking her into the anaconda vice to send him a message. Banks' partner at the time, ADV, was once in a tag team with HBB which HBB used to his advantage to try to get Banks jealous and shake things up between Team Burial, which ended up breaking the team up. HBB cost Banks several matches, Banks entered his match against HBB on a 4 match losing streak after losing to Lethal Consequences, Y2Impact, Mr DEDEDE, and Alexander Da Vinci in the last matches of his career before PFP, half of the matches were interfered in by HBB. The two men met up at Pain for Pride V where HBB defeated Banks and the two men embraced after the match in a show of respect. Banks looked at the crowd with a tear in his eye for one last time before walking through the curtain for the last time in 5 years. CM Banks officially retired from E-Federations.
Out of character note on his retirement - Banks retired from E-Feds after graduating high school to focus on his college career. Immediately after graduating high school he had a summer program for his college that he had to be a part of which is why he left in June 2012 rather than August. He visited the fed a few times in 2013 before completely disappearing until September 2016 where he made a one off appearance on the chat. In April 2017, graduated from college, he reemerged in EAW and was constantly approached with the idea of returning for the 10th anniversary of Pain for Pride in which he eventually came around to accepting.
Return; Pain for Pride X and Beyond (2017 - present)
In late 2016, Banks appeared backstage at a show for the first time in four years. In April 2017, EAW began sending out feelers for a potential return at Pain for Pride X. Initially completely against an in ring return, the reluctance turned to curiosity which then turned into intrigue as Banks felt he wanted to prove himself in this era. He signed a new deal with Elite Answers Wrestling in May 2017, marking his first time competing for the promotion in five years.
Banks made a shocking unexpected return to EAW during Showdown's special show, Resurrection V where he saved Devan Dubian and Heart Break Boy from Jaywalker and Ares Vendetta. Jay and Ares had been in a lopsided feud against Dub for several weeks, outnumbering him after putting HBB on the sideline, thus prompting HBB to ask his old friend CM Banks for help against the very man he brought into EAW and mentored in Jaywalker. Banks being disappointed in Jaywalkers behavior and alliance with Ares gladly obliged. Jay and Ares would be outnumbered until Jay recruited Cage on an episode of Dynasty, who reluctantly agreed. HBB made his way to Dynasty in an attempt to change Cage's mind, but his efforts backfired as a mistake cost Cage a match, officially inserting himself into the feud. CM Banks, Devan Dubian, and Heart Break Boy vs Jaywalker, Ares Vendetta, and Cage was made official for Pain for Pride X. At Pain for Pride, Heart Break Boy was put out of action during the course of the show, leaving an opening on the team. When it came time to start the match, Mak made his EAW return. Banks' team would walk out with the win, marking his return a successful one.
Feud with Nasir Moore (2017)
At the EAW Draft show during a backstage interview, Banks confronted Nasir Moore. Banks indirectly challenged Moore to prove his worth against the legend. This would set up a feud between the two, despite being on separate brands. Moore made multiple appearances on Showdown, wanting a match with Banks. At Dia Del Diablo, both men faced off in a brutal Fire and Steel match, which Banks won. Not satisfied with the result, Nasir was given one more shot at Territorial Invasion, this time under normal rules. Moore defeated Banks. His next opponent would be the then-Openweight Champion, Ryan Marx. During their bout, Marx brutally attacked Banks, injuring him. Marx spent the following weeks boasting over "ending the career" of Banks as Banks was out of action. Banks would return two months later at Kingsroad where he'd cost Marx the opportunity of winning the EAW Championship as he'd get payback on him by hitting him with a Go To Retirement. In what was supposed to be a continuation of their rivalry, Marx would go on a hiatus of his own following Banks' attack, leaving Banks without direction going forward. Weeks later, backstage issues with other staff and personnel lead to Banks' sudden departure from EAW as he grew increasingly unhappy with the company. He would then shift his focus to the independent scene.
REVOLT! Pro Combat
Banks took notice of a rising company originating from New York City, REVOLT! Pro Combat. He became the first major investor of the company leading to a domino effect which would land them several big free agents in the industry as well as a television deal with Fox Sports. He did not compete on REVOLT programming nor did he ever make a television appearance as during that time he preferred to stay in the background.
REVOLT/EAW Merger
Due to REVOLT fastly rising, gaining popularity and success in a short amount of time, it gained the attention of EAW. In late March, EAW would end up purchasing REVOLT in a billion dollar acquisition which by default returned Banks back to the company he created. He returned at the 2018 Grand Rampage where he made a surprise appearance as the #30 entrant. In this event, he eliminated Theron Nikolas, who in retaliation ordered the High Rollerz to take Banks out thus eliminating him from the match. This was the start of a rivalry between the two that would culminate at Pain for Pride.
Feud with Theron Nikolas/Retirement
At the REVOLT 2 event, Ronn made his first and only appearance on REVOLT television. This was mostly due to the fact that this would be the last show ever under the REVOLT banner and he wanted to thank the fans for their support in helping him change the culture. He was then interrupted by The High Rollerz and Theron Nikolas as they ambushed and attacked him. Banks was named as the new General Manager on Showdown following the EAW's behind the scenes firing of Brian Daniels and Robbie V as board members. Theron used his gripe against those men to justify his issues with Banks, claiming that all management was against him, to which Banks found to be a ridiculous copout. In the following weeks, Ronn Banks and Theron assisted by Jack Ripley would have their back and forths filled with physical attacks and verbal assaults. At Wrath of the Dragon, Banks was the special referee in their tag title match against Mr. DEDEDE and Cameron Ella Ava, where Banks' fast count helped DEDEDE & Ava successfully retain the championships much to the dismay of Theron. Meanwhile, Banks was having issues of his own with the EAW board and confided in his two longstanding mentors and friends at the time, Mr. DEDEDE & HRDO. As weeks passed and the feud between the two grew, Banks and Theron at Pain for Pride in a retirement match was made official. At Pain for Pride, Banks faced off against Theron in a match that he was screwed into a loss by the hands of Mr. DEDEDE who interfered into the match, spearing Banks and sending shocks throughout the EAW Universe of his huge turn. This also marked the beginning of the 1% supergroup as DEDEDE, Nikolas, and Ripley all stood together in solidarity following the match. Banks' career was immediately over as per the match stipulation and he hasn't been seen on EAW television since. Prior to the match, he sold a part of his stake in the company to Lethal Consequences & Andy Dominguez, which helped leverage them in reforming The Enterprise and kickstarted Lethal Consequences' in-ring return.
Personal Life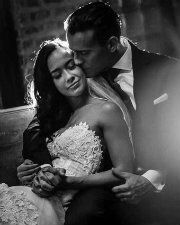 During his five-year sabbatical, Bankerson settled down with long-term girlfriend, Briana. The two got married in 2012 and started a family, eventually welcoming two sons. He lived off of his savings from his time as a wrestler, various investments, and royalty checks from the different things EAW would feature him over the years. He also has equity in the company being a founding member from a deal he made during his time as chairman. Although the money never stopped coming in for him, Banks lives a modest lifestyle in a six-bedroom house located in the suburbs of North Jersey. When he isn't being chauffeured around, he drives a Tesla, a Mercedes G-Wagon, and a Jaguar. Banks stayed out of the spotlight during his retirement, making quiet business deals and taking care of his family. He spent a lot of time rebuilding his community, opening up after school programs for children, starting charities and food drives, as well as gyms and recreation centers throughout New Jersey. In November 2014 he was given the key to the city of Newark for his contributions to helping clean up the community making it a safer and more comfortable place to live in.
In Wrestling
Finishing Moves

Go To Retirement (Fireman's Carry dropped into a Knee Lift)
Pepsi Plunge (Diving Double Underhook Facebuster) 
The Bank Vault (Anaconda Vise)

Signature Moves

DEDEDE DDT (Lifting DDT) -- adopted from and used in tribute to Mr. DEDEDE
Diving Leg Drop
Flying Draco (Diving Elbow Drop)
Moonsault
Roundhouse Kick
Russian Legsweep
Shining Wizard
Swinging Neckbreaker
Suicide Dive
Superplex

Nicknames

"The Punchline King (PLK)"
"EAW's True #1 Legend"
"Mr. Instant Burial"

Entrance Themes

"Gangsta Gangsta" by Lil Scrappy (2007)
"Takeover" by Jay Z (2008 - 2009)
"Bad News" by G Unit (2010 - 2011)
"Snakes In The Grass" by Waka Flocka (2011)
"Rollin'" by Gunplay feat. Waka Flocka (2011; Pain for Pride-exclusive)
"Power Circle" by MMG feat. Kendrick Lamar (2012; Pain for Pride Exclusive)
"Wild Boy" by MGK (2012)
"I Really Mean It" by The Diplomats (2017; Pain for Pride Exclusive)
"Shock the World" by Lloyd Banks (2017 - present)
Championships and Accomplishments
Extreme/Elite Answers Wrestling