Robbie V

Billing information

Ring name(s)

Robbie V
RoV
"The Legendary" Sekaiichi
Human HighLite Reel
Conficker
RoVendetta
Muse
Reverend Vino
Mikado Sekaiichi

Height

6'0" (190.5cm)

Weight

237 lb. (104.33kg)

Born

April 1st

Hometown

Las Vegas, Nevada

Theme music

"Penance" by contRoVersy

Affiliation(s)

Sex N' Violence
RoViper

Federation(s)

Extreme Answers Wrestling
Answers Wrestling Federation

Previous federation(s)

Extreme Online Action
Extreme Online Wrestling
Big Time Wrestling
Xtreme Wrestling Federation
Answers Championship Wrestling
Answers Championship Wrestling Federation
Classic Wrestling Federation

Wrestling information

Alignment

Heel

Wrestling style

Technical, Highflying, Hardcore, Showman

Signature Move(s)

Ankle Lock
Spear
DELETE!
Sakujo Screwdriver

Finishing Move(s)

Five Star Frogsplash
Fall From Grace

Trainer

MaKaVeLi

Handler

Koruton Sekaiichi

Professional career

Debut

EOA 2008

Record

Unknown

Accomplishments

• LEGION Gold Crown Championship
• EAW World Heavyweight Championship (2-Time)
• EAW National Extreme Championship (2-Time)
• EAW Hardcore Championship
• EAW Unified Tag Team Championships (2-Time)
• EAW World Tag Team Champion (1-Time)
• EAW Tag Team Champion (1-Time)

Retired

N/A
Robbie Vendetta (born April 1st), is a 5 1/2 year EAW Veteran of Scottish, German, Native American, and Irish descent. Robbie V has performed in many E-Federations, most notably Extreme Answerz Wrestling. He has made a career as somewhat of a prodigy in EAW, mentored by EAW Original: MaKaVeLi, and is one of the more popular main-eventers in the company today. Robbie was taken to the fans immediately after arriving in EAW, quickly becoming a part of the new generation of E-Fedders in EAW (such as Extreme Enigma, Speedy, and the Essence of Excellence).
Basic Information
Robbie is known for his hard-work in and outside of the ring as both an extremist and performer and was one of the major players on EAW's creative team. Before joining EAW, Robbie was known more as an "Indy" star in E-Feds, quickly becoming popular in lesser known companies such as Big Time Wrestling (BTW), Extreme Online Wrestling (EOA), and most notably, Extreme Online Action (EOA) where Robbie V would win the EOA World Heavyweight Championship just before the company folded.
Robbie was officially signed to EAW in January 2009, debuting on the first ever edition of Turbo on Janury 14th, 2009. Since then, Robbie became a writer as well, becoming one of the most known writers in EAW when he became the Turbo writer in August 2009. Robbie also gained monikers such as "The OMG", "The Extreme Dream", and "The Hardcore Headliner" with the more popularity he gained and the more he showed off his abilities as one of the best performers in the company. At Reckless Wiring, Robbie V became one of the youngest men to win the National Extreme Championship when he defeated his former manager, Dr.Feelgood. Robbie later joined forces with his protege, Viper, as RoViper. Together, RoViper won the EAW World Tag Team Titles, EAW Tag Team Titles, and became the first ever EAW Unified Tag Team Champions. After the team dis-banded with Viper's release from the company, Robbie became the 2010 King of Extreme. Robbie formed the team Sex N' Violence with The Rated R Shaman of Sexy in early 2011, quickly becoming the most individually successful tag team in EAW History after winning the EAW Unified Tag Team Titles, World Heavyweight Championship twice, and the 2011 Grand Rampage.
Other E-Federations
Extreme Online Action (September 2008 - November 2008)
Robbie V began his career in EOA through a series of matches in which he performed rather well, quickly catching the eye of backstage management. Soon enough, Robbie V won a poll to challenge then EOA World Heavyweight Champion, Mr.P, to a match at the Cyber Kingdom Free-Per-View. Robbie V managed to defeat Mr.P in a Ladder match in a huge upset, becoming the new EOA World Heavyweight Champion to the delight of his peers in the locker room. Robbie accepted his newly won World Title and quickly defended it once for the first time against former Champion, Mr.P, this time in a Hell In A Cell match. Robbie managed to once again defeat Mr.P, successfully retaining the EOA World Title. However, Robbie was taken out of action for a couple weeks. When he returned to EOA, still World Champion, he found out that EOA had collapsed under its own weight, leaving him as a free agent and the last EOA World Heavyweight Champion. Also, while still employed to EOA, Robbie expressed interest in being a writer to Chairman, Brynberg, but it never went anywhere.
Xtreme Wrestling Federation (March 2009 - August 2009)
During his tenure in Extreme Answers Wrestling (EAW), Robbie V decided to create a side project in the lesser known Xtreme Wrestling Federation (XWF) E-Federation as a Writer/Authority-figure for the company. Regulator, Chairman of XWF, accepted Robbie and his newly found writing talents with delight, immediately making him the Head Writer for XWF's new Saturday Night Attitude brand. Robbie also became the General Manager of SNA in script, but backstage, began letting the power of being a writer get to him. Robbie began threatening Mak (the then Chairman of EAW) with his power as writer in XWF. This lead to a backstage schism between the two, nearly ending their friendship, but the two managed to make-up. As writer, Robbie constantly suggested new match ideas and other ideas to Regulator, but was constantly shot down. This began Robbie's estranged relationship with Regulator, constantly getting in backstage arguments with him and constantly threatening to quit on a number of occasions. In script, Robbie slowly became more of an active wrestler with the more Regulator pushed for him to do so, pushing for him to become the XWF United States Champion, which Robbie held for a week before giving it up, and becoming the XWF Tag Team Champions under his Human HighLite Reel alter ego along with DJ Hazard. Regulator eventually pushed for Robbie to make himself World Champion, but Robbie declined the idea.
The heat between Robbie and Regulator eventually culminated at their annual Adrenaline Rush event when Robbie, who had recently began being very late with scripts and constantly making excuses, didn't write what he was supposed to for the event on time. When Robbie finally showed up to the event, Regulator informed him that he was officially fired from the company as writer, but remained as SNA's General Manager in script. Robbie eventually cited Regulator's constant temper as a big motivator for him to become very lazy with writing his scripts. However, both Robbie and Regulator have since made-up.
Later on, down the road, Regulator approached Robbie, asking to use his character as an active wrestler to feud with Mak heading into XWF's biggest annual event, XtremeaMania. Robbie was reluctant at the idea, but eventually accepted to it. However, heading into the big event, Robbie rarely paid attention to the feud at all and promoed only once for it entirely to Mak's dismay. Mak eventually defeated Robbie at XtremeaMania, ending Robbie's tenure with the company.
Answers Championship Wrestling (June 2010)
Robbie V decided to join Answers Championship Wrestling under the new persona of "Conficker", a more dark and brooding character. Robbie's tenure in the company was short-lived as he wasn't happy with the way Management worked inside it and left only a few weeks in despite having an upcoming match at the company's next Free-Per-View.
Answers Championship Wrestling Federation (August 2010 - September 2010)
Robbie decided to join the newly merged "supergroup" E-Federation between Answers Championship Wrestling and the Classic Wrestling Federation known as the Answers Championship Wrestling Federation (ACWF). He joined under a name similar to his own, but a much more dark and manipulative character known as RoVendetta. RoVendetta's tenure with ACWF started out strong as he delivered a few good promos and began with a good debut in the company, but he slowly became bored with the company due to his current state of recently returning in Extreme Answers Wrestling. Robbie eventually paid no attention to ACWF despite still being used an in-script personality, but ACWF eventually folded due to Management problems.
LEGION of Extraordinary Wrestlers (September 2011 - September 2012)
Robbie made his debut in LEGION under the persona of "RoVendetta" and quickly began winning matches on the company's secondary show, Clashes. After settling legal issues, Robbie V began wrestling under his well-known "Robbie V" persona and quickly began harassing Lioncross during his matches. This would culminate at LEGION's Battle Cry Pay-Per-View when Robbie made his PPV debut by attacking Lioncross during his WarGames match and joined Jaywalker to beat down all of the competitors within the WarGames structure; most notably the Heart Break Boy, who was beaten to the point of being left lying in a pool of his own blood. Jaywalker and Robbie would later name their alliance "The Bane of LEGION" and would mock both the company and the now retired Heart Break Boy.
Bane would soon clash with LEGION veteran, GI Styles, resulting in a match between Robbie and GI at the following Power & Respect Supercard. Their match would quickly end in double count-out, but was immediately restarted as a Street Fight between the two; ending with the LEGION debut of Mister K, attacking GI with a ring bell and aiding Robbie in capturing the win. Mister K would come to be officially aligned with Robbie and Jaywalker as the new third member of Bane. The Heart Break Gal would later join Bane, as well as E-Fed veteran, Killswitch, as their Manager.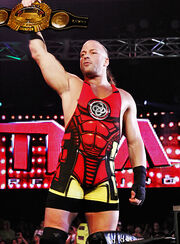 Robbie would quickly begin a feud with LEGION Gold Crown Champion, Lochy McKenzie. Both men clashed with one another amidst the chaos of the rivalries going on between Bane and other wrestlers. The feud between the two would culminate at LEGION's Code Red PPV in December, where Robbie would dethrone Lochy and win his first and only Championship in LEGION, the Gold Crown Championship.
The final piece of Bane came when the ongoing gang warfare between The Bane of LEGION and LEGION Wrestlers that came together to attempt to take down the alliance. A five on five elimination match was announced for LEGION's Aces of Fury PPV between The Bane of LEGION (Robbie, Jaywalker, Mister K, Killswitch, and an unknown fifth member) against Tony Rolland, a returning Heart Break Boy, GI Styles, Butcher, and Lochy McKenzie; the winning team member of either team would receive a LEGION World Championship match against Loa Kitiona in the main event later in the night. Robbie was the second man eliminated during the match. However, Jaywalker would eventually capture the win for Bane's team following a heel turn from the Heart Break Boy as Bane's sixth and final member.
Robbie would continue his ongoing feud with Butcher following Aces of Fury, also quickly getting Butcher's girlfriend, Georgia Athens, involved. Robbie would consistently assault Georgia and ambush Butcher before it was announced the two men would settle the score at the LEGION: Worldwide PPV in Japan in a Barbed-Wire Steel Cage match for Robbie's Gold Crown Championship. Butcher would prove to show the knee injury Robbie gave him was feigned and proceeded to dominate Robbie throughout the match; eventually capturing the win and taking the Gold Crown Championship.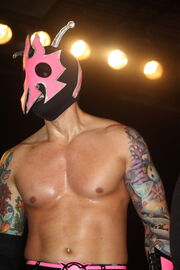 The loss of his Gold Crown Championship led Robbie down a path of psychosis; blurring the lines of reality and turning Robbie into a new persona deemed "RoV". RoV, now dawning a mask that he calls his "face" and likening to a crown of thorns, began turning more and more violent. RoV's manner of speech would change as well as he began referring to every enemy as "Protagonist" and speaking similar to that of a super villain. RoV would eventually find himself announced to be in the upcoming Tower of Doom match at LEGION's Doomsday PPV; joining his Bane compatriot, the Heart Break Boy, in which the purpose of the match was for one man to climb up the three-cage structure to the very top and retrieve a contract guaranteed for a World Championship match in the main event of LEGION's Best In The World Pay-Per-View. However, RoV would find himself betrayed near the end of the match as the Heart Break Boy superkicked him; causing RoV to fall through all 3 cages and through the canvas of the ring. Lochy McKenzie would end up capturing the victory, but LEGION would soon shut down just days following the event.
Classic Wrestling Federation (January 2013 - June 2013; January 2014 - February 2014)
Robbie made his CWF debut under the persona of "RoV"; an extension of his LEGION character that had previously been betrayed by his comrade and had now not only returned to get vengeance on his Bane of LEGION comrades, but all of humanity as well. RoV would begin hearing voices and turning Bane into a religion of sorts; going as far as tattooing the letters "B-A-N-E" on the knuckles of both of his hands.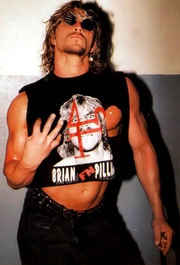 RoV would quickly be announced to partake in a Tournament to decide who would be the first person to be crowned the CWF Heritage Championship; a Championship that if successfully defended after a certain amount of days warrants a CWF Championship shot of the Heritage Champion's choosing. RoV would go on to defeat the likes of Cleopatra, Mr. DEDEDE, Y2Impact, and Christian Hale to become the first ever Heritage Champion. RoV would soon begin worshiping the Heritage Championship as he began a rivalry with Christian Hale. RoV would go on to lose their first singles match by Disqualification, retaining the Heritage Championship in the process. Despite having kept the Heritage Championship for the right amount of days, RoV was forced to once again defend it when he attempted to cash it in for a World Championship match. RoV would end up losing the Heritage Championship to Christian Hale.
It was later announced RoV would participate in the Genesis Cup Tournament. RoV was victorious in his first bout of the Tournament, but slowly declined and was eventually released.
Robbie eventually resurfaced in January 2014 within the Classic Wrestling Federation under the new persona of "HIRO"; a masked wrestler who thrives on positivity and doing what a hero must to triumph over evil. Though the persona was well received by his CWF colleagues, it didn't last long as the company folded the next month.
Answers Wrestling Federation (February 2014 - Present)
Robbie would join the revitalized Answers Wrestling Federation just as it re-opened under the persona of a con-man preacher known as "Reverend Vino". Vino quickly captured the AWF International Championship on the debut episode of Legacy against Alexander, GI Styles, and Nick Angel. Vino simultaneously began manipulating others; talking Legacy General Manager, Matt Ryder, into making Vino's personal secretary, Miss Martell, the keeper of points on Legacy. Whilst feuding with Nick Angel over the International Championship, Vino offered an invitation to the monstrous Gunkai Riggs, which was eventually accepted as the two men would end up causing Nick Angel and Jacob Senn to lose their tag team bout against Stigmata and Mr. DEDEDE which would decide which team would go on to face one another for the AWF Championship at the upcoming Resurrection FPV. Vino, Gunkai, and Gunkai's Valet, Jaspora, would come to be known as "The God-Hand".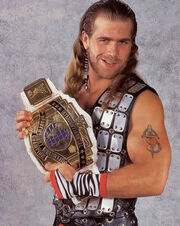 Jacob Senn would later steal Vino's International Championship; throwing it into the crowd to Vino's dismay. However, it would come back to bite as Nick Angel was attacked during his International Championship match against Vino when a fanatical admirer of Vino named Eli Sunday would make his debut and cause the match to end in disqualification. Eli would officially join the God-Hand the next week. It would be announced that at AWF's second Free-Per-View event, Oblivion, that Reverend Vino and Gunkai Riggs would take on Nick Angel and Jacob Senn in a tag team match. Gunkai and Vino would end up taking the loss in the tag team match, but later made themselves known as they aided Mr. DEDEDE in the main event of Oblivion to retain the AWF Championship against Erebus Jennings. Mr. DEDEDE would officially join The God-Hand on the following Legacy.
Extreme Answers Wrestling
2009
Debut/National Extreme Championship/Triple Crown Syndicate Feud (January 2009 - May 2009)
Robbie V joined Extreme Answers Wrestling on January 9th, 2009 (Though he previously applied in late 2008). Though it was not his intention to become a full-time wrestler, he was quickly won-over by the ways of the promotion and decided to give it his all when he was announced to debut on the debut episode of the newly-created inter-brand show of Turbo. Robbie made his official wrestling debut on the first Turbo on January 14th, 2009, in a losing effort against Nik-e-G in a Barbed-Wire Tables Match. However, the next week, Robbie would capture his first victory over the well-known Lethal Consequences. Robbie would remain a staple of the Turbo show for some time as he went through short-lived feuds with the likes of Extreme Enigma and even becoming the first person to represent Turbo at the annual Dynasty vs Showdown show in a losing effort against the Essence of Excellence and Cole. Robbie would also manage to defeat Cena29 in the pre-show Dark Match of Road 2 Redemption on January 24th, 2009; he would make his Free-Per-View debut later in the night when a new Manager, Dr. Feelgood, announced Robbie as his first client in a backstage segment.
Robbie would be signed to the Dynasty brand soon after and was set to make his debut in a triple threat match against Essence of Excellence and EAW Legend, HRDO. However, despite gaining the victory, the match would never air. Robbie made his official debut the week after in a Battle Royal to determine who would challenge National Extreme Champion, Regulator, in the main event of Dynasty two weeks later for the Second Anniversary of the National Extreme Championship. Robbie would prove to be the star of the Battle Royal and nearly won it as he eliminated the last man in the ring, but was quickly tricked and defeated by Y2Impact (who had earlier been assaulted and remained on the outside for the majority of the match). However, Robbie would protest Y2Impact's victory and was given a spot in the upcoming National Extreme Championship match, which was later made a triple threat Ladder Match between defending Champion, Regulator, newly-crowned World Heavyweight Champion, Y2Impact, and the young Robbie V. All three men put up a grand fight with one another, but once Robbie had taken out Regulator with a Shooting-Star Frogsplash from the top of a Ladder, controversy struck. Dr. Feelgood seized the opportunity to enter the ring, climb up the ladder, and steal the National Extreme Championship for himself. An official ruling decided Dr. Feelgood was the new National Extreme Champion; infuriating Robbie. Robbie would go on to defeat Carlos Rosso in a #1 Contender's Match for the National Extreme Championship, but it was shortly decided that the fans would choose who would challenge Dr. Feelgood for the Championship by voting on a poll for the newly-debuting Dynasty Exclusive Free-Per-View, Reckless Wiring. Robbie would go on to vigorously campaign for fans to vote him into the Reckless Wiring bout. The week before Reckless Wiring, Robbie's efforts proved to pay off as he was voted in to challenge his former Manager at the event. Making his EAW Free-Per-View debut at the first ever Reckless Wiring, Robbie would go on to defeat Dr. Feelgood in a bloody match to capture his first gold in the company: The National Extreme Championship.

The National Extreme Championship had matured Robbie from an easy-going competitor to a fighting Champion as he was no stranger to defending his Belt. Robbie would quickly introduce a custom-made National Extreme Championship to represent a new era in the Belt's history. Robbie made his first successful defense in an impromptu match on an episode of Dynasty, defeating Adam. It would be later announced that Robbie would defend his National Extreme Championship against Cena29. Both men went back and forth in promos, but the majority of the EAW populus had clearly favored Cena29 to win. This resulted in an unusual environment in which the face Robbie V was overwhelmingly booed in his National Extreme Championship defense against the now beloved and heel Cena29 in the main event of Dynasty. Robbie enlisted the help of Dr. Feelgood, but it quickly proved no good as Cena29 dominated the match to the delight of the crowd. However, a shocking intervention from former World Heavyweight Champion, Rated R Shaman of Sexy, led to Robbie capturing the win to the dismay of the crowd.
Meanwhile, Robbie had made his Showdown debut in the weeks leading up to the 2009 Grand Rampage. The night of his debut, Robbie was approached by members of the Showdown stable, the Triple Crown Syndicate, and threatened to tread lightly. This prompted a hostile response from Robbie as he quickly got involved in an ongoing battle between members of the Showdown roster and the Syndicate. The rivalry would culminate when the Triple Crown Syndicate (Mak, EOE, Mister K, and Captain Charisma) took on the Anti-Syndicate (Robbie V, Nik-e-G, Heart Break Boy, and StarrStan) in the main event of the last Showdown before the Grand Rampage. Robbie would end up capturing the victory for his team by hitting a Five-Star Frogsplash on EOE; simultaneously winning EOE's Hardcore Championship that was defended under 24/7 rules. On Dynasty the next night, Robbie and World Heavyweight Champion, Mr. DEDEDE, were set to take on Regulator and Y2Impact in a tag team match in the main event of Dynasty. However, Y2Impact was nowhere to be found, prompting WWEFan to take his place in the match. Following the match, Y2Impact would make his presence known; breaking Robbie's nose and pinning him for the Hardcore Championship. However, Impact immediately refused the Hardcore Championship; spitting on it and throwing it to the ground in a showing of disrespect. Robbie vowed to take revenge at the Grand Rampage the following Saturday. Robbie would enter the Grand Rampage match as the 13th entrant, quickly taking control over opponents, but ultimately facing elimination at the hands of a Second Sacrifice Powerbomb from Jaywalker to the outside. Robbie was immediately caught off-guard by a kick to the groin from Nik-e-G on the outside and pinned for his Hardcore Championship. A depressed Robbie V would go on to defend and lose his National Extreme Championship to Bobby Cash in a Fatal Five-Way on a following Dynasty. However, Robbie would win the National Extreme Championship from Bobby Cash two weeks later on an episode of Turbo.
Rise of RoViper/EAW Championship Pursuit (May 2009 - December 2009)
Robbie would make his return to Showdown on the road to Pain For Pride 2 by revealing himself as the mentor of a young rookie, Viper, who was being urged by a newly-formed tag team named La Secta Apocalyptica (Kevin Devastation and InterWire Champion, The Dark Emperor) to join them. Viper would decline their offer and instead join forces with Robbie as "RoViper"; immediately lighting a the fire of a rivalry between both sides. Kevin Devastation would end up capturing a victory over Robbie on an episode of Showdown with the help of Dark Emperor while Viper would capture a victory over Dark Emperor on a following Dynasty with Robbie as the Special Guest Referee. La Secta Apocalyptica would capture the EAW World Tag Team Championships from the team of Nik-e-G and Speedy. However, RoViper would not be outdone as Robbie captured the EAW Tag Team Championships for his team by defeating Mak in a huge upset in the main event of Showdown. The rivalry between the two teams would culminate when it was announced that they would go at it at Pain For Pride 2 in a Winner Takes All Match for RoViper's EAW World Tag Team Championships, Robbie's National Extreme Championship, La Secta Apocalyptica's EAW Tag Team Championships, and Dark Emperor's InterWire Championship all on the line. RoViper would come to win the Pain For Pride clash in what many call the show-stealer of the entire event as Viper captured the win for his team by pinning Dark Emperor; simultaneously winning the InterWire Championship for himself. However, following the bout, RoViper would be ambushed by La Secta Apocalyptica; ending with Dark Emperor striking Robbie's face with a fireball. Robbie was drafted back to Dynasty in the 2009 Draft, but ended up losing his National Extreme Championship to The Dark Emperor in a triple threat Steel Cage match with Kevin Devastation on a following Showdown.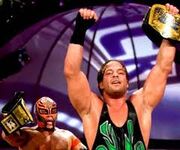 Despite losing his National Extreme Championship for the second and last time, Robbie and Viper would prove to be one of the most dominant tag teams in the history of Extreme Answers Wrestling as the two would later go on 10-0 undefeated streak together, as well as multiple successful Championship defenses against the likes of Malicious Intent (Adam and Speedy), Revolution 5.5 (Triple A and George Copeland), and others. RoViper's undefeated streak would come to an end on an episode of Dynasty against the unlikely team of Hurricane Hawk and JC Styles. Robbie and Viper would proceed to pursue individual paths leading up to the first ever Territorial Invasion FPV as Viper would defend his InterWire Championship at the event while Robbie was caught up in the fray of the ongoing Answers Championship Wrestling Invasion that had swept the land of Extreme. Robbie would quickly single out ACW's Cole Smith as the two young guns rivaled one another; culminated with the main event of Territorial Invasion in which Robbie joined Mr. DEDEDE, Jaywalker, Extreme Enigma, and Mister K as Team EAW to take on the Heart Break Boy, Master of Puppets, Killswitch, Cole Smith, and Y2Impact as Team ACW for control of the company. Robbie would end up as the sole member of his team after Jaywalker betrayed Team EAW and caused Extreme Enigma to be eliminated. Robbie would put up a fight, but was eventually taken out with a cutter from Cole Smith and pinned by Killswitch. Robbie and Cole would settle their feud on the following Dynasty; ending with Robbie capturing the win.
RoViper came together once again following Territorial Invasion, but under hostile circumstances as both men qualified for the Dynasty Extreme Elimination Chamber for the EAW Championship at the upcoming Road To Redemption FPV. Robbie would lose his first qualifying match in a five-way bout for Latino Game's vacated InterWire Championship and Chamber spot, but Robbie eventually found his way into the match. Robbie would end up being the second man eliminated in the match at the third Road To Redemption; pinned by Speedy and capping off his first year with a huge match, but a bigger loss.
2010
King of Extreme/Showdown Debut (January 2010 - February 2010)
Things began growing hostile between Robbie and Viper as they continued their dominance over the Tag Team Division. A newly-formed alliance between Inter-Brand Champion, Y2Impact, and the debuting monster known as St. Anger known as "Order of the Angels" began pursuing RoViper for their Unified Tag Team Championships. All the while, Robbie competed in the 2010 King of Extreme Tournament; defeating the likes of JC Styles, Hova, and Adam to make it to the finals against EAW Legend and Founder, CM Bank$. During the feud with the Order of the Angels, Robbie challenged Impact for his Inter-Brand Championship on an episode of Showdown. Though both men put up the fight of their lives, Robbie seemingly won the match and captured the Inter-Brand Championship. However, Y2Impact protested the victory and insisted that he never lost due to the fact that the ring bell was used as a weapon during the bout and was thus never rung to signify a winner. It was decided that Robbie would be stripped of his reign and return the Inter-Brand Championship. On the night of King of Extreme, RoViper were finally dethroned of their Unified Tag Team Championships by the Order of the Angels when Viper used himself to save Robbie from an oncoming St. Anger. Robbie was forced to reluctantly hand over the Inter-Brand Championship to Impact and threatened by Dynasty General Manager, Killswitch, that if he didn't win King of Extreme then he's fired. Robbie went on to defeat CM Bank$ in a Tables, Ladders, and Chairs match in the main event of night to become the 2010 King of Extreme. Viper was released from EAW following the show; effectively ending RoViper.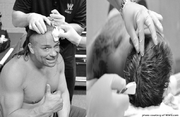 Despite saving his job, Robbie refused to return to Dynasty and instead elected to pursue joining EAW's Showdown brand. A man who likewise wanted off his own brand of Showdown, Jaywalker, was met with a proposition that he and Robbie would fight at the upcoming Reasonable Doubt FPV for Robbie's Crown and the winner of the match being allowed to jump brands. However, Jaywalker's intense want to leave Showdown quickly turned the feud between the two personal as Jaywalker would hire Robbie's former girlfriend, Kendra Shamez, as his valet and trick Robbie into being handcuffed and mercilessly beating him in hopes of Robbie forfeiting their match. However, Robbie refused; pushing an angered Jaywalker to send Robbie through the glass table of Robbie's "Joint" talk-show. The two would clash a mere seven days later at Reasonable Doubt, which Robbie would quickly make even more personal as Robbie stole Jaywalker's prestigious Pain For Pride diamond-coated robe and threw it into the crowd. Both men would brawl before the match came to an end when Robbie reversed the Second Sacrifice into an Ankle Lock on Jaywalker with Kendra Shamez handcuffed to the top rope; unable to reach Kendra or the ropes, Jaywalker tapped out, thus Robbie keeping his crown and officially being drafted to Showdown. Jaywalker would later gain a submission victory over Robbie in a triple threat match on the following Showdown with the Heart Break Boy; also throwing Robbie's Crown into the crowd, but it was later revealed a security guard caught it and returned it to Robbie. The security guard was immediately fired by Jaywalker.
Heart Break Boy Feud/Dynasty Return (March 2010 - September 2010)
Robbie's time on Showdown would come to a grinding halt when Jaywalker, infuriated by Robbie's helping the Heart Break Boy, enlisted the help of his new Generation Genesis compatriot, Lethal Consequences, and had him take on Robbie in a match in which the loser would be banished to Turbo. Robbie ended up losing the bout and was thus sent to Turbo where his attitude grew increasingly bitter and began speaking of getting revenge, but never specifying who he'd seek vengeance upon. This came full-circle when the Heart Break Boy challenged CM Bank$ for the World Heavyweight Championship at the 2010 Grand Rampage. Unable to defeat HBB on his own, Bank$ called out his Generation Genesis comrades to help him. Robbie would make his presence known by intervening and swinging at the Generation Genesis members with a chair. However, Robbie would immediately shock the World by superkicking the Heart Break Boy and causing him to lose the match. Robbie was later eliminated in the Grand Rampage match by HRDO. Following the Grand Rampage, Robbie began taunting the Heart Break Boy on Turbo; dressing up as him and mocking is mannerisms while HBB showed up to attempt to talk some sense into Robbie. Instead of reconciling, Robbie demanded HBB accept his challenge for a match at Pain For Pride 3. Though HBB refused at first, further provoking from Robbie led HBB to reluctantly accept; looking to beat some sense into Robbie instead. Their Pain For Pride bout culminated in a hard-fought match that ended when Robbie went for a Five-Star Frogsplash, but was met with a Sweet Chin Music in mid-air as HBB kipped up. Following the bout, Robbie extended a hand to HBB. A cautious HBB accepted the handshake and celebrated his victory.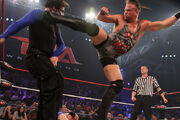 Following Pain For Pride 3, Robbie informed the new EAW Champion, Cyclone, that he would be cashing in his King of Extreme World Title shot at the 2010 Draft. Unfortunately, Robbie was defeated when his friend and rival, Extreme Enigma, showed up and hit Robbie with a Twist of Fate. This quickly led to a four-way feud between Robbie, Enigma, Cyclone, and Kevin Devastation over the EAW Championship. New Dynasty General Manager, Kendra Shamez, also made her presence known and clashed with Robbie verbally heading into Mid-Summer Massacre. Robbie ended up defeating Extreme Enigma to earn a spot in the Mid-Summer Massacre EAW Championship match that would end up becoming a Four-Way Elimination match. Robbie was defeated in the end by Kevin Devastation for the EAW Championship. Following Mid-Summer Massacre, Robbie continued his ongoing feud with Extreme Enigma, leading to a one on one match between the two at Territorial Invasion in which Enigma would win; seriously injuring Robbie in the process. Robbie would be defeated in an Extreme Elimination Chamber-qualifying match by a debuting Ashten Cross on the following Dynasty and would not be seen again for months after asking for his release from the company due to personal reasons.
Robbie eventually returned to the company as the new Showdown General Manager.
2011
Return/Ashten Cross Feud (January 2011 - February 2011)
Heading into the 2011 King of Extreme Free-Per-View, Robbie announced a very special guest would join him on his talk-show, "The Joint", at the event. At King of Extreme, Robbie revealed himself to be the guest and proceeded to announce that he would be making his return to the ring. However, he would soon be interrupted and beaten down by Ashten Cross. Later in the night, Robbie interfered in Ashten's King of Extreme Finals match against Power; screwing him out of the win.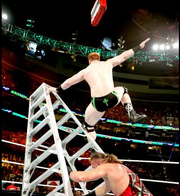 Following King of Extreme, EAW debuted a new third brand, "Voltage", with Ashten Cross having been drafted to it and Robbie partaking in the grand opening of it. Reasonable Doubt was announced as a double-branded show for both Showdown and Voltage, allowing Ashten and Robbie to settle their score at the event. Robbie would end up capturing the win at Reasonable Doubt, thus ending the rivalry.
Sex N' Violence/Grand Rampage (March 2011 - June 2011)
In the midst of Robbie's rivalry with Ashten Cross, it became clear Robbie and the Rated R Shaman of Sexy had become allies to one another and eventually announced their newly-formed tag team, dubbed "Sex N' Violence". Not long after Reasonable Doubt, SNV began a rivalry with Damage Inc. (Siberian Wolverine and MA Beast), also managing to capture the Unified Tag Team Championships from defending Champions, Dynasty X, as Mr. DEDEDE replaced an injured Alexander Da Vinci and ended up screwing over he and the Heart Break Boy in the bout. Nonetheless, the SNV/Damage Inc. feud continued before culminating at Reckless Wiring for the Unified Tag Team Championships in which the fans voted for it to be contested in the first ever tag team Glass Wallz match. Sex N' Violence would end up capturing the win.
Catching the attention of reigning World Heavyweight Champion, Hurricane Hawk, Sex N' Violence began targeting him. RRS would defeat Robbie in a #1 Contender's Match to challenge Hawk for the World Championship at the Grand Rampage, but as both men could not wait until then, the match took place on an episode of Showdown with the RRS capturing the win. SNV would proceed to send Hawk packing from EAW following the match. With no World Heavyweight Championship match to take place at the Grand Rampage, both Robbie and RRS entered the Grand Rampage match. Robbie ended up winning the 2011 Grand Rampage in his third consecutive time competing in it by last eliminating long-time rival, Extreme Enigma.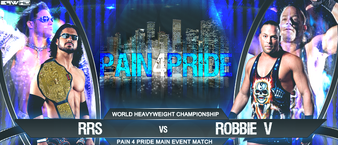 However, Robbie's win would be clouded in controversy as EAW CEO, Matt Daniels, forced Robbie to make a decision: His job as Showdown General Manager or his World Championship match at Pain 4 Pride. Robbie decided to go with his Pain 4 Pride main event, thus quitting his job as General Manager and knocking out Matt Daniels. Dynasty General Manager and the man Robbie last eliminated to win the Grand Rampage, Extreme Enigma, would be enlisted to take out Robbie at the upcoming Triple Threat Free-Per-View. Robbie would end up losing the match, but meanwhile the Rated R Shaman of Sexy had purposely lost his triple threat match with Y2Impact and the Heart Break Boy in which the loser would have to put his World Title on the line against Robbie at Pain 4 Pride. The environment between RRS and Robbie remained competitive, but friendly as they made their way to the event. However, things changed the final Showdown before Pain 4 Pride as Sex N' Violence willingly put their Unified Tag Team Championships on the line against Channel Zero (Kawajai and Apollo Calix) in a Steel Cage match. Robbie would end up turning on RRS, thus allowing Channel Zero to win the match and take SNV's Unified Tag Team Titles. Robbie would later explain his actions in a segment during Pain 4 Pride as he spoke to a chair with a replica of the World Heavyweight Title sitting in it; claiming that all friendships die, but that the World's Championship lives forever. In what many consider the show-stealer of the event, Robbie defeated RRS to become the World Heavyweight Champion. In a shocking turn of events, Robbie immediately thanked RRS for the hard-fought match and insisted that now having achieved everything in EAW, he would retire effective immediately. Robbie would last be shown on EAW television for the last time in over a year when he and a defeated Mr. DEDEDE walked out of the company together; Robbie relinquishing his World Heavyweight Championship to CEO Matt Daniels on his way out the doors.
Pain 4 Pride Controversy
Out of kayfabe, it was evident that the relationship between Robbie and Chairman, CM Bank$, was growing more sour with every passing day leading up to Pain 4 Pride and the two had been estranged with one another for some time. The two men constantly argued and it escalated to a point of no return when Robbie attempted to refuse to be around Bank$ entirely in order to cool himself down. However, Bank$ soon realized what was going on and immediately emailed Robbie, threatening to fire him. Robbie saw this as the last straw and convinced his friend and fellow writer, Mister K, to write in a retirement speech following his victory over RRS at Pain 4 Pride without telling Bank$ what was going on. Though reluctant, Mister K did as he was asked and gave Robbie his retirement. Bank$, having no knowledge of what was going on, assumed it to be either a fake retirement or one that was strictly kayfabe. However, Bank$ was informed just days later that the retirement was real and immediately proceeded to banish Robbie's World Heavyweight Title reign, anything involving him in the show, and his name from future scripts. Though Robbie would return to E-Feds not long after, both men's relationship remained estranged and hostile for a year. Though Bank$ refused to do the same, Robbie decided to be the bigger man and apologize for what had gone down between them. Both men have since made amends to an extent and Robbie's banishment has since been lifted.
2012
2nd Return/Diamond Cage Feud (October 2012 - December 2012)
Robbie made his return to EAW for the first time in 16 months on October 27th, 2012 when he showed up from the crowd and brutally attacked World Heavyweight Champion, Dark Demon, during his bout with Troy Conway at the House of Glass Free-Per-View. The following Showdown, Robbie explained his actions by claiming Demon had what belonged to him and laid down a challenge to Demon for the World Heavyweight Title. Showdown General Manager, Kendra Shamez, made the match official for the upcoming Justified Reckoning Free-Per-View. However, Diamond Cage, who also previously attacked Dark Demon, entered the match to make it a triple threat by threatening Kendra. All three men clashed with one another over the following weeks, with Dark Demon going as far s to throw bleach in Robbie's eyes before throwing him off a balcony. Robbie was announced to be medically cleared to compete by Justified Reckoning. However, the match would end in defeat when Dark Demon pinned Robbie after a chair-aided Rolling Elbow.
The following Showdown, Robbie would take on Demon in a non-title bout, but it would once again end in defeat for him. The following week, Robbie challenged Diamond Cage to a match. An angry Diamond Cage, infuriated at Robbie showing up and getting a World Title match so easily, accepted the challenge. Robbie would later refuse the match and instead propose the two fight in a new kind of match named a "Hardcore Iron Man Match" in which the only way to win is to gain points by using foreign objects and other extreme means. Cage willingly accepted the match and the two finally clashed at the sixth-annual Road To Redemption Free-Per-View. Robbie would gain the victory, thus ending the feud between the two.
Robbie would then take on Tyler Parker in their first one on one match at the annual Dynasty vs Showdown event the week after Road To Redemption. However, the match was ended prematurely as Mr. Insult made his shocking return; brutally beating Robbie to a pulp and ending the match in No Contest.
2013
Mr. Insult Feud/Injury and Firing (January 2013 - April 2013)
Having a fire ignited underneath him, Robbie began a campaign to show that he nor anyone else should feel ashamed to be an Extremist while Insult claimed everyone believing they're an Extremist is ripping him off. Unfortunately, there would be no match between the two men as Robbie took it upon himself to rid EAW of Insult with a brutal attack of his own. Insult was released soon after.
Robbie's "It's Cool to be an Extremist" campaign quickly garnered attention from the rest of the company as he began wearing smiling masks and lecturing on the wrongs of the company. This would come full-circle during Methuselah's Hell In A Cell match with Dark Demon at Reasonable Doubt in which Demon called for the rest of his stable, Project E.G.O, to aid him. However, Robbie made his presence known in response, quickly clearing the ring of Demon's comrades. Over the next few weeks, Robbie would clash with Project E.G.O, primarily World Heavyweight Champion, Jaywalker. DEDEDE and Robbie would be forced to take on the entire Showdown roster at the whim of General Manager and Project E.G.O member, Cleopatra. However, DEDEDE and Robbie put up a fight and eventually captured the win over the roster after Scott Diamond turned on his team and attacked them with a led pipe. Soon after, it was announced Jaywalker would put his World Heavyweight Championship on the line against Robbie in an "I Quit" Match in the main event of Showdown. Cleopatra would add another stipulation the night of the match that should Robbie lose, he would be immediately fired. Robbie ended up being declared the loser of the bout after Jaywalker sliced his throat with a beer bottle and proceeded to choke him out in the Crossface Chickenwing. Though Robbie was physically unable to say the words "I Quit", the Referee awarded the bout to Jaywalker and Robbie was fired from Showdown.
"The Legendary" Sekaiichi Debut/Heel Turn (May 2013 - June 2013)
In the weeks leading up to Jaywalker and Cleopatra's Unified Tag Team Title match at Defiance, ominous things began happening. Jaywalker found himself being harassed by an unknown entity that seemed to point to none other than his long-since retired protege, John Alloy. During the Defiance match, a man dressed eerily similar to Alloy appeared, causing Jaywalker and Cleopatra to abandon the match. On the following Showdown, Cleopatra was kidnapped and it was revealed by a mysterious lawyer that had been showing up in the previous weeks that his name was Damien S. Murrow and the man holding Cleopatra hostage was none other than the man formerly known as Robbie V, now called "The Legendary" Sekaiichi. Despite Jaywalker's pleas to let Cleopatra go, Sekaiichi instead broke a beer bottle and proceeded to slit her throat. However, it would be revealed that it was a mere illusion. Damien Murrow would next reveal that because Sekaiichi was fired despite not uttering the words "I Quit", there were legal grounds to sue EAW if his demands for a World Heavyweight Title match at Pain For Pride 6 were not met. EAW Chairman, Dark Demon, had no choice but to accept the match. In the coming weeks, Sekaiichi would continue to play mind games with an increasingly angered Jaywalker. Sekaiichi would next reveal that the two men's match would take place in a Hell In A Cell match. Despite having to fight in the daunting structure, Jaywalker assured his confidence and claimed he would end Sekaiichi once and for all. At the event, Jaywalker and Cleopatra's estranged relationship came to an end as Cleopatra abandoned the World Champion moments before his match with Sekaiichi. Sekaiichi would reveal several followers that accompanied him during the match; all dressed similar to him and wearing masks. Despite this Jaywalker continued to fight until both men were sent through the top of the cage and through the ring. Sekaiichi was the only man left walking by exiting the hole in the middle of the ring with silent laughter. Sekaiichi proceeded to hit Jaywalker with a Sakujo Screwdriver, but instead of ending the match, Sekaiichi merely looked at the World Heavyweight Title and immediately abandoned it before completely walking out on the match itself.
Sekaiichi would next show up with Murrow at the EAW Draft, interrupting Methuselah and laying down a surprising challenge for a one on one match at Pain For Pride Se7en next year.
2nd Heart Break Boy Feud/World Heavyweight Championship Pursuit (July 2013 - December 2013)
Sekaiichi would not be seen again until Mid-Summer Massacre when he appeared during a #1 Contender's Match for the World Heavyweight Title between the Heart Break Boy and Hades The Hellraiser; throwing a fireball into the face of HBB. It would become more and more clear that Sekaiichi was not only seen as a leader, but a God to Damien Murrow. This greatly angered HBB, prompting him to repeatedly provoke Sekaiichi and challenge him to the first ever "3 Degrees of Hell Match" at the upcoming No Regards Free-Per-View that would take place in HBB's hometown of Chicago. Sekaiichi would end up winning the match when the friendly and family of HBB (who were later revealed to be a part of a group of Sekaiichi's followers known as the "Agents of Extreme) ended up brutally attacking him; capping off the match by tying HBB to a wooden cross allowing Sekaiichi to set it on fire before the shocked audience. However, HBB would return very soon with little to no scarring as he now began playing mind games with Murrow. Sekaiichi began growing amused with HBB and his passion to rid EAW of him. After HBB kidnapped Murrow, Sekaiichi answered HBB's final challenge for one more encounter at Territorial Invasion. Sekaiichi would end up winning the match by debuting his new submission, the Katahajime.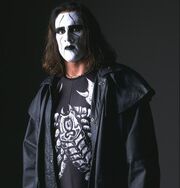 Sekaiichi would next find himself clashing with Cy Henderson, who had taken an interest in Damien Murrow and claimed he was going to purge EAW of him. The two goliaths clashed in a brutal fight on Showdown that resulted in a no contest as either man was unable to continue. It was later announced that Cy would take on both Sekaiichi and Murrow in a handicap match at the first ever Shock Value event. However, the night of Shock Value, it was announced World Heavyweight Champion, Brian Daniels, had left the company. Interim Chairman of the Board, WWEFan, announced that due to this, Sekaiichi and Cy Henderson's match would be changed to a one on one "Four-Corner Shock Match". Sekaiichi would win the match after an interference from Murrow allowed him to touch all four turnbuckles. Despite Cy continuing to pursue Murrow, Sekaiichi eventually rendered him unconscious with the Katahajime.
Following Shock Value, it was announced that the Showdown Extreme Elimination Chamber at the seventh-annual Road To Redemption would be contested for the vacant World Heavyweight Title and would feature "The Legendary" Sekaiichi, Tyler Parker, GI Styles, Nick Angel, Hades The Hellraiser, and Cy Henderson would qualify as well after winning an Extreme Battle Royal. Leading up to the match, Sekaiichi began carrying around the defunct EAW Championship with Murrow claiming Sekaiichi intends to destroy the World Heavyweight Championship once he wins the Extreme Elimination Chamber and replace it with the EAW Championship. However at Road To Redemption, despite dominating the match, Sekaiichi was eventually double-teamed by Cy Henderson and Tyler Parker; experiencing his first loss since becoming "The Legendary" Sekaiichi after Cy hit him with a barbed-wire-wrapped elbow from the top of a Chamber Pod.
2014 (Present)
2nd King of Extreme Win/Birth of Mikado Sekaiichi (January 2014 - February 2014)
Sekaiichi would show up in a surprising turn of events by once again interrupting Mr. DEDEDE (previously Methuselah) at Dynasty vs Showdown. Having none of his make-up he'd become known for and now revealing he can speak and was always able to speak, Sekaiichi immediately apologized to DEDEDE and the rest of the World for allowing himself to become convinced by Damien Murrow that he really was some sort of God after he found himself in a dark place following his injury back in April. Sekaiichi said he truly wanted to fight DEDEDE like they were Gods at Pain For Pride. DEDEDE stopped Sekaiichi from leaving and accepted his Pain For Pride challenge, insisting that the match will still take place. Sekaiichi, however, revealed the match was always going to take place. That he's going to earn the right to face DEDEDE by once again winning the King of Extreme Tournament.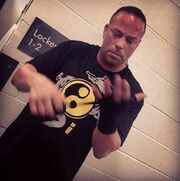 However, tragedy struck as Sekaiichi was quickly eliminated in the first round of the Tournament by Lucian Black. Despite this, Sekaiichi was placed in the second round of the Tournament against Lucian and Jacob Steele by order of DEDEDE, who claimed he simply wanted Sekaiichi to win so that he can take the World Heavyweight Title from him at Pain For Pride. The remaainder of Sekaiichi's matches in the Tournament would end in controversy after the Agents of Extreme helped him defeat Jacob Steele and Lucian Black while Damien Murrow intervened to help Sekaiichi defeat Devan Dubian in the Semi-Finals. Sekaiichi had finally had enough and demanded Damien and the Agents of Extreme leave him be. Murrow would later confront Sekaiichi, claiming he understands and that he just wants to be Sekaiichi's friend. Sekaiichi defeated Diamond Cage in a Tables, Ladders, and Chairs match at King of Extreme to become the first and only man to become a two-time King of Extreme, but things changed as a damaged Sekaiichi grabbed the King of Extreme scepter and slit Murrow's throat with it. Sekaiichi immediately struck the throat of the Official for the match with the scepter; a sick smile appearing on his face before attempting to Spear Diamond Cage while mocking Mr. DEDEDE's signature mannerisms. However, Sekaiichi was stopped by Cage's friend and the man in his corner during the match, Jaywalker.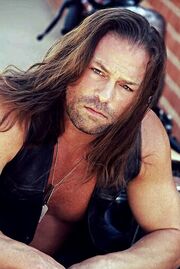 On the next Showdown, Sekaiichi renamed himself "Mikado Sekaiichi" and began speaking of being everybody's King. Sekaiichi invited Jaywalker to join his coronation as King, which was answered, but only so that Jaywalker could perhaps propose Diamond Cage get a rematch against Sekaiichi in exchange for Sekaiichi's obvious want to challenge Jaywalker once again. Sekaiichi immediately refused the proposal, claiming that whether he wins or loses in his match with Jaywalker, Jaywalker will always have to live with watching Cage lose to him. Sekaiichi proceeded to call for the Agents of Extreme, who revealed themselves from the crowd, prompting Jaywalker to accept Sekaiichi's challenge for a Hell In A Cell match at Reasonable Doubt before attempting to fight he and the Agents off. The next week, Jaywalker himself ambushed Sekaiichi and the Agents of Extreme using the Dynasty roster, namely Diamond Cage, who struck Sekaiichi with a railroad spike and gave chase before knocking out the power for the show by striking a control panel in a production truck. The following week, Sekaiichi goaded Diamond Cage to come after him while Jaywalker was immediately caught off-guard by an attacking Scott Diamond. The reignited rivalry came to a halt at Reasonable Doubt where Sekaiichi captured the win by having the Agents of Extreme once again ambush Jaywalker inside the Cell before hitting the King's Landing for the win. However, following the match, Sekaiichi attempted to get revenge on Jaywalker by slitting his throat with a broken beer bottle. The Cell was lifted and Cage immediately stopped Sekaiichi before knocking him out with the Diamonds Are Forever. Sekaiichi was rolled out on a stretcher and seemingly finished. However, following Tyler Parker's defeat over GI Styles in the main event, the lights went out and another match for the World Heavyweight Title was announced. The lights came back on to reveal the Cell lowered around the ring and Sekaiichi mercilessly attacking Tyler with a steel chair. Sekaiichi would go on to defeat Tyler with a Spear, winning the World Heavyweight Championship in the process.
World Heavyweight Championship Reign (February 2014 - June 2014)
Following Reasonable Doubt, it was announced Mikado Sekaiichi would defend his World Heavyweight Championship for the first time against the new #1 Contender, Jacob Senn, at the upcoming "Showdown: Homecoming" event.. However, Interim Chairman, WWEFan, ruled that Tyler Parker had a valid case to get a rematch and thus inserted him into the match after refusing to allow Sekaiichi to relinquish the World Title to Tyler. This prompted Sekaiichi to "punish" WWEFan and EAW in general by smelting the World Heavyweight Championship on live television to the shock of WWEFan, Mr. DEDEDE, Tyler Parker, and Jacob Senn. However, Sekaiichi would show up the next week at Showdown: Homecoming to reveal the World Title had been smelted down into a Crown for him to wear. Sekaiichi would successfully retain his World Heavyweight Championship against Tyler Parker and Jacob Senn by hitting Tyler with the King's Landing.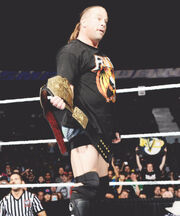 The same night of Showdown: Homecoming, Cy Henderson defeated Devan Dubian in the Finals of the annual Gold Rush Tournament to decide who would challenge for the World Heavyweight Championship at the Grand Rampage. It was immediately brought up that Sekaiichi and Cy had history with one another, but Cy insisted that he was the only man capable of toppling Sekaiichi after he not only defeated Sekaiichi by retaining the EAW Title when Sekaiichi used his first King of Extreme World Title shot, but also broke him as "The Legendary" Sekaiichi by eliminating him from the Extreme Elimination Chamber. This angered Sekaiichi and led him to sick the Agents of Extreme on Cy with the intention to set him on fire as punishment. However, Cy quickly overpowered the Agents of Extreme and single-handedly dismantled them while a surprised Sekaiichi looked on. The next week, Sekaiichi told Cy and the rest of the World that he would have Cy bow before him by the end of the night. During Cy's bout with DEDEDE, Sekaiichi showed up by making his way down to the ring and calmly handcuffed Cy to the top rope following the match. Sekaiichi proceeded to brutally lash Cy with a steel chair, a kendo stick, and a barbed-wire whip before a bloodied Cy dropped to his knees; unconscious. The next week, Cy called out Sekaiichi, looking for vengeance. However, Cy was instead met with Sekaiichi's new Advisor, Albert Hitchman, who informed Cy Sekaiichi would not be there and instead urged Cy to give up his pursuit and bow before Sekaiichi willingly. Cy replied by attacking and lashing Hitchman with a kendo stick. The next Showdown, Cy once again demanded Sekaiichi face him like a man. Hitchman instead showed up in Sekaiichi's place and informed Cy that Sekaiichi would once again not be available. However, just as Cy grabbed a barbed-wire whip and threatened Hitchman with it, Sekaiichi ambushed Cy with a steel chair. Despite the attack, Cy insisted on competing in his match with the Prince of Phenomenal later int he night, which angered Sekaiichi. Sekaiichi returned in the main event to once again force Cy to bow before him as he handcuffed him to the top rope once again. However, this time Cy broke free from the handcuffs and proceeded to beat down Sekaiichi; lashing him with a chair before choking him out in the Berserker submission hold. At the Grand Rampage, Sekaiichi defeated Cy to retain the World Heavyweight Championship by hitting the King's Landing and then the Fall From Grace after multiple interferences from Albert Hitchman. Following the match, Cy apprehended Hitchman, who begged Sekaiichi to save him. Sekaiichi, amused, chose to instead abandon Hitchman; leaving him to take yet another beating from Cy.
Following Sekaiichi's triumph over Cy Henderson at the Grand Rampage, he was pursued next by a now injured Albert Hitchman and his returning client, Scott Diamond. Scott Diamond immediately began dominating everyone in his path, making it clear he was hungry for the World Heavyweight Championship. Mikado Sekaiichi showed no fear and challenged Scott Diamond to a match at the upcoming Dia Del Diablo Free-Per-View. However, during the contract signing for the bout, Mikado Sekaiichi began patronizing his soon-to-be challenger; revealing that he wants Scott to impress him with all of his strength at Dia Del Diablo in a "Trial By Fire" Match that would involve a variety of weapons set on fire and the only way to win being by pinfall or submission. The following Showdown, Scott Diamond and Mikado Sekaiichi finally confronted one another physically as Scott immediately dominated Sekaiichi and ended the show by hitting the World Champion with three Vortex's into the ringside announce tables and ringpost. At Dia Del Diablo, Mikado Sekaiichi showed up as his "The Legendary" Sekaiichi persona in order to combat his monstrous adversary with a monster of his own. However, even that would prove to be too much as Scott Diamond took control of the match quickly; suplexing Sekaiichi multiple times, sending him crashing through the barricade wall on the outside, and throwing him onto the chairs of the fans in the first few rows. Robbie would eventually fight back to get more offense in after catching Scott with a spear through the ropes and into a flaming table on the outside. Both men would continue to beat one another to a pulp as Scott avoided the King's Landing, which nobody had kicked out of yet, while doing everything in his power to catch Sekaiichi with a Vortex. Sekaiichi managed to hit Scott across the back of the skull with axe kicks over 10 times in a row; lacerating the back of his opponent's head, but even that proved to not be enough as Scott would counter into a Jackknife Powerbomb to the outside of the ring and through a flaming table. Somehow still alive, Sekaiichi attempted to flee, but was pursued by a vicious Scott Diamond. After luring Scott into a Katahajime and then throwing him off of the stage and connecting with the Fall From Grace, Robbie looked to finally bring the match to an end. However, with the final attempt at a King's Landing, Scott countered into a Vortex on Sekaiichi. Just before the final count could be made, Scott was dragged to the outside and put through a flaming table by a returning Cy Henderson, who had been injured by Scott Diamond the night Scott made his return. Cy would follow up by dragging Scott into the ring, hitting him with the Dark Flow, and then hitting Sekaiichi with another Dark Flow to land on top of Scott for the final three count.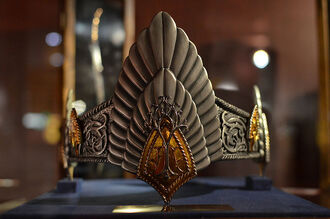 At Dia Dal Diablo, not only had Mikado Sekaiichi somehow survived yet another brutal encounter to retain his World Heavyweight Championship Crown, but a new #1 Contender for his Crown had been decided when Mr. DEDEDE managed to defeat Lethal Consequences, Jacob Senn, Kevin Devastation, Tyler Parker, & Y2Impact in a Hellfire No Way Out Match. Once again showing no fear whatsoever, Mikado Sekaiichi instead showed nothing but joy for his Pain For Pride challenger. Mikado Sekaiichi brought DEDEDE out to the ring and told the World that it was his intention all along to bring Mr. DEDEDE to this point, not as the proud hero, but as a broken and clearly flawed anti-hero that had to scratch and claw his way to get back onto the mountain top and that that is precisely why Mr. DEDEDE had become silent and distant from everyone else as he had revealed it to DEDEDE himself behind the scenes following DEDEDE's tragic Grand Rampage defeat. Mikado went on to reveal that he used many people to ensure this day would come, including his Agent of Extreme followers and the woman he revealed to be his Queen, the Interim Chairman of the Board, Kendra Shamez. Mikado Sekaiichi could cap off his speech by telling his opponent that as the final part of his grand plan, he has no intention whatsoever of facing Mr. DEDEDE as he instead demands he be given an enemy worth challenging him: Methuselah. The following week, Mr. DEDEDE responded to Mikado Sekaiichi's shocking words by practically laughing in his face about the entire idea that this supposed grand scheme is what brought the two men to this point. DEDEDE revealed that he won his match at Dia Del Diablo because he is the best in EAW and that he's going to prove that once again by defeating Sekaiichi at Pain For Pride 7. DEDEDE goes on to tell Sekaiichi that beyond any World Championship, he's going to put Sekaicchi out of his misery; that Sekaiichi has long-since fallen off the path he once walked ever since his throat was slit by Jaywalker and that he intends to undo all of that by beating him at Pain For Pride. DEDEDE calls Sekaiichi delusional, actually believing he's become some sort of a God and that he's been the mastermind behind some elaborate plan to bring out Methuselah at Pain For Pride. All Mr. DEDEDE's words do is make Sekaiichi more and more unresponsive. DEDEDE attempts to speak to him, but all Sekaiichi could do is look down with a distant look on his face and quietly mutter that Mr. DEDEDE give him and answer and give him Methuselah at Pain For Pride. DEDEDE tells Sekaiichi "No.". Sekaiichi attempted to slap Mr. DEDEDE across the face multiple times, with each one growing weaker and weaker before Sekaiichi told DEDEDE he had to go now and quietly left. The next week, Sekaiichi promised a final solution to get Methuselah at Pain For Pride. After all the anticipation, Mikado Sekaiichi quietly made his way out to the ring and proceeded to completely destroy everything in his path, from the ring itself to the crew members at ringside. Sekaiichi would go as far as brutally beating then Showdown commentators, Mak and Masters, by breaking Masters' neck with a steel chair across his throat and spitting flames into the face of Mak after Mr. DEDEDE finally made his presence known and continued to refuse Sekaiichi's demands. Sekaiichi would go eve further as he then brutally assaulted a fan. Mr. DEDEDE would finally stop Sekaiichi, who then had several police officers make their way out to arrest him, claiming he had done a bad thing and needed to go away for a while. All this would do is infuriate Mr. DEDEDE more and cause him to assault Sekaiichi before Sekaiichi was carried off to jail with a bloody grin across his face. On the final Showdown before Pain For Pride, Mr. DEDEDE promised a final solution of his own. As the show went on, it became clear Mikado Sekaiichi would not simply sit and wait around in a jail cell as he delivered ominous messages to DEDEDE from his cell and played video packages to further provoke DEDEDE. Mr. DEDEDE would finally make his way out to the ring at the end of the night, but without a word, dragged out a brutalized Kendra Shamez. Mr. DEDEDE, showing a side of himself more sadistic than anyone had ever seen, claimed he would cut out the cancer that is Sekaiichi and his entire clan both that night and at Pain For Pride. Mr. DEDEDE then went on to hit Kendra with twenty one-man Conchairtos before finally stopping; satisfied with himself. On the first day of Pain For Pride 7, Sekaiichi was finally released from jail and told the World that all of the sacrifices he's made over the past 6 months would finally be all worth it as he would finally get the "Battle of Gods" he had so desperately wanted. Mikado Sekaiichi and Mr. DEDEDE would go on to headline Day 2 of Pain For Pride 7 in one of the most violent matches in EAW History as both men took one another to their absolute limits, attacked one another with a variety of weapons such as pizza slicers, and more. Sekaiichi would end up kicking out of Mr. DEDEDE's famous "North Star" maneuver, that had not been kicked out of since DEDEDE had first started using it 7 years prior. Unable to successfully hit the King's Landing, the beginning of the end would come when Sekaiichi attempted a flaming Spear on Mr. DEDEDE, missing just before it could connect. Mr. DEDEDE would take advantage of the missed Spear by hitting Sekaiichi with an unexpected Corkscrew Shooting Star Press for the win. Following the bout, neither man was able to barely move their bodies. Mikado Sekaiichi was left unresponsive and Crownless while DEDEDE used every last ounce of strength to proudly hold up the new World Heavyweight Championship Belt replica he had brought with him heading into the match. Moments after the ending of the match, the Agents of Extreme showed up from the crowd out of nowhere. Believing he was about to be ambushed, Mr. DEDEDE prepared himself for one more fight that he would surely lose. Instead, the Agents of Extreme dragged a lifeless Mikado Sekaiichi out of the ring and carried him away into the unknown while everyone looked on.
Mikado Sekaiichi's current whereabouts are unknown.
Moveset
Signature Moves

Rolling Thunder
Ankle Lock
Spear (Mocking DEDEDE/Methuselah's signature mannerisms)
Missile Dropkick
Axe Kick (to the back of the skull)
Sakujo Screwdriver
Elbow to the back of a seated opponent's skull
Diving Legdrop
Crucifix Neck-crank
Hat Trick (3 German Suplexes)
Five-Star Frogsplash
DELETE! (Jumping spin kick to the back of the head)
Fireman's carry takeover onto a knee
Springboard Moonsault
Shooting Star Press
Spinning Wheel Kick
Van Daminator
Suicide Dive
Hilo
Split-Legged Moonsault
Finishers

King's Landing (Wrist-lock transitioned into a short-arm Yakuza Kick)
Fall From Grace (Swanton Bomb); Adopted from Extreme Enigma
Katahajime
Miscellaneous
Nicknames
"The Vampire of EAW"
"The Undisputed King of Extreme"
"Ozymandias"
"The Iconoclast
"The Legendary"
"contRoVersy"
"The OMG"
"The Extreme Dream"
"The Protagonist"
"The Hardcore Headliner"
"The Hardcore Hero"
"King Robbie V"
"King V"
"RoV"
"King Explicit"
Managers
Dr.Feelgood (January 200 9- April 2009)
Viper (August 2009 - January 2010)
The Rated R Shaman of Sexy (November 2010 - June 2011)
Paul Hustler (September 2011)
Damien S. Murrow (May 2013 - January 2014)
Albert Hitchman (April 2014)
Mentor
Theme Music
"Hell Yeah" by Rev Theory
"Come With Me" Puff Daddy ft. Jimmy Page
"Watch This" by Slash
"Badass" by Saliva
"No Chance In Hell" by Dope
"Cocky" by Kid Rock
"Everythang's Corrupt" by Ice Cube
"Grain" by Kuniaki Haishima
"Hail to the King" by Avenged Sevenfold
Championships and Accomplishments
Extreme Online Action

EOA World Heavyweight Championship

Xtreme Wrestling Federation

XWF Tag Team Championships (with DJ Hazard)
XWF United States Championship

Extreme Answerz Wrestling

EAW Hall of Famer (Class of 2014)
EAW World Heavyweight Championship (2-time)
EAW National Extreme Championship (2-Time)
EAW Hardcore Championship
EAW World Tag Team Championships (with Viper)
EAW Tag Team Championships (with Viper)
EAW Unified Tag Team Championships (with Viper) & (with The Rated R Shaman of Sexy) (2-Time)
2014 King of Extreme
2010 King of Extreme
2011 Grand Rampage Winner
EAW CEO
Turbo Writer
Showdown Writer
Dynasty Writer
Voltage Writer
EAW 2014 Feud of the Year (With Jaywalker)
EAW 2014 Extreme Moment of the Year ("The Legendary" Sekaiichi Burns the Heart Break Boy on a Cross)
Trivia
Robbie V was the last EOA World Heavyweight Champion in the history of the small E-Federation.
Robbie V was never pinned or submitted in a match he lost for a record 222 Days in the LEGION of Extraordinary Wrestlers.
Robbie V is the only man to win King of Extreme more than once.
Robbie V is one of two people in EAW History to win both the Grand Rampage and King of Extreme
Robbie V has never lost at EAW's Reasonable Doubt FPV (3-0)
Robbie V became the first person to write for all three main brands of EAW (Showdown, Dynasty, Voltage)
Robbie V has fought the likes of La Secta Apocalyptica (Kevin Devastation & The Dark Emperor), The Heart Break Boy, Rated R Shaman of Sexy, Jaywalker, and Mr. DEDEDE at Pain For Pride