Remi Skyfire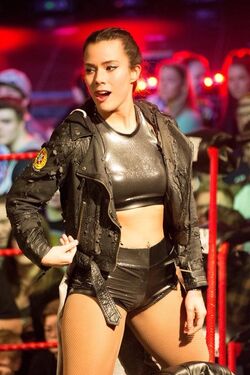 Skyfire in January 2019
Birth name
Remington Jolene Matthews
Born
July 1, 1990
Somerset, Kentucky, United States
Resides
Lisbon, Portugal
Family
Santana Matthews (half-sister)
Nora Matthews (mother)
Steven Matthews (father, deceased)
Spouse
Elyse Colette Norton
(m. 2013; div. 2018)
Professional wrestling career
Ring name(s)
Remi Skyfire
Height
5 ft 7 in (1.70 m)
Weight
150 lbs (64 kg)
Billed from
Somerset, Kentucky
Trained By
Rod Landers
Cassie Belmont
Debut
February 2016
Remington Jolene Matthews (born July 1, 1990) better known by the ring name Remi Skyfire, is an American professional wrestler currently signed to KINGDOM Pro Wrestling. She is the current Atlantic Champion with one reign.
Prior to her professional wrestling debut, Matthews was also the lead guitarist of the rock band The Rebelles.
Early life
Matthews was born in Somerset, Kentucky in 1993. She is the only child of Steven and Nora Matthews. She had been a fan of professional wrestling since she was a child, and would frequently attend shows with her family.
Professional wrestling career
Training and early career (2016–2018)
Matthews began training at the age of 20 with a local wrestler/promoter named Rod Landers. He taught her the basics and booked her in his promotion, Wildcat Professional Wrestling. Landers, who envisioned Matthews a high-flyer, had taught her to not use her Muay Thai skills, which she had been trained in since the age of 15, and rather focus on moves that would awe the crowd. She would make her in ring debut under the name Remi Skyfire.
After a year of training, she was booked a match with a promotion based out of Louisville, Kentucky against a wrestler named Johnny Bones. Taking offense at working against a woman, Johnny set out to end the young Skyfire's career. In the match Johnny used his elbow several times to attack the right eye of Skyfire, resulting in permanent nerve damage that caused a loss of vision.
After sitting in recovery for a few months, Skyfire was put in contact with Cassie Belmont by Landers. She was a multi-time world Muay Thai champion who was close to her age, also had a passion for professional wrestling, and was willing to train her. After teaching Skyfire to integrate her kickboxing into her matches, Belmont encouraged Skyfire to go to a local EAW tryout where she was signed.
Elite Answers Wrestling (2018–present)
Debut and various feuds (April 2018–June 2018)
Skyfire debuted in April of 2018 with a win over fellow newcomer Kianna Carter. Her brutality and intensity were immediately on display as she went on to her next opponent, Raven Roberts. Roberts would become a long-term rival as the two engaged in a long series of mind games and manipulations that at first saw them as enemies, but later saw them join forces and begin competing for the newly minted Empire Tag Team Championship. During a match that would see them get a Pain for Pride title shot against the then champions, the Crowe's Nest (April Song and Jael Arcana-Rosario). After the match, Raven would betray Remi and was later revealed to join the Crowe's Nest. Skyfire, along with Zakki and Cloud Matsuda would be left laying in the center of the ring.
Specialists Champion (June 2018–September 2018)
In the weeks leading up to the Pain for Pride Festival, it was announced that Skyfire would be a part of the second ever Specialists Scramble alongside the then Specialists Champion, Chelsea Crowe, Daisy Thrash, Kianna Carter, and Stella Starr. Skyfire proved victorious, defeating Starr as the time ran out.
Her first title defense would come at Manifest Destiny in August against Tyler Wolfe, the semi-finalist of the 2018 Empress of the Elite, and Raven Roberts, Skyfire's long-time adversary. Skyfire proved victorious in a hard-fought match that left all three competitors battered and broken.
Her second defense was a singles match against Tyler Wolfe that was acclaimed by many as being the match of the event. In a wild brawl that went all over the arena, Skyfire brutalized her opponent only to fall to a top rope Bingo Hall Massacre.
Leader of The Pride (July 2018–November 2018)
After Pain for Pride Skyfire found herself in a position where she could unite the locker room against the antics of the Crowe's Nest. This lead to creation of The Pride, a group initially consisting of herself, Mali Evans, Revy, and Layla Lockhart. The group struggled to find success against the Nest, who were their first real opponents. Prior to Manifest Destiny the group won the Second Chance Initiative put into place by Empire co-GM, Kendra Shamez, to earn a tag title match at Manifest Destiny. Layla and Revy would face the Jaded Hearts in an ultimately failed attempt to win tag gold.
After the dissolution of the Nest, Revy attempted a measure of revenge against the only remaining member, Raven Roberts, only to result in her career being ended when Roberts broke her neck in the ring. This lead to animosity in the group between Lockhart, who took much of the blame onto herself, and Skyfire who felt that Lockhart was making the injury of Revy about herself more than about the injured party. This lead to Skyfire benching Layla prior to a "Winner Takes All" match between the Jaded Wolfe Hearts and The Pride with both the Empire Tag Team Championships and Specialists Championship on the line. The Pride lost the "Winner Takes All" match despite adding Constance Blevins to the line-up, which now consisted of Mali Evans, Layla Lockhart, and Constance Blevins under the leadership of Remi.
It was announced that Remi would be the next challenger for Robert's New Breed title and the Pride found itself in the crosshairs of the Bird of Prey. First Skyfire and Roberts engaged in a violent backstage brawl that took Skyfire out of action for two weeks, this was followed by Roberts assaulting Mali Evans, driving her face first through a car windshield, and nearly ending the young woman's career. Lockhart was next when Roberts, in the same night, snapped her neck putting Lockhart indefinitively out of action. Prior to facing Roberts, Skyfire trusted Daisy Thrash to rebuild and lead the Pride, leaving the group so as to stop it from being a target.
Medical Hiatus (November 2018–January 2019)
At Bloodletter, Skyfire fell short in her bid for the New Breed Championship, and ended up badly injured after falling into an electrical box, and suffering severe burns and nerve damage. She underwent a series of surgeries that, in addition to repairing the damage incurred from the electrical shock, restored sight in her damaged eye. Skyfire spent this time working with Sabina, EAW Head Trainer, to round out her wrestling style, giving her a stronger offense than she previously had. She also took this time to get her alcoholism, something which had been running out of control in the weeks leading up to her time off.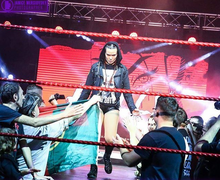 Return to Empire (January 2019–February 2019)
  Skyfire would make her in ring return against Gisele O'Dare, the former having beaten the Empress of Elite in her debut match. Skyfire defeated Gisele soundly, displaying her new attitude and in ring style. This match saw Skyfire undergo extreme training techniques with Sabina in Moscow. She would go on to defeat her former Pride-mate, Layla Lockhart, in a bid to qualify for the 2019 Iconic Cup. This bid ultimately failed, and a few weeks later Skyfire would end up injured at the hands of her former team mate, Constance. She would end up with a torn ACL, LCL, and Meniscus, missing the next three months.   
  In ring return (June 2019-Present)   
  Remi was cleared for a return to action the week after Pain for Pride, and was drafted to the Dynasty brand. She quickly formed an alliance with Darcy May Morgan and Vic Venom. This led to the formation of a tag-team between Morgan and Skyfire called Valkyrie. Despite a successful run that included wins over Drake King and Jake Smith and a rivalry with Celes Dumont and Fatal Destiny, Valkyrie's downfall, and Remi's time in EAW, would come due to her alcoholism again rearing it's ugly head. This led to her leaving the company in the fall of 2019 and ending a run that brought a singles championship, saw Remi become a locker room leader, and earned her several new scars.
KINGDOM Pro Wrestling (August 2019-Present)
Remi signed on with Kingdom Pro, a European based company that toured the World's monarchies, in August of 2019 and began what would be a long-term rivalry with Remington Ivory Prescott and his associates, the Ivy League. Her debut match was against Kismet Sinclair and Prescott, but came up short due to the debut of Prescott's heavy, Dahlia Mandrake. This led to a match the following episode where Prescott and Dahlia used their numbers advantage to beatdown Remi, but Skyfire was saved by a debuting Tyler Wolfe, Remi's former rival. The following week saw the former rivals beat Prescott and Mandrake, earning Remi a spot in the first Atlantic Championship match against Remington Prescott and Holiday Sinclair.
The War for Kingdom
Around this time Remi was contacted by the Lune Twins, Adrius and Antonia, who informed her their pick to win the Atlantic Championship was Remington Prescott and advised she fall in line. Remi didn't and walked into the Atlantic Championship match determined to prove she didn't need the backing of the front office to get things done. Her bid fell short when Jack Owyns, the Lune's enforcer, attacked her mid-match with a chain and cost Remi the title. The Lune family, majority owners of Kingdom, had started their plan to sculpt the company in their personal image, holding down fan favorites in favor of giving opportunities to those who participated in petty politicking and glad-handing.
This led to a divide in the locker room that saw Remi and her new ally Tyler join the side of Trevor O'Malley, Kingdom commissioner who opposed the Lune Twins. Remi and Tyler were on the front lines in the fight, eventually ridding the company of Jack Owyns, though at a heavy cost. This further galvanized the company around O'Malley and started a war for Kingdom itself. During this time Remi began again drinking heavily due to personal issues and the pressure she felt in defending the company, culminating in her being hospitalized on New Years Eve 2019 due to alcohol poisoning. She spent a week in the hospital and was diagnosed as a "super-alcoholic" by her doctor, a term that meant her body no longer had the ability to correctly process alcohol. This meant that she would no longer be able to drink, and if she did it may well kill her. She started her sobriety in the hospital and has maintained it since, closing a chapter of her life that she never wants to revisit.
The Empire
Seeking the recently introduced Commonwealth Titles, Remi and Tyler formed a team called the Empire and became the first team in Kingdom to hold the titles, having won them when the original first title holder, Eon Night, failed to find a partner to defend the titles. This led to Trevor O'Malley making a match between The Chop Shop and The Empire. As the Empire, they would find themselves unlikely allies with longtime rival, Remington Prescott, in the fight against the Lune faction. Tensions reached a boiling point when the Lune Twins put their control of Kingdom on the line against Trevor O'Malley in an eight person team battle that saw Rebecca Filth, former Kingdom Champion, Dahlia Mandrake, current Atlantic Champion who betrayed her lifelong friend Prescott, and the secret partners of the Lunes, the Crowe's Nest face off against Remington Prescott, Lexi Sheckler, and the Empire in a match that was dubbed the Thronebreaker match. O'Malley's faction ultimately won as the roster unified under him and forced the Lune family out.
The Empire would continue their reign, which ultimately lasted 144 days, into the company's first tag team ladder match. The Foundation, Eoin Cahill and Dirk Buchanan, would win the titles in a hard fought contest.
Blackheart Broken
Post-Championship reign the Empire, now with a new member, Felix Hartley, shifted their focus on the Ivy League. It was after a six person match that Remi was attacked by Skylar Edwards, the associate of Remi's ex-wife Elyse Norton, and had her face broken. She would be out of action for the next several months, watching the company she had fought to defend pass her by.
Atlantic Championship Reign (January 2021-Present)
Remi would make her return in late 2020 by making her intentions toward Leighton Chase, the last remaining member of the Ivy League, and the Atlantic Championship known. She would defeat Chase at Red Snow IV, picking up her first singles title in nearly two years.
Personal life
Matthews currently resides in Lisbon, Portugal, in an ocean-front villa she has dubbed the House of the Rising Sun. She maintains her family home in Somerset, Kentucky, and occasionally stays there, but largely operates out of Lisbon. When Remi signed with Kingdom she decided to relocate to her grandparent's home country and acquired dual citizenship.
Prior to becoming a professional wrestler, Matthews played guitar. She also played as the lead guitarist in her own band, the Rebelles. She recently formed a new band called Harlot with her aunts contributing.
Matthews also has a half-sister, Santana, who is also a professional wrestler. Her lifelong best friend, Jax Walker, was inspired to begin wrestling training after seeing Matthews' success very early on.
She is a skilled Nak Muay, having won several Muay Thai tournaments in her teenage years.
She is fluent in French, Spanish, Portuguese and conversational Thai.
In wrestling
Finishing moves

Sex Pistol (Top rope diving double-knee facebreaker)
Skyfire Special (Modified, hanging Octopus hold)
Exodia (Top rope bodyscissors back flip into a back-to-back kneeling piledriver) - Considered her silver bullet finisher.

Signature moves

Sex Bomb (Double wrist clutch knee to the opponent's face)
 Rock Lee (Pop-up roundhouse kick to running opponent)
 Thotgun (Running double high knee to the chest/back of a cornered opponent)
Beautiful Violence (Standing chickenwing/hammerlock combination followed by repeated knees to the head)
 Hooligan Combination (strike combination)

Nicknames

"The Wild One"
"The Black Heart"

Entrance themes

"Earth People" by Doctor Octagon (???–November 24, 2018)
"Fuel" by Metallica (November 24, 2018–February 2019 )
"Wild One" by Suzi Quatro (February 2019-Present
Championships and accomplishments
Elite Answers Wrestling
Most Valuable Elitist

Match of the Week (#139) vs Raven Roberts on June 7, 2018
Rising Star of the Week (#140)

KINGDOM Pro Wrestling

Commonwealth Championship (1 time)
Atlantic Championship (1 time, Current)