Regulator

Billing information

Ring name(s)

Regulator
The Real Deal

Height

6'3" (190.5cm)

Weight

272 lb. (123kg)

Born

August 29, 1993

Hometown

North Carolina

Theme music

"So Bad" by Eminem

Affiliation(s)

Y2Impact
The Rated R Shaman of Sexy Heart Break Boy

Federation(s)

N/A

Previous federation(s)

Answers Championship Wrestling
Extreme Answers Wrestling
Classic Wrestling Federation
The Truth of Wrestling
True Wrestling League
Xtreme Wrestling Federation

Wrestling information

Alignment

Face

Wrestling style

Powerhouse

Signature Move(s)

Powerslam
Diving Headbutt
Dominator

Finishing Move(s)

Crossface

Trainer

Heart Break Boy Mr. DEDEDE
Y2Impact

Handler

Professional career

Debut

TWL: February 2008

Record

Unknown

Accomplishments

• EAW Interbrand Championship
• EAW National Extreme Championship
• EAW Unified Tag Team Championships
•Complete list

Retired

PCW: December 2010
Touray B. (born August 1993), better known as Regulator, is an African American E-Wrestler who was formerly the Chairman of the wildly popular, defunct Xtreme Wrestling Federation. Regulator is known for numerous gimmick changes as well for being an 11 time world heavyweight Champion. He was, at a point in time, one of the biggest e-fed superstars who competed at a main event level in 5 of his efeds including EAW, he balanced the high Midcard to main event levels. Regulator is currently retired, but has been a part of the following e-feds: Answers Championship Wrestling, Xtreme Answers Wrestling, All Wrestling Alliance, Extreme Answers Wrestling, Extreme Hardcore Wrestling, The Truth of Wrestling, Classic Wrestling Federation, Answers Championship Wrestling Federation, Midnight Championship Wrestling, Rising Championship Wrestling, and Phoenix Championship Wrestling.
The Recruiting of Regulator into Efederations
On February 24 of 2008, Regulator was looking threw the numerous users on Y!A that used the instant messaging program Yahoo Messenger. As he was looking through the top answerers, Regulator clicked on The Profile of King Kjors. Regulator noticed that Kjors was online and he decided to send him an instant message. Regulator and Kjors engaged in a conversation which ended up In having King Kjors give Regulator the link to the an E-Federation once ran by himself, The Book of Wrestling, and Shane101, The True Wrestling League. Also known as TWL.
True Wrestling League
Regulator followed the link that King Kjors gave to him and from there, Regulator has experienced and has put himself among the numerous superstars taking part in Efederations. Regulator joined the True Wrestling League Efederation where he was a main stay for quite some time. Regulator joined upon the TWL Efederation and upon his arrival, he met his then rival, now best friend, Tyler A.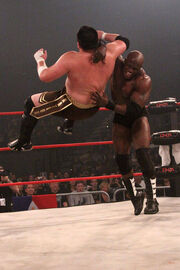 When Regulator met Tyler, he from there knew that being in the Efed World was not gonna be easy. Regulator, in his first day in efeds, got into an argument with Tyler A. Regulator had no clue what was really going on as he was only defending himself. Then as it seemed that Tyler A had Regulator beat due to the fact that Tyler was an XAT owner, Superman, a TWL Original, helped Regulator out by telling Tyler that He's a new comer and he doesn't deserve what he has gotten so far. From there on forward, Regulator and Superman became great friends. Upon Regulator's arrival in TWL, on his first day he meet numerous superstars such as current Efederation main stays like Jayjayyyy, now known as Jaywalker(Cyber Brother, Best Friend), Latino Game(Long Time Friend), Mr. Kennedy's #1 Fan(Efed Mentor, Cyber Brother, Long Time Friend), Gage The Rage Smith(Long Time Rival), and Mr.DeDeDe(Efed Mentor). The First TWL Free Per View was right around the corner and Regulator didn't have a chance to get on the card so he joined forces with Mr.DeDeDe. From their own, the Ruff Ryderz was born. The Name From the Ruff Ryderz came from fellow TWL superstars, The Impact Player, now one of Regulator's longest and closest online friends.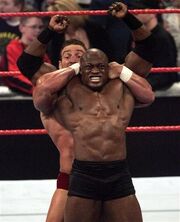 Regulator and DeDeDe teamed up and in Regulator's first match, they faced The Team of Clean Sweep(Gage The Rage Smith and Impact) vs Showtime and Icon in a Triple Threat Tag Team Match for the New School Wrestling Federation Tag Team Championships. Regulator and DeDeDe we victorious. Not only has Regulator won his first ever efed match, he has won championship gold as well. From there on ward, Regulator was shown Respect by the numerous superstars who came in the TWL chat day In and day out. The Days and week's went by as controversy struck TWL. After the series of events that has happen in TWL, it finally was closed down by TWL owner, Book of Wrestling. The True Wrestling League was Regulator's first efed. He's said numerous times that he will never ever forget about the place that made him the great Efederation star that he became.
Answers Championship Wrestling
Regulator started to find out about the different federations on the net as he then found Answers Championship Wrestling. Regulator joined ACW and upon him joining, in his first match he lost to Gage The Rage Smith, long time efed rival turn friend, in an ACW Burnination International Championship match. Regulator and GTRS competed in a series of matches over the next few months to try to see who is strictly the best and who deserves the I.N. Championship more.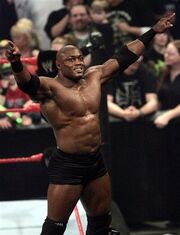 After trying to gain the I.N. Championship and coming short every time, at the ACW Free Per View Entitled, TWL One Night Stand, Regulator defeated Long Time Rival GTRS to become the International Champion. Regulator won the championship and from there, He has his nose in the sky and went on to form an short lived alliance known as Reg's Alliance. The Members of this alliance were Regulator as the International Champion, NWO Matt and NAD as the Burnination Tag Team Champions, and Superman as a strong contender for the Burnination Championship. The stable then flourished as Superman became injured, NWO Matt went to Chaos to purse his singles dreams of becoming world champ, and Nad went to Corruption where he help filled the Midcard Division. Regulator's next task at hand as The Dark Emperor. Regulator and the Dark Emperor feuded over the I.N. Championship but once again, Reg became victorious. Regulator ran out of challengers and he raised into the high Midcard/ main event rankings where he then became a strong contender for the World Championship. Before Regulator could capture the World Championship on the Burnination Brand, Now named Royalty, Regulator was traded to Chaos along with his International Championship. In Regulator's first match on the Chaos Brand, he won the ACW Chaos World Championship as he defeated Donovan T and once again long time rival, GTRS. Regulator became the first ever Chaos World Champion as he also lost his International Championship to up and rising superstar Starr Stan.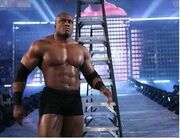 He then started his feud with the returning Master of Puppets over the Chaos World Title. At The King of Answers FPV, MOP defeated Regulator to become the Chaos World Champion. Regulator then formed an alliance with Mr. Insult to hopefully get rid of the supposed tag team of the "New Breed", Kennedy and Master of Puppets. Regulator and Insult came short as right after the match, Regulator was shipped to Corruption. After a short stint on the Corruption Brand, Corruption was defunct as ACW then went to one brand. On Regulator's return to Chaos, he defeated Master of Puppets to once again capture the Chaos World Championship. Regulator is scheduled to face long time friend and efed mentor Mr. Kennedy's #1 Fan at ACW's Biggest FPV, Resurrection where the winner will be announced the Chaos Undisputed Champion. However, ACW Resurrection never occurred as the e-federation died out on February 14, 2009. ACW was later brought back in short-term in mid 2010, but it was short-lived as it merged with ACWF before that e-fed eventually became defunct. Shortly thereafter, Regulator retired.
All Wrestling Alliance
Regulator found the All Wrestling Alliance Efederation and joined up. In Regulator's debut match he defeated RKO Baller to become the number one contender for the AWA United States Championship. Regulator went on to feud with the Dark Emperor for the United States Championship as he then captured the title.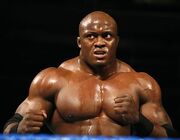 AWA Management decided to merge the US Championship and the AWA World Championship to then make the AWA Undisputed Championship. Reg was the last AWA US Champion and competed in the first ever AWA Undisputed World Championship match, but he fail short as Naitch won the match. Regulator then resigned from AWA. A Few weeks later after talking to the AWA GM, He rejoined. In his Return, he defeated numerous superstars to re earn his spot as he was then in the AWA International Championship Division. On an edition of Saturday Night Blow Out, Regulator defeated 5 other Superstars in a ladder match to become the AWA International Champion. Regulator reigned over AWA in the mid card division as the king of it until then losing his championship to The Heart Break Boy. Regulator quit the AWA again thanks to former AWA Superstars Icon. After a series of events that have taken place, after 2 months of being hated by most AWA superstars, Regulator rejoined AWA. In his re-debut match, Regulator defeated The Heart Break Boy to be the AWA International Champion. Regulator was once again on the top before then losing his title to Naitch. Regulator moved down the rankings a bit to the AWA Tag Team Division as he teamed with Mr. Insult as they formed that tag team Insult by Regulator. Insult and Reg went on to capture the AWA World Tag Titles from Koumidiator and Shattered Windows. Reg and Insult then embarked in a feud with The Cannibal and Davros. In a title defense, Regulator and Insult lost the titles to Davros and The Cannibal after Insult turned on him during the match.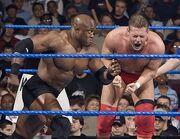 Before Insult and Regulator had a chance to feud, Insult asked for his resignation from AWA. Regulator then had his sights set on much bigger things as he qualified for the AWA Extreme Elimination Chamber for the AWA Undisputed World Championship where Regulator defeated 5 other superstars to become the AWA Undisputed Champion. Regulator is the current champion who is aligned with The Tag Champs Davors and Jon Cutro as they are known as Bloodthirst and Glory. Regulator is set to defend his AWA Undisputed Championship against the Heart Break Boy.
In 2009, AWA officially died out.
Xtreme Wrestling Federation
Regulator went from being a tag champ in TWL, to creating his own Efederation. The Xtreme Wrestling Federation was born March 28, 2008. Regulator, with the help of Superman had a dream of making a huge efed. The Efederation started off with its first FPV as Regulator defeated Superman to become the XWF American Champion. Superman then left efeds for an extended period of time and with that, Regulator turned to Impact and NWO Matt. Matt and Impact helped Reg out in numerous ways as XWF in the summer of 2008, rose as one best efeds around. XtremeaMania marked the day in which XWF's legacy was cemented. The day that XWF was given some respect as all the great superstars competed in numerous matches show casing all the great talent on the roster. August 9, marked the day that the XWF Efederation was deleted by an undisclosed superstar seeking out vengeance on Regulator and his efed. Regulator did not let that make him nor break him as new XWF Board Member Tyler A, along with the returning Superman, and NWO Matt help rebuild the site and it that help made the XWF even better than it was before. Over those periods of times Regulator went from feuding with his protege Nad, feuding with Mr.DeDeDe after turning on Regulator in their Tag Team reunion, and was just an on screen character that all the fans loved.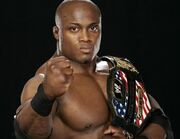 Regulator returned to the ring and once again had the task of facing Superman as they put on one of the greatest efed feuds ever. The XWF was then deleted again by an undisclosed superstar. From their own, Regulator as a chairmen became way more careful and that was the last time the site was deleted. From their own, XWF continued to rise. Around the end of October-early November, XWF was then basically the top and most active Efederation from Y!A. Regulator, Tyler, and Impact continued to recruit people as at one point in time, 100 efeders were joined to the fed. Regulator has then feuded with Impact, Jaywalker, Kennedy, and The Heart Break Boy. After being the chairmen of XWF for 10 months, Regulator finally captured the XWF Championship. A Week later, Regulator lost his championship in a title unification match against Then Rebellion Champion Impact after Tyler A got involved costing him the match. Regulator is scheduled to face Tyler A at Total Annihilation.
Extreme Answers Wrestling
Regulator and EAW have not always been the best of friends. Regulator and EAW have a storied rivalry a mile long. Regulator decided to sat all of that aside as in September 2008, Regulator rejoined EAW and has then been a main stay. Regulator made his re-debut in EAW by costing Mr.DeDeDe his match against Captain Charisma as CC and Regulator then formed as a tag team named the Chain Gang Playas. It was short lived as both superstars' rather singles careers.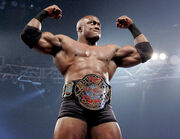 Regulator went to the Dynasty brand where in his first match, he qualified for the EAW World Heavyweight Championship Extreme Elimination Chamber. The Night of the FPV, Regulator defeated long time friend, cyber brother, and efed mentor Impact for his National Extreme Championship. With this, Regulator would finally get his first taste of gold in EAW. Reg was then set to face 5 other superstars in the scheduled Extreme Elimination Chamber match for the World Heavyweight Championship, but Impact attacked Reg from behind as Impact was then announced as Regulator's replacement in the match. Afterward, not only did Impact succeed in taking Regulator's spot and entering into the World Championship match, but won the World Heavyweight Championship after pinning Jaywalker. On the next night, Y2Impact competed in three matches, the first of which a street fight against Regulator in which Regulator won after interference from his next opponent, Jaywalker. Later, Reg defended his National Extreme Championship in a Ladder match against Robbie V's manager, Dr. Feel Good & World Heavyweight Champion, Y2Impact. Regulator lost the match and the National Extreme Championship along with it to Dr. Feel Good. After this, Regulator's career in EAW took it's ups and downs, peaking in a World Championship match with Mr. DEDEDE at Grand Rampage II, but never winning the EAW World Heavyweight, nor the EAW World Championship. After a dispute, Regulator quit EAW again in August 2009. Regulator returned to EAW in mid 2010, going so far as winning the Unified Tag Team Championships with tag team partner, Matt Ryder and later nominated for EAW Tag Team of the year. Ryding Regulationz, Regulator & Matt Ryder, disbanded after they lost the Unified Tag Team Championships to SG Generation on Showdown. Shortly thereafter, Regulator quit EAW once more after Y2Impact & Rated R Shaman of Sexy got the password and changed it on the ACWF site without giving it back for 14 hours.
The Truth of Wrestling
Regulator debuted in TTOW defeating Long Time Rival turn Best Friend Tyler A for the TTOW Television Championship. The TTOW Efed closed down before Regulator had a chance to rise into the main events. TTOW re opened and Regulator was put into the main event title picture as he defeated Kennedy and HBB for the TTOW World Title. Reg was scheduled to face Heart Break Boy at the next FPV, but the e-federation soon closed down.
E-fed Accomplishments
All Wrestling Alliance
AWA United States Champion[Defeated The Dark Emperor]
AWA Tag Team Champ[With Mr. Insult/Defeated Koumidiator and Shattered Windows]
AWA International Champion[Defeated 6 guys in a Ladder Match]
AWA International Champion[Defeated HBB]
AWA Undisputed Champion[Defeated HBB, H Wood, Koumidiator, Cutro, and Carlos]
AWA Triple Crown Champion
AWA Executive Assistant
Won the AWA Next Big Thing Award
Former AWA Writer
Answers Championship Wrestling
ACW International Champion [Defeated Gage the Rage Smith]
Chaos World Champion[Defeated Gage and Donovan T]
Voted Best ACW International Champion[ACW Awards Show]
Chaos World Champion[Defeated MOP]
Xtreme Wrestling Federation
XWF Chairman and Creator
XWF United States Champion [First/Defeated Superman]
XWF Resistance Tag Champion [With Superman/ Defeated Cena29 and NAD]
Resistance General Manager
XWF Original
XWF Champion
Triple Crown Champ
Saturday Night Smash General Manager
Extreme Action Wrestling
EAW National Extreme Champion[Defeated Y2Impact]
EAW Interbranded Championship

first, defeated Dark Emperor

EAW Unified Tag Team Championships[defeated Captain Charisma and Mr DEDEDE]
Extreme Hardcore Wrestling
EHW World Heavyweight Champion[Defeated Starr Stan, Ronn, and Mr. DeDeDe]
EHW World Heavyweight Champion[Defeated DDD]
The Truth of Wrestling
TTOW Original
TTOW Television Champion [First/Defeated Tyler A]
Other Accomplishments and Board Jobs
NAAW Tag Team Champion [With Darkside/Defeated Naitch and Impact
NSWF Tag Team Champion[TWL] [With Mister DDD/Defeated Showtime and Icon, and Gage the Rage Smith and Impact]
ACW Writer
TWL Writer
UAW Writer[Starr Stan's Short Lived Efed]
NWA Tag Champions[With DODV/Never officially open but Reg was gonna win the Titles, so Its on the List, don't like it, kiss my ass =]
UAW Friday Night Xpolision General Manager
WWA Ceo
CWF Original
Picture Bases/Gimmicks
Kofi Kingston; 2008
Rey Mysterio; 2008-2010
Jeff Jarrett; 2009
Shawn Michaels; 2008
Matt Morgan; 2008
Shelton Benjamin; 2008
MVP; 2008
Bobby Lashley; 2008-2009
Booker T; 2010
Frankie Kazarian; 2008
Mick Foley; 2008-2009
Gregory Helms; 2008
James Storm; 2008
Vince McMahon; 2008
Elijah Burke; 2008
Jamie Noble.; 2008
Notable People
Superman-Cyber Brother/Best Friend
Kennedy-Cyber Brother
Heart Break Boy-Long Time Rival/Long Time Friend
Tyler A- Best Friend/Efed Rival
Cena29-Best Friend/Cyber Brother
Y2Impact-Best Friend/Cyber Brother/Efed Mentor
Alexa-Cyber Sister
Viva-Cyber Sister
Mickie Lee- Cyber Sister
QOX- Cyber Sister
GTRS-Long Time Rival
Mr. DEDEDE-Former Tag Team Partner/Efed Mentor/Long Time Friend
Latino Game- Long Time Friend
Showtime-Cyber Brother/Long Time Friend
CM Banks-Long Time Efed Rival
Captain Charisma-Former Tag Team Partner
Mr. Insult- Former Tag Team Partner/Long Time Friend
Glacial-Long Time Friend
Demon of Death Valley- Best Friend
Johnny Payne/Ozz- Cyber Brother/Best Friend/Long time friend
Jaywalker- Cyber Brother/Efed Rival
NWO Matt- Long Time Friend
Eve- Cyber Sister
Heart Break Gal- Cyber Sister
Legend Killer- Cyber Sister
Jaden- Long time friend/Cyber Sister
Miscellaneous
Nicknames
The Real Deal
E-fed's prime jewel
Influences
Mr.DEDEDE
Mr.Kennedy's #1 Fan/Killswitch
Superman
Theme Music
"So Bad" by Eminem (last)