Raven Roberts

Raven in November 2018.
Birth name
Raven Skye Thomas
Born
June 3, 1992 (age 27)
Louisville, Kentucky, USA
Resides
Las Vegas, Nevada, USA
Professional wrestling career
Ring name(s)
Raven Roberts
Billed height
5 ft 9 in (1.753 m)
Billed weight
148 lb (67.1 kg)
Billed from
Las Vegas, Nevada
Trained by
Vivian Marshall
Shayna Jackson
Debut
For EAW: April 5th, 2018
Raven Skye Thomas (born June 3, 1992), better known by the ring name Raven Roberts, is an American professional wrestler, actress, and model currently signed to Elite Answers Wrestling where she performs on the Voltage brand. She is a former EAW Universal Women's Champion.  
BIOGRAPHY
Early Life
Raven Skye Thomas was born and raised in Louisville, Kentucky along with her two older sisters by their abusive mother, Heather Thomas. Her father left at an early age, driven away by her mother. Raven was a child's beauty pageant contestant under her mother's direction before being driven away by the mockery of her peers for her then abnormal height. As she grew up, she shied away from any form of stage before her high school sweetheart, Danny Roberts, introduced her to wrestling. Danny himself dreamed of becoming a wrestler and when he was killed by a drunk driver on September 29, 2009, Raven took that dream upon herself.
Wrestling Training
When she turned 18 and finished high school, Raven left home, against the violent demands of her mother and with no money to her name, to train for wrestling under the tutilage of her long time idol, Vivian Marshall, at her academy in Las Vegas, Nevada. This is where she also met the academy's head trainer and evetually Raven's future mentor, Shayna Jackson. While training, Raven also took up a number of traditional martial arts to supplement her abilities including Judo, Japanese Jiu Jitsu, and Kyokushin Karate. Raven took on the surname "Roberts" to honor her late lover who inspired her to wrestle, eventually legally changing her name to Raven Roberts.
CAREER
EAW
End of Season 11 and Season 12
Early Career
Raven debuted originally in a number of small independent promotions in the United States, Mexico, and Japan for about eight years. In March of 2018, she signed a contract to join REVOLT! Pro Combat which would only weeks later merge with EAW where she competes under the Empire brand. Raven debuted to little fan fare as a primarily unknown name from the independents, but quickly grew in popularity. Her battles with Remi Skyfire sent them both up the card rapidly. And at the 2018 Terminus supershow, less than six weeks into her contract, Raven won the 2018 Terminus Challenge to earn the right to represent Empire in the 2018 Cash In The Vault ladder match at Pain For Pride XI, a match that guarantees the winner a world title opportunity at a time of their choosing. Raven did not win the match, but continued to build on her standing in the company.
Crowe's Nest
Between the two events, Raven began to feel the crowd was turning on her, more annoyed by her success than celebrating it. And when Chelsea Crowe presented her with an opportunity to financially aid her family, Raven turned her back on her friends and joined the Crowe's Nest, taking the place of April Song. In doing so, she inherited one half of the EAW Empire Tag Team Championship alongside Jael Arcana-Rosario. Raven and Rosario would go on to lose the belts at Pain For Pride XI against Sienna Jade and Kassidy Heart. After coming short in both of her Pain For Pride matches, Raven would experience something of a mental block. She would win matches but ultimately not capitalize on major opportunities, losing in the second round of the Empress of Elite tournament as well as getting pinned by Remi Skyfire, who beforehand Raven had beaten on multiple occasions without loss, in a triple threat match for the EAW Specialists Championship. When the rest of the Crowe's Nest eventually left EAW for a period, Raven would come to experience something of a meltdown inside of the ring, where she entered a fit of rage and broke the neck of Revy McQueen by hitting The Descent from the top turnbuckle after already using the move once on the canvas, ending Revy's EAW career.
New Breed Champion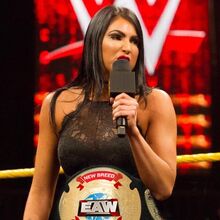 Despite all of this, Raven would eventually get herself put back together. She was given the chance to be the Empire representative for the New Breed Championship match at the 2018 Territorial Invasion event in Chicago. Raven went on to win, pinning then champion Xander Payne to become the first woman to ever win the interbranded championship. Dedicating herself to the idea of elevating the championship that had lost some of its value in the eyes of the public, she would go on to defend it against Xavier Arnold, Ryan Wilson, Drake King, and Remi Skyfire. After impressing in these initial defenses, Raven held the title as she challenged for the EAW Unified Women's Championship against Madison Kaline at Road to Redemption 12, a match that also saw the return of the Crowe's Nest. Raven had the match won but the match would be stopped due to what was deemed excessive bleeding from her nose. Raven walked out however still holding the New Breed Championship high in the air. She would eventually lose the title when the Visual Prophet pinned Damon Diesel in a fatal four way match at King of Elite 2019. She held it for a total of 132 days.
Ms. Cash in the Vault
After losing the New Breed Championship, Raven searched for her way to the top. In the aftermath if Road To Redemption, she had forced Flannery McCoy to confess that Fox Network Executive, Stephon Hunte, had hired the doctor to rig her match against her. This information was later used to force Stephon to place Madison Kaline in a fair match that she lost, but Raven was not satisfied. In the lead up to Grand Rampage 2019, Raven demanded the now General Manager of Empire, Kendra Shamez, to give her a match against the reigning champion at the event. With the recent events presented, Kendra agreed to the match and Raven was slated to face Sienna Jade for the Unified Women's World Championship. But in the run up to the match, Sienna would face Raven's stablemate and friend, Jael. Sienna won the match and Raven was there alongside Chelsea Crowe to check on their partner, but Chelsea and Jael would attack Raven from behind. They tried to beat her down but Raven managed to overcome and leave them laying. It was at this moment that Raven realized the fans were suddenly behind her, and she embraced them once again. Raven had her match with Sienna, but Sienna would use the championship as a weapon to escape with the belt. Raven kept fighting after this, but began to find herself slipping. Mentally she slowly began to break up until the woman who swore she would never give up, gave up. She was verbally submitted by Kassidy Heart at Terminus 2019. Raven then snapped, not turning against the fans again but becoming more and more desperate to regain her winning ways of the past. The loss to Kassidy served as a wake up call and it was in the lead up to Pain for Pride XII that Raven found herself lumped into the Cash in the Vault ladder match for a second year in a row. She searched herself and swore to correct the mental issues she had caused herself. She entered the match and managed to come out with the win, the first women to ever win the Cash in the Vault briefcase. It was at this same event that she found herself getting engaged to Rex McAllister, her Tag Team Grand Prix partner whom she had been dating since Valentines Day of 2019.
Season 13
The Draft and a New Home
Pain for Pride XII was a landmark event for the women of EAW. The members of the Empire roster collectively won the Cash in the Vault briefcase, the 24/7 Contract, the EAW Unified Tag Team Championships, the New Breed Championship, and a new top title was debuted for the Women's Division, the EAW Universal Women's Championship. But despite all the high caliber talent, disputes between the Fox Network Executives and EAW Chairman Ryan Adams, better known as Mr. DEDEDE, led to Empire being dissolved as a brand. The women of EAW found themselves fully eligible for the EAW annual draft for the first time and due to their recent surge in performance, found themselves heavily featured. And the first woman drafted to the EAW Voltage brand was none other than the first ever Ms. Cash in the Vault, Raven Roberts. She did little to hide her joy of coming to Voltage as she was joined with her fiancé, Rex McAllister, with whom she also earned a victory over Hall of Fame couple Jamie O'Hara and Cameron Ella Ava in a tag team match. And after coming back from past failures, Raven promised to spend the season fighting to prove she belonged not only in the mix of the competition, but at the top of the company. Her efforts would lead her to challenge Pain for Pride main eventer and the longest reigning EAW Answers World Champion, Theron Nikolas, at the first ever Bloodsport event. After some pressing, Theron would eventually accept the challenge, warning Raven that she better be as good as she thought she was. Raven rose to the challenge, however, and beat Theron in an approximate minute after a short sequence and a single Talon kick, apparently retiring Theron from in ring competition.
War Games 2019
But that success would come with its own problems, as the moment Raven and the other women arrived on Voltage, the Co-Commissioner of the brand, Veena Adams, made it her mission to remove them. Veena gave her newly chosen project, Charlie Marr, a hit list of four prominent women which included Raven, Andrea Valentine, Ms. Extreme, and Consuela Rose Ava. Veena and Charlie worked to remove these women from Voltage as they were determined to be the most problematic to Veena's anti-intergender ideals with their caliber of competition making them likely to be successful alongside the men. After several attempts, including Charlie rounding up his own group and leading a charge against Raven, Andrea, and Ms. Extreme in a tag match and Veena attempting to turn that same three against one another by forcing a count out in a triple threat match between them, the group proved more difficult to bring down than they expected. The three defeated Charlie, Jesse Barlow, and Kai Zolomon in the tag match. And when Veena came out to force the count out in a match where count outs were not part of the rules, instead of fighting amongst themselves, the women stood together and charged Veena on the ramp. Veena would flee just as the ten count finished, but the trio stood on the stage rallying the fans around them. Shortly after Bloodsport, Veena then set her next plan into action. She could choose three roster members to represent Voltage in that years War Games match at EAW Territorial Invasion (2019). With the other brands choosing to elect top tier captains and elite contenders, Veena chose to send Raven, Andrea, and Ms. Extreme into the match as a team, expecting them to be decimated by the other groups. With the other brands stacking their teams with top performers and past world champions such as Serena Bennett, Darkane, and TLA for Dynasty and Jamie O'Hara, Chris Elite, and Ahren Fournier for Showdown, the odds were stacked against the three women. But even after interference from Charlie Marr, the group managed to defy expectations and pull out the win, becoming the first all female team in history to win a War Games match.
Universal Women's Champion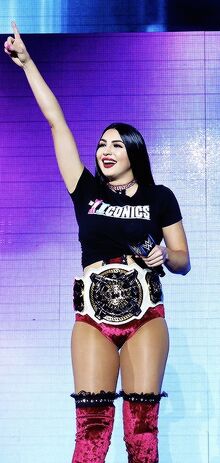 After retiring Theron Nikolas and making history by winning War Games, Raven was beginning to be cemented as a frontrunner in the company. But there was still one thing left in her mind. She had never won a World Championship after the nefarious ways her previous title shots had ended. Her briefcase offered her that path but she needed to wait until the appropriate moment. At the beginning of the season, EAW announced a series of shows to take place across the Middle East in Egypt, the United Arab Emirates, and Qatar. In the weeks leading up to EAW Battle of Egypt (2019), Kassidy Heart, who had cashed in her Iconic Cup to win the Universal Women's Championship at Pain for Pride, found herself entering a battle with the now canceled Empire's former General Manager, Kendra Shamez. Both were women who Raven had a rather negative history with. Kassidy would win the match, but Raven would run down to cash in her briefcase on Kassidy in the aftermath to take the EAW Universal Women's Championship, her first World Championship in her career.
CHAMPIONSHIPS AND ACCOMPLISHMENTS
EAW Universal Women's Champion (1x) (Current)
EAW New Breed Champion (1x)
2019 Cash in the Vault Winner
2019 War Games Winner (w/ Andrea Valentine and Ms. Extreme)
First female New Breed Champion
First female Cash in the Vault Winner
Member of the first all-female team to win War Games
WRESTLING
Raven has been attributed a number of nicknames over time.
Nicknames
"The Bird of Prey" (Most prominent)
"Ravenous" Raven Roberts
"The Huntress"
"The Dark Angel" (no longer uses)
"Ms. Cash in the Vault" (only while possessing the briefcase.)
Raven is known for a number of moves and maneuvers that compliment her skill set.
Signature Moves
The Facelift- Spinning back heel kick to the opponent's face.
Huntress Bomb- Sitout spinebuster
Wing Breaker- Kimura Lock
Flight Destroyer- Suicide Dive Canadian Destroyer
Beak Breaker- Tilt-A-Whirl Stunner
Angel's Fall (No longer uses)- TKO/Fireman's Carry Cutter
Raven's Beak (No longer uses)- Same set up as a Cheeky Nando's kick, except Raven will hit a running knee instead of a superkick.
Lost Beauty (No longer uses)- Hesitation vertical brainbuster. Raven inherited this move from Vivian Marshall. (Formerly used as a finisher)
Finishing Moves
Talon- Claymore kick
Raven's Wings- Spiral Tap
Bird Lock- Cattle Mutilation style Crossface chicken wing
Hell Strangle (No longer uses)- Modified from the jiu jitsu technique of the same name, Raven applies an arm triangle from the rear of her opponent while capturing their free arm in an armbar with her legs. This submission has never been escaped.
The Descent (No longer uses)- Modified Widow's Peak. Raven will hold the head lower on her arm as opposed to the shoulder to create more snap on the opponent's spine. Has never been kicked out of.
Flight of the Raven (No longer uses)- Five star frog splash from the top rope.
NOTES AND TRIVIA
Her favorite comfort food is peanut butter and milk
Though not a religious person, Raven does claim to believe in God, but she does not know exactly what she believes about it.
She is currently engaged to marry fellow EAW Elitist, Rex McAllister
She is an avid reader
Raven is fluent in Spanish after working years of independent shows in Mexico.
Until deciding on a wrestling career, Raven intended to attend dental school and open her own practice.