Paige
Statistics
Real name
Paige Smith
Ring Names
Paige
Height
5'7"
Weight
126 pounds
Date of birth
March 13, 1982 (age 30)
Place of birth
Greenwich, Connecticut
Date of death
{{{death_date}}}
Place of death
{{{death_place}}}
Resides
Los Angeles, California
Billed from
Greenwich, Connecticut
Trainer
{{{trainer}}}
Current
federation(s)
Retired from BQWA
Previous
federation(s)
{{{previous_efeds}}}
Handled by
Paige
Win/Loss Record
{{{winloss_record}}}
Debut
November, 2003 in (WZWF) BQWA
Retired
January, 2007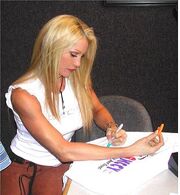 Paige
(born
Paige M. Smith
March 13, 1982) is a model, heiress, and former e-fed wrestler. She is known for her character "Paige" in WZWF/BQWA.
Before gaining success, Paige was enjoying the luxury life of an heiress vacationing, partying, and having fun on the expense of her parents. At the age of twenty she hit the catwalk in Paris, Sydney, New York City, and London becoming one of the top models of her time. In 2003 Paige wanted more, by that she entered the WZWF. Paige alongside Angelica Haze, Kelly Alexia, and Mortician built the WZWF Women's Division which lead to some of the most heated and personal feuds ever.
In the mix of feuding with Angelica Haze, she partner up with Acrobat becoming the most hated duo in 2003-2004. After countless matches, and brawls with Kelly Alexia, Mortician, and Angelica Haze, On August 18, 2005 she became the second WZWF Women's Champion and Longest Reigning Champion in history.
As 2006 started to unfold WZWF has been renamed BQWA and Paige popularity had skyrocketed as one of the top fan favorites, and along with that jealousy came backstage. She got caught up in some heated arguments with new competitors, who was jealous of the treatment she was getting. Rumors backstage was she was up for another run as champion. She fought backstage which lead to CC members not liking her anymore. Paige later quit unannounced after an edition of Meltdown.
A couple of months pass, Paige calm down and let the past be the past. She return to battle a new rival who had just debut that same night, Laura Stone. In 2007 Paige left the fed again this time for good.
After wrestling, She continue to model occasionally, and has appeared a couple TV series.
Early life
Born in Greenwich, Connecticut on March 13, 1982, Smith was the second of two children. She has an older brother. As a child she go into Child beauty pageant. At the age of eight she won second place as Miss Connecticut. Spending most of her childhood in private school Paige graduated at the age 17.
Smith traveled the world with parents as child, she later traveled on her own as teen and becoming a model in Paris, upon others.
At twenty she had made it big as a model, continuing until 22. She enter WZWF, an E-federation as Paige
WrestleZone Wreslting Federation
In 2003, Paige debut as a heel on edition on Meltdown after WZWF Ignition, cracking Mortician across the skull with 2x4, and powerbombing her on the concrete pavement sidelining her. Later the same night moments before the rematch of Kelly Alexia vs. Angelica Haze she attack Kelly, kicking off her first heated rivalry with Haze. That fellowing week Paige defeated Kelly Alexia in her debut match revealing her trackmark move "The Paige Bomb" (Powerbomb). A triple treat match would occur at the next WZWF PPV Collision Course. Paige proven her dominants after pinning Angelica Haze.
After declaring herself the dominate female to ever grace WZWF. Paige would become big headed and on several occasions putting WZWF below her. This would begin a mini feud with then onwer Glacier. Paige would find a love interest in Acrobat. With Paige by his side Acrobat would create a stable COTR. She's notorious for her numerous interferences in Acrobat matches, getting physical with the male wrestlers. Angelica Haze and Paige continue their feud as COTR and RX became rivals. Mortician return costing Paige a match setting up a triple treat match between Paige/Angelica/ Mortician at WZWF Revenge(March 2, 2004) where the returning Mortician pulled out the win pinning Paige.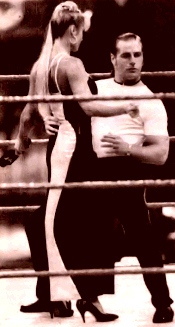 That same night Acrobat challenged Regeneration X member Daywreaker for the World Title, but came up short due to the interference from RX members. At the 2004 Hell's Fury Acrobat challenge Daywreaker again. During that match Haze cheap shot Acrobat which made Paige irate and attack Haze, causing a big brawl between the ladies that lead to the backstage area. The closing stages of the title match shown RX members turning on Daywreaker then forming a dominance group with COTR, the New Revolution.
Paige continue to show hatred toward Haze, and DXKid. Developing yet another triple treat match at Immortals III between fellow RN member and rival Haze, and Kelly Alexia that would be the introduction of the newly "WZWF Women's Championship". Haze would go on to be the first ever WZWF Women's Champion pinning Alexia. Glacier return to challenge Acrobat for the WZWF World title, eventually getting himself counted out after leaving Acrobat beating in the ring.
After failing to accomplish her dream of becoming the first women's champion, she set out to do whatever it takes to get that belt. With the betrayal on Acrobat along with NR, Paige distance herself from the group claiming they held her back. She went back on her own to show her dominance in the women's division, beating Angelica Haze on July 7, 2004 edition of Meltdown for the title
Women Champion
At the beginning her reign, she resume her role as heel. Paige went through all WZWF had to offer at that time. A new up and coming star named Josh Dean debut and suddenly became attracted to the Women's Champion. A couple of weeks later Acrobat return to the screen but this time as the new WZWF owner. Prior to his return despite Paige evil behavior, her and Dean hit it off slowly turn face. With the lack of female competitors Acrobat threaten to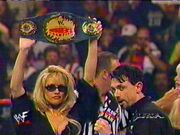 put Paige's title on the shelf, but change his mind when he hired new females setting up a six women battle royal at the next PPV. Jazebelle, who was a former manager, and girlfriend of Dean attack Paige's competitors leaving her stunned and Dean with a worried look on his face. Jazebelle and Paige went on to feud over the Women's Title, attacking each other backstage numerous times, and facing each other in brutal matches but Paige would retain her Title showing why she's Champion. Paige would go on to play games with Dean by having a thing with Chino which develop a rivalry between Josh Dean and Chino.
BustedQuad Wrestling Alliance
As Immortals IV came around WZWF was relocated and renamed BQWA (BustedQuads Wretling Alliance). By this time Paige has held the Women's Championship over a year (fourteen months). The Longest Reigning Champion to this day. She losed her title in the schedule Six-Pack Challenge to Katia Denakova after Denakova pinned Kimberly. Later that night Dean propose to Paige, after slowly taking her mind off the Women's Title she said "YES"
Paige put the Women's Division that she help built on the back burner as she along with Dean feud with Nature, who had an obsession for the former Women's Champion. Nature walked in on Paige in the shower on an edition of BQWA Meltdown. Leading to a memorial feud between the three. In 2006 Paige along with three other women participated in BQWA 2nd Annual Rumble, getting eliminated by Nature, after putting up a fight. Nature fascination with Paige became more repulsing that Nature would hired random female to dress, talk, walk, and even get surgery to become his "Paige". With Nature apart of the Regeneration X, Paige never ending hatred toward DXKid, Dean would soon feud with Regeneration X leader DXKid. Proving his abilities in the ring Josh beat DXKid which granted him and Paige a spot in Regeneration X despite Paige disapproval. Paige continue her quest to portray Dxkid as phony and impostor, alerting Josh Dean that Dxkid will turn on him just like Dxkid did Acrobat, and his friend daywreaker back in '04. As Regeneration X members Paige decided to put her different aside with Angelica Haze, and Dxkid for the time being. On an edition on Meltdown in '06 Paige and Haze would even team up in match. Immortal V started to approach, and was schedule to participate in the Six-Pack Challenge for the BQWA Women's Championship. But walk out on her BQWA contract just weeks away from Immortal V.
Return to BQWA in mid-2006
Paige return to do battle with Laura Stone. Stone debut minutes before the "Jericho like" clock ran down. Paige return as a brunette and physically attack Stone. Stone and Paige would battle in the first ever women's ladder match at 2006 High Incident! For the right to pose for Playboy. Paige came up short after an interference from a playboy whom Paige assaulted earlier in the night. In the meantime Jason Storm (Laura Stone's boyfriend) and Josh Dean (Paige Ex) got in mix, helping create the memorable "sperm in a cup angle", where Paige attempt to get pregnant by Laura Stone boyfriend Jason Storm. She would even get involved in the King David/ Josh Dean Feud helping Kind David. Couple weeks later Paige put in her farewell notice and had her final match at Collision Course, 1/24/2007 losing to Laura Stone. Paige announced her retirement after that PPV.
Controversy
In 2005 Paige had become upset with the route she was going and wanted out of BQWA, but with the talk of a member backstage she continue working at the fed. Regardless of how she felt backstage she continue to promo, but gave little effort. Rumors in the air backstage was that Paige was set for another title run as BQWA Women's Champion in '06, which with that came jealousy from a particular female who had a minor role on the CC Team. Paige brush that off. Just weeks away from Immortal V. Paige along with others was in process of planning a big feud involving Regeneration X… (That would later become the RX/Generation Now feud) but things became heated and with the edition of the next BQWA Meltdown, just weeks away from Immortal V Paige without warning quit. Paige were removed from future plans.

In Fall '06 Paige return to BQWA, which was under new management, several who was still upset with her from her previous run. In 2007 Paige parted ways with BQWA again, this time announcing her retirement
Personal life
She has a tattoo of a rose on her ankle, and is natural brunette. In 2004 Paige appeared on several shows like The Sharon Osbourne Show, The Weakest Link, and Late Night with Conan O'Brien. Also that year WZWF released documentary film entitled "Unrated: Paige Caught On Tape".
Now residing in Los Angeles, California Paige dating longtime friend and male model Chris Union ==In wrestling==
Finishing move(s)

Paige Bomb (Jackknife Powerbomb)

Secondary Finishing Move(s)

The Massacre (Tilt–a–whirl headscissors armbar)
-----------------------------------
Signature moves

The Paige Turner (Shooting Star Press from the outside apron)
Twisted (Bulldog over the rope where the opponents throat hits the ropes)
TKO
Various martial arts kicks
Molly Go' Round
missile downkick
The Eliminator (Fireman's carry into a swinging sidewalk slam)
Hair pull Gory special
Standing moonsault
Triple rolling verticals suplexs
Diving hurricanrana
Flowing DDT
Super Kick
Moonsault
Vitamin P ( Twist her opponent arm, climb up the rope, and deliver a hurricanrana)
----------------------------------
Championship and Accomplishments
WZWF/BQWA Women's Champion (July 7, 2004-August 18, 2005)
The Longest Reigning Champion in WZWF/BQWA History
Community content is available under
CC-BY-SA
unless otherwise noted.