Nick Moretti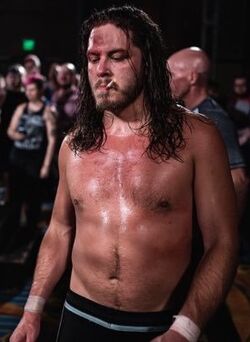 "Sick" Nick Moretti in 2019.
Birth name
Leith Goodwin
Born
July 12, 1996
Everett, Washington
Resides
Owego, New York
Professional wrestling career
Ring name(s)
Nick Moretti
Height
5 ft 8 in (1.73 m)
Weight
200 lbs (90 kg)
Billed from
Everett, Washington
Trained By
The Doghouse
Debut
2016
Leith Goodwin is an American professional wrestler currently working the independent circuit under the stage name "Sick" Nick Moretti. He is best known for his work in DIVISION Wrestling, World Wrestling Headquarters under the Sanatorium brand and for SCUM Underground, where he still works to this day.
Early life:
Leith Goodwin grew up admiring professional wrestling and decided at a young age it was all he wanted to do. He would wrestle in the backyard with some of his school friends on a flimsy trampoline or on his bed mattress they pulled into the backyard. They would record these "matches" and put them on YouTube, the channel has since been closed. He would drop out of high school in 2013 to start persueing wrestling as an occupation where he would start getting training at The Doghouse, ran by Rex Muldoon.
He would work primarily for Doghouse ran events in the gym. He would voluntarily wrestle in deathmatches seeing as they would pay more and he was living in the back of his car after his mother kicked him out of home for not completing his schooling. Due to deathmatch wrestling still having a stigma in the views of traditionalist wrestling fans and promoters, he was quickly shunned from serious promotions. He channelled his displeasure into the character of "Sick" Nick Moretti, actively opposing traditionalists of wrestling and worked deathmatches primarily.
Professional Wrestling career:
DIVISION Wrestling:
World Wrestling Headquarters:
Nick Moretti joined WWH's Sanatorium brand on June 9th, 2019, having his first match on June 30th defeating Tyler Michaels. He would face then Demolition Champion Mr Jinx on July 21st, losing following a roll-up with a handful of his tights. On August 4th, he would defeat Preston Carter Phillips. On August 18th, he would defeat former Sanatorium Champion Gary Black. On September 1st, he would defeat Chuck Ross and Rebecca Lawson in a triple threat match. On September 15th, he would defeat Odion. On September 29th, he would defeat Niobe Martin in a ladder match to become #1 contender for the Demolition Championship. On October 13th, Moretti would purposely walk out on Mr Jinx in a tag team match against Diamond Dogs (Dash and Gina Van Zant). This would be his last match for the promotion, not using his #1 contendership for the Demolition Championship, later stating in a web interview he wasn't happy with his creative direction within the company.
SCUM Underground: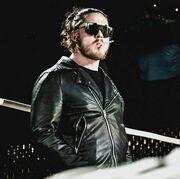 Moretti made a surprise debut for SCUM Underground at their EVOLUTION! event on September 11th, 2019 attacking Michael Hayden and Izzy Van Doren during their match, verbally chastising them for being wannabe scumbags latching onto a trend. The following show known as Body Count on September 26th, he defeated Izzy Van Doren. On October 31st at Burned Out, Nick Moretti defeated Maverick swiftly. Following the match he would send a message to the SCUM locker room by putting Maverick through a large sheet of plywood with light tubes taped down across the entire sheet with an Ego Death. On November 21st, Moretti defeated Michael Hayden with a Viledriver through a makeshift light tube table.
In-Wrestling:
Finishing Moves:

Ego Death (Package fallaway powerbomb into the turnbuckles)
Viledriver (Piledriver, occasionally done in a Stump-Puller, Tombstone or Package variation)

Signature moves

Belly-to-back facebuster
Biting
Black Diamond (Gory Bomb)
Cobra Clutch, occasionally culminated with a Russian leg sweep or backbreaker
DDT
Diving bulldog
Diving crossbody
Diving flip senton
Enzu Forearm
Grandiose Delusion (Step-up yakuza kick)
Hangman Neckbreaker
Judas Cradle (Air Raid Crash, occasionally avalanched forward or backwards)
Multiple kick variations

Bicycle
Drop, sometimes while springboarding
Enzuigiri
Running delayed low-angle drop to an opponent held in the tree of woe

Multiple suplex variations

Cross-legged high-angle belly-to-back
Fisherman Super
Overhead belly-to-belly
Tiger
X

One Bad Trip (Running corner Samoan driver)
Lariat neckbreaker
Low-pe Suicida (Middle and bottom rope Suicide dive)
Reverse Russian leg sweep
Running flip senton off the apron to a standing opponent
Single-leg Boston Crab
Sitout Gourdbuster
Spinebuster
Springboard tornado DDT
Swinging side slam backbreaker
Tornado DDT
Twisting elbow drop

Nickname:
Entrance Music:

"Come As You Are" by Nirvana
"All Hail To The Cheif" by Prophets of Rage (used as a member of Blood Moretti)