Mr. DEDEDE

DEDEDE on Dynasty in September 2018
Birth name
Ryan Adams
Born
October 30, 1980 (age 40)
Bridgeport, CT
Resides
Santo Domingo, Dominican Republic
Professional wrestling career
Ring name(s)
Mr. DEDEDE
Methuselah
The Gawd
Diamond Dallas DEDEDE
Billed height
6 ft 5 in (2.5 m)
Billed weight
230 lbs (104 kg)
Billed from
Denver, CO
Fort Lauderdale, FL
Calabasas, CA
Santo Domingo, Dominican Republic
Trained by
Uncle Fred
Debut
1999
Ryan Adams (born October 30, 1980), better known by his ring name Mr. DEDEDE, is an American professional wrestler, professional wrestling executive, promoter, entrepreneur, actor, and philanthropist, currently signed to Elite Answers Wrestling. He performs primarily on the company's Dynasty brand, but is permitted to appear on all forms of programming through the use of his one-of-a-kind "Gawd (God) Contract".
Adams began his professional wrestling career in 1999 at 19 years old in Northeast Wrestling, among other promotions in that territory, as well as competing in the midwest territories including Windy City Pro Wrestling. He would spend the earlier half of the 2000's decade touring the world - competing most prominently in the UK scene, Lucha scene, and gaining a massive following during a stint in Japan. After becoming a prominent figure in the independent circuit, he made his first major wrestling company signing in 2007 under the now-defunct Sunday Night Yahoo, which would become the Answers Wrestling Federation.
Despite becoming a figurehead and major figure of influence in AWF, Adams is most well known for his run in Elite Answers Wrestling created by his protege CM Banks. Since signing to EAW in 2007, he has gone on to become one of the most recognized and critically lauded wrestlers of all time is often cited by many as the most prolific figure in mainstream United States professional wrestling history, credited with influencing several generations of major wrestling faces in the 2000s and 2010s decades. He is also known for having one of the most accolade enriched careers in EAW history; capturing 6 World Championships in the promotion, multiple Tag Team Championships, winning an unprecedented 7 Match of the Year awards, as well as twice winning the Elitist of the Year award in 2008 and 2014 respectively. He has also been recognized for high profile rivalries with the likes of CM Banks, HRDO, Y2Impact, Jaywalker, Heart Break Boy, Robbie V, among others.
Early Life
Adams was born and raised in Bridgeport, Connecticut, growing up in Fairfield County and raised by his Father, Gary Adams, along with his siblings, brothers, Dakota and Ricky, and sister, Natasia. His mother is of Latin American breed, a blend of Chilean, Salvadorian, and Colombian, and his father is primarily of Irish and Hungarian descent. His uncle Fred played a prominent part in his life, training him for mixed martial arts and amateur wrestling from the age of nine, as well as training for professional wrestling at 16. Adams was also a soccer player in high school and was offered a full-ride scholarship to Kent State for Wrestling, which was heavily considered by Adams but eventually turned down. Adams would attend the University of Connecticut, graduating with a degree in Business Management and a minor in Psychological Sciences while wrestling part-time in local promotions.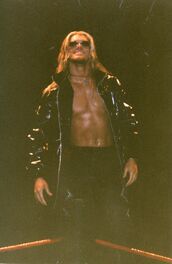 Professional Wrestling Career
Early Career (1999 - 2007)
Adams made his start in North East Wrestling, winning the Northeast Wrestling Championship and holding the title for over a year before vacating it after a prominent promoter offered him a contract to work in the Lucha Scene in Mexico. Adams worked several promotions in the South-west region of the United States, as well as the Caribbean, mainly Puerto Rico, where he would meet tag team partner and lifelong friend King aka Cyril Punnoose. Adams and Punnoose formed a prominent Lucha tag team, "Viva La DEDEDE", capturing several tag team championships in different smaller promotions.
Adams and King parted ways after Adams impressed in a tournament pitting Lucha style performers against UK styles. Adams's adaptive ability brought him attention, and Adams would work in the UK scene for several years and eventually cross over to Japan where he competed almost exclusively from 2003-2005. Adams gained a large amount of notability for his work in Japan, however, it increased several-fold when returning full time to the United States and competing in XOW, winning the XOW Championship once under the name "The Alterbridge" and fleshing out a more unabashed and macabre personality, sharing similar traits to that of the Methuselah alter-ego. Adams had also avoided larger promotions until the rise of Sunday Night Yahoo, created by Cyril Punnoose and Mike Waggz.
Sunday Night Yahoo (2007)
Adams signed to Sunday Night Yahoo, established in 2006, and brought along The Alterbridge personality with him along with the Rated R Championship which he would debut and retain against five other competitors. Adams shed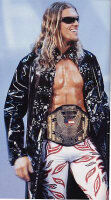 the name of "The Alterbridge" and bore the name Mr. DEDEDE for the first time since his run in Japan. DEDEDE also engaged in a high-profile relationship with popular women's wrestler Dirti Diva, who accompanied him to every match and constantly interfered in his matches, drawing ire from fans and critics at the time. DEDEDE soon after captured the SNY Hardcore Championship and hold it until the promotion's closing and re-branding in the early months of 2007 after a falling out among the owners caused a rift in company direction.
Answers Wrestling Federation (2007)
Mr. DEDEDE signed to the Legacy brand of Answers Wrestling Federation under a performer's contract in March of 2007. He would also own a stake in the company as well, reuniting with his longtime partner King and promoter/wrestler WWEFan who co-ran the company. DEDEDE immediately entered the main event scene upon joining AWF, competing in high profile matches with Deadprez, Undertaker-Rip, WWExtreme4life among others. Mr. DEDEDE also brought along the Rated R Championship from SNY, which would ultimately become the World War Championship and still be held in his possession as a World Title. DEDEDE defeated WWExtreme4life in the inaugural episode of AWF Legacy, capturing the AWF Championship and National Answers Championship. DEDEDE, along with King, subsequently rebranded Viva La DEDEDE and capture the AWF Tag Team Championships. By April 2007 Mr. DEDEDE simultaneously held the AWF Championship, World War Championship, AWF Tag Team Championships, and National Answers Championship. DEDEDE and King dropped the tag titles to Wild4RKO, and shortly after the loss, King took his leave from the company citing personal and professional differences with coexisting management. DEDEDE soon after faced WWExtreme4life in a Steel Cage bout where he would drop the AWF and National Answers Championship on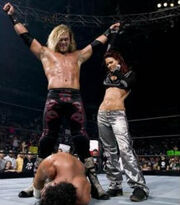 the first Legacy of May. DEDEDE was thereafter traded to the AWF: War brand where he had already established a position of backstage influence, managing and training upstarting rookies such as CM Ronn. On War, DEDEDE entered into a notable rivalry with Deadprez, which spanned through live events, televised weekly shows and the two rivals repeatedly exchanged World War Championship reigns. Most notably, DEDEDE had his third World War title reign ended by Deadprez at AWF FPV Fatal War in a Triple Threat match between Deadprez, Mr. DEDEDE, and Undertaker-Rip where he infamously lost the title despite not being pinned. On the following War, he and then-girlfriend Dirti Diva captured the AWF Tag Team Championships from Wild4RKO. The following weeks, DEDEDE entered a winning streak much credited to the ringside antics of Dirti Diva, which helped DEDEDE defeat Muhammad Hassan for the AWF Midweight Championship, and reclaim singles match victories against Nobody4Rap, WWExtreme4life, and Deadprez. Mr. DEDEDE also reclaimed the World War Championship from Deadprez in a singles match where Dirti Diva interfered, however, DEDEDE had the championship stripped from him by AWF Chairman WWEFan the following week. Mr. DEDEDE reclaimed the World War Championship for the 5th and final time in the June FPV, AWF: Battle Front, where he would defeat Deadprez, Undertaker-Rip, and Legions Descender in a Cinderblock Hell in a Cell match on a night that drew nearly 9 million viewers. Mr. DEDEDE dropped the World War title at the following FPV, Dia Del Diablo, against Undertaker-Rip and missed action for the remainder of the summer due to a slightly torn left pectoral muscle.
Mr. DEDEDE returned to action in September of 2007, picking up wins against Jake Kidman, Y2J, and settling the rivalry carried over from the summer with Undertaker-Rip in a definitive victory that resulted at the end of Undertaker-Rip's AWF career. Behind the scenes, DEDEDE engaged in a widely publicized feud with Master of Puppets, a signee of CM Ronn's created EAW promotion, which merged with AWF during DEDEDE's time away from the ring. DEDEDE also split from Dirti Diva after discovering she had allegedly engaged in affairs with others in the locker room, including MOP. DEDEDE formed an alliance behind the scenes with CM Banks, Mak, HRDO, and others during a massive locker room rift pitting one faction against another. This prompted MOP to create "Answers Championship Wrestling", the response to what was known to be the "AWF Revolution" in which DEDEDE had taken part in. WWEFan's influence would wane over the company as well, causing growth in the momentum of ACW. All the while Mr. DEDEDE engaged in an alliance and eventual rivalry with Scrappy, which resulted in a match at Night of Supremacy in November 2007 where Mr. DEDEDE would be defeated by his protege. After weeks of sporadic matches and feuds, AWF closed its doors in December of 2007 due to the majority owner, Mak, relinquishing ownership of most of AWF's rights, contracts, and intellectual property over to ACW.
Extreme/Elite Answers Wrestling (2007 - present)
Showdown General Manager; Feud with HRDO; First run as The Gawd (2007 - 2008)
Although signing his EAW contract in 2007, DEDEDE did not compete in an EAW ring initially; instead, he was given a major behind the scenes role, due in part to the amount of stake owned in the company. DEDEDE created the EAW Brand, Showdown, in which he would run as the acting General Manager. He did not compete until the second-ever episode of EAW Showdown in January 2008, defeating Mike Waggz in a TLC match and defeating Flashback the following week. DEDEDE often spent time in the commentary booth as well, and also played the role of personal manager to hand-selected up protege, Tyler A, who he helped capture the EAW World Championship on the first episode of EAW Showdown over Masters. Mr. DEDEDE entered an in-ring feud with Masters, playing up the role of main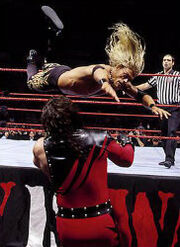 antagonist and mastermind behind his protege's meteoric success. The feud eventually came to an untimely end when DEDEDE had a major falling out with at the time EAW Chairman and former protege, CM Banks, which led to him defecting from the company and taking fellow Extremists Tyler A, Glacial and Book of Wrestling along with him. Mr. DEDEDE eventually made his return to EAW a little over a month later after reconciling with CM Banks, and he returned to the Showdown Brand under the new persona created in his time away dubbed "The Gawd", which displayed much more boisterous, arrogant, and superficial qualities. He also touted his growing influence in Hollywood following the success of his first major picture film, "Ryan Almighty", a movie where DEDEDE starred in the role of God. DEDEDE engaged in a rivalry with HRDO which began at Grand Rampage after he teased retirement to fully focus on his Hollywood career, only to be met with a chokeslam by HRDO. Mr. DEDEDE returned the favor, costing HRDO the match by throwing him over the ropes ending HRDO's initial elimination spree. The feud continued in the following weeks, as HRDO interfered in Mr. DEDEDE's showdown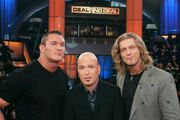 match with Heart Break Boy by chasing him out of the building, causing DEDEDE to lose via forfeit. HRDO interfered again after DEDEDE defeated Jaywalker on Showdown, planting DEDEDE with a chokeslam and hitting the tombstone piledriver on the announce desk which left DEDEDE with a concussion. DEDEDE and HRDO in the subsequent weeks engaged in a series of brawls, including one on a prime time episode of Showdown in DEDEDE's hometown of Bridgeport, CT where Mr. DEDEDE dumped HRDO off of a bridge and dumped him into the Long Island Sound. The rivalry reached a climax at the inaugural EAW Pain for Pride event in July with CM Banks participating as the special guest referee. DEDEDE was victorious in this bout, finishing the contest with a spear. The match went on to be recognized at the EAW Awards show as one of EAW's most important matches of all time and earned Mr. DEDEDE his first of seven Match of the Year awards.
Undisputed Hardcore Champion; EOW invasion; Birth of Methuselah (2008 - 2009)
Following Pain for Pride, Mr. DEDEDE joined forces with MVM aka Mr. Knocka in team Rated MKO, which proved to be a dominant force until their egos eventually collided due to constant miscommunication during matches. The split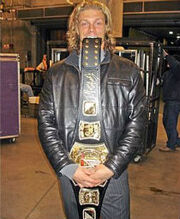 became final when Knocka attacked Mr. DEDEDE during a match against the team of Heart Break Boy and EAW Champion, Masters. Knocka left DEDEDE behind to be pinned after a double team finish from his opponents. DEDEDE, vowing revenge, shed himself of the "Gawd" persona to revert to a more conniving version of himself, resembling his "Rated R Champion" days. Mr. DEDEDE defeated Knocka at EAW Mid-Summer Massacre (2008) the following month after delivering the Bottomless Elbow. DEDEDE immediately after took up the moniker of "Ultimate Opportunist", and capitalized on a loophole in the EAW Hardcore Championship whereupon winning the championship, any other championship in EAW would also be up for grabs in 24/7 rules. Mr. DEDEDE interfered in the triple threat match between EAW Champion Masters, Hardcore Champion Captain Charisma and Rated R Shaman by claiming the Hardcore title and capturing the EAW Championship in the same contest.
The following week on Showdown, Mr. DEDEDE unveiled the EAW Undisputed Hardcore Championship, however, he was forced by then-EAW Chairman CM Banks to defend the Hardcore title against Rated R Shaman. DEDEDE retained the title despite the interference of Mr. Knocka by unveiling his created weapon, "The Equalizer", a guitar with barbed-wire strings stuffed full of glass shards and thumbtacks, and smashing it over RRS' head to retain the title. The following week CM Banks again undermined the Unified Hardcore championship belt and force DEDEDE to defend the Hardcore Championship and EAW Championship in the same night against Latino Game and Masters respectively. DEDEDE dropped the Hardcore Title to Latino Game in the first match, however, Latino Game used the 24/7 stipulation of the Hardcore Championship to insert himself into the main event of Mr. DEDEDE vs. Masters for the EAW Championship, thus turning it into a triple threat match with both championships at stake. DEDEDE pinned Latino Game, simultaneously retaining the EAW Championship as well as winning back his Hardcore Championship. The following morning the EAW UHC was made an official title, with DEDEDE's reign being recognized as beginning at Midsummer Massacre.
Mr. DEDEDE, citing resentment towards his treatment by EAW management and lack of respect from the EAW roster, grew increasingly aggressive and eventually become beyond reproach heading into the Fall of 2008. This came to a pivotal point after Captain Charisma defeated Mr. DEDEDE at the inaugural King of Extreme in an impromptu match. DEDEDE, feeling disrespected by the lack of regard he had received from EAW's fanbase and management alike, introduced a roster of new talent from an independent promotion named EOW which as a result brought in names such as Montell Smooth, Nik-e-g, Extreme Enigma among others. DEDEDE used the EOW roster to wage all-out assaults on Showdown, using strength in numbers to command respect. In one infamous event, the DEDEDE-lead EOW roster forcibly held a Showdown broadcast hostage, preventing talent from entering the ring while he would go on a scathing monologue before officially canceling the show entirely, forcing EAW to refund the fans in attendance. DEDEDE soon after aligned himself with The Dark Emperor, creating a team named "Sword of the Spirit" which brought a change in DEDEDE's demeanor entirely, causing him to become unkempt, erratic, and borderline psychotic, fleshing out the personality adaption known as "Methuselah". Methuselah began referring to himself as a separate entity from Mr. DEDEDE, although displaying a lack of self-control despite maintaining ties with Dark Emperor. Methuselah and Dark Emperor were defeated on the December 13th episode of Showdown against the team of Captain Charisma and former teammate Regulator, but Methuselah picked up the win on the following Showdown against Captain Charisma via DQ. He also gained the upper hand in a post-match brawl. Methuselah continued to release a string of cryptic vignettes and as his personality became more erratic, he would forego all working alliances formed including his alliance with The Dark Emperor. Methuselah and Dark Emperor engaged in a rivalry that winter after Methuselah betrayed Dark Emperor in an early January 09' episode of Showdown. Without Dark Emperor's support, Methuselah dropped the Undisputed Hardcore Championship to Captain Charisma at Road To Redemption 2. Dark Emperor also defeated Methuselah at Showdown's Reasonable Doubt FPV on February 23rd, 2009 via interference from DE's unnamed robed affiliates. Mr. DEDEDE ended the year of 2008 winning Extremist of the Year as well as EAW Champion of the year.
World Heavyweight Champion; Sporadic feuds and hiatus (2009 - 2010)
After several weeks going missing from the public eye, Mr. DEDEDE returned to action in March of 2009 as a new signee to the EAW Dynasty brand and completely shed the Methuselah image and persona to bring back the heavily anticipated return of "The Gawd." DEDEDE quickly became a fan favorite and has retrospectively been cited as the largest reason for Dynasty defeating Showdown in the Ratings war as well as becoming the highest-rated wrestling show in 2009. DEDEDE was voted in to compete against Rated R Shaman for the EAW World Heavyweight Championship. In the upcoming weeks, however, DEDEDE was inserted in the middle of a tumultuous rivalry between RRS and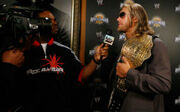 Y2Impact. Impact would carry out brutal assaults on both men, including one where he would shove DEDEDE and RRS down the shaft of an elevator. Despite this, Mr. DEDEDE with support of Regulator, a longtime friend and former teammate, would show up to the first-ever Reckless Wiring FPV and defeat Y2Impact as well as Rated R Shaman in back to back matches to win his first World Heavyweight Championship. Following the match, Regulator betrayed DEDEDE, brutally pummeling him with a nightstick and leaving him bloody while expressing his desire for the World Heavyweight title. Mr. DEDEDE ended a bitter feud by defeating Regulator on the following FPV at Grand Rampage 2 to retain his World Heavyweight Championship. Mr. DEDEDE was inducted by Rated R Shaman into the first-ever class of the EAW Hall of Fame. Not long after, DEDEDE would engage in a high-profile rivalry with Jaywalker after Jaywalker would abuse his newly won powers as Vice President of EAW and make him a clear target. On the August 9th, 2009 edition of Dynasty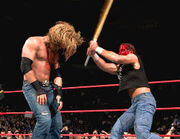 Jaywalker booked himself into a tag team match, uncharacteristically teaming himself up with DEDEDE to face Captain Charisma and Regulator, however, Jay would strategically do so to soften DEDEDE up by providing minimal assistance which would eventually cause DEDEDE to lose to Regulator by submission. Following the match, Jaywalker scheduled an impromptu World Heavyweight Championship match, quickly defeating Mr. DEDEDE to capture his third WHC reign. Mr. DEDEDE developed a short-lived persona known as "Diamond Dallas DEDEDE", mostly using mind games of false motivational speeches and unusual antics to get into Jaywalker's head. Mr. DEDEDE returned to true form in a Match of the Year performance against Jaywalker at Pain for Pride II, where he would be defeated by the Crucifix Powerbomb and shake Jaywalker's hand following the match. The match received universal acclaim by fans and critics alike and is heralded by critics as one of the greatest Pain for Pride contests of all time.
After Pain for Pride, Mr. DEDEDE engaged in the war between EAW and the resurrected entity of ACW, spearheaded by the new general manager of Dynasty, Killswitch. ACW, EAW's notorious opposition company, was acquired by EAW just before Pain for Pride 2, however, the coalition of ACW talent caused a massive rift in the EAW locker room. Mr. DEDEDE defeated Adam on the first-ever EAW Draft edition of Dynasty, and was confronted by Killswitch and assaulted by a coalition of ACW stars lead by Heart Break Boy who would defect from EAW loyalty to fight for ACW. DEDEDE faced Killswitch in an unsanctioned junkyard brawl and was defeated after ACW-signed rookie Cole Smith interfered to give Killswitch the advantage. DEDEDE gained retribution against Killswitch, Cole, and Heart Break Boy through a series of matches and feuds that spanned weeks where he would evade being brutalized by mobs of ACW superstars and sneak away with victories. At the inaugural Territorial Invasion, Mr. DEDEDE leads a team rallying together Jaywalker, Robbie V, Extreme Enigma and Mister K vs. Killswitch, Master of Puppets, Heart Break Boy, Cole Smith and EAW-to-ACW defect, Y2Impact. The match was a losing effort by Team EAW due to the betrayal of Jaywalker, who had left sole survivor Robbie V for dead while Killswitch and Cole Smith would be the sole survivors and victors for their team. DEDEDE earlier in the match eliminated himself and Heart Break Boy by hitting the Wings of Hell from a 20-foot ladder, incapacitating both men.
The following months consisted of matches and sporadic feuds with the likes of Mak, HRDO, and a young Brian Daniels, known at the time as Viper. Mr. DEDEDE also finished off his rivalry with Heart Break Boy, turning his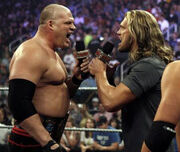 girlfriend Eve against him after revealing they had both engaged in an affair behind HBB's back. DEDEDE underwent a long stretch of faltering motivation in the fall of 2009 well into 2010, uncharacteristically losing unexpected contests such as on the October 30th, 2009 edition of Dynasty where he'd be defeated in a 3 on 2 handicap match that pitted himself and fellow Hall of Famer Mak up against Captain Charisma and Revolution 5.5. (George Copeland and Alexander Da Vinci). On the November 8th edition of Dynasty, DEDEDE interfered in the EAW Championship match between Mak and Captain Charisma, flooring Mak with a spear and allowing CC to retain. DEDEDE explained his actions on the November 15th episode of Dynasty, believing that Mak had "set him up" and "undermined" him, and warning HRDO not to do the same as they were set to team later in the same night. Mr. DEDEDE and HRDO teamed up to face Latino Game and Hurricane Hawk but were defeated after DEDEDE assaulted HRDO with a chair and abandon him in the ring to be picked of by Game and Hawk. On the November 22nd Dynasty, DEDEDE lost to Viper by Countout/No Contest after being chased out of the ring by HRDO and ultimately taking a chokeslam through the metal stage. HRDO and Mak would exchange antagonizing rhetoric as well, only for DEDEDE to blindside both men with the assistance of Eve on the November 29th edition of Dynasty following a face to face confrontation. At Road to Redemption 3, HRDO, Mr. DEDEDE, and Mak competed in a high profile triple threat match, where DEDEDE lost via submission by a Crippler Crossface from HRDO. DEDEDE's work rate became dialed back due to nagging injuries accumulated throughout the year of 2009, however, he brought home a MOTY award as well as World Heavyweight Champion of the year at the annual end of the year awards. In January 2010 DEDEDE engaged in a series of matchups, including a run in that year's King of
Extreme tournament, however, he was eliminated relatively early in the tournament in a match against tournament finalist CM Banks. DEDEDE remained relatively quiet in the following months until he reemerged in the main event of the March 14th episode of Dynasty, defeating Captain Charisma in a heavily anticipated match up. This would earn Mr. DEDEDE the number 1 contendership to the EAW Championship, however, he passed up on it after earning a newfound level of respect for CC. The two would bond closely and eventually become a tag team labeled "MC Squared". The duo eventually went on to capture the Unified Tag Team Championships, defeating Y2Impact & St. Anger at Supershow: Dynasty vs. Showdown 2010. Soon after this, MC Squared retained the Unified Tag Titles at Reckless Wiring 2 against Ryding Regulationz (Matt Ryder & Regulator) after DEDEDE finished Matt Ryder off with a spear through a wooden table in the corner. Following the match, Regulator unleashed a similar post-match assault to the one he dealt out at the Reckless Wiring the year prior, brutalizing DEDEDE and CC with a monkey wrench. This as a result intensified the feud between MC Squared and Ryding Regulationz. On the May 30, 2010 episode of Dynasty, DEDEDE defeated HRDO in a heavily anticipated "Pain for Pride rebound" themed match, only for Regulator to unleash yet another assault until being warded off by Captain Charisma. Soon after, MC Squared engaged in a rivalry with the stable "The Black Hand" lead by Kevin Devastation and consisting of Cyclone, Adrian Christ, and Ricky Razor. The Black Hand would initially target MC Squared due to the championships in their possession. On the June 4th edition of Dynasty, The Black Hand assaulted Captain Charisma outside the arena and framed DEDEDE for it, causing him to be arrested and nearly stripped of the tag team championships. At the Grand Rampage 3 event, MC Squared were set to defend the titles against The Black Hand (Kevin Devastation & Cyclone) and Ryding Regulationz in a Triple Threat Tag Team bout, but Captain Charisma no-showed the event, leaving DEDEDE to fend for himself. DEDEDE dropped the UTTC to Ryding Regulationz, due to Regulator leveling DEDEDE with a shot to the face with a sledgehammer.
By this time DEDEDE was considered to be on a personal and professional slump, no-showing various live events, contract signings, and charity events. DEDEDE also performed at a much lower level than what viewers became accustomed to. On the June 27th edition of Dynasty after the Grand Rampage, DEDEDE was defeated by Justin Windgate, and following the match, Regulator assaulted DEDEDE with the intent to end his career. DEDEDE disappeared for weeks, created speculation that his career may be gravely jeopardized. DEDEDE reemerged however under the Methuselah persona, showing off a reinvigorated and psychotic side to him not seen in years. Methuselah and Regulator would reignite their heated rivalry, leading into Pain for Pride III where Methuselah defeated Regulator with the Wings of Hell from the top of a ladder. Mr. DEDEDE's contract with EAW came to an end following that night, however, due to accumulated physical wear and tear and overall fatigue, DEDEDE did not agree to any of the multiple contract extensions or offers provided to him from the company following the wildly successful Pain for Pride event. Throughout the week following Pain for Pride, EAW bestowed DEDEDE with various tributes and honors, with Extremists and officials alike praising his career and declaring him the greatest to compete in an EAW ring.
EAW Champion, "Greatest of All Time" debate; Feud with CM Banks, retirement (2010 - 2011)
Mr. DEDEDE signed a deal in late August of 2010 that was reportedly worth more than triple of what his original contract signed in 2007 was valued. However, for several months Mr. DEDEDE maintained a lower profile until he made his EAW TV return in September 2010 after being chosen as the special guest referee for the final match of the storied feud between Captain Charisma and Rated R Shaman - two individuals who have cited him as their mentor and influence earlier in their careers. DEDEDE called the match to a draw at Territorial Invasion after both fell from several stories and were rendered incapacitated and unable to continue. DEDEDE participated in competition outside of EAW, using it to "keep up in ring shape" despite competing in serious competition and even winning several championships. Kevin Devastation, who undertook a new persona as the "Heart of Darkness", challenged Mr. DEDEDE and goaded him to come out of retirement. After weeks of persisting, DEDEDE would oblige and met Devastation in October's Road to Redemption 4 event - marking DEDEDE's return after a 3 and 1/2 month hiatus. DEDEDE defeated Devastation in a match where the winner would earn a "Contract for Anything", entitling them to any one of their demands being met by the EAW Board of Directors. That same evening, Mr. DEDEDE would use his contract for anything to insert himself into the EAW Championship Elimination Chamber match, where he infamously speared and pin then-rookie Extremist Ashten Cross and captured the EAW Championship for the 2nd time. The highly controversial finish was unilaterally panned by critics and fans alike, and the move soured DEDEDE's reputation as well as drew the ire of many fans who were in strong support of Ashten Cross. The heat only intensified as Mr. DEDEDE took a vocally unapologetic stance on the decision.
Despite the negative backlash following his EAW Championship win, DEDEDE competed often in the following weeks, in some points multiple times, showing a much higher winning percentage than seen from him in quite some time. The week after his victory, DEDEDE defeated World Heavyweight Champion HRDO in a champion vs. champion match. DEDEDE would compete on Turbo numerous times, defeating names such as HRDO, Y2Impact, among others. On Dynasty, DEDEDE engaged in a rivalry with Dynasty X, a team made up of Alexander Da Vinci and Heart Break Boy. DEDEDE attempted a live sex celebration following his EAW Championship win but would suffer erectile dysfunction following HBB discretely slipping a pill in his drink before the segment. Dynasty X pulled many gags on DEDEDE, up until the feud culminated in a triple threat match pitting DEDEDE up against both members of Dynasty X in a bout for the EAW Championship at No Regards. DEDEDE would retain the title at the November event, and go on to the 3 Year Anniversary show on December 24th to fight a losing effort against HRDO and CM Banks in a triple threat match - one that would be HRDO's final match as a full-time competitor.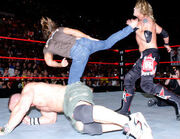 Mr. DEDEDE engaged in a rivalry with Cyclone primarily based around the EAW Championship. Cyclone, having never gotten a rematch after losing his title in a Fatal 4-Way at Midsummer Massacre in 2010, had DEDEDE locked on as a target, which would result in a one on one match at King of Extreme 2011. Heart Break Boy made his presence known in the match, interfering using similar theatrics as Kevin Devastation, but instead blindsiding DEDEDE with a Goldprint to cost him the EAW Championship and aid Cyclone in capturing the title for the second time. This gave way to a heavily covered feud between DEDEDE and Heart Break Boy which would coincidentally stem off of widespread debate over who is the greatest Extremist of all time, with the consensus opinion at the time being split between DDD and HBB. On the February 13, 2011 edition of Dynasty HBB interfered in the main event contest between Mr. DEDEDE and John Alloy, with the match ultimately resulting in a No Contest after Mr. DEDEDE would be left laid out by a Goldprint. On the February 20, 2011 edition of Dynasty, DEDEDE assaulted HBB's partner Alexander Da Vinci and put him out of commission, and left HBB in a bind being that he would have to defend his Unified Tag Team Championships against Sex N' Violence (Rated R Shaman & Robbie V) in the main event but was without a partner. Mr. DEDEDE manipulated his way into the match, serving as HBB's stand-in partner, and forced HBB to compete mostly alone until he ultimately leveled HBB with a spear and cost him the UTTC gold. The February 27, 2011 edition of Dynasty featured Heart Break Boy and Mr. DEDEDE in the main event time slot, where a verbal confrontation leads to what was dubbed "The Hour Long Brawl", where the two would lay waste to everything in their path and fight for over 45 minutes until eventually ending up in handcuffs half a mile from the arena. The feud boiled over to the point that both individuals concluded they could not coexist in the same company, and both offered to put their careers on the line. Per the stipulation of Reckless Wiring fan votes, the fanbase determined that the loser of their one on one bout at Reckless Wiring 3, must retire from Extreme Answers Wrestling. HBB and DEDEDE went on to the March 12 FPV to compete in a Last Man Standing Match that proved to be a show-stealing thriller and is one of the only two non-Pain for Pride matches to ever win a Match of the Year award; as well as HBB's first MOTY award, and DEDEDE's third overall. DEDEDE was defeated in the contest and left the event seemingly retiring but receiving little to no sympathy from the fans in attendance. On the following Dynasty, DEDEDE protested his retirement, first giving what appeared to be a heartfelt speech but eventually became profane rant in which he would reveal his backdoor deal with CEO Daniels to ensure that he will be allowed to prolong his career so long as he may win the Grand Rampage match. DEDEDE also made his intentions of regaining the EAW Championship clear, using the opportunity that he would have should he successfully win the GR match.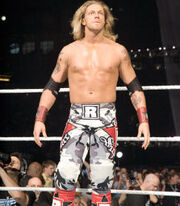 At the Grand Rampage event the very next month, Mr. DEDEDE's aforementioned aspirations were foiled by a returning CM Banks who came out of retirement and singled DEDEDE out, eliminating him from the match. The decision came as a surprise, being that Banks often considered DEDEDE to be his mentor and the reason for him being in the wrestling business. Shortly after, Banks made it public that he halted the termination of Mr. DEDEDE's contract due, stating "If anyone should be the reason why Mr. DEDEDE retires, it's me." Banks also expressed his disgust for the degradation of Mr. DEDEDE's legacy and the legacy of the EAW Championship, a belt considered to be a prized possession by him. DEDEDE and Banks openly embarked in verbal and physical attacks, but agreed upon competing with each other at Pain 4 Pride in a match dubbed "Four Years in the Making". The two would assemble a team of five to pit against each other at the penultimate FPV, Triple Threat, pitting Team DEDEDE (Mr. DEDEDE, Alexander Da Vinci, Heart Break Gal, StarrStan, & SG1) vs. Team Banks (CM Banks, Vic Vendetta, Kendra Shamez, Jason Cage, & Christy Cruise). Team DEDEDE emerged victorious after DEDEDE would spear Banks and allow HBG to cover him for the three count. DEDEDE and Banks escalated their rivalry, and the stipulation for the match confirmed that if Mr. DEDEDE were to lose at Pain 4 Pride he would not be permitted to return and would be forced to retire from EAW. Also introduced as a guest referee to the match was HRDO, making his first appearance since retirement, and fulfilling the cycle stemmed from Pain for Pride 1 when the three were involved in a similar guest-referee scenario. DEDEDE and CM Banks would headline P4P in a Match of the Year candidate, although DEDEDE suffered defeat via the GTR (Go To Retirement) from Banks and was forced to retire. Following the match, Banks continued an onslaught that was broken up by HRDO as he and DEDEDE would put Banks down. DEDEDE and HRDO exchanged handshakes in the ring and celebrate in fanfare, ending a long storied rivalry between the two career-long rivals. Mr. DEDEDE on his walk up the ramp encountered Robbie V, who would also be on his way out of the company, who was also on his way out of the company after winning the World Heavyweight Championship. The two left the building together with the locker room applauding both men and paying respects to what was perceived to be the end of their careers.
Hiatus; Anonymous Stock Broker; EAW Chairman (2011 - 2012)
In the following months, Mr. DEDEDE played a minimal role in the wrestling scene, quietly removing himself from behind the scenes roles in EAW. Most of his time off was spent participating as a stockbroker and engaging in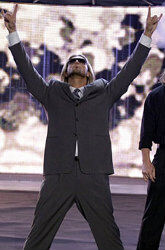 various successful business ventures. Between 2011's Pain for Pride departure and the 2012 Grand Rampage, Mr. DEDEDE made only one appearance on an EAW TV segment with CM Banks after the two briefly interacted at Road to Redemption 5 while running into each other backstage. In this segment, DEDEDE vaguely mentioned being a part of "important business" but did not elaborate in any further detail. After a nearly 11 month hiatus from the wrestling business, Mr. DEDEDE made his surprising return to EAW by entering number 30 in 2012's Grand Rampage, which would be his first EAW match and only second pro wrestling match overall since his retirement at Pain 4 Pride. DEDEDE remained in the match until the final 2, with Chris Hessian eliminating him in the final moment to win the contest. CEO Matt Daniels and WWEFan during the opening months of 2012 often referred to a "prominent stockbroker" expressing interest in the buyout of Extreme Answers Wrestling. An announcement was made the night after Grand Rampage, revealing that the majority owner of the company had been bought out by the unnamed stockbroker, as well as the position of CEO being vacated by CEO Daniels who sold his shares as well. The identity of the stockbroker was not revealed until the Dynasty following the Grand Rampage, where Mr. DEDEDE announced himself as the new CEO and principal owner of EAW, officially titling himself as Chairman. This would be the first chairman role taken by an individual since CM Banks in 2008. Mr. DEDEDE entered a feud with "The Enterprise", a group consisted of WWEfan, Lethal Consequences, Ashten Cross (who would soon be removed), and Johnny Nova. DEDEDE and then-Vice President WWEFan underwent a constant clash of authority, with some of the roster members backing DEDEDE's side due to Fan's blatant bias for 'his' guys. DEDEDE arranged for The Enterprise to face Eddie Mack and Enterprise-defect Ashten Cross at the Defiance FPV in May inside the Hell in a Cell. During the contest, DEDEDE interfered to assist in Cross and Mack's victory over The Enterprise. Lethal Consequences soon took center stage as the first major antagonist to DEDEDE's run as Chairman, which ultimately led to a Pain for Pride match where if Mr. DEDEDE were defeated he would be forced to step down as Chairman and forego all day to day operations, and if Lethal Consequences were defeated The Enterprise would be immediately dismantled and WWEFan loses his position as Vice President of the company. Mr. DEDEDE went on to defeat Lethal Consequences at Pain for Pride V in a match that ended up winning DEDEDE his fourth Match of the Year award, as well as Lethal Consequence's first. DEDEDE notably met with WWEFan after the match, seeming to make peace with him and deciding to not fire him from the company.
On the 2012 EAW Draft show following Pain for Pride, DEDEDE announced several changes in store for EAW under his leadership. He brought about incentive on raising performance, citing a pitfall in ratings and revenue over the period of the previous 12 months, including a record low rated episode of Dynasty that had Mr. DEDEDE and CM Banks in the main event several months before PFP V. DEDEDE demoted WWEFan from the position of Vice President and appointed him as the new Showdown General Manager. DEDEDE canceled the EAW Voltage brand entirely in a controversial move, due to a lack of performance in ratings and thinning the main roster. DEDEDE also called out and fired a dozen EAW Extremists and Vixens who were considered "low performing", including Lethal Consequences. Mr. DEDEDE called out a singular Extremist, Ashten Cross, on his lack of work ethic and performance. The two would engage in a short feud over the summer, leading to a bout on the July 8, 2012 edition of Dynasty where Mr. DEDEDE defeated and fired Ashten Cross. Cross attempted to bring DEDEDE and EAW to a legal battle in court, but it would be resolved in an undisclosed out of court settlement where Ashten Cross would be reinstated in a non-wrestling middle management role. Meanwhile on Showdown, Mr. DEDEDE took interest to a match set up by WWEFan scheduled for September 8, 2012 at No Regards that had the EAW Champion, Kawajai up against the World Heavyweight Champion, Dark Demon, in a match where the loser would have their title stripped from them and retired. DEDEDE attempted to veto the booking decision, which came under criticism from the Board of Directors and WWEFan due to their displeasure of having two World Championships exist on the same brand. DEDEDE allowed the match to take place, however, he heavily pressured Kawajai into retaining due to his personal regard for the EAW Championship. At the event, Kawajai failed to do so despite numerous interference's from DEDEDE; Project EGO's late-match run in would ultimately bring Demon the victory and remove the EAW Championship from EAW.
Kawajai received major backlash for his loss, drawing the ire of the EAW Chairman who promised Kawajai a miserable rest of his career as the two took part in a feud which would involve weeks of DEDEDE constantly costing Kawajai matches at every turn due to his personal vendetta. DEDEDE challenged Kawajai to a match at Territorial Invasion 4, which later became stipulated as an "I Quit" match where the person who quits would also be quitting EAW as a company. At the event, DEDEDE and Kawajai battled in a highly anticipated match, and DEDEDE won after nearly throwing Kawajai off of the top of the titantron. As Mr. DEDEDE celebrated at the top, he would be attacked by the newly unemployed Kawajai from behind and pushed off of the top of a titantron through the side of a stage in a move that was dubbed "the 90-foot fall", but was in actuality a 50-foot drop. The attack left DEDEDE hospitalized with numerous injuries and temporarily comatose; his health status was constantly covered in the weeks following the event. The EAW Board of Directors made the decision to temporarily allocate authority to several EAW officials, as well as temporarily making Ashten Cross in charge as commissioner until it became possible for DEDEDE to assume authority again. DEDEDE, despite not being seen on EAW TV for most of the year, was awarded Match of the Year for his Pain for Pride contest with Lethal Consequences, as well as Extreme/Shocking Moment of the Year, with the "90-foot fall".
Methuselah Returns; Feud with EGO; Match of the Universe; Battle for the Company (2012 - 2013)
In December of 2012, several ominous vignettes featuring the song "Monster" by Kanye West played on every EAW broadcast hyping up "The Monster" which subliminally promoted the return of Mr. DEDEDE under the Methuselah persona. Mr. DEDEDE made his return at the 2012 Awards Show as Methuselah, accepting his award for MOTY and speaking in an Old English form of dialect as well as sporting the well-known beard. Methuselah dismissed himself of any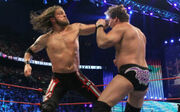 responsibility for EAW's day to day operations, stating he would allow the "powers that be" to be the "powers that remain" while he pursues in-ring success. Methuselah also addressed himself as "Thane of EAW" and "Lord of the Flies", declaring his entry into the 2013 King of Extreme tournament. Methuselah was confronted by Prince of Phenomenal in the segment, angered by not winning Match of the Year and blaming Methuselah for taking away opportunities from him, which would result in a physical confrontation that leads to him being speared by Methuselah to end the show. Methuselah and POP continued with their feud, simultaneously while Methuselah competed in the King of Extreme tournament where he made it to the finals to meet Liam Catterson. At King of Extreme, Methuselah defeated Prince of Phenomenal, and later in the night, he came close to victory in capturing the KOE crown until Dark Demon interfered, hitting a Rolling Elbow from the top of the ladder and giving way to Liam Catterson grabbing the crown hanging from above and winning the match. Methuselah engaged in a personal feud with Dark Demon but also engaged himself in the affairs of Project EGO - the stable consisting of Prince of Phenomenal, Dark Demon, Jaywalker, Cleopatra, Christy Cruise, Troy Conway, and their leader Heart Break Boy. While Project EGO remained largely ignored by DEDEDE in 2012, they became Methuselah's main priority as he vowed to dissemble EGO and bring down every member along the way. Methuselah and Robbie V briefly crossed paths on Showdown, reuniting for the first time since Pain for Pride 4, and were considered to be allies in their war against EGO with Robbie's main concern being Jaywalker and the World Heavyweight Championship. The two teamed up to defeat the entire Showdown roster (minus World Heavyweight Champion, Jaywalker) on a February 2013 edition of Showdown. Methuselah continued his vitriolic feud with Dark Demon into Reasonable Doubt 2013, where after respective interference's from Project EGO and Robbie V, Methuselah defeated Dark Demon by spearing him through the top of the structure down through two stacked up flaming tables. This put Dark Demon out of action for several months. Methuselah became involved with Heart Break Boy, and HBB assured that he would complete the necessary job of Edging Methuselah Out of EAW, whereas Methuselah assured he would rid EAW of EGO. The two ultimately went on to face at Reckless Wiring, a high profile rematch from their 2011 event at the FPV of the same name, in a match where if Methuselah lost he would be placed under a lifetime ban from EAW, and if EGO lost they would be forced to disband and never be allowed to align again. Methuselah defeated Heart Break Boy at this event, pinning him after a thunderous Grand Slam, and killing Project EGO in the process.
Soon after, Methuselah went under a Meth/DEDEDE hybrid where Methuselah only existed as a persona exclusively during matches. Methuselah soon had his sights set on the EAW Answers World Championship held by Y2Impact at the time, but had to compete with Eddie Mack and Liam Catterson over the rights to vie for the belt. Methuselah defeated Liam Catterson on the April 7th, 2013 edition of Dynasty, and the following week faced Eddie Mack on the April 14th edition of Dynasty in a # 1 contendership match to the Answers World Championship, but the match would be a losing effort after Y2Impact interfered and accidentally struck Methuselah over the head with the Answers World Title belt in an attack intended for Eddie Mack. Tensions began to form between Methuselah and Y2Impact, although their rivalry remained mostly non-violent until after the Grand Rampage. At the 2013 Grand Rampage event, Mr. DEDEDE was unceremoniously eliminated in 10 seconds by Diamond Cage, and the following week Mr. DEDEDE dismissed the untimely elimination as a misstep, still aiming to become Answers World Champion. Y2Impact soon after confronted DEDEDE, venting his frustration and bad blood over what he deemed to be years of illegitimate victories DEDEDE has collected over him. By the end of the heated confrontation, the two agreed upon an AWC title match scheduled for the May 25th Dynasty-exclusive FPV, Defiance. The following week, Y2Impact would lose his Answers World Championship after being cashed in on by Eddie Mack, retaining, and then losing the title to Liam Catterson who simultaneously cashed in the KOE crown to win the title. This would cancel Methuselah's bout with Y2Impact, however, Methuselah was named special guest referee for Impact's rematch against Catterson at Defiance. Methuselah as guest referee cost Impact the championship after spearing Impact during a mid-match confrontation, allowing Liam to retain the belt. The rivalry between Meth and Impact escalated over the coming weeks until it climaxed in Seattle, Washington at Pain for Pride VI in a singles match dubbed "Match Of The Universe", in which Methuselah would be victorious in. Their match was highly acclaimed by critics and audiences alike and eventually went on to earn Methuselah his 5th EAW Match of the Year award, and Impact's first, at the year-end EAW Awards show.
The following show would see Methuselah, Impact, Heart Break Boy and Jaywalker compete in a Fatal 4-Way match to headline the 2013 EAW Finale show; a broadcast thought to be EAW's final show after the events of Pain for Pride 6, where Dark Demon was defeated by Scott Diamond in a match where if Demon lost, EAW would be forced to close as a company. Y2Impact defeated Methuselah to win the Fatal 4-Way bout, and following the match, DEDEDE announced that he would not allow EAW to die and that instead he has been reinstated by the Board as acting CEO and principal owner of EAW. Scott Diamond subsequently declared himself as being the acting EAW Chairman and announced the return of the EAW Draft show taking place the following week. On the July 14, 2013 edition of the EAW Draft, Mr. DEDEDE interrupted Scott Diamond's opening monologue and asserted himself as the owner of EAW, even doing so much as forcing Scott's microphone to be cut off. In that same segment, Robbie V, at this point known as The Legendary Sekaiichi, arrived to the ring accompanied by Damien Murrow. Murrow acknowledged both men as
"Gods", and the two proposed a "Battle of the Gods" to take place between DEDEDE and Sekaiichi in one year at Pain for Pride Se7en. DEDEDE accepted the proposal, allowing Murrow and Sekaiichi to take their leave. On the July 21st Dynasty, DEDEDE and Scott Diamond engaged in a "public board meeting" where the two settled upon a match for Midsummer Massacre, where the winner gains full ownership of the company as well as be awarded every share - resulting in tens of millions of dollars worth of the company at stake - thus becoming one of the most lucrative match contracts in EAW history. Scott Diamond went on to defeat Methuselah at Midsummer Massacre after interference from four unsigned outsiders known as "The Iron Fist". on the August 5th Dynasty, DEDEDE interrupted Scott Diamond's "State of EAW address" just before Diamond was ready to publicly fire DEDEDE, by revealing that before the Midsummer Massacre match he signed himself to an unsackable, ironclad contract. DEDEDE leveraged a belligerent Scott Diamond into a Territorial Invasion 5 on 5 where the winning team would assume the spoils and the losing team would be erased from EAW history completely. Diamond obliged to the proposal, and DEDEDE sent Diamond through the table in the ring with a Grand Slam. Methuselah was defeated in an exhibition match against Tyler Parker on Showdown right after Midsummer Massacre. In the following weeks, Tyler Parker and DEDEDE rekindled their friendship of old as Tyler would promise DEDEDE his loyalty as a partner and as an EAW Extremist. The duo faced The House of Renegades (Venom, Nick Angel and Deity) in a 2-on-3 handicap match in a losing effort on August 24th at No Regards 2013. DEDEDE underwent a grueling recruiting process, and due to the high stakes of the match, most members of the EAW roster opted out of participation. However, DEDEDE managed to establish a team in the form of former protege Tyler Parker, along with a reluctant Diamond Cage and returning EAW alumni, Killswitch. Team DEDEDE waged strategic offense on Team Diamond, even taking out one of the members of "The Ironfist", leaving only Wolverton, Gunkai Riggs, and Sir Alistair White. EAW Champion and Hall of Famer, Kawajai, made his return on the September 8th edition of Dynasty, serving as a double agent who was signed originally by Scott to join Team Diamond but betrayed him to join Team DEDEDE as their 5th member. Despite Team DEDEDE's sound strategy, they underwent turmoil due to in-fighting between Tyler Parker/Killswitch as well as Diamond Cage/Kawajai, with both Tyler and Cage citing mistrust for their opposing teammates. On the September 15th edition of Dynasty, Methuselah and Diamond Cage picked apart Liam Catterson in a 2-on-1 handicap match after his partner Drastik would be unable to compete in the match. Following the main event, Scott Diamond attacked Methuselah and Cage. Killswitch and Tyler ran in to assist, only to be met by Scott Diamond's often used Riot Squad, with one of the members of the riot squad revealing themselves to be Dark Demon, who had not been seen since Pain for Pride 6 when he was defeated and fired from the company. Demon went on to become Diamond's 5th man in the TI 5 on 5. The two teams met on September 28 in the Territorial Invasion headline, where Team DEDEDE won in an effort lead by Methuselah hitting a spear on sole survivor Gunkai Riggs for the win.
The House of Renegades; Battle of the Gods; War Games (2013 - 2014)
Following TI, Mr. DEDEDE put the Methuselah character to rest and publicly addressed the EAW Universe to detail his plans for the remainder of the EAW season. He then called out Dark Demon and Scott Diamond to the ring announced the firing and permanent ban of The Ironfist from EAW and assigned Demon and Scott's contracts considered to be "far lesser" in value than the ones they previously owned. After dismissing them from the ring, DEDEDE announced he would appoint WWEFan as the interim Chairman in his place while he spent the remainder of EAW Season 7 preparing for Battle of the Gods and focusing on his competitive career. DEDEDE notably cut ties with Tyler Parker due to his behavior in the Battle For The Company where Tyler would assault Killswitch and nearly cost Team DEDEDE the match. DEDEDE and Diamond Cage became EAW Tag Team Champions after defeating the Quintessential Trailblazers (Jaywalker and Y2Impact) for the titles in an impromptu match on Showdown. The two dropped the titles at the following Dynasty exclusive free-per-view, House of Glass to the team of Zack Crash and Jacob Senn, after DEDEDE betrayed Diamond Cage and aligned with the uprising Showdown stable "House of Renegades" joining Nick Angel, Venom, Deity, and Hades the Hellraiser. This marked the first time in DEDEDE's mainstream wrestling career where he would participate as a member of a wrestling faction. The following night on the October 27th edition of Showdown, DEDEDE along with THOR announced their allegiance, though not until excommunicating Deity from the group (who notably enough was involved with Methuselah in a mini-feud earlier in the year on Turbo.) DEDEDE and THOR also waged an assault on Diamond Cage and Tyler Parker, mercilessly beating them down after a confrontation between both parties. DEDEDE in the following weeks abused his booking authority, as well as strength in numbers with THOR by his side by carrying out attacks on Diamond Cage on Tyler Parker - simultaneously feuding with Tyler on Showdown and Cage on Dynasty. DEDEDE continued a personal and very violent rivalry with Diamond Cage which resulted in numerous attacks. It reached new heights when Cage interfered in the Interbrand AWC Battle Royal, causing DEDEDE's elimination from the match and costing him the Answers World Championship. DEDEDE subsequently fired Cage from EAW, barring him from any EAW events. DEDEDE would further escalate the rivalry despite this by involving Cage's children, Chris Jr. and Savannah, as well as his wife Brittany, when on the November 17th edition of Dynasty he brought them out and used them to emotionally torment Cage, even going so far as to get Cage's children to call DEDEDE "daddy" and getting Brittany to demand a divorce. All the while, DEDEDE's Showdown feud with Tyler Parker ended at the November 23rd Showdown exclusive FPV, Shock Value after he was defeated by Parker in the first-ever High Voltage match. DEDEDE defeated Kevin Devastation on the November 30 edition of Showdown. On the November 31 edition of Dynasty, Diamond Cage was televised assaulting members of DEDEDE's family, as well as setting fire to DEDEDE's Hall of Fame ring after invading his home. DEDEDE competed regularly on Showdown, winning numerous matches including the December 14th match against rookie Christopher Corrupt in his first EAW main roster match. On December 21st, DEDEDE defeated a still fired Cage in an Unsanctioned Match at Road to Redemption, mostly due to a run-in from conveniently assigned referee and newest member of THOR, Christopher Corrupt who assisted him in the match. On December 29th at the EAW Awards show, Mr. DEDEDE announced a board decision to reinstate Diamond Cage to avoid negative legal ramifications from the events carried out in the Unsanctioned Match. DEDEDE announced a match between him and Cage to take place in the main event of the show inside of the Cage of Death for them to settle their rivalry. DEDEDE was also confronted by an apologetic Sekaiichi, who showed remorse for the actions he had carried out unto others during the year, and also reaffirmed the match between himself and DEDEDE would be set for Pain for Pride SE7EN. In the main event, DEDEDE was defeated by Diamond Cage after interference from THOR as well as various EAW Hall of Famers, with Diamond Cage hacking DEDEDE repeatedly in the head into submission with a railroad spike.
On the January 4t, 2014 Showdown a wheelchair-bound Mr. DEDEDE began a turn against The House of Renegades, berating them after failing to come away with a win at Road to Redemption and failing to secure his victory at the end of the year award show. Hades physically retaliated to the abuse, knocking DEDEDE over on his wheelchair, however, the group would remain despite the alliance becoming significantly weaker. The following Showdown, DEDEDE booked The Renegades into a "Renegades Roulette" triple threat match putting Hades against Nick Angel and Venom. Nick Angel walked out of the match, and Hades defeated Venom before promptly leaving the ring afterward. Nick Angel and Venom remained absent from the boiled over tension between DEDEDE and Hades, which culminated in a King of Extreme bout in where DEDEDE lost after receiving a jumping Brimstone Piledriver. Following the match, Nick Angel turned against DEDEDE, hitting him with a Ground Zero (cutter) and double-teaming him with Hades while Venom would remain neutral. Later in that night, DEDEDE involved himself in the Answers World Championship match between Drastik and Starr Stan, costing Drastik the match as a response to him infamously walking out of the company as Answers World Champion and Interwire Champion in the previous year. In the following weeks, Venom feigned allegiance to DEDEDE, leading DEDEDE to believe he would remain loyal while his rivalry against Nick Angel and Hades spanned into Reasonable Doubt. DEDEDE and Venom challenged Nick Angel and Hades to a match for the Unified Tag Team Championships, held by Nick and Hades, but were defeated after Venom turned on him and left DEDEDE stretchered out of the arena after a three-on-one assault. DEDEDE in the meantime carried out a public rivalry between himself and Drastik. Drastik publicly announced his retirement ahead of time, requesting his final match to be against Mr. DEDEDE at Reckless Wiring inside a staple match of his - the Glass Walls match. Mr. DEDEDE defeated Drastik at the March 29 FPV with a North Star from the top of the structure and fired him following the match. A week before this, DEDEDE defeated THOR in a 3-on-1 Handicap Match at the March 22 supershow, "Showdown: Homecoming".
Soon after this the board of directors collectively deemed DEDEDE to be abusive of his authority, citing a conflict of interest between his in-ring career and chairman responsibilities. Due to WWEFan's departure as interim chairman, the board appointed Kendra Shamez as the new interim chairwoman and halted DEDEDE's day to day operational control of EAW much to DEDEDE's protest. The two would bump heads for the remainder of the season. Shamez reinstated Prince of Phenomenal and made DEDEDE an immediate target of his under her command. DEDEDE and Sekaiichi would also begin to interact more, with Shamez showing a clear bias in Sekaiichi's favor due to their relationship at the time. In one of these interactions, Sekaiichi changed the conditions to their Pain for Pride match, now claiming for DEDEDE to participate in Battle of the Gods he must win that year's Grand Rampage match to compete for Sekaiichi's World Heavyweight Championship. DEDEDE feuded with Prince of Phenomenal for the weeks leading into Grand Rampage 7, costing DEDEDE several bouts against the likes of Terry Chambers (via countout) and Cy Henderson (via interference). At the GR event, DEDEDE defeated POP in a ladder match to earn a spot in the Grand Rampage match, though later in the evening Kendra revealed that his placement in the match would be as the first entry. DEDEDE lasting the duration of the entire match in a record-setting performance before being eliminated by Hades at the very end. Following the Grand Rampage, DEDEDE was placed in a Hellfire No Way Out match along with Jacob Senn, Y2Impact, Tyler Parker, Lethal Consequences, and Kevin Devastation to determine who would become the # 1 contender to the World Heavyweight Championship. DEDEDE went on to the Showdown exclusive event of Dia Del Diablo 2014 to defeat the 5 other men, earning himself the title shot against Sekaiichi, who retained his World Heavyweight Title against Scott Diamond that same evening. Mr. DEDEDE formed a long-term alliance, mentorship, and partnership with then-rookie, Ryan Savage. Savage impressed DEDEDE following a preliminary tag team match on NEO, EAW's developmental show, and the two became a permanent tag team named "The Savage Ryans". In May The Savage Ryans entered a feud with Worlds Finest (Cole, Juha, & Jason Skilled) and defeated the group on the May 30 NEO supershow, Hellbound.
Sekaiichi and DEDEDE engaged in a build-up to Pain for Pride SE7EN that remained almost completely non-physical. On an early June edition of Showdown Sekaiichi begged before DEDEDE on his knees for him to bring back Methuselah, deeming it the only persona fitting for "Battle of the Gods". The two engaged in weeks of mind games, with Sekaiichi's mental state deteriorating as the weeks went by and his behavior becoming more erratic closing into the major event. Sekaiichi attacked EAW's "life-line" by assaulting members of the audience, a move that nearly had him terminated from the company until intervention from DEDEDE. On the June 21st edition of Showdown, DEDEDE brutally assaulted Kendra Shamez hitting nearly two dozen ConchairtoS while Mikado could do nothing to prevent it. DEDEDE ultimately promised Sekaiichi "not Methuselah, but something much worse." DEDEDE won the World Heavyweight Championship in the headlining match at Pain for Pride 7, defeating Mikado Sekaiichi in a match dubbed "Battle Of The Gods". DEDEDE incapacitated and retired Sekaiichi, rendering him unable to exit the arena by his own volition. The match received widespread acclaim and eventually went on to win Mr. DEDEDE yet another Match of the Year award. DEDEDE also held the World Heavyweight Championship for 5 days shy of seven months, making this reign his longest World Championship reign to date, as well as one of the longest world championship reigns in EAW history.
After Pain for Pride, DEDEDE gained full authority of EAW but remained a full-time wrestler despite his plans of retirement due to his newly won World Heavyweight Championship. Zack Crash rose out of the woodwork, confronting DEDEDE at the EAW Draft and attempting to buy EAW out at the EAW Draft, in a move DEDEDE rejected and laughed off. Crash's influence in the company spread like wildfire, with him leading a roster and boardroom campaign against DEDEDE, calling for DEDEDE's demotion from all responsibilities as Chairman and Owner of the company. At Midsummer Massacre, DEDEDE retained his World Heavyweight Championship against Kevin Devastation in a Last Man Standing match. Shortly after the event, Zack Crash acquired the rights to the resurrected company of Answers Wrestling Federation. Crash brought up various examples of DEDEDE's abuse of power to mainstream media outlets, causing several corporate sponsors to distance themselves from EAW due to the negative media attention surrounding DEDEDE's reputation as chairman. This was enough to cause the Board of Directors to give DEDEDE a vote of 'no confidence' nearly forcing DEDEDE out of authority as Chairman. The board agreed to Crash's demands of deciding ownership of the company over a bout at September's Territorial Invasion, pitting Crash's five against DEDEDE's five inside a War Games match. Mr. DEDEDE drafted Ryan Savage, Dark Demon, Ventura, and an unknown sensation "Crimson Mask", while Crash drafted Diamond Cage, Tyler Parker, Xavier Williams, and Alex Anderson to join his team. The teams clashed at the War Games match, with DEDEDE's team being defeated after Xavier Williams brainbustered Dark Demon through the ring to finish the match by knockout. Zack Cash assumed full control of EAW, and Zack Crash revealed his true intentions stating ''the greatest trick the devil ever pulled was convincing the world he didn't exist'' before sicking Riot Police on every other person in the match, including members of his own team, until they were all completely incapacitated. During the match, Crimson Mask turned against Team DEDEDE and revealed his face before the world despite remaining nameless in identity. However, it wouldn't be until the September 28th edition of Dynasty where Crimson Mask revealed his identity as Ares Vendetta, the 21-year-old son of Sekaiichi/Robbie V & Kendra Shamez. Zack Crash on the same event announced that he would be facing DEDEDE at House of Glass in the main event for the World Heavyweight Championship inside the Glass Walls structure. On the October 5th Dynasty, DEDEDE lost to Ares Vendetta in the main event of Dynasty after Zack Crash interfered to cost him the match. At the October 25th event of House of Glass, DEDEDE retained his World Heavyweight Championship against Zack Crash partially due to the help of Diamond Cage, who interfered after being double-crossed by Crash at the end of the previous FPV.
Eye in the Sky; Fortuneteller Hamasa; Feud with Hexa-Gun & Savage Ryans Split (2014 - 2015)
Following the feud with Crash, Mr. DEDEDE's persona showed significant signs of change. Following the Battle of the Gods, DEDEDE developed a god complex, referring to himself as a God, and was considered to be 'unapproachable' by many around him. This would escalate following the Crash rivalry, as he introduced the 'God Contract', a one-of-a-kind contract allowing him to compete on any brand for any championship as he pleases, as well as a significant pay raise, unlimited travel/hotel accommodations, guaranteed booking authority (just below that of a GM in rank) and a renewal of the unsackable clause in his previous contract. DEDEDE also donned the World Heavyweight Championship crown owned previously by Mikado Sekaiichi, this time adorned with the eye of Horus, which became a signature symbol of DEDEDE's. DDD went the remainder of his championship reign not experiencing pin-fall or submission whatsoever. He soon after entered a feud with Lucian Black, defending the World Heavyweight Championship against him at Madison Square Garden on the November 30th Dynasty Supershow: Dishonorable Justice. He also defended the World Heavyweight Championship again that December at Road to Redemption 8, defeating Lucian Black, Psycho Brody, Tyler Parker, Aren Mstislav, and Xavier Williams. The following week at the EAW awards show DEDEDE competed with then-Answers World Champion Norman Hellion, and newly crowned EAW Champion Diamond Cage, in a losing effort as Hellion would pin Cage to win the match. DEDEDE took home his fourth consecutive & sixth overall Match of the Year award, and won his 2nd 'Elitist of the Year' award, making him the only individual to win the EOTY award on more than one occasion.
DEDEDE slowly showed resembling signs of the Methuselah persona, growing out his facial hair and speaking in a more unique pattern of speech resembling the word choice of the Methuselah persona. DEDEDE and Tyler Parker rekindled their rivalry in January of 2015, mostly wrapped around the World Heavyweight Champion, but also hyped up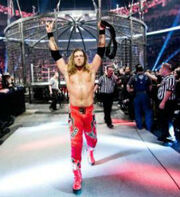 as "One More Round" as it would be the last time the two would face in singles competition. Tyler failed previously to recapture the WHC at Road to Redemption, coming within inches but narrowly losing after being the only man to remain in the match with DEDEDE. Tyler remained convinced that he had what it takes to defeat DEDEDE. Despite constantly assuring Parker of having "zero chance" at beating him, DEDEDE was defeated by Parker on January 24 at the King of Elite event and dropped the World Heavyweight Championship after receiving multiple 'Across The Parks' delivered on him in succession until the referee awarded Tyler the title via TKO. Later in the evening, DEDEDE and Norman Hellion got into an altercation which left DEDEDE bloodied on the ground. On the January 31, 2015 edition of Showdown, Methuselah made his return as a persona by confronting Norman Hellion and leveling him with a spear. Methuselah had significant changes to the persona, as he would deify himself far more as well as use symbolism and extended metaphor to convey his messages. Methuselah introduced a figure named "Fortuneteller Hamasa", an ominous middle eastern woman dressed in traditional Arab garb, who would be appointed as his manager and accompany him to each of his matches. Methuselah not only embarked on a feud with Hellion, but The Savage Ryans feuded with RAGNAROK in the upcoming weeks as well, clashing numerously in heated exchanges. The Savage Ryans defeated RAGNAROK (Lannister & Psycho Brody) on the February 14, 2015 edition of Showdown to claim the EAW Tag Team Championships for their first and only time. At Reasonable Doubt, Methuselah was defeated by Norman Hellion in a Hell in a Cell Match for the Answers World Championship after Ares Vendetta interfered in the match to cost Methuselah the championship. Vendetta saw the transition to Methuselah as an opportunity to strike, due to his father never getting the opportunity to face Methuselah, as well as Vendetta's personal lust for vengeance upon Methuselah for the wrongs committed to his family. Methuselah also involved himself in Ares Vendetta's rivalry with Ryan Savage on Voltage, attacking Vendetta at Voltage: Fighting Spirit following his match against Savage for the Pure Championship. Ryan Savage laid waste to Fortuneteller Hamasa on the following edition of Voltage, considering her to be useless, and demanding the "Methuselah of old" who identified himself more as being a Monster. Methuselah faced Charlie Scene on the following week of Voltage, but the match ended at a No Contest after interference from House Vendetta. Meth and Ares went on to compete at Reckless Wiring in a winner takes all match with Ares' EAW Pure Championship on the line and Methuselah's World Heavyweight Championship crown on the line. Though Meth's crown was not considered a title, the crown was considered to be a prized possession of the Vendetta family. Ryan Savage was voted into being the special guest referee, though Vendetta would manage to win the match after interference from his stable and family, House Vendetta. Methuselah reverted to Mr. DEDEDE and spent the remainder of Season 8 primarily defending the EAW Tag Team Championships with Ryan Savage, and involving themselves in various feuds. The Savage Ryans defended their titles at Grand Rampage 8 in Signal Iduna Park against RAGNAROK (Aren Mstislav & Matt Miles) and Death By Velocity (Jordan Ciserano & J.P. Caliban) in a three-way tag team contest. Y2Impact, the then-General Manager of Voltage, booked himself into a tag team championship match with Heart Break Gal to challenge The Savage Ryans for their gold at Pain for Pride. Impact would relieve himself of GM duties from Voltage, largely devoting himself to his and HBG's team The Mercenaries. At Pain for Pride 8, DEDEDE and Savage competed in a Four Corners Match for the tag titles against The Mercenaries, Death By Velocity (JP Caliban & Jordan Ciserano), and The Brigade (Venom & Nick Angel). The Savage Ryans dropped the belt to The Mercenaries in that match, with DEDEDE taking the pinfall.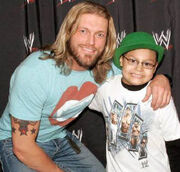 A major shift took place in EAW when Zack Crash killed off the Dynasty brand and fired the Dynasty roster from EAW, inviting them to one time opportunities at re-signing under new contracts to different brands. Instead, Dynasty seceded from EAW completely, starting their own promotion named "Dynasty Wrestling". Mr. DEDEDE, despite still holding the God Contract, joined the Dynasty Wrestling movement largely due to Ryan Savage's heated rivalry with the Zack Crash regime and authority figures working under Crash. DEDEDE signed a three year, 99 million dollar endorsement deal with the Jordan brand, and spent much of his period away from the ring promoting the partnership and the brand in a global press tour. DEDEDE no-showed a month worth of Dynasty Wrestling matches, and Ryan Savage filled in his place each time, often decimating his opponents. Savage's actions directly contradicted Crash's orders, barring EAW personnel from participating in Dynasty Wrestling events. On the July 31 edition of Dynasty Wrestling, Crash sent Quality Control after Savage to beat him down after a filled in match for Mr. DEDEDE. DEDEDE made his on-screen return on the August 14 edition of Dynasty Wrestling, assisting Ryan Savage and the Dynasty roster in a brawl against Zack Crash's 'Quality Control', the group of riot squad officers personally employed by Crash to carry out routine attacks. On the August 21 edition of Dynasty, DEDEDE was announced as a participant in a Fatal 4-Way contest for the Dynasty World Championship, set to take place the following week. DEDEDE also confronted estranged EAW Board Member, John Conning, as well as Dynasty GM Sebastian Monroe, berating them for allowing Crash to come into power by voting him no confidence the year before, but assuring them he would take personal responsibility in destroying Hexa-gun, the established group of enforcers for Zack Crash co-lead by Y2Impact & Heart Break Gal. Later that evening The Savage Ryans & TLA teamed up to defeat The Iconomy (JJ Silva, Chris Elite, & Eclipse Diemos). On the 8/28 Dynasty, DEDEDE was defeated by Alex Anderson in a Fatal 4-Way between himself, AA, Jacob Senn, and Lucian Black to determine Dynasty Wrestling's new World Champion. The following week, The Savage Ryans invited Hexa-gun to Dynasty Wrestling for the first time, prompting Impact and HBG to arrive with recruits Drake Jaeger and Tiberius Jones. Impact and DEDEDE agreed to a five on five match at Territorial Invasion: Civil War, dubbed "Hexagun vs. Antigun". However DEDEDE and Savage initiated violence in this confrontation, which was a ploy to lure Team EAW (Zack Crash, Hades, Kevin Devastation, Scott Oasis, & Rhaegar) out by readying Team Dynasty (TLA, Tyler Parker, Jacob Senn, Carlos Rosso, & Lucian Black) to interfere. This consequentially brought in Quality Control, rendering the scene to a chaotic brawl for all, until a masked figure named Luzmala made his debut decimating every non-Hexagun individual in this altercation. It is important to note that Hexa-gun betrayed Zack Crash weeks before this brawl, deciding they would go into business for themselves. On the 9/15 edition of Showdown, Ryan Savage was seen discussing this further with Zack Crash, revealing to the public a mutual agreement between DEDEDE and Crash where DEDEDE would eliminate Hexagun so long as Crash bartered over personnel from the EAW roster to do so. Crash assisted The Savage Ryans in the recruitment of popular upstart, Brett Kennedy, as well as former National Elite Champion Aren Mstislav. On the September 18 Dynasty Wrestling, The Savage Ryans participated in another Team EAW/Team Dynasty brawl, this time getting back at Team Dynasty after antagonizing DEDEDE and Savage a week prior, as well as confronting Hexagun after they arrived to the scene of the chaos. Despite DEDEDE's temporary peace treaty with Crash, Savage in the heat of the moment delivered a Package Piledriver on Zack Crash much to the chagrin of DEDEDE, as this would sever Crash's temporary ties with DEDEDE and leave him without any assistance in drafting members to join Team Savage Ryans for their TI match. Luzmala would end the brawl, cleaning house once again leaving DEDEDE and Savage victim to his onslaught. The following night on Showdown, Crash completely abandoned DEDEDE's request for a 5th team member. DEDEDE offered Aria Jaxon, Empress of Elite & Brett Kennedy's then-girlfriend, a position on the team, however, she declined due to other pressing obligations. A frustrated DEDEDE decided to appoint a 5th member at random, forcibly selecting The Pizza Boy as the fifth member of Anti-gun against PB's will. In the main event of the evening, DEDEDE narrowly defeated Luzmala after hitting several spears, and following the match, Hexa-gun and Anti-gun came to a post-match brawl which would end with Pizza Boy cleaning house with a steel chair. At Territorial Invasion: Civil War, Antigun (Mr. DEDEDE, Ryan Savage, Aren Mstislav, Pizza Boy, & Brett Kennedy) were defeated by Hexa-gun (Y2Impact, Heart Break Gal, Drake Jaeger, Tiberius Jones, & Luzmala).
Following Civil War, The Savage Ryans remained in pursuit of the EAW Tag Team Championships still in The Mercenaries' possession since dropping the belts to them at Pain for Pride. The Savage Ryans defeated Keith and Kerry Keller on the October 9th episode of Dynasty Wrestling. The following Dynasty, DEDEDE warned The Iconomy to not negatively influence the match for The Savage Ryans set to take place on the 10/18 Showdown where they would compete against The Mercenaries in a lumberjack match, with The Iconomy being among the lumberjacks. During that match, Silva, Elite, & Diemos waged an attack on both Hexagun and The Savage Ryans during the lumberjack match, however Cailin Dillon turned against Silva and The Iconomy after being advised to do so by DEDEDE. Despite Cailin's assistance, The Savage Ryans were defeated by The Mercenaries. Shortly after, a Glass Gauntlet match was announced for the Dynasty Wrestling House of Glass event, pitting five teams against each other in a match contested for the EAW Tag Team Titles: The Savage Ryans, The Mercenaries, Iconomy (JJ Silva & Chris Elite), The High Rollers (David Davidson & Jack Ripley) and Mark Michaels & Angelo Brando. The match was deemed to be one of the greatest and most brutal tag team contests in EAW history, with the innovative concept receiving high praise and the match itself becoming a candidate for Match of the Year but narrowly losing to the 'Elite' Triple Threat at Pain for Pride between Devan Dubian, Brian Daniels and Starr Stan. The Mercenaries managed to retain the championships, leaving a frustrated Ryan Savage alone in the ring with Mr. DEDEDE. Following the match, Ryan Savage betrayed DEDEDE, hitting him with a Package Piledriver and ending their partnership of 18 months.
Various Championships; Zen Methuselah; Chairman & CEO (2015 - 2018)
Mr. DEDEDE and Ryan Savage engaged in a heated rivalry for the remainder of the fall into the winter, constantly interfering in each other's matches and cutting scathing promos on each other. Savage vented frustrated on having his spotlight eclipsed by DEDEDE and believing he was being held back, whereas DEDEDE argued he put Savage's name in the spotlight only for Savage to continually fail him. In early November, DEDEDE appeared on Voltage to call Ryan Savage out in a scathing rant, only to be met by newly appointed EAW Vice President, HRDO. HRDO issued a wake-up call, warning DEDEDE of his recent lack of results, and advised him to remain cognizant of his impending decline from grace. He issued DEDEDE an opportunity at a World Championship and a match with Ryan Savage, as the two were put in a High Voltage match with Brian Daniels at the November 14th Shock Value event. DEDEDE competed in a losing effort after Daniels pinned Ryan Savage to retain his title. Following Shock Value, DEDEDE and HRDO got into a heated backstage exchange on the November 22nd edition of Voltage, with HRDO giving DEDEDE one more remaining chance until he would be forced to 'intervene', vaguely referring to potentially forcing him into retirement. A noticeable change in DEDEDE's demeanor occurred, with him easily defeating Lance Hart on the 11/27 Dynasty and doing the same to Hades on the 11/29 Voltage. The participants for the Answers World Championship chamber were revealed that same night on 11/29, announcing that Devan Dubian will be defending his AWC against Ryan Savage, Ares Vendetta, Scott Oasis, Liam Catterson, and Mr. DEDEDE at Road to Redemption 9. On the December 6th Voltage, DEDEDE and Dubian defeated Ryan Savage and Scott Oasis, and DEDEDE made it abundantly clear that he intended on leaving RTR as the AWC. Mr. DEDEDE followed through with these claims, defeating the five other men in the Elimination Chamber match and winning the sixth World Championship of his career. Upon this victory, Mr. DEDEDE also became the first and only man to hold every existing World Championship in EAW's history; having held the Answers World Champion, EAW Champion, World Heavyweight Champion, and Undisputed Hardcore Champion. At the 2015 award show, HRDO, who had recently usurped Zack Crash from his position of power in EAW, met with Mr. DEDEDE to congratulate him and offer him his spot as chairman again, to which DEDEDE declined.
Ryan Savage continued to pursue DEDEDE in hopes of ending his career and taking away his Answers World Championship. Their feud culminated at King of Elite 2016 when Mr. DEDEDE defeated Ryan Savage in a Tables Ladders and Chairs match to retain his championship in convincing fashion. Later that evening, Mr. DEDEDE publicized a romantic relationship between him and Tarah Nova, making out with her in front of her ex-boyfriend Zack Genesis after Genesis attempted to revive their relationship. DEDEDE and Tarah participated in much of each other's affairs, managing each other to the ring often and being constantly seen together backstage in the duration of their relationship. DEDEDE defeated Eclipse Diemos in the main event of the February 7th, 2016 edition of Voltage, and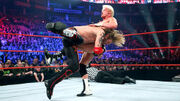 following the match Liam Catterson publicly announced his intentions of challenging Mr. DEDEDE for his title. Catterson made several threats against DDD and Tarah in an attempt to personalize the feud, hoping to get into DEDEDE's head with his comments. DEDEDE and Brian Daniels teamed up on the 2/29/16 Battleground to defeat Catterson and Scott Oasis. DEDEDE defeated Catterson at Fighting Spirit 2 on March 6, doing it alone after urging Tarah to stay backstage and away from any risk of danger. DEDEDE defeated El Landerson the night after on the March 7th edition of Monday Night Battleground after Landerson called him out to defend his World Title. On the March 13th Voltage, DEDEDE interrupted Y2Impact's celebration of Hexa-gun winning full control over Voltage, as he would remind Impact about it still being "God's house", referring to himself as 'God'. Impact went on to schedule the sequel to the critically lauded showdown between himself and DDD, dubbing it "Match of the Universe II" and scheduling it as the headline of Reckless Wiring to be contested for the Answers World Championship. This confrontation rekindled DEDEDE's involvement in the struggle between Hexagun and EAW which continued throughout the winter months. At the 2016 Vixens Cup event, DEDEDE became physically involved in a confrontation with Eclipse Diemos lead group 'The Sanatorium' after they interfered to cost Tarah Nova her match against Madison Kaline at the end of night one. Two nights later on Monday Night Battleground, DEDEDE defended his World Championship against Sanatorium member, Erebos, and narrowly avoided an attack from the remainder of The Sanatorium before the match. In that same evening on Battleground, HRDO met with DEDEDE backstage and urged DDD to cooperate with him in a concerted effort to take down Hexagun, however, DEDEDE showed little interest due to his belief that he would easily be able to dismember Hexagun on his own. On the March 20th Voltage, HRDO introduced his five-point plan, wagering a best three out of five matches deal with Hexagun where if Hexagun were victorious in three out of the five matches they are involved in at Reckless Wiring, they gain full control of Elite Answers Wrestling, and if they were not able to do so they would be forced to disband. On the March 21 Battleground at SXSW, Mr. DEDEDE teamed up with Tarah Nova and her best friend/Specialist Champion Cailin Dillon to face The Sanatorium (Eclipse Diemos, Alexis Diemos, & Madison Kaline) and Hexa-gun (Y2Impact, Heart Break Gal, & Eris LeCava). The contest concluded with Tarah Nova stomping Alexis' head into cinder blocks, putting her out of action. At Reckless Wiring 2016, Mr. DEDEDE retained the Answers World Championship against Y2Impact in MOTU2 and also killed Hexagun in the process with his victory - breaking the 2-2 tie (Cailin beating HBG, Starr beating Luzmala for EAW, Eris retaining her Vixens title, and Drake & Jones retaining their Tag Titles for Hexagun).
The seeds were planted for a rivalry between Mr. DEDEDE and Xavier Williams when Xavier assaulted Tarah Nova at Reckless Wiring after her match, carrying out a pent up assault stemming from bad blood between the two in the past. DEDEDE however was forced to stay out of the feud by Tarah herself, who wished to go it alone and fight her own battles. DEDEDE would be challenged by Ares Vendetta to a match at the Grand Rampage event after Ares won the Gold Rush tournament finals against Nick Angel, securing himself a World Title shot. DEDEDE defeated Nick Angel on the 4/3 edition of Voltage in the main event with Ares Vendetta watching intently on commentary. DEDEDE gained an upper hand in the momentum war between himself and Ares Vendetta, defeating Ares by Countout on Battleground and again in tag team action, teaming up with Phoenix Winterborn to defeat Ares Vendetta and Y2Impact in the main event of the 4/17 Voltage. DEDEDE and Ares competed at the Grand Rampage in a match that lasted over an hour and 30 minutes, making it the longest singles match in the history of the company. DEDEDE suffered a severe concussion in the match and continued to take career-threatening blows to the head before being defeated by Ares Vendetta and dropping the Answers World Championship at the event. The match was hailed as an instant classic by fans and critics and went on to earn DEDEDE his seventh Match of the Year award at the end of the year award show that December.
On the May 7 edition of Showdown, Mr. DEDEDE having been advised by doctors to retire obliged the wishes of EAW's medical experts and gave a heartfelt retirement speech to the audience. Xavier Williams would however cut the speech short, berating DDD and taking personal cheap shots, as well as questioning his pride. This prompted DEDEDE to forego the professional advice of medical practitioners entirely, and agree to a match that put him in a match with Xavier Williams at Pain for Pride IX in a bout dubbed "The Best In The World vs. The Best Ever." DEDEDE underwent recovery and rigorous training leading into the Pain for Pride match and competed only once before the event on the June 15th edition of EAW Turbo in which he defeated Williams's protege Rex McAllister. Mr. DEDEDE and Xavier Williams had several high profile encounters, drawing some of the highest-rated segments of the week in any EAW programming, and becoming one of the most anticipated matches on that year's Pain for Pride card. After a back and forth contest, DEDEDE defeated Williams to win his first Hall of Fame Championship reign, celebrating with Tarah Nova following the match. The match received overwhelming praise from fans and critics and was nominated for Match of the Year, losing out to DEDEDE's match earlier in the year against Ares Vendetta. On the 2016 EAW Draft, DEDEDE was drafted to the Dynasty brand as a last-second entry, though he still retained the God Contract privilege of participating on other brands.
Later in the summer, Mr. DEDEDE engaged in a rivalry with Scott Oasis after the events of a tag team match on the August 5, 2016 edition of Dynasty, where DEDEDE and Diamond Cage defeated the team of Jacob Senn and World Heavyweight Champion, Lucian Back. Following the match Oasis ran to the ring, attempting to punt kick Jacob Senn and severely injure him until DEDEDE intervened, only to be laid out by Oasis' Seek & Destroy finishing move. DEDEDE challenged Oasis to an impromptu match on a later Dynasty, however, Oasis surprisingly defeated DEDEDE with relative ease just a week after defeating Jacob Senn in a similarly convincing fashion. DEDEDE interfered in Oasis' match against Eclipse Diemos on the following Dynasty, costing him a chance at competing for the World Heavyweight Championship at Territorial Invasion by laying him out with one spear. DEDEDE struggled in his feud against Oasis, suffering numerous brutal attacks by Oasis; however, he began to give hints to the return of Methuselah over the time span of the rivalry by displaying behavior similar to that of the persona. At Territorial Invasion, DEDEDE signified the return of Methuselah when he battered Oasis with a steel chair to get himself disqualified from their singles match, and finished the brutal assault by hitting a Wings of Hell from a ladder to send Oasis through the announce table.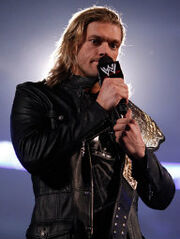 Mr. DEDEDE brought back the Methuselah persona on the following Dynasty, recreating himself in several qualities by addressing himself as a "Gardner" and "Man of Zen" and displaying far more eccentric qualities. Methuselah also introduced a replacement for Fortuneteller Hamasa, this time going by Soothsayer Hamasa, who served as his recast sibyl and spoke primarily for Methuselah as he remained mostly mute in this incarnation. Methuselah's style of speech 'devolved' into a form of biblical psychobabble, as he would worship an imaginary deity named "Plord" who represented mankind's lust for quantifiable riches of the world. He also displayed outgoing comedic quirks, a quality unseen in the Methuselah persona and not often seen from Mr. DEDEDE himself. The rivalry between Methuselah and Oasis grew to be even more contentious leading into October, as the two agreed to compete in a 'Red Walls' variation of the Glass Walls match at House of Glass. Methuselah defeated Oasis in the main event of House of Glass, jumping 15 feet from the top of the Red Walls structure to hit a Wings of Hell through a table and gaining the pinfall victory. Scott Oasis remained out of action for nearly a month until he returned on the Showdown Supershow: Rite of Passage, where Methuselah dropped the Hall of Fame Championship to Devan Dubian following interference on Oasis' part. The two continued their rivalry into Road to Redemption 10, as they were both placed in the Dynasty Extreme Elimination Chamber, joining Jamie O'Hara, Heart Break Boy, Lucian Black, and Jacob Senn. Methuselah was eliminated from the match after Xavier Williams returned from hiatus to drop Methuselah with a Package Piledriver and allowed Oasis to gain the three count over him. The following week Methuselah ended the feud between him and Oasis after defeating him with a diving spear from the top rope. Xavier Williams attacked Methuselah once again with a Package Piledriver, ending Meth's year on a negative note.
Methuselah continued his feud with Xavier Williams into January of 2017, escalating it further by kidnapping Williams' four-year-old daughter McKenzie and using her to lure Xavier Williams out as bait by threatening to sacrifice her to 'Plord' in the middle of the ring. Methuselah would leave Xavier stretchered out of the arena after Xav took the bait, brawled with Methuselah, and was speared off of the stage through electrical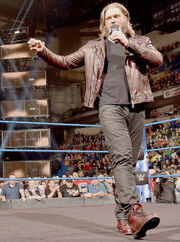 equipment. On the following Dynasty, Xavier Williams assaulted Methuselah's niece, Veena Adams, and left her significantly injured as Methuselah did nothing to intervene. On the January 20th edition of Dynasty, Methuselah hosted a "sacrificial offering" of himself to 'Plord', performing a mock-suicide in the ring. Xavier Williams intervened, only to challenge Methuselah to a match at King of Elite to settle their rivalry. Methuselah was defeated by Williams at the FPV, despite constant interference from Soothsayer Hamasa in Methuselah's favor. On the February 4th edition of Dynasty, Methuselah and Soothsayer Hamasa had a falling out after Hamasa denied the existence of 'Plord'. As a result of their spat, The Soothsayer removed her concealing garments and revealed herself as being model Ana Cheri before promptly walking out on their alliance. In the following weeks, Methuselah frequented the female exclusive brand Empire, proclaiming his love for a member of the OG Vixens stable Kendra Shamez and attempted to woo her in a string of segments until she departed from the company. Methuselah was announced as one of the four participants in a Fatal 4-Way Match to determine the # 1 contender for the Interwire Championship. Methuselah defeated Mark Michaels, Lucas Johnson, and Atilano Castillos to become the # 1 contender, and defeated Atilano Castillos again in a one on one match on the February 24th Dynasty. On that show, Interwire Champion Drake Jaeger called out Methuselah by making several disparaging remarks, igniting a rivalry between the two. Methuselah was officially challenged for the title at Reckless Wiring, but was defeated after Drake Jaeger voluntarily jumped from the top of the cage through the announce table to escape from the cage and retain his title. Methuselah and a more hostile and volatile Jaeger agreed to a rematch at Grand Rampage 10 in an Ascension Ladder Match, which Methuselah went on to win and captured the Interwire Championship for the first time in his career. DDD dropped the Methuselah persona the following week, reverting to his regular self - and was called out by Jacob Senn on the April 21 edition of Dynasty who insisted that he induct Senn into the 2017 Hall of Fame. DDD would decline this offer, accompanying it with a low blow. DDD went on to defend the EAW Interwire Championship several weeks later, successfully defeating Moongoose McQueen to retain the title. It was in this time that he entered a contentious rivalry with Jacob Senn, and would be on the receiving end of several attacks - including one that would leave him laid out by a shot from DDD's Equalizer guitar. DDD went on to successfully defended the Interwire title against Jacob Senn at Pain for Pride X. He was never pinned for the belt, instead of relinquishing it on the 2017 Draft Show to fulfill his duties as the newly-appointed Chairman.
As Chairman, DEDEDE found himself at odds with Voltage wrestler Chris Elite. Elite was suspended on the August 20 episode of Voltage. He in turn "invaded" Territorial Invasion the following weekend, getting into a physical confrontation with DEDEDE and subsequently being fired by brand general manager Kenny Drake. After Elite was reinstated, the two had a contract signing at Ground Zero for their upcoming match. The stipulation announced for the two ahead of Road to Redemption XI dictated that, if DEDEDE lost, Elite would inherit his own version of the "Gawd Contract". At the free-per-view, Elite emerged victoriously. In the latter part of 2017, DEDEDE also briefly took NEO wrestlers Malcolm Jones and Astraea Jordan under his wing, forming The Gawd Complex with them. At the year-end live show held at The Shrine, DEDEDE teamed with Jordan, Elite, Nasir Escobar, and Aria Jaxon to defeat Senn and the Zaibatsu (Stephanie Matsuda, Carlos Rosso, and The Wild Boys). On the February 18 episode of Voltage, DEDEDE defeated Ahren Fournier by count-out. Fournier subsequently attacked him in front of his hometown crowd in Bridgeport, Connecticut. On the February 25 episode of Voltage, DEDEDE's in-ring segment addressing the previous week's events was interrupted by Fournier's, and the heated exchange of words led to an on-the-spot match where Fournier won after grabbing a handful of tights. It was later announced that the two would face each other at Brooklyn Heights. At the supershow, DEDEDE would go on to defeat Fournier.
The Sheriff; The 1% (2018-present)
Following the 'Brooklyn Heights' supershow, anticipation began in regards to a major announcement expected to be made by Mr. DEDEDE on Voltage. On the March 18th episode of Sunday Night Voltage, DEDEDE announced to the world that he was a closeted pansexual. After the tearful speech, DEDEDE was embraced by Elitists and personnel and received high praise in the dressing room and later on social media. He would later be confronted backstage by his secretary and mistress Megan Raine whom he severed personal relationships with thereafter. He also received complimentary gifts from   Sir Elton John, including a badge acknowledging him as the honorary 'Sheriff of the Gay Meat Community.' DEDEDE promoted his new 'Sheriff' persona of a flamboyant homosexual using crude humor and suggestive homoerotic mannerisms during matches as well as promos. The gay turn was a highly publicized event, earning him many endorsements from celebrities as well as lucrative sponsorships from several major corporations. On the March 25 episode of Voltage DEDEDE defeated Lars Grier to earn the opportunity at selecting any entry number of his choice on the upcoming 2018 Grand Rampage match. At the event, DEDEDE entered the Grand Rampage at number 23 and lasted until the final 2 until he was eliminated by Carlos Rosso.
Following Grand Rampage, DEDEDE defeated Billy Wilde on the April 8 episode of Sunday Night Voltage. On the April 20 episode of Voltage, DEDEDE participated on the 'Ryan Wilson Show' and announced that he landed a book deal with Simon & Schuster and would be releasing a book titled "#GMC Chronicles: The Fabulous Diary of a Gay Wrestling Icon" slated for release on June 11th. DEDEDE also announced his intentions of leaving Pain for Pride as the first openly gay World Heavyweight Champion and inserted himself into the upcoming No Way Out match scheduled for Fighting Spirit: Tokyo which would determine the # 1 contender to the World Heavyweight Championship. On the main event of the April 22 & April 29 episodes of Voltage, DEDEDE defeated World Heavyweight Champion Chris Elite and REVOLT! Heavyweight Champion Andrei Sokolova in respective non-title singles matches. At Fighting Spirit, DEDEDE competed against Malcolm Jones, Andrei Sokolova, Liam Archer, Erebus Jennings, and Lars Grier; but was unsuccessful after Jones gained the pinfall victory over Archer. The very next night DEDEDE made a surprise appearance at the Showdown supershow "Wrath of the Dragon" coming to the assist of a distressed Cameron Ella Ava after her partner, Scott Diamond was found incapacitated before their match against Theron Nikolas & Jack Ripley. DEDEDE aided Cameron in defending her titles and captured his record-tying fourth EAW Tag Team Championships in the process.
DEDEDE & Cameron continued their alliance into Pain for Pride season, defeating Diamond Cage & Rex McAllister in the main event of the May 12 edition of Showdown. On the May 19 edition of Showdown, DEDEDE & Cam were interviewed in the ring before being interrupted by MarrKade (Daryl Kinkade & Charlie Marr). Kinkade faced DEDEDE in an impromptu singles match where if Kinkade won, he would be included in the scheduled Tag Team Championship match at Pain for Pride Festival. DEDEDE suffered a meniscus tear after spearing Charlie Marr at ringside and was unable to continue the match, with the decision going to Kinkade. The injury put DEDEDE's Pain for Pride status into question by journalists, though DEDEDE remained active despite having an emergency meniscus removal surgery. On the June 3rd Voltage, a still-injured DEDEDE participated on the losing end of an 8 person tag match teaming with Ava, The Revenant and Xander Payne to face MarrKade & The Dragon Slayers. On the 6/17 Voltage, DEDEDE opened the show to announce that he was fully cleared to compete, and on the same episode, DEDEDE hosted a pre-taped "Pride Parade" on the streets of San Francisco, California featuring thousands of members of the LGBTQ community. MarrKade and The Dragon Slayers were required to make an appearance and faced hazing at the event by other eventgoers. On the same weekend, a sit-down conversation between DEDEDE, HRDO, and Ronn Banks would be aired showing the three discussing hot-button topics in EAW such EAW's changing culture, future promising stars, etc. At Pain for Pride Festival Night 2, DEDEDE & Cameron Ella Ava defended their Tag Team Championships against MarrKade and The Dragon Slayers and retained controversially due to the interference of Jack Ripley. The following night of the same event DEDEDE involved himself in the career-vs-career match between Theron Nikolas and Ronn Banks, controversially screwing Ronn Banks out of the match and aligning himself with Nikolas and Ripley. The move resulted in widespread negative publicity, and DEDEDE garnered exponential amounts of heat by accidentally revealing the following week that he was not actually a homosexual, and that 'The Sheriff' was a publicity stunt. On the EAW Draft 2018, DEDEDE, Ripley, and Theron were drafted to Dynasty as a unit and solidified their alliance by naming themselves 'The 1%." After calling Cameron Ella Ava out to the ring, Cameron declined the offer to join the stable, which provoked a 3-on-1 assault that would be interrupted by Cameron's fiance, Jamie O'Hara. This allowed The 1% to gang up on O'Hara and put him out of commission indefinitely following a headshot from DEDEDE's weapon 'The Equalizer'. Two weeks later on the July 14 episode of Showdown, DEDEDE and Cameron Ella Ava dropped their Tag Team Championships to Drillmatic (Astraea Jordan and Malcolm Jones) after a lackadaisical effort on DEDEDE's part. Following the match, Cameron Ella Ava blasted DEDEDE over the head with his Equalizer weapon which would leave him incapacitated.
DEDEDE's next EAW TV appearance would be on the August 31 episode of Dynasty when Theron Nikolas volunteered The 1% to represent Dynasty in the upcoming quad-branded War Games match at Territorial Invasion. DEDEDE confirmed his selfish motives for participating in the War Games in an interview with Stew-O the following week on Dynasty. On the September 14th Dynasty, DEDEDE defeated Andy Lush in an exhibition contest. At Territorial Invasion DEDEDE and The 1% were successful in the War Games, defeating Rex McAllister and MarrKade from Voltage, Diamond Cage and The NEO Syndicate from Showdown, and the Jaded Wolfe Hearts (Sienna Jade, Tyler Wolfe and Kassidy Heart) from Empire after DEDEDE would obtain the deciding fall over Diamond Cage. On the September 28 Dynasty, DEDEDE confronted Cameron Ella Ava in the ring and rekindled their rivalry by challenging her to a match for the following Dynasty. On the same show, DEDEDE also defeated Johnny Ventura and put him out of commission after hitting him over the head with a newer version of his Equalizer.
Legacy
Adams is widely regarded as one of EAW's all-time greatest talents. In the pre-2015 "Extreme" era of the promotion's history, while in-match brutality was highly valued, he was one of the first to fuse the hardcore wrestling style with copious amounts of showmanship and flair, establishing a precedent for many wrestlers who would eventually join the company. Adams' business acumen is also often a point of praise, both for his ventures inside and outside of EAW. He was perhaps the first Elitist to put substantial effort into attaining sponsorships and establishing a brand for himself outside of professional wrestling, again providing a mockup that later talents would follow. In 2017, Adams was named the 2007-2017 EAW Elitist of the Decade. Many of EAW's all-time great Elitists have cited him as an influence, including CM Banks, HRDO, Extreme Enigma, Heart Break Gal, Rated R Shaman, among others. Several current prominent Elitists, including Malcolm Jones, Astraea Jordan, Chris Elite, Stephanie Matsuda, among others have also cited him as an influence on their careers.
Personal Life
Adams currently resides in a large secondary estate in Santo Domingo, Dominican Republic, and is in the process of garnering dual-citizenship between the Dominican Republic and the United States. He also owns property in Calabasas, California, Denver, Colorado and rents houses in both Greenwich and New Canaan, Connecticut. Upon signing his first major wrestling deal for SNY he rented a penthouse in New York City, and resided in Ft. Lauderdale, Florida for several years as well before selling his home there in 2016. He also occasionally resides in a villa in Spain that is co-owned by himself and fellow EAW Hall of Famer, Mak, with who he is close friends.
Adams maintains a close relationship with his extended family, establishing a Gabriel-Adams estate in various parts of the United States in which he assumes the role of patriarch. Adams also has two children from two different baby mothers; a son, Justin Ryan (born September 24, 2006), and a daughter, Delilah "Lilly" Rae (born September 17, 2002). He has full custody of his daughter but shares joint custody of his son with his baby's mother. Both of his children attend school in Calabasas. Adams has also participated in the lives of his nieces and nephews, most notably his niece Veena Adams who is under contract within the EAW developmental system.
Adams has been a part of multiple relationships of note, including one with Dirti Diva between 2005 and 2007 until the two split in the Fall of 07'. Adams dated AWF/ACW female wrestler M4 in the latter part of 2007 and into the middle of 2008 before splitting. Adams was coupled up with former EAW Vixens Champion Eve in 2009, lasting for several months before going their separate ways. Adams became romantically linked with EAW Elitist Tarah Nova in December of 2015, and the two engaged in a relationship until their break up in the latter part of 2016. He was also rumored to be romantically linked to former Elitist Megan Raine before her departure. Adams has openly admitted to being a notorious sex addict, engaging in many less-than-scrupulous sexual proclivities; he is also alleged to have several illegitimate children, with the number rumored to be as many as several dozen.
Adams is a self-described "political pragmatist", strongly supporting the Libertarian party. He also admitted to have never bothering to vote until the 2008 election, where he voted for Barack Obama (D). In the 2012 election, he voted Gary Johnson, and in the 2016 election, he expressed his support for Donald Trump (R) though he did not vote in the 2016 election. Adams is a vocal commentator of politics and social subjects. He is also a philosophy enthusiast, known for participating in many podcasts and panels to engage in philosophical debate. He has also hosted several Philosophy lectures at Cambridge University, as well as participated in open forum discussions with students. Adams has expressed a desire to pursue a religious studies degree upon retirement. Adams is an avid hip hop and rap aficionado, citing the likes of Eminem, Kanye West, Jay-Z, Nas and Kendrick Lamar as inspirations. He is also friends with rapper Lupe Fiasco, as the two were seen hanging out with Captain Charisma on a 2010 episode of Dynasty. Adams is also a sports enthusiast, mainly in Basketball and Boxing. He has attended boxing events, including Mayweather vs. Pacquiao. He was also in attendance for Michael Jordan's final NBA game on April 16th, 2003 against the Philadelphia 76ers. Adams cites Michael Jordan as his idol and one of his most inspirational figures in life.
Adams has openly admitted to an on and off again addiction to painkillers, as well as admitting to recreational drug use. The height of the abuse, according to him, took place in 2008 and 2009 where he admitted to doing lines of cocaine before matches. He confessed to taking up to hundreds of painkillers per month in 2011 to manage the pain caused by the wear and tear on his body. Adams engaged in a lifestyle change, considering himself to be "mostly clean" as of 2013, as well as undertaking yoga and meditation which he accredits to saving his life. Adams is an advocate for recreational marijuana, and the federal decriminalization of pot.
Adams has also participated in various charities, notably in 2016 when he joined AQUAhydrate to donate bottled water to residents in Flint, MI. Adams is an active participant of the Make A Wish Foundation and has granted over 200 wishes for children suffering from illnesses, making him one of the most active athletes to participate in the charity. He has also donated an undisclosed amount of money to the Justin T. Barnabei Foundation, run by the family of deceased EAW Hall of Famer Extreme Enigma.
In Wrestling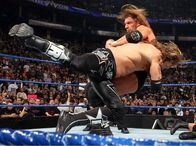 Finishing Moves

Spear
Grand Slam (Falling Side Slam)
Corkscrew North Star (Corkscrew Shooting Star Press)
MK Lock (Vertical Muta Lock, sometimes preceded by the Demolition (Jumping Cutter) or a Reverse STO)
North Star (Shooting Star Press)
Sirius Press (Shooting Star Spear or a Shooting Star Press, dropped into a Diving Spear) -- used rarely
MK Driver (Lifting Double Underhook Brainbuster)
Monarch Death Driver (Top Rope MK Driver)
Wings of Hell (Diving Side Slam to an opponent on a table, with a steel chair under the arm) -- innovated
Signature Moves

Equalizer (Guitar Shot, with the weapon featuring barbed wire strings, nails, and glass inside)
Demolition (Jumping Cutter)
Heat-Seeking Spear (Spear into the ring post or a Suicide Dive into a Spear)
Impaler (Lifting DDT)
Ego Death Driver (Sitout Suplex Slam)
Triple D Driver (Sitout Rear Mat Slam)
"VINTAGE" DEDEDE! (Somersault tope through the second and third ropes, usually preceded by a running start)
Super Butterfly Effect (Avalanche Bufferfly Suplex rolled through into either a Butterfly Effect, Ego Death Driver, or MK Driver)
Boxing-Style Punches
Combat Roll Evasion
Corkscrew Crossbody
Corkscrew Jumping Back Elbow
Koji Clutch
Multiple Jumping Forearm Smashes
Multiple Jumping Shoulder Blocks
Multiple Kick Variations

Big Boot
Rapture (Yakuza, to a cornered opponent)
Reverse Roundhouse

O'Connor Roll transitioned into a Cross Armbreaker
Reverse Irish Whip, followed by a Leaping Reverse STO
Senton Neckbreaker
Spinning Backfist
Nicknames

"The Gawd"
"Gawdzilla"
"The GOAT One" (as The Gawd)
"Methuselah"
"Manbunthuselah" (as Methuselah)
"Man of Zen" (as Methuselah)
"The Monster" (as Methuselah)
"Thane of EAW" (as Methuselah)
"Lord of the Flies" (as Methuselah)
"The Black Widow"
"Hollywood" (as The Gawd)
"The Alterbridge"
"The Rated-R Legend"
"Master Builder"
Managers

King
Regulator
Dark Emperor
Eve
WWEFan
Fortuneteller Hamasa
Tarah Nova
Soothsayer Hamasa
Wrestlers Managed

CM Ronn (CM Bank$/Ronn Banks)
Tyler Parker
Dirti Diva
Book of Wrestling
Tyler A.
Dark Emperor
Eve
Kawajai
Ryan Savage
Tarah Nova
Entrance Themes

"Metalingus" by Alter Bridge (2007 - 2011)
"Metalingus (Slowed Down Version)" by Alter Bridge (2008, 2010; used as Methuselah)
"Never Gonna Stop (The Red Red Kroovy)" by Rob Zombie (2009)
"So Appalled" by Kanye West (2011 - 2013; used sporadically in 2014)
"Monster" by Kanye West, Jay Z, Nicki Minaj, Rick Ross & Bon Iver (2013, with irregularity in 2015 - 2017; used as Methuselah)
"On Sight" by Kanye West (2013 - 2014)
"On Sight (Instrumental)" by Kanye West (2015; used as a member of The Savage Ryans)
"Till I Collapse" by Eminem (2014)
"Right for Me" by Eminem (2015)
"Feedback" by Kanye West (2016, 2017)
"Dopamine Lit" by Lupe Fiasco (2017)
"Icon" by Jaden Smith (early 2018)
"Carrera Lu" by Lupe Fiasco (March-July 2018)
"I Am A God" by Kanye West (current; also used as a member of The Liquid Swords)
"Illest Motherfucker Alive" by Kanye West & Jay-Z (current; used as a member of The 1%)
Championships and Accomplishments
Answers Championship Wrestling

ACW Tag Team Championship (1 time)
Answers Wrestling Federation

AWF Championship (2 times)
World War Championship (5 times)
AWF Tag Team Championship (2 times)
AWF National Answers Championship (1 time)
AWF Midweight Championship (1 time)
Extreme/Elite Answers Wrestling

EAW Hall of Fame inductee (Class of 2009)
EAW Championship (2 times)
EAW Hall of Fame Championship (1 time)
Undisputed Hardcore Championship (1 time)
World Heavyweight Championship (2 times)
Answers World Championship (1 time)
EAW Interwire Championship (1 time)
EAW Hardcore Championship (2 times)
EAW Tag Team Championship (4 times) -- with Captain Charisma (1), Diamond Cage (1), Ryan Savage (1), and Cameron Ella Ava (1)
Decade Awards (3 times)

Elitist of the Decade (2017)
Match of the Decade (2017 -- vs. Ares Vendetta at Grand Rampage IX)
Writer of the Decade (2017)

Year-End Awards (13 times)

Extremist/Elitist of the Year (2008, 2014)
EAW Champion of the Year (2008)
Match of the Year (2008, 2009, 2011, 2012, 2013, 2014, 2016) -- vs. HRDO at Pain for Pride I, vs. Jaywalker at Pain for Pride II, vs. Heart Break Boy in a Last Man Standing match at Reckless Wiring 3, vs. Lethal Consequences at Pain for Pride V, vs. Y2Impact at Pain for Pride VI, vs. Mikado Sekaiichi at Pain for Pride VII, and vs. Ares Vendetta at Grand Rampage IX)
World Heavyweight Champion of the Year (2009)
Feud of the Year (2011) -- vs. CM Banks
Extreme Moment of the Year (2012) -- the "90-foot fall" at Territorial Invasion
National Wrestling Alliance

NWA World Championship (1 time)

North East Wrestling

North East Wrestling Championship (1 time)

Saturday Night Yahoo

Rated R Championship (2 times)
SNY Hardcore Championship (1 time)

Xtreme Online Wrestling

XOW World Championship (1 time)

Xtreme Wrestling Federation

XWF Championship (1 time)
NSWF Tag Team Championship (1 time)