Moses X

[[Image:|px|Image of Moses X]]

Billing information

Ring name(s)

Moses X

Height

6,6

Weight

295

Born

June 10th, 1981

Hometown

Washington D.C.

Theme music

Line in the Sand-MotorHead

Affiliation(s)

Mutiny

Federation(s)

EAW (Extreme Answers Wrestling)

Previous federation(s)

EWE (Elite Wrestling Entertainmet)

Wrestling information

Alignment

Heel

Wrestling style

PowerHouse,Technical

Signature Move(s)

Crossface,Big Boot,Cobra Clutch,Spinning Side Slam,Fujiwara,Torture Rack

Finishing Move(s)

The MX Factor, The Final Touch

Trainer

Matt Daniels

Handler

Professional career

Debut

January 7th 2011

Record

7-7

Accomplishments

N/A

Retired

N/A
Moses Yonas, Born (June 10th, 1981) Also known by his Ring name Moses X Is a Eritrean American Professional E-Wrestler who is Currently Signed to Answers Wrestling Extreme Answers Wrestling and performs on the Showdown brand as one fourth of Mutiny. Before joining E-feds Moses X was a active Yahoo user and contributed most of his time on the Wrestling Section where he was a 10 time Top Contributor over the span of four years in addition to this Moses X has been in several E-federations but most notably from Extreme Answers Wrestling (EAW) and Elite Wrestling Entertainment (EWE)
Yahoo!Answers Wrestling Section Stint
Moses X found the Wrestling Section in the summer of 2007 after browsing some wrestling questions on google and decided he wanted to join the Community, so on his exact birthday he joined the Wrestling Section as "The Fallen Prophet Moses" he gained alot of fame during his tenure in the Wrestling Section because of his tendency to ask and answer alot of questions, durin this period he joined Y!A Mafia and Wrestling Section group that had some of the best users in it but left after the group disbanded. After that he took a 6 month break from the Wrestling Section only to return again under another name "The Chosen one" under this he recieved 6 TC's under the account but was shockingly suspended after reaching almost 22,000 points because of this he quit the Wrestling Section and vowed not to return but ironicly returned and grew some harsh feedback because of this, so he changed his name again after making a new account named Moses X the name was initially suppose to by Moses Y. (Y standing for the first letter of his last name) he typoed X and liked the name and started to go with it he was extremly well known under this new assumed name and started using it permanently and he was widely reknown as one of the biggest Wrestling Section user of his time and even reached the Top 10 on the Wrestling Section Asia (On the Top 10 for Asia but was signed with USA) and recieved 9-11 Top Contributor Badges and was known for being suspended over 14 times in his 4 year sting in the Wrestling Section, he went on to answer plenty more questions during the 2009-2010 year but on December 16, 2010 Moses X met another user named CDMAX. CDMAX was known for being highly controversial and a heel on the Wrestling Section and caught Moses's intrest and so Moses Emailed him for a request to make a heel stable on the Wrestling Section, little did they known that it would be one of the biggest most dominant stables in WS history they emailed eachother plenty of times for potential names the original name was X-Heel but decided on not to use that but instead took apart of Moses's name (The MosesX Era" And CDMAX came up with the "Extreme Heel" part and then the Duo came up with Extreme Heel Era and it had over 20 members join and CDMAX and MosesX were known to be the quote by quote "Most arrogant" "Heartless Douche bags" and both men took that in pride and did what they intended to do and for months EHE was known as one of the main downfalls in the WS in 2010, There have been many groups attempting to take down EHE most notably Extreme Face Era which was just a run off decided to but failed to complete there task. On January 3rd 2011 MosesX and CDMAX decided to end Extreme Heel Era once and for all and was a major lift up for the WS and the Wrestling Section was restored back to normal. he later took a break from the Wrestling Section deciding that his time was up but made a return on febuary only after a month later he found out that another user named "TEXASRKOWNED" or now known as Current E-fedder Nick Angel made a group named X-14 he thought that the group should have been ended and he reunited EHE and planned a group war with X-14 and another Group sprang up named WS Straight Edge Society owned by Jack Zeigler or better known as Krysis the two groups took down X-14 and focused on each other but after weeks of spamming the WS the two groups decided on a treaty and ended teh group war on a draw. A month passed before two trolls named Bill P. and B0SS came and spammed the WS for hours sending questiosn pages back and insulting dead wrestlers much like EHE Moses took it upon himself to send the users to the Downloading Widgets section, a section that was dead and stayed there ofr a few hours until The trolls found it and then Moses moved a handful of users to a Tinychat to hide out and talk for hours and started the chats for users but after that Prince of Phenomenal somehow found the chat and decided to make the first XAT Wrestling Section Chat which influenced the Wrestling Section in a big way and eventually became a spot to hang out every day there MosesX met alot of enemies who turned out to be good friends in the long run such as WaterPillar,TexasRKOwned, and Krysis (Jack Ziegler) but due to users complaining about power abusing they each made there own chat splitting up everyone and for months everyone had there own chat to hang out. Soon after MosesX joined the WS again for a few months to regain his notoriety but quit again after joining his second E-fed EAW which will be talked about soon.
Professional E-fedding Elite Wrestling Entertainment & Legion Wrestling United

After Extreme Heel Era was shut down four days later Moses X found out about an E-fed named EWE (Elite Wrestling Entertainment) Owned at the Time By Devan Dubian and Prince of Phenomenal this was his first official e-fed, he joined YWSE is 2009 but did not officially e-fed. He joined EWE on January 7th, 2011 known at the time "The Amazing" MosesX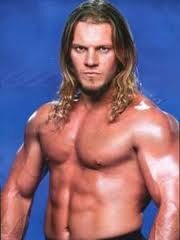 he made his debut against Carlos Russo defeating him via Count out and went on to beat numerous other superstars such as Ivan Rodiriguez,Mr.Smyth,The Exclusifier. And on a episode of Warzone it was announced he was oging to face 3 other men in a fatal four way at Time to Shine, during the match he eliminated 2 of the 4 men in that match but went to no evail after being pinned by Bolt who later went to hold the Title for the the longest EWE reighn in history Because of this he quit EWE making a big mistake feeling he should have won and issued EWE a notice. Months later he was on chat and over heard Jack talking about opening a fed and told jack he would do GFX for the fed and so the former enemies became partners and went on an opened the fed named Legion Wrestling United the fed gaine substantial members and became quite successful but because of creative diffrences Moses and Jack got into a large argument saying alot of rude things toward eachother and out of anger Moses deleted Jacks account on LWU out of Jacks request and jack said as quoted "I don't want anything to do with LWU if MosesX is still running it" and Moses was left alone without any writers to help write Road to Destiny he wrote the whole show but because of problems with Webs it did not post and so MosesX Gave up and dedicded to shut down.Days later Jack rejoied and said that he would take over LWU and He gave him Admin back and said to jack he was taking a break. by the time MosesX returned he was notified that jack shut down LWU for unknown reasons and LWU officially got shut down, Shockingly MosesX was suprised and as quoted said "I'm Glad LWU is gone i hated the responsibility, and it took all my time up".
Extreme Answers Wrestling
On April of 2011 MosesX found out about EAW,he heard about the e-fed a year prior but did not officially check it out until Pop and Dubian linked it on the chat at his first impression of EAW he looked at it as a place where it took many ,many months to even be placed on the card due to EAW being the biggest e-fed on the internet he figured alot of members had to join but to his suprise he made a debut promo and was placed on a Turbo card that same day and already MosesX felt as if he accomplished something already. On his Debut he faced Toxic(Pyrite) and Erik Yung in a triple threat he hit Toxic with the MX Factor but was nailed with a cheapshot by Erik Yung Causing Erik to win the match, The upcoming Week Moses Was placed against Former National Extreme EAW Champion Justin Windgate and Multiple time MVE he had doubts about winning the match but with consistent promoing he pulled off a victory ending Justins Career by kicking his head into a steel pole. It was a major ego boost for Moses as he began flaunting about it for several weeks to come, over the course of 3 weeks he went on to face many more guys like Krysis,Erik,Toxic,Alexander Voskov and many more. A few days later MosesX was informed by Erik Yung he was on a Showdown Card for a Pain 4 Pride 24/7 Briefcase Preview against main brand superstars alot of doubt was held on Moses's side during the live show saying that he was from Turbo and was not going to win, but after facing the Odds he eliminated Ross,Nick,Bolt and Viper when Viper ran at MosesX and Moses hit a Belly ot Belly lunging Viper over the Ropes to win the match and Moses went on to make his FPV debut on EAW at the grandest Stage of them all Pain 4 Pride in a 24/7 briefcase match he knew momentum was on his side and expected a win after elim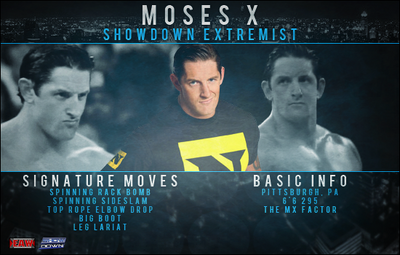 inating Bolt First in the match up but was later eliminated by Crow,Erik Yung, and Doni Prasdana but the refree and announcer did not acknowledge MosesX and he got back in eliminating Crow but from behind was flipped over the Ropes by Doni Prasdana. Undefined went on to win the match but was hit by a wasteland by Erik and Erik later won the 24/7 briefcase. After a week passed by the Annual EAW Draft showed that MosesX was drafted from Turbo to Showdown and on Showdown he made his debut in a tag match with pyrite facing Doni Prasdana and Carnage (Dorin) in a Losing effort as weeks passed by he was on a 6 week losing streak. But his losing streak ended when he pulled up a victory against Unified Tag Team Champions at the Time Sons of Mayhem with Dorin as his partner and after that he gained momentum after each week and won matches against guys like Pacifist,Dorin,Sons of Mayhem,Pyrite and even returning to Turbo to defeat Curt Cryptic and Tyler Krocket. But on an episode of Showdown 9/17/11 Speedy was angry at Matt and was searching for Matt but was attacked by two masked men with steel pipes and later in the Show Matt Daniel's Mutiny was announced with Scott revealing the two other members were King Cliff and Moses X and were found out to be Speedy's annonymous attacker, Matt Daniels formed Mutiny to Give the new breed of stars a chance to shine and take them under his wing so he can mould them into future Stars. Later that week Mutiny came on Dynasty interupting the TJ Divine and Kyle Hitch match taking out both competitors with sledge hammers and making their presence known, On one showdown Episode there was a scheduled match with Mutiny and team Burial with Pyrite Mutiny picked up the win gaining some momentum and thus kept on going on a roll and for weeks half of Mutiny Cliff and Moses X faced many teams most notbaly Foreign Prophecy and elite Warning defeating them both to earn a right for the Unified Tag Team Championship at house of Glass. At House Of Glass, MosesX and King Cliff also known as The Mutiny, defeated Foreign Prophecy and Elite Warning in a Glass Ropez Match to win the EAW Tag Team Championships. Moses' and Cliff's first titles in EAW respectively.