Mordos Kull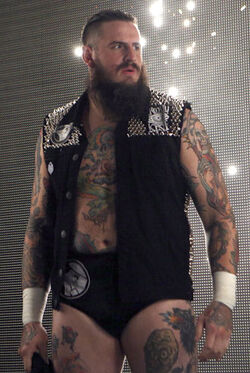 Mordos Kull at a RINGENHOSTEL event in 2019.
Birth name
Clayton Stainthorpe
Born
June 6, 1985
Las Vegas, Nevada
Resides
Sandusky, Ohio
Spouse
Franchesca Albright (m. 2007;
div. 2013)
Professional wrestling career
Ring name(s)
Clayton Stain
Mordos Kull
Height
6 foot 9 inches (2.06 meters)
Weight
285 lb (129 kg)
Billed from
"Sin City"
Varniai, Lithuania
Trained By
Knuckle Lock Wrestling Facility
Debut
August 2005
Clayton Stainthorpe is an American professional wrestler, best known for his work on the American independent wrestling circuit as the Mordos Kull character.
Early life:
Clayton Stainthorpe was born on June 6, 1985 in Las Vegas, Nevada. He is one of four children; his father was an engineer, while his mother was a telemarketer. Stainthorpe's father struggled with alcoholism, eventually passing away while Clayton was 9 from liver failure. His eldest brother would also pass away from liver failure when Clayton was 14. These events would make Clayton a rebellious child, getting suspended several times for fighting his fellow students before getting expelled from his high school for vandalism of a classroom. He would be medically ordered to partake in anger management classes, which he would attend until 1997. He would begin wrestling training at the Knuckle Lock Wrestling Facility in 1998.
Wrestling Career:
Early Career:
American Wrestling Foundation (2011 -2014):
Personal life:
Stainthope is of Dutch descent. He currently works as events operator of several death metal music festivals that tour the United Kingdom, leaking into some areas of Europe. He married a younger woman named Franchesca Albright in 2007.
On June 15, 2012, Stainthope was arrested in Seatle, Washington on charges of battery and grievous bodily harm after entering a drunken brawl with a patron of a local bar. The fight culminated after several other patrons restrained Stainthope, but were unable to prevent him from stabbing the victim twice in the stomach with a broken glass bottle. Multiple accounts stated that the fight was started by the victim after he began drunkenly flirting with and groping Stainthope's wife, which provoked the fight. Stainthope was released on bail the next day at an undisclosed sum. This event would, however, breach his contract with the AWF and caused Stainthope to be fired from the promotion. He and his wife would get a divorce the following year.
Gimmick: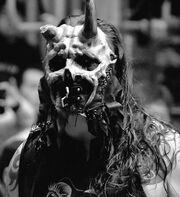 Following Stainthope's release from the AWF in 2014, he would announce his retirement from professional wrestling by blog post. He would start a new occupation as tour support for various death metal music festivals later that year. He would draw some inspiration for a new character from his experiences at these festivals and would announce he would return to the ring in 2016. He would debut the Mordos Kull character as a 'Lithuanian Death Metal Madman', entering through the crowd while wearing death metal-inspired masks or face paints, spitting water into the crowd to draw heat. He often required security to make it to the ring to act as a shield from the enraged crowds, disguised to look like they were to prevent him from attacking crowd members. The new gimmick made him an attraction, some promotions even providing projectile items that can be thrown at him during entrances.
In-Wrestling:
Finishing Moves:

GodZero (Vertical suplex sitout side slam)
GodZero II (Vertical suplex lifted and dropped into a reverse piledriver)
Mask of Judas (Inverted full nelson slam) -- 2005 - 2010; used as a signature thereafter
Witch Hunter (Backbreaker rack lifted and spun into a Samoan drop)

Signature Moves:

Biting
Falling powerslam
Fisherman buster
Full nelson slam
Guillotine (Diving leg drop, sometimes to the back of the opponent's head)
Gypsy Killer (Sitout chokeslam)
Kneeling powerbomb onto the floor
Necromancy (Overhead gutwrench backbreaker rack spun out into a reverse swinging side slam facebuster)
Pagan Ritual (Firemans carry spinebuster)
Running crossbody
Scoop powerslam
Slingshot backbreaker
Standing gordbuster
Vile and Cruel (Swinging sideslam)

Entrance Music:

"Dragula" by Rob Zombie
"Ratfinks, Suicide Tanks, Cannibal Girls" by White Zombie
"Tearing the Veil from Grace" by Cradle of Filth
"In Nomine Satanas" by Bathory
"Ze Nigmar" by Rotting Christ

Nicknames:

The Death Metal Madman
The Bezerker
Championships and Other Accomplishments: