Misty Hilton
Statistics
Real name
Misty Jessica Hilton
Ring Names
{{{names}}}
Height
5'6"
Weight
130lbs
Date of birth
December 24th 1986
Place of birth
New York City, New York
Date of death
{{{death_date}}}
Place of death
{{{death_place}}}
Resides
{{{resides}}}
Billed from
{{{billed_from}}}
Trainer
Laura Tompson
Current
federation(s)
ECFW
Previous
federation(s)
None
Handled by
{{{handler}}}
Win/Loss Record
{{{winloss_record}}}
Debut
Retired
{{{retired}}}
Misty Hilton is the younger sister of Brianna Hilton, she won the hearts of the fans with her positive attitude and genuine love of the business she has been refurd to in the past as, The Diva with a Heart of Gold and the Little FireCracker. She is signed of the ECFW Roster and one of the ECFW Divas. She a former ECFW Women's Champion
History
On Christmas Eve 1986, Thomas and Jennifer Hilton received an early Christmas present when Misty Jessica Hilton was born. The third daughter and youngest child of the New York Hiltons, born into a wealthy family where almost everything was given to the girls. Misty is the High School Cheerleader who never grew up. After watching her older sister Brianna rebel and be the wild child Misty played the good daughter for several years until she had her own "Brianna rebellion" stages, where she started hanging out with a "bad" crowd and sneaking into clubs; this soon got her in trouble; Misty was arrested for being underage in an underground dance club at age 16. The arresting officer, who recognised her dad when he picked her up at the station, gave Misty her mug shot (the charges were dropped), which now hangs, poster-size, in her home. Misty soon calmed own and found her own identity.
Extreme Championship Fatal Wrestling
Misty has only recently been involved in wrestling and ECFW is her first fed, but already she has been involved in matches with Kitten Charrington, Alexis Knight, Candy Caine, Tatium Tyler, Gothika, Diamond and her own sister.
At 21 years old she is one of the youngest member of the ECFW roster, but has already been involved in a Women's Championship match at one of the PPVs
Finishing & Signature Moves
Mystified
This is generally attempted from the top rope, Misty faces away from the prone opponent and executes a backflip landing on the opponent in a splash/press position but facing towards the elevated position. Though this move is generally attempted from the top rope to an opponent laying face up in the mat
Clothesline
Scoop Slam
DDT
Elbow Drop
Headscissors takedown
PowerBomb
Piledriver
Irish whip
Championships and Accomplishments
ECFW Women's Champion (November 20, 2007 - December 4, 2007)
2007 Face of the Year 2nd Runner up
Relationships
During the last part of 2006, Misty had a relationship with fellow ECFW wrestler Wasted Youth, it only lasted a few months and Misty broke off the relationship due to the age difference and because she felt she wasn't ready for a serious relationship
Misty also had a crush on former roster member Scottie Caine but nothing ever came of it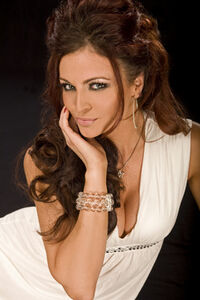 Notable Feuds
During her time in ECFW Misty has been involved feuds with fellow divas Layla Monroe; she was part of the Diva war against Heaven Sent and made her views against Gothika and Diamond known. Misty also voiced her opinions on Kitten Charrington's change of heart known.
Layla Monroe and Misty had a long running feud which recently came to an end when Layla confessed to lying, one of the main factors in this feud was Misty's low self body image, Layla used this against her and called her fat and ugly on TV which sent the 19 year old Misty in a spin
Most recently Misty has not taken to well to Lucky LeFay's mental break and actions, the two had become close friends but now those bridges have been burnt.
The Kidnap of Juliette Hilton
On October 30th on TNT it was reviled that Lucky LeFay had kidnapped Brianna Hilton's daughter Juliette Hilton. Lucky wanted a family and had decided to build one; she recruited Maxie Fox who seduced the bodyguard Brianna hired to look after Juliette and after she knocked out the bodyguard Maxie and Lucky ran off with Juliette. For weeks Lucky had hold of Juliette and after she married Dr Damien Fowler she planed to christen Juliette in to the family, this was interrupted by the returning Alexis Knight. And Juliette was returned to her mother.
Fast Facts
Misty's ECFW Heroes are Alexis Knight, Tatium Tyler, Kitten Charrington, Jason Blade, and Hard Stone. But her views have changed on Kitten and Hard Stone
One of her carer high lights was teaming with Alexis Knight to take on Heaven Sent
Misty always carries a camera on her, as photography is her main hobby
Misty's favourite piece of technology is the T-Mobile SideKick; as she can keep in touch with all her friends and take photos and log on to the Internet
Misty also sketches in her spare time
Misty is the current face of "Urban Decay" make-up in the UK
She is the aunt of Juliette Hilton