Mister K

|-

Billing Information
Ring Names

Tommy Dreamer


Mister K


Booker J


The Anarchist

Billed Height

6'2"

Billed Weight

243 1/3 lbs.

Resides
Long Island, New York
Billed From
Long Island, New York
Trained by




Mak

Debut
2008
Picture Bases

Mr. Kennedy


Booker T


John Cena


Brian Pillman




 
 
 
 
 
 
 
 
 
 
Mister K is a retired American professional wrestler, booker, promoter and writer. He is best known for his time with Extreme Answers Wrestling where he served as both a wrestler and as a member of the creative staff and is a member of the EAW Hall of Fame.
Professional E-Wrestling Career
Extreme Answers Wrestling (2008-2011)
Early Career (2008)
Mister K debuted at  the Midsummer Massacre FPV shortly after signing with EAW. He was pitted against 7 other men: Lethal Consequences, Irish Assassin, StereoRaptor, Kira, Eric Benjamin, The Great One and Partymaniacs for the brand new EAW Interwire Championship. Highlights of that match included, Mister K's stomach nearly getting punctured by Kira with barbed wire. He kept fighting and eventually eliminated Kira. It came down to Mister K and Lethal Consequences. Mister K came out victorious after giving Lethal Consequences a Loud Mouth Slam off of the top of a ladder. After his first match, Mister K wanted to make his own E-fed.
Extreme Online Wrestling, Burnout (2008)
Mister K created Extreme Online Wrestling and advertised all over. Many people joined in the first few days. One member, Nik-e-G, got to know MK well and later became CEO of EOW. EAW took notice to EOW and was against the fed, mainly because they felt EOW was an "EAW Rip-off." EOW became known as one of the most hated e-feds around. When Mister K saw that EOW wasn't going anywhere, he and Nik-e-G decided to merge with EAW and become its third brand along with Showdown and Dynasty. EAW changed EOW's name to Burnout and the new brand got started.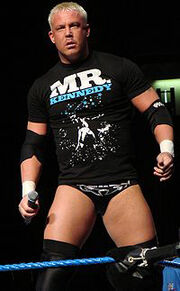 This sparked a feud between EAW and EOW, some of EAW thought EOW was the future, and were on their side. Mr. DEDEDE was on EOW's side throughout the short feud. On Showdown, EAW Chairman, CM Ronn faced EOW's head man, Nik-e-G in a "Loser Gets Fired" Match. The winner would be the chairman of EAW. CM Ronn defeated Nik to keep his spot on the roster and as chairman, ending the feud. Burnout turned on Nik and attacked him after the match. Although he was the chairman of EOW, Mister K was not utilized in the EOW storyline as Nik-e-G took on the role of EOW's head man and Mister K went on to compete at the King of Extreme FPV, losing his tournament match to Midsummer Massacre rival, Lethal Consequences, but went on to successfully defend his Interwire Championship against a midget replacing TGO, who left EAW shortly before their scheduled match. After this match, Latino Game physically and verbally attacked MK, stating that he had it easy and it was time for him to face some of the better competition, people who actually deserve a championship reign. The attack ended with Game planting MK through the King of Extreme stage display and sparking a feud between them for the Interwire Championship.
Triple Crown Syndicate and major feuds (2009)
MK's next match was at Road 2 Redemption. He participated in the Extreme Elimination Chamber along with his then rival,
Latino Game
,
Mr DEDEDE
,
Captain Charisma
,
WWEFan
and
The Dark Emperor
.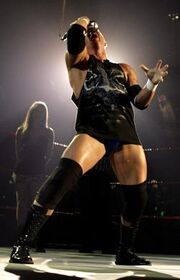 MK planned to bring a bag of tacks and shards of glass as his weapon in the chamber, but Game replaced the bag with a bag of worms before the match. After some of the extremists broke out of the chamber, MK went to Latino Game's lowrider parked on the stage and broke one of the tires off, he used the tire as his weapon and would later steal the lowrider after the show that night. MK and Game eliminated each other in the chamber by both pinning the other at the same time, the eventual winner of the event was Captain Charisma but after the match, WWEFan cashed in his Cash in the Vault briefcase which he won at Pain for Pride and took CC's Undisputed Hardcore Championship as the FPV went off the air. Mister K continued his feud with Latino Game on Showdown who later became Instant Game as their feud went on. He was pitted against Game at the Reasonable Doubt FPV where he successfully defended his title against Game, ending their long feud.
On Showdown MK was involved in a stable founded by then-EAW Champion, Mak, which consisted of: Mak, his girlfriend and EAW Vixen, Sabina, Captain Charisma, MK himself and the Essence of Excellence, Montell Smooth (who was later quietly written out of the stable). They called the team: The Triple Crown Syndicate and the stable's main goal was to take over EAW, creating stars out of each other and winning as much championships as possible in the process. While this was going on, MK went into a brief feud with the Dark Emperor heading into the Grand Rampage FPV. During the feud, MK teamed up with Mak and won the EAW World Tag Team Championships with him after defeating Hang Time, Nik-e-G and DJ Hazard, on Turbo. DE and MK feuded over the Interwire Championship until the Grand Rampage where Dark Emperor defeated MK by roll-up and ending MK's 10 month long reign as Interwire Champion, the longest championship reign in EAW history. Later that night, MK was involved in the thirty man over the top rope battle royal main event, where the winner would get a World Championship match at the biggest FPV in EAW, Pain for Pride. This match is known as the Grand Rampage match. MK made it to the final three extremists in the match, who were fellow Triple Crown Syndicate member, Captain Charisma, Regulator and of course, himself. CC and MK worked together on Reg for a short time before CC "accidentally" eliminated his partner, MK from the Grand Rampage, and later went on to be victorious in the match. This sparked a war of words between MK and CC over the next few weeks on Showdown and Mak placed an ultimatum on the two rising stars in the Syndicate, stating that they will compete in a match, and whoever loses will be "fired" from the Triple Crown Syndicate.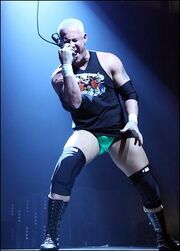 Captain Charisma and MK competed in the match on Showdown and Mak was the Special Referee for the bout. It was a back and forth match between MK and CC until Mak interfered in the favor of CC. CC won and MK was fired from the Triple Crown Syndicate, and started to be seen in less shows. Mak and Captain Charisma started a feud heading into the top FPV in EAW, Pain For Pride. It was announced that a contract signing would be held on Showdown for the title bout between EAW Champion, Mak and Captain Charisma at Pain For Pride 2. But MK crashed the party, and signed his name on the contract along with Mak and Captain Charisma's. The match became a Triple Threat at Pain For Pride 2. At the big Free-Per-View, Mak announced that he would put his title, career and FPV winning streak on the line. If he lost, he would retire. The match was close between the three EAW superstars, but near the end, CM Bank$ interfered after returning to EAW earlier that night and assaulted Mak, and Captain Charisma took advantage, getting the pin on Mak and becoming the new EAW Champion, sending Mak into retirement.
World Champion, Feud with the Heart Break Boy and ACW (2009-2010)
After Pain For Pride 2, MK began a brief feud with then-World Heavyweight Champion, Jaywalker and it culminated with a match for the coveted World Championship gold on Showdown in which MK was victorious and became World Champion for the first time in his career. Shortly after this, EAW embarked in a feud against former rival-Efed, Answers Championship Wrestling. ACW kayfabe invaded EAW as Killswitch and the Heart Break Boy took over as General Managers of Dynasty and Showdown respectively. Team EAW: Extreme Enigma, Robbie V, MK, Mr. DEDEDE and Jaywalker went up against Team ACW: Killswitch, The Heart Break Boy, Y2Impact, Master Of Puppets and Cole Smith at the EAW FPV, Territorial Invasion. Team ACW took the win after Jaywalker turned on EAW and sided with ACW, a fed he used to be a part of and made the decision to go back to them.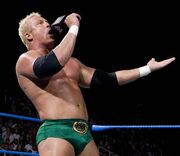 As part of the rivalry, MK feuded with captain of team ACW, the Heart Break Boy as they fought over the World Heavyweight Championship heading into the Road To Redemption FPV, which is main evented by Elimination Chambers for the Showdown and Dynasty brands. MK and HBB squared off on Showdown for the World Heavyweight Championship once before the FPV, in which MK retained the title. At Road To Redemption 3, MK entered his second Extreme Elimination Chamber, and this time, he was defending his World Title. Showdown's chamber had a unique stipulation added to it when HBB announced that the World Heavyweight Championship would be hanging from the top of the chamber, giving the participants the option of winning by elimination, or by scaling the chamber and grabbing the title. MK left the match half-way through and many believed he'd given up and left in frustration. As the other participants, Matt Ryder, Regulator, The Heart Break Boy, Jaywalker and CM Bank$ battled it out, the Heart Break Boy and Jaywalker were the last left. The Heart Break Boy locked Jaywalker inside of his pod with a steel chain and the padlock from the chamber door and began to climb up the chamber to claim the championship with Jaywalker unable to do anything. As HBB climbed for the title he thought was easily his, MK returned to the match and brought a storage cart filled with weapons with him. MK set up a flaming barbed wire table right under HBB as he hung from the top of the chamber, and hit him with a ladder to bring him down as he fell through the table. MK pinned HBB as Jay was left inside his pod. MK returned to his weapon cart and pulled out a 2x4 plank of wood as he took it and used it as a battering ram, crushing it into Jaywalker's pod as the 2x4 was driven into Jay's gut and the glass from his pod shattered. MK pinned Jaywalker and retained his World Heavyweight Championship, but as he was celebrating, HBB got back to his feet, hit Sweet Chin Music on MK and stole MK's Championship.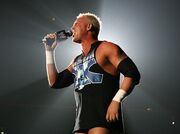 In the following weeks, HBB kept MK's title away from him until MK could "impress" him enough to earn it back. As Showdown's GM, HBB found every way possible to embarrass MK as they feuded 1 on 1. As the next EAW FPV, King Of Extreme came closer, a match was made with MK and HBB teaming up against the Dark Emperor and Kevin Devastation, La Secta Apocalyptica. MK didn't show up for the match and was shown inside HBB's trashed GM office and revealed that he had found his World Heavyweight Championship, and announced that it would be him going up against the Heart Break Boy at King Of Extreme for the World Heavyweight Championship. HBB was squashed by the Dark Emperor and Kevin Devastation as he lost the match on the final Showdown before the King Of Extreme FPV. At King of Extreme, MK faced off against the Heart Break Boy one last time for the World Heavyweight Championship.
HBB won the battle and became the new champion, and shortly after that match, MK was fired from Showdown by HBB and was signed to Dynasty by Dynasty GM, Hova. This led to a feud between Showdown and Dynasty, leading to the revival of the Dynasty vs. Showdown event. At the event, the headline was a 10-Man Tag Team match between Team Showdown: Heart Break Boy, Regulator, StarrStan, Jon Kelton and Matt Ryder against Team Dynasty: Hova, Mister K, Kevin Devastation, Hurricane Hawk and Speedy. Team Dynasty won the match. After Dynasty vs. Showdown, Mister K was originally booked to compete in a feud against EAW Legend and Hall of Famer, MaK. But due to problems between Mak and EAW management, Mak left the company and Mister K's feud with him was scrapped.
Grand Slam Champion, Controversy at Pain For Pride 4 (2010-2011)
Mister K engaged in short feud with Viper. It lasted until the Dynasty Exclusive, Reckless Wiring FPV where MK defeated Viper. In the next few weeks, Mister K would frequent the Dynasty midcards against opponents such as Speedy, HRDO and Viper. Mister K was booked in a match with Speedy for the Interbrand Championship, which he won. After a brief reign, MK lost the title to HRDO to spark a Speedy vs. HRDO feud over the Interbrand Championship leading into Pain For Pride 3.
Heading into Pain For Pride 3, MK was inducted into the EAW Hall of Fame along with the rest of the 2010 Class; Captain Charisma, Masters, Y2Impact and the Heart Break Boy. MK was inducted by friend RRS while other good friends such as Regulator, Jaywalker and Robbie V spoke about him in cameo appearances. In storyline, Mister K started a program with Alexander Da Vinci and his Alternative X Championship. It started on an episode of Dynasty, where MK claimed he wanted to change his ways and help the future of e-feds into stardom. ADV appreciated MK's speech, and offered him an Alternative X Championship match out of gratitude and respect, stating that MK is the first person to lend a hand to the up-and-comers and that there should be more guys doing that. MK lost the match to ADV, and snapped, assaulting ADV and repeadtedly yelling that the championship doesn't mean a thing to ADV, but it really meant a lot. It meant Mister K becoming the first ever Grand Slam Champion in EAW. MK and ADV feuded in the coming weeks, culminating in a rematch bout at Pain For Pride 3 for the Alternative X Championship which MK won, to become Grand Slam Champion which included reigns as World Heavyweight Champion, Interwire Champion, Interbrand Champion, World Tag Team Champion and finally the Alternative X.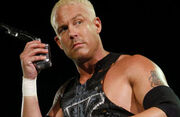 The Alternative X Division then turned on Mister K, with many extremists from the group feuding with MK such as Jon Kelton, George Copeland, Josh and more including Alexander Da Vinci. Dynasty General Manager, Kendra Shamez made the match for upcoming FPV, Midsummer Massacre, the Alternative X Division vs. Mister K in a huge handicap match for the Alternative X Championship. MK lost, being pinned by George Copeland. After getting their property, the Alternative X Championship back to where it belonged, the AX Division's feud with MK came to an end after Midsummer Massacre.
On an episode of Dynasty after MSM and heading into the next FPV, Territorial Invasion, Mister K came out for the return of his in-ring talk show, the Loudmouth Lounge, which featured special guest: himself. During MK's promo, he spotted longtime rival Latino Game in the crowd and stopped what he was doing. He headed toward the crowd and embarrassed Latino Game in front of his family, challenging him to another match at Territorial Invasion. The rivalry returned between them until then, where MK defeated Game just as he did many times throughout 2008. After this, Mister K didn't appear on Dynasty nearly as much before being absent from shows for two months before finally being moved to the Voltage brand.
As a member of Voltage, Mister K was viewed as one of the favorites to win the newly created Answers World Championship, the top prize for Voltage extremists. MK reportedly declined the chance to be the first world champion, out of storyline. There we apparently long-term storylines booked for Mister K and his future Voltage career, designed to take him back to the top of EAW, but friend and Voltage head writer, Robbie V retired from EAW on short notice at Pain For Pride 4. Robbie cut a shoot promo on his retirement in the ring after defeating the Rated R Shaman of Sexy for the World Heavyweight Championship after taking legitimate heat from company management for months. Management wasn't notified that Robbie would be announcing his retirement in the ring that night until it happened, and Mister K was put to blame for booking the segment and allowing it to happen without notifying company officials, which put a lot of heat on him as well. Robbie contacted Mister K a few days after the controversial Pain For Pride 4 event and asked him if he would like to co-create an e-federation with him, leaving EAW in the process. Mister K agreed, and his EAW career ended on July 23rd, 2011 after the Midsummer Massacre FPV, which would mark the beginning of the new e-federation co-founded by MK and Robbie V.
Xtreme Wrestling Federation (2008-2009)
Mister K joined the XWF at first under the name Booker J. As Booker J, he had a successful yet brief career. He became the XWF Hardcore Champion during a brief feud with Cole Smith. Later on in the rivalry, he dropped the title to Cole, and shortly thereafter, MK quit the XWF without ever revealing that he was the man behind Booker J until years later. MK was away from XWF until he was contacted by chairman; Regulator, who asked MK to re-join. MK agreed as he joined under the Mister K character and eventually became World Tag Team Champion with his partner Mak. Mak later turned on MK and B.est I.n L.eague (more popularly known as Bobby Cash) joined MK as his new tag partner to hold the titles. Not very long after, Mister K and B.I.L. broke up as a tag team and Jesse Baker joined MK to take B.I.L's place, making MK a 3 time XWF Tag Team Champion. MK and Jesse dropped the titles not long after they joined together as a team and MK was inactive for a few weeks before becoming XWF United States Champion, defeating Instant Game at XWF FPV: Xtreme Rulez. MK held the XWF United States Championship until losing it shortly before the closing of XWF, to Y2Impact.
World Hybrid Wrestling, New Gimmicks (2011)
World Hybrid Wrestling was founded and opened by Mister K and Robbie V on July 23rd, 2011. The two e-fed veterans would draw a lot of attention to the E-Federation due to the controversy that went along with its creation. The company caught the attention of e-fed veterans and major stars, Killswitch, Kevin Devastation, Extreme Enigma, The Heart Break Boy, Mr. DEDEDE, The Rated R Shaman of Sexy, Regulator and more. Most of the big names were signed to contracts, performing under different ring names and characters as per the request of WHW's Code of Honor, which states that e-wrestlers that have already became popular under a certain character are recommended to create a new character. WHW announced its debut show for Monday, August 1st, 2011 which will showcase Stigmata, formerly known as the Rated R Shaman of Sexy going up against AJ Reckless, known as Ashten Cross or TRE in a first round match of the WHW World Championship Tournament. The opening of WHW marked the birth of Mister K's new character, the Anarchist. The Anarchist is known to use a loose-cannon gimmick, often using swear words and speaking about taboo subjects along with making edgy comments in his promos. The Anarchist was booked in a battle royal for the WHW Hybrid Championship at WHW's debut show, which was won by Hammer. Anarchist went to the Fallout brand where he would be in contention for the WHW Territorial Championship, becoming the unofficial champion until General Manager, Carlos would demand he be stripped of the championship due to Anarchist's kayfabe slanderous claims against the Fallout brand and its roster. Despite Carlos' disapproval of the Anarchist, he was placed in yet another Territorial Championship match against 9 other men in a 10 man battle royal. He lost this match as well. Shortly after this event, WHW came to a close. Within WHW management, there were commitment problems, and Mister K is quoted as saying that he and others involved in running World Hybrid Wrestling "lost motivation and were unable to keep the federation afloat without our full attention and effort. Unfortunately for the company, some of us weren't able or weren't willing to give that attention and effort."
Legion of Extraordinary Wrestlers
Bane of LEGION (2011-2012)
In November of 2011, Mister K entered contract negotiations with Legion of Extraordinary Wrestlers, a company on the rise, quickly establishing itself as one of the top companies in e-wrestling. Robbie V and Jaywalker had already signed and pushed for MK to be brought in. MK signed on November 9th, 2011 and immediately entered a stable called the Bane of LEGION, formed by Robbie V and Jaywalker. Mister K made his official LEGION debut at the event Power and Respect V, where he interfered in Robbie's match against GI Styles, attacking GI with the ring bell, enabling Robbie to gain the victory. MK was booked to face Jacob Steele, an ally of GI Styles along with Lochy McKenzie in the rivalry between the Bane of LEGION and the LEGION roster, at the pay-per-view Code Red, but Steele announced his retirement from e-wrestling shortly before the event, causing him to get beat down and injured by the Bane of LEGION before Code Red to explain his absence. Damien Darkheart was replaced Steele, but was attacked by the returning Kevin Devastation at the PPV, causing KD to take Darkheart's place in the match. KD attacked MK with a steel chair, disqualifying himself from the match. It was announced on LEGION's website that Mister K would host his "infamous" talk show, the Loudmouth Lounge at Power & Respect VI, a major televised event. Mister K would be welcoming a mystery guest on the show. At the event, MK welcomed the returning Heart Break Boy to the ring, who had been attacked and injured months earlier by Jaywalker and Robbie V. MK introduce HBB as the newest member of the Bane of LEGION, offering him a chance to redeem himself in the eyes of the group by joining them. Despite the big welcome given to him, HBB turned down the chance to join the Bane and left MK in the ring, disappointed, essentially resuming the rivalry between the Heart Break Boy and the Bane of LEGION. On the February 9th, 2012 edition of LEGION Night, MK was scheduled to face HBB one on one following their confrontation at Power and Respect VI. However, after a scuffle between the Bane of LEGION, HBB, and the entire "Elite" stable (Lochy McKenzie, Butcher and Georgia Athens) along with GI Styles and Tony Rolland, the match did not happen as HBB laid out MK with a Superkick. On this edition of LEGION Night, it was announced that MK would team up with Robbie V, Jaywalker, manager, Killswitch, and a mystery partner to face off against HBB, Butcher, Lochy McKenzie, GI Styles and Tony Rolland at the upcoming PPV, Aces of Fury. A clause was later added to the match which stated that the man winning the deciding fall in the match would receive a LEGION World Championship match later on that night against the champion, Loa Kitiona. During the match, the Heart Break Boy would turn on his team and reveal his allegiance to  the Bane of LEGION by joining them mid-match. His actions contributed to a victory for the Bane, as Jaywalker claimed the deciding fall and went on to win the LEGION World Championship. After the PPV, MK would reignite a feud with Kevin Devastation and was brutally assaulted in the ring by him on an episode of LEGION Night. Jaywalker, Robbie V and Heart Break Boy would make the save, getting their revenge on KD and tending to MK in the ring. This would however mark the end of MK's LEGION career, as he would not make another appearance for the company.
Classic Wrestling Federation (2013)
MK signed with the reincarnated Classic Wrestling Federation on January 9th, 2013. At the company's first PPV since its rebirth, Elite 8, MK competed in an 8-Man Tag Team Match with three familiar faces from EAW. Mr. DEDEDE, Scott Diamond, and longtime partner, Robbie V. They took on the team of TR Rolland, The Bottomline, Lioncross and Evan Slambroze. DEDEDE picked up the win for the team after MK distracted Bottomline from the ring apron. After the PPV, MK would enter contention for the newly created Heritage Championship. He was entered into a tournament for the championship alongside many other competitors by Ringside General Manager, Nick Angel. During the tournament, MK picked up a victory against Zire on Ringside, but went onto lose in the Semi-Finals against Mr. DEDEDE in controversial fashion at the PPV, Rise To Glory. The referee counted to three despite MK's foot being on the bottom rope. MK would protest the ruling of the match, but the tournament went on and Robbie V defeated Mr. DEDEDE, Y2Impact and Christian Hale in the Finals to become the first ever Heritage Champion. However, CWF Owner, Donovan T saw things MK's way and offered him a match of his choosing on the next Ringside against Robbie V for the Heritage Championship. Often linked as teammates, this would be the first time MK and Robbie V are opponents in about 4 years. MK chose a Ladder Match, which was approved by Donovan. On Ringside, Robbie would retain his championship due to outside interference from Mr. DEDEDE and Christian Hale. MK would not wrestle again for CWF and is currently retired. 
In E-Wrestling
Finishing moves
M!K Check (Leg hook reverse STO)
Long Island Sound (Somersault Corkscrew Senton)
C2G – Cradle To The Grave (Burning Hammer or Fireman's carry transitioned into either a standing takeover or a powerslam)
Loud Mouth Slam (Kneeling Side Slam) – 2008
Bronx Bomber (Vertebreaker) – 2011
Signature Moves
50 To The Chest (Multiple heart punches to a cornered opponent)
Springboard Moonsault
Shooting Star Press
Shock Drop (Fireman's carry transitioned into a sitout powerbomb)
Delayed Brainbuster
Running Swinging Neckbreaker
Multiple DDT Variations
Dead Level (Spike Brainbuster)
Championships and accomplishments
World Hybrid Wrestling

WHW Co-Chairman – with Robbie V

Extreme Answers Wrestling

EAW Interwire Championship (1 time) – First, Longest championship reign in EAW history
EAW World Tag Team Championship (1 time) – with MaK
EAW World Heavyweight Championship (1 time)
EAW Interbrand Championship (1 time)
EAW Alternative X Championship (1 time)
EAW Triple Crown Championship
EAW Grand Slam Championship – First
EAW Hall of Fame (Inducted 2010)

Xtreme Wrestling Federation

XWF United States Championship (1 time)
XWF Hardcore Championship (1 time) – as Booker J
XWF Tag Team Championship (3 times) – with MaK (1), Best In League (1), Jesse Baker (1)

New-Age Wrestling Federation

NWF World Heavyweight Championship (1 time) – First

O.M.E.G.A.

OMEGA New Frontiers Championship (1 time)

Rated Xtreme Wrestling

RXW Tag Team Championship (1 time) – with WWEFan

Black Wall Street Wrestling

BWS Undisputed World Championship (1 time)

Extreme Online Wrestling
Community content is available under
CC-BY-SA
unless otherwise noted.