Obi-Wan Finale - The Loop
Play Sound
Mike Ragnal
Statistics
Real name
{{{realname}}}
Ring Names
{{{names}}}
Height
5'11
Weight
245 lbs.
Date of birth
March 5, 1987
Place of birth
Scranton, PA, USA
Date of death
{{{death_date}}}
Place of death
{{{death_place}}}
Resides
{{{resides}}}
Billed from
"The Electric City" of Scranton, PA
Trainer
{{{trainer}}}
Current
federation(s)
GWC
Previous
federation(s)
{{{previous_efeds}}}
Handled by
Win/Loss Record
{{{winloss_record}}}
Debut
2005
Retired
{{{retired}}}
Mike Ragnal is a professional e-fed wrestler. Currently he wrestles for Global Wrestling Coalition.
Beginnings
Mike started his training along with his siblings Joe and Linda when he was 16. In 2005, they would try out for the local promotion, Scranton Area Wrestling. Each of them were signed a contract, and immediately put into poorly thought out gimmicks, Mike's being the Mexican stereotype Scotty Dos. As time progressed, despite Mike winning the Coal Miner's Championship, the Ragnals would be fed up with their treatment and began to shoot on the promotion. Soon the promotion would be bought out by "Big Chuck" Charles Harris, and took note of the Ragnals' performance and they began to take off as themselves, with Mike winning the SAW Tag Team Championships with Joe, and their version of the World Heavyweight Championship. However, it would not be long before they would long for the bigger spotlight.
Ultramix Wrestling Alliance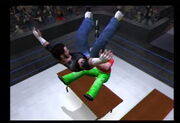 Mike was soon signed by Alan Solivan's UWA promotion. Unfortunately, he was the only one of the Ragnals, as he could only afford room for thirty in the promotion at the time. Mike's first match was against "Wildfox" Erik Carbonneau, which he lost. A matter of months later, at the promotion's Crime and Punishment PPV, Mike would defeat Erik for the UWA Hardcore Championship, evening out the score. The following week, Mike would face Erik one last time, but not before The Russian (The very one of Punisher fame) took out both men to the point they couldn't continue the match. At the next PPV, Revolution, Erik and Ragnal took on the Russian in a Hardcore Handicap match, in which if Mike was pinned, he would lose the Hardcore title. And so he did, sadly.
Three weeks later, he would have a match against Magdalena for contendership towards the Hardcore title. Russian would interfere and cause a double DQ, but Solivan wouldn't have any of it, and scheduled a Triple Threat Hardcore title match at No Remorse. Magdalena would end up making the pinfall and winning the belt, but Mike was not finished yet. He had one last chance the following week, losing in fashion to a Godmoding through a table.
Currently, Mike is teamed up with Erik Carbonneau, and they are in the race for the UWA World Tag Team championships.
Extreme Wrestlecrap Threaderation
Year One
In the summer of 2005, Mike Ragnal debuted in EWT, promoting himself as the UWA Hardcore champion (He never carried the belt around with him, however.) In his first month, he would form a small tag team recognized as the Hardcore Revolution with Barbwire Harry. The team would soon dissolve after Harry suggested they sit at ringside until they were offered a shot at the tag team championships, and thrown immediately into a Last Man Standing match, which Mike won.
Following the match, GM Toom E. Dangerously immediately met with Mike and told him that at the Chained Up PPV, he would be facing Tri-State Champion Billy "The Virgin" Ubermark in a Dog Collar match. Though Mike was unable to make the pinfall and lost the match, he had officially cemented his name into EWT's history.
The following night, Mike would introduce his siblings to the EWT crowds, and immediately the family was named "The First Family of EWT". The following PPV, "Saved By the Bell: The College Years", he was supposed to take part in and I Quit match. However, his opponent never showed up, and the match never occurred. Instead, Mike was attacked by a masked man, who would reveal himself to be former EWT World Heavyweight Champion, psychoapeguy. A month later at No Rest for the Wicked, Mike would become victorious against ape in a Body Bag match, which featured Joe Ragnal as the special guest referee.
The next two months flew by for Mike, as he took a short break while his siblings took more time to establish themselves. When Mike returned at We Couldn't Be Arsed For A Name, he and Joe would claim their first piece of EWT gold in the Tag Team Championships by defeating the "Heartbreak Hitman" Bret Michaels & Limey in a Ladder match. This reign would continue until March 5, 2006 when they lost to Mr. Big and Curly Long (aka Midget King & Co.). Ironically, this loss occurred on the twins' brithday. Currently, the reign is the longest Tag Championship reign in EWT (Nov 1, 2005-March 5, 2006).
The Ragnals would regain the belts two weeks later in the EWT exclusive FUN House match (Similar to Raven's Clockwork Orange House of Fun match). This run would not last as long as their first, losing to the team of Ultimo Chocula & Billy Ubermark (aka Handsome Boys Modeling School) at Full House less than a month later.
The team would split on good terms, with Mike looking to once again take on Bret Michaels for the EWT Tri-State Championship.
The Car Crash
On May 15, 2006, Joe and Linda were looking to take a two month break from the ring, while Mike wished to put more effort towards his character in KPW (see below). Unfortunately, since they were all involved in long-term storylines, they had to fake an injury to explain their sudden absences. They, along with fellow wrestlers Trish Stratus (then Ms. White in EWT), Tanya Flaire, and Chrysta, were told to stay at home until it became time to return.
The event was a "car crash", in which all six would be run off the road by a drunk driver. While the event never actually occurred, the Ragnals were sent many get well gifts, including some from major IWC fans.
The Return
The Ragnals would make their comeback at the Saturday Night Special on July 16, 2006. Mike especially would take place in a #1 contender's match against Virus for the Tri-State title, with Bret Michaels as the special guest referee. Mike would win the match, with Bret kicking Mike with Sweet Chin Muzak shortly afterwards. The next month at Crapamania 3, Mike would finally be victorious over Bret and obtain the Tri-State championship.
Mike's first run would be short lived, however, as the feud against Bret would continue. The Thursday following CAM3, Mike defeated Bret in a TLC match for the title. The following week, Mike lost the belt in a tag team hardcore match against Bret and Ratings. With a rematch clause in mind, Mike would challenge and regain the belt in a Hell in a Cell match at The Skies the Limit.
The same night, Joe Ragnal lost his match against Ratings, and would suffer a beatdown from the Elite members. Mike would come out to save his brother, but it was too little too late, as Joe would not take Mike's help afterwards. The beef Joe had would culminate in a Sixty Minute Iron Man FUN House match at Symphony of Destruction. Despite it being Joe's last match ever, Mike would gain the pinfall, retaining his championship, while saying farewell to his siblings.
Arringhe Rosse/Oceanic
Following the match, Mike found out he would be facing newcomer Arringhe Rosse for the title in his debut match. When it came time to face off, Arringhe brought nothing to the ring but a flashy entrance. Mike would squash him not once, but twice in a matter of a week. After the second match, Arringhe would speak gibberish until finally, former EWT Girl Next Door champion Oceanic stormed the ring and took Arringhe out, immediately challenging for a match. Mike was quick to accept the challenge, but not before the authority figures kept the two apart, afraid of a woman participating in a man's match.
After the new year, Mike would take on Oceanic for the belt. The match would end in disqualification when Oceanic sprayed blue mist into Mike's eyes. Weeks later at the Royal Pain in the Ass Rumble, Mike and Oceanic qould meet again in the Rumble match, which was notable for Oceanic making Mike submit to These Arms Are Snakes. On March 4, the two finally faced off in the climax of their feud in EWT's first ever Pure Wrestling Rules match for the Tri-State title. Mike would unfortunately lose after Oceanic hit the Superfly Splash. Mike would grab the rope, but since he used up his three ropebreaks, the ref couldn't break the count, and Oceanic was the winner and new Tri-State Champion.
"Elementalcidal"
Immediately following the match, Mike would thank the crowd for the ovation he was receiving, but soon turned on them, believing they never "truly appreciated him". Mike also promised that he would be a new man from that point on.
Later in the night, during the Gauntlet match for the Ox Division Championship, Mike came out as "Insecticidal" Andy Duke was wrestling Daryl Dragon. While "Sinnercidal" Johnathan Doe distracted the ref. Mike would hit the Ragnalrok on Daryl, and flip off the crowd before Duke picked up the win. Although neither Doe nor Duke won the Ox Championship, it was made clear that Mike Ragnal had now teamed with the Cidal Squad.
On March 5, the Cidal Squad introduced a new, darker Mike Ragnal to the EWT audience, as Mike addressed himself as "Elementalcidal", and the Squad's mentor. They also promised they would make an example of one of the EWT's wrestlers.
On March 25, Mike Ragnal defeated Merc at EWT's Dead Man Walking, finally winning the World Heavyweight Championship he has longed for. On the following match card, Mike would wrestle Joe One, leader of the Ministry of Peace, for the title, as was promised should Mike win the title. Before either man could win the match, Mike Corral interfered and took out both men (Joe had destroyed Corral's pregnant wife at DMW, Ragnal making a joke of the situation the next day). On May 6, Mike Ragnal defeated Joe One and Mike Corral in the first ever "Remember the Name" Tables match to retain his EWT World title, after he and Corral put Joe One through both of their tables, Joe's foot going through Ragnal's table first.
After Oceanic won control of the company for thirty days, she announced that Maelstrom would be the next contender for Ragnal's World title. A brutal match was fought, but Maelstrom allowed a ringside Ratings to distract him long enough for Ragnal to get the victory, and retainment of his title.
Shortly afterwards Mike announced the Pick My Poison match, which is similar in style to the WWE's Cyber Tuesday. Fans voted for either Mike Corral, Joe One, or Dave Davies as the next number one contender, and the results were shown at the Old School PPV. Joe One won the votes with 45%, and he and Ragnal had a good match, until Joe hit his 101 (450 degree spinning Alley-oop) on the outside. Ragnal then tried to crawl back into the ring, but was unable to as Chris Indigo held onto his leg. As per the old school rules of the PPV, the title changed hands, and Joe One was the new World Heavyweight Champion.
The End?
On August 15, 2007, Mike Ragnal announced that at The Skies The Limit II, he will wrestle his final match with EWT. Prior to the match, however, Mike announced he was leaving the Cidal Squad and returning to his original ideal as Master of Elemental Disaster. A month later, he lost to Spyke Johannson cleanly, and rewarded the Swedish Dancemaster with a congratulatory handshake.
Kapoutland Pro Wrestling
Moe Damus
In March 2005, Mike was planning out a contract with KPW. Unfortunately, at the time, another EWT wrestler, then Tri-State Champion Merc, was making controversy by claiming that KPW was inferior in comparison. Feeling that if he came in as himself, people who recognized him from EWT would think he was invading. Mike and KPW owner Psycho James agreed to create a temporary character, the druggy known as Moe Damus.
"Moe" would debut at Monday Night Mope, winning his match against D2. Around the same time, another newcomer, Sinister1, was jealous of Moe's immediate popularity. They would face off at Insanity, but the match would end on double count-out.
Revealed
At the Brawl for it All PPV, Mike revealed himself after a match against X-Factor, saying that he was there to wrestle, not to invade. The next month at Dead End would be a Hardcore match to finally settle the rivalry with Sinister1. Unfortunately, Sinister's then parter Merc interfered in the match, allowing Sinister1 go obtain the victory. Later in the night, after Merc won the Euro-Continental championship from Skitzo, Mike would make payback and attack them both.
Mike and Skitzo were supposed to team up at Blood Debt against Sinister1 and Merc, but unfortunately, as punishment for Merc's ego, the match was cancelled, and the story was changed to Merc vs. Skitzo for the EC title. Upset with how things changed, Mike decided to take matters into his own hands. After the main event, in which KPW's First Lady, Mizzle, won the KPW World Heavyweight Championship, Mike made a challenge for the belt. Unfortunately, at Double or Nothing, Mike would come up short as Mizzle grabbed a handful of tights and won the match.
Road to National Nightmare
Instead of an immediate rematch, then owner Keith Tundra (who took over in between James' time off), decided Mike needed to earn the opportunity. At Helloween, Mike would defeat Homefield Security in a Handicap match to qualify for the Road to Glory later on. Unfortunately, Mizzle would hire the Heart Throbs (The very same from WWE) to eliminate him at the very end. While Mike came in second, he would still be given an contendership for the Euro-Continental title. Mike decided, however, to trade that in for one last shot at the KPW World title. Tundra agreed to this, and booked a Gauntlet match for Hungry For Blood, which if Mike won, he would face Mizzle at KPW's one year anniversary show, National Nightmare. Mike went through four competitors in Chris Matthews, The Heart Throbs, and Skitzo, and finally earned the rematch he deserved after five and a half months, defeating Mizzle for the KPW World Heavyweight Championship.
Unholy War
Recently, Mike was one of five wrestlers recognized as KPW's Elite, and would take on the Unholy Soldiers at Revolution. Mike was the last remaining member of his team, but in the end would fall victim to D2's barbwire croquet mallet, effectively giving the Soldiers the victory. After beling bloodied up through the match, Psycho James granted Mike vacation time, which he has put towards visiting his family back home. After a few weeks off, Mike Ragnal has returned, ready to take on all comers.
On April 15, Mike Ragnal faced his first KPW rival, Sinister1, for the World title at Awakening, which Mike won by knock out (Sinister1 fell unconscious). Afterwards, the Unholy Soldiers would encounter him, and their leader D2 would surround Mike in a ring of fire. Ragnal took this as a sign of the future.
In the weeks leading up to Unholy War, Ragnal was chosen once more as part of KPW's Elite. Caught up in the feud with the Unholy Soldiers, he ans James would be the soul survivors of the team in the twenty man, four team, three ring cage match. Mike would end up in several sick spots, including one where he was handcuffed to the cage. Smarky would help free him from the cage, but it would help little, as Psycho James would lose the ownership of the company to D2.
At the first Kaos tournament after the Soldiers gained control of the promotion, Mike Ragnal was paired up in the first round against former World Champion, Mizzle. He was able to pin her and advance into the second round, which included a stipulation of some kind. He wrestled Joey Explicit in a Pole on a Pole match (considered by KPW announcer to be a "Russo wetdream"), where the objective was to grab a pole atop of an X-like structure, and beat your opponent with it. Mike was successful in this as well, and advanced into the finals, which was an Elimination Chamber match taking place inside of The FUN House Match. Though Skitzo had eliminated everyone else in the match (including Sinister1 and new friends Smarky and his girlfriend Sasha Pehl), Ragnal eliminated both members of the Unholy Soldiers, supposedly retaining his World title. D2 came to the ring and congratulated Ragnal, but also challenged him to a title match due to a stipulation of a match he won almost a year earlier. In a short amount of time, Mike Ragnal had become a former KPW World Champion.
The Dark Element
On the second Ignition after the Kaos Tournament, the newly invented Chrysta (who took over the body of Sasha Pehl a week earlier) had announced that, much like the continuity of EWT, she was a lost sibling of Mike. He would answer her by calling her beliefs untrue, but also gave a message that he was going to become a new Ragnal by the end of the night. After a match between Smarky and new Euro-Continental Champion Merc, Chrysta attacked Smarky, which prompted Mike to come out and help his friend. As he berated the Ice Queen, however, Ragnal, the former face of KPW, hit Smarky with the Ragnalrok, and embraced his cold "sister" as best he could, accepting her as a Ragnal.
The following week, Ragnal had changed his nickname from Master of the Elemental Disaster to The Dark Element, and explained his past relationship with Chrysta to the KPW audience, until he was interrupted by Smarky. The two then had a match at the Dead End PPV, in which Ragnal won with help of a distraction by Chrysta, wearing half of a necklace given to Sasha by Smarky.
In May 2008, Mike asked for his release from KPW.
Wrestling Championship Federation
Making A Name
In January 2007, Mike Ragnal signed with WCF, along with girlfriend Sasha Pehl acting as his manager, making an immediate impact by winning a Triple Threat match against Kencedro and Jason Briggs. Since then, Briggs has looked to show Mike that he was the better wrestler, despite Kencedro being pinned. Over the course of the next three weeks, Mike and Briggs were involved in several matches, from a Hardcore Open Challenge set up by then WCF Hardcore Champion Skyler Striker, to being tag partners in a match for the tag team titles against the Alliance of Violence (Which Mike failed to cooperate in), until at the Till Death Do Us Part PPV, Mike would finally pin Briggs, proving that he was the better man.
The following week, Mike was one of six men to wreslte in what was billed as a War Preview Match. He would be close to obtaining the victory after hitting the Ragnalrok to Creeping Death, but JJ Biggs would take Mike off for the pinfall, gaining it instead. Afterwards, Mike and Biggs had a shoving contest, until Mike left the ring. One week later, Mike would wrestle Biggs for his Television title, but JJ would get the better of him, keeping his title.
On March 18, Mike was one of twenty-two men on the WCF roster competing in the War match for #1 contendership towards the WCF World Championship. Unfortunately, he was eliminated after an attempted Ragnalrok to Creeping Death, hit by Skyler Striker and his Skyler High Dive.
After losing a match to the debuting Jimpy the following Sunday Slam, Mike called out Logan, and as approved by Seth Lerch, Mike Ragnal would face Logan at the Blast! PPV on April 8. After putting on a classic match, Mike lost to Logan after taking a Connector. Afterwards, however, he could hear the crowd chanting his name, feeling as though he had accomplished his feat of making his name in WCF.
Bobby Cairo
On April 15, Mike defeated Johnny Craven in a tournament match to declare a new WCF Television Champion. The following week, he came up short against Bobby Cairo, but was able to defeat Jay Williams and Biohazard the following week at Payback.
The following Slam, as if history would repeat itself, new Television Champion Bobby Cairo pulled Ragnal off of Thunder during a Fata Fourway also including Hardcore Champion Danny Vice. This followed a backstage encounter with Cairo, where he made a pass at Ragnal's girlfriend, Sasha Pehl. At Timebomb, Mike came up short once more, failing to capture gold as Cairo grabbed the tights to help him retain his title. After the match, WCF World Champion Skyler Striker came out and took down his opponent at Explosion, and then united with Ragnal, completing the Index Three (which includes Vice).
Mike wrestled Thunder at Explosion for #1 contendership for the Television title, eventually winning the match, and what may possibly be his last chance at WCF singles gold. He would wrestle Cairo for the title on the first Slam after Explosion, with the added stipulation being that if Ragnal won the match, Cairo would let Jade Striker go back to her father, but if Cairo won, he would also get Mike's girlfriend, Sasha Pehl. In the long run, with the help of Sasha and Index Three, Mike finally won his first championship gold in WCF, and immediately proposed to Sasha for her hand in marriage, which she accepted.
Unfortunately, before they could hold a wedding, or Ragnal could take on Dave Holland for the TV title at Aftermath, WCF closed down. Mike is at least happy to be the last Television Champion of v.6.
Ring of Stuff
Mike debuted for ROS at Stuff Way Out, to a gigantic crowd reaction. Mike said he was there to wrestle, and help Ring of Stuff make a name for itself. On April 15, in his first match with ROS at their Stuffmania PPV, Mike won the No Limits Pure Championship in a Ladder match including Dark Knight, Mik, and then champion Bobby Blaze.
The following week, Dark Knight and Mik both challenged Mike for the title. The three would go into a Round Robin tournament, to determine who would wrestle for the belt at Stuffdown.
Round one-Mik def. Dark Knight via pinfall
Round two-Mik def. Mike via pinfall
Round three-Mike def. Dark Knight via pinfall
This would lead to Mik vs. Mike for the No Limits Pure title at Stuffdown, which Mik would win after Mike passed out after a Boston Crab.
Mike decided not to continue on with ROS, a week prior to its closing down.
GWC
Unification
After months with no competition, Mike has signed with Global Wrestling Coalition as a wrestler. This is the same promotion his brother Joe Ragnal competed for until GWC Alpha, where controversy was made around his leaving. Ironically, his first opponent was none other than Joe's last, Kevin Hardaway. It was a hard fought battle, but Mike would come out the loser, having been finished by Kevin Hardaway's Asylum Bomb, an ironic twist given it's similar to his own Ragnalrok. Mike would say that it only showed just how great the competition in GWC was, and that he was not a quitter.
At GWC Kingdom Come, Mike would take part in a Fan Favorites TLC match against Doc Henry and Johnny Reb. Though Mike was the winner, each man was awarded something by Danny Vice, Ragnal being given a title of his choice by the end of the night. Having planned this for almost a week, he announced at Vindication he planned to unify his WCF Television Championship with the GWC Television Championship that was also won by his brother. Mike fought Virus one month later at Vindication, and defeated Virus, unifying the belts. Before he could celebrate, Kram took him out afterwards, only for Kram to be taken down by Virus, who would place the titles on Mike as he laid on the mat.
The following week on Aftershock, Mike faced Kram for the title, but the match ended in DQ after Virus interfered and took out Kram. Danny Vice would come out and announce that at Viva La GWC, the TV title match would be a triple threat between the three. At Viva La GWC, Mike retained the title.
Sibling Reunion
The following week, Mike and Joe teamed up to face Ebony & Ivory for contendership for the tag team titles. They lost, but they would win a nontitle match two weeks later against then champs Motor City Mafia. They would defeat the champions once again, along with Dead End, at Tribulation '08 as they teamed with the Striker Brothers.
Trivia
Ragnal had a short stint at both Fans Wrestling Organization and Nirvana Wrestling Federation. Mike left fWo before it shut down, but stayed with NWF until it closed briefly after arriving. Although he did win the Hardcore title at NWF, Mike does not recognize this victory, as he never defended after winning.
Mike is also on the announce team for Wrestling Honored Over All, alongside his wife, Sasha Pehl.
Title History
EWT World Heavyweight Champion (held once)
EWT Tri-State Champion (held twice)
EWT Tag Team Champion (held twice w/Joe Ragnal)
UWA Hardcore Champion (held once)
KPW World Heavyweight Champion (held once)
ROS No Limits Pure Champion (held once)
WCF Television Championship (last champion)
GWC Television Championship (held once, current)
In Wrestling
Finishing and signature moves
Ragnalrok(Towerhacker Bomb)
High Voltage(Swanton Bomb)
Shock to the System (Three quarter Nelson)
Snap Spinebuster
hurracanrana
Step-up enziguri
Gut wrench DDT
Gut wrench suplex
senton splash
dropsault
Lionsault
spinning toe hold
Tiger bomb
"High Voltage" by Linkin Park (SAW, UWA, EWT (face), KPW)
"High Voltage (Footsoldier Remix)" by Linkin Park (WCF, EWT (heel))
"We Are All On Drugs" by Weezer (As Moe Damus, KPW)
Scotty Dos (SAW)
Master of Elemental Disaster (Basically everywhere he goes)
Elementalcidal (EWT, as part of the Cidal Squad)