Miguel Sanchez
Statistics
Real Name
David Miguel Holliday Sanchez
Ring Name(s)
Miguel Sanchez
Nicknames
Your Mexican Idol
-
The Object of Envy
-
The Icon
-
The Sinner
Height
6 ft 2 in
Weight
232 lbs
Born
August 18, 1980
Hometown
Queens, New York
Billed From
The City of Angels
Debut
July 2005

Miguel Sanchez is Hispanic/American professional wrestler. He is well known for living his in ring "Sinner" persona outside of the ring as well as being known for his extremely unpredictable behavior and his temper. He is currently working with Danny "The Vagrant" Vice's Global Wrestling Coalition.
Wrestling Figs Wrestling Federation
Miguel Sanchez had a couple of stints in the world known, WFWF. He started out in July 2005 and stayed there for about a month. While he only participated in only 2 matches, he still vowed to return one day. He did return to the WFWF in February 2006. He then took on an impressive 5 and 2 record while overthere. He then left the promotion in April 2006.
Halocaust Wrestling Federation
When Miguel Sanchez left the WFWF in April, fellow wrestlers from the WFWF, by the names of Reverend Shadow and Cecil Caster had invited him to participate in their new indy permotion. The HWF or Halocaust Wrestling Federation. While there, Sanchez wasn't too successful owing a not so good 1 and 3 record. The promotion later merged with the TWE later that month.
Total Warstruck Entertainment
When the HWF merged with the TWE, friends Immune, Justin Tyme and Jaysin signed Miguel Sanchez to an exclusive contract. Even though the company lasted from Late April to June, Miguel was the only wrestler to go 4 and 0 there. He was the only undefeated wrestler on the roster. The company slowly decayed and Miguel was left without work.
World Wide Championship Wrestling Federation
Daven Rierra, Owner of the WWCWF was very impressed with Miguel Sanchez's work in the TWE. He then granted Miguel a contract to work with the WWCWF in June 2006. Miguel worked about one match and held that victory over long time nemesis, Shane O'Riley, but personal problems set him aside in the world of professional wrestling. Miguel then left the promotion later that month.
WFWF: The Kyzer/Drakz Era
Johnny Michaels and Ray Smith who were the owners of the WFWF split from the company and left it for Trent Draven and The man of the Hour, Josh. That didn't last too long, so new owners came along. Drakz and Michael Kyzer took over and turned the WFWF around. They brought back some old talent. When they did, in came Miguel Sanchez. They brought him back in July 2006 to work as a tag team wrestler. Miguel wasn't very pleased at this and no showed may events, most notably the pay per view, "Scars and Stripes". Miguel eventually got his way and started working out as a singles competitor again.
Pure Wrestling Alliance
In late August 2006, Miguel Sanchez and friends, Thunder and Justin Tyme opened up the Pure Wrestling Alliance. The company quickly became a cult favorite among the fans. The PWA runs a weekly show called, "Friday Night Assault". Miguel was responsible for the public fireing of Shane O' Riley who was misbehaving backstage. When he publicly announced the fireing, Thunder came out and objected to it causing the two owners to feud.
Sanchez Vs. Thunder
Thunder and Miguel Sanchez then continued to feud into early October. They then decided that the winner of their cage match on the first ever PWA pay per view titled, "Redemption", would have to give up their stock in the company leaving only two owners left. Sanchez lost that match. The following week at Friday Night Assault, he appeared on the segment, Kurt Burton's "Metal Mayhem". Thunder came out and publicly fired the beloved PWA owner. Sanchez was hearbroken and angerd. Kurt Burton was lauging histerical in the ring and poking fun at Sanchez. Sanchez went to attack Burton. He threw a hard right hand to Burton's face. Burton came back and hit Sanchez in the back of the head with a lead pipe, knocking him out cold.
WFWF: Higher Authority Era
Miguel Sanchez would stay in the WFWF even with the departure of Michael Kyzer and Drakz. The company was then taken over by CBT and Reverend Shadow "The Higher Authority". Miguel would debut his new "sinner" gimmick now after losing his first ever main event match at the first ever Felo-de-se show. He grew into a stage of depression. He would drink and do drugs. Knowing that if Reverend Shadow found out about this, he would get fired. His only option was to follow the footsteps of Reverend Shadow and beg him to salvage Miguel and ultimately cleanse him of his sins. Sanchez would then go on to be in the 8 man tournament to crown a new WFWF World Heavyweight Champion. He defeated Yukio Blaze in the first round of the tournament. His next opponent is Obo. The two faced on the January 21st edition of Felo De Se. Sanchez lost the match and was out of the tournament, but was granted a spot in the International Championship, Triple Threat match at WFWF Ascension to take place on February 28th against International Champion, Wayne McGurk and Yukio Blaze.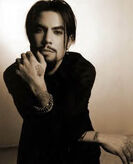 Global Wrestling Coalition
Miguel Sanchez received a phone call in mid January 2007 by an old friend, Danny Vice. He had informed Miguel that his best friend, Adrian Stone (who had been taking part in the GWC world title tournament) had been taken out by a man hated amongst many, "The King" Eric Kennedy. Sanchez grew angry at hearing this. Since the weekly show "Wednesday Night Assault" had taken place in Los Angeles California (not far from Miguel's home), Vice invited Sanchez to the show. Danny Vice came out at the end of the show to address the crowed of what had happened to Adrian Stone. He announced that Adrian was still awaiting x-rays and could possibly have a shattered ankle. Eric Kennedy came out and exchanged words with Vice. All of a sudden the lights dimmed and Miguel Sanchez appeared on the stage, shocking the wrestling world. Later it was confirmed that he would take Adrian Stone's place in the GWC World Title Tournament. On the January 24th edition of "Wednesday Night Assault", Sanchez would face Eric Kennedy in a match to see who would advance in the semifinals of the GWC World Heavyweight Championship tournament. On the January 24th edition of "Wednesday Night Assault", Sanchez would go on to defeat Eric Kennedy in his debut match and advance to the Semi-Finals of the GWC World Title Tournament along with Skyler Striker, Thunder and BA Monk. Sanchez then defeated is long time rival, Thunder to advance to the finals of the tournament. Miguel defeated BA Monk in the tournament finals at GWC Alpha to become the first ever GWC World Heavyweight Champion.
GWC: The Sanchez Era
Miguel Sanchez was drafed to Danny Vice's Assault brand after Alpha instead of being drafted to Drake Kencedro's Mayhem. Miguel went on to defeat United States Champion, David Alastair in a non title bout later that night. Miguel Sanchez then decided to take a personal leave on the company after loosing his World Championship to Thunder at the next pay per view. Where he may be is still unknown. Nobody knows when or if he will ever come back to the GWC or even the WFWF.
Return to Wrestling
After an 8 month absence from the ring, Miguel Sanchez finally returned at the October 10th edition of GWC's Wednesday Night Assault, attacking his old nemesis, Thunder while he was attacking his nemesis, T Money. This set up a Triple Threat match at GWC Dire Straits between all three men.
External links
Facts
Miguel Sanchez is the First ever GWC World Heavyweight Champion
Miguel Sanchez had a short appearance at WFWF's distance in a new breed battle royal. He was eliminated not long after entering.
Miguel Sanchez was the only undefeated wrestler in the HWF sporting a 5 and 0 record
Moves
Finishers:
The Sinner Fly - Swanton Bomb
The Great Rebirth - Double Underhook Piledriver
Other Moves:
Running Enziguri
Running Front Dropkick
Head Scissors Takedown
Tiger Driver
Shining Wizard
German Suplex
Double Underhook Backbreaker
Fisherman Suplex
Texas Cloverleaf
Fist Drop
Figure 4
Leg Drop
Cradle Suplex
Cobra Clutch
Snap Suplex
Current Theme Music:
Disposable Teens - Marilyn Manson (WFWF)
Land Of Confusion - Disturbed (Indy)
Leave you far Behind - Lunatic Calm (GWC)
Titles Held