This article or section is about a championship title, character, event, or contains information about a company, and/or the outcome of current status, that is either under development or construction and yet to be released to the general public. It may contain spoilers and features that are mentioned here may be radically different in the finished product, or excluded altogether.
Matthew Dewitt Andrews II (born September 2nd, 1992), is a English professional wrester, singer, songwriter, actor, musician, and film director who holds both American and United Kingdom citizenship. He is currently signed to All Pro Wrestling Elite, where he performs on the Smackdown brand under his ring name Matthew D. Andrews or simply M. Andrews, as the prominent leader of the stable known as ANXieTy.
Aside from wrestling, Andrews is also a tattoo artist, and owned a tattoo polar known as d. He is the lead singer and frontman Dead President, with whom he tours and has released three studio albums and four extended plays. His distinctive personality and Dead President's music influenced a generation of musicians and performers who have come after them. Andrews is best known for his controversial live performances, which often featured, and assaulting audience members, for which Andrews was arrested and imprisoned on multiple occasions. His lyrics were criticized by American politicians and were examined in congressional hearings, and met with mostly negative reviews from critics. Several U.S. states enacted legislation specifically banning him and the group from performing in state-operated venues although he maintained a cult following throughout his career. Andrews has been named one of the greatest singers of all time by various media outlets, including Rolling Stone and NME. In 2018, Andrews, along with his brother, co-wrote an autobiographical book of memoirs titled Behind The Darkness: The Life and Legacy of Matthew D. Andrews. Their book was a New York Times Best Seller.
Early life
Matthew Dewitt Andrews II was born on September 2nd, 1992 in London, England to Matthew Dewitt Andrews I and Samantha.
In October 1994, the family moved to Doylestown, Ohio. When Samantha gave birth in December, Andrews was allowed to choose the name of his new baby brother; he chose the name David. The same year, Andrews I earned his degree and started work as an analytical chemist in nearby Akron, Ohio.
Professional wrestling career
Early career (2012 -2014)
A native of London, Andrews was a wrestling fan from the age of five and decided that he wanted to become a wrestler at the age of eighteen. After amassing a series of athletic qualifications including football and amateur wrestling, he was offered a scholarship to the g, which he rejected, preferring to pursue "fast money". Andrews trained himself as a wrestler in a boxing gym, debuting on November 13th, 2012. After wrestling for two years without any formal training, Andrews attended a professional wrestling school World Association of Wrestling in Norwich, Norfolk operated by Ricky Knight and Sweet Saraya. In late 2016, he wrestled for the Game Changer Wrestling (GCW) promotion.
He held numerous championships, among other accolades, he is a former wXw Unified World Heavyweight Champion, wXw World Light Heavyweight Champion, wXw World Tag Team Champion, ICW Tag Team Champion, and Progress Tag Team Champion.
Professional wrestling persona
Andrews adopted his real-life following of the straight edge movement as a major attribute of his professional wrestling character. His character utilizes different elements of Andrews's personality and beliefs of the straight edge movement dependent on his alignment. As a face, Andrew's character tends to be that of Andrew's normal personality, largely indifferent to others who drink alcohol, smoke tobacco, partake in recreational drug use or have promiscuous sexual behavior, but emphasizing the social discipline involved with personally abstaining from these behaviors. Conversely, his villainous personality tends to be that of one who is hardline or militant straight edge, exemplifying the elitist attitudes and superiority complexes – defined by Andrews's common mantra during villainous-themed promos that because he is straight edge, he is "better than you." Andrews performs the straight edge symbol of crossing his arms in an X formation while having the letter X written on the back of his hands, usually drawn on his wrist tape. During his GCW career, Andrews also incorporated a belligerently anti-establishment and anti-corporate attitude into his persona.
•
•
• His current ring name M. Andrews is derived from the lead frontman and lead vocalist of Avenged Sevenfold, M. Shadows, and the British guitarist Bob Andrews of band Generation X.
Other media
Acting and appearances
..
Writing
Personal life
Like his wrestling persona, Andrews considers himself straight edge, as he abstains from alcohol, tobacco, and drug consumption. He has a younger brother. He is an atheist. In a interview, he said that he does not believe in an afterlife and opposed to religion, though he noted that "it doesn't mean [he hates] religious people or [against] opposed to them ". He had been outspoken about his religious beliefs in his music and interviews. He considers himself a solitary person, and maintains few deep relationships outside of his professional ones. He has also called himself a minimalist, revealing that he drove to PWE's training center in his rundown car with only a bag of clothes and the money in his pocket upon accepting their contract offer. One of his closest personal friends is retired professional wrestler and musician Ian Pandey, with whom he has been since they met as teenagers. The two grew up together in their native home of England and went to the same high school and wrestling training academy. They speak to each other every week by phone, usually on Sundays.
Relationships and family
He married fellow wrestler Aoife Gallagher, also known as Souxise Laveaux, on October 31st, 2020. The couple resides in Portland, Oregon. In December 2020, Andrews announced that Gallagher was pregnant with his and Gallagher's first child. Their son, Matthew Dewitt Andrews III, was born on March 11th, 2021.
Sexual Orientation
Andrews identifies as bisexual. Andrews experienced feelings of bisexuality from a young age, citing them as his "earliest memories". In high school, Andrews first discovered he was bisexual; he did not tell his parents and friends. In his late teens, he had a brief relationship with another teenage boy, although they never had intercourse.
The Advocate said in May 2021, "Closeted throughout his life, Andrews, who was bisexual, engaged in secret affairs with men but referred to a woman he loved in his life, Souxise Laveaux, as 'the love of his life,' according to the biography Behind The Darkness: The Life and Legacy of Matthew D. Andrews."
Andrew's first homosexual experience with a man was in early 2016 at a hotel in London, England, after a show Dead President had done with Mountain.
Citizenship
In addition to his native British heritage, he is fluent in English, French, and German. Andrews is a dual citizen of the United Kingdom and the United States. A British national since his birth, he has resided in Germany on the west side of the city since 2018, but did not acquire German citizenship until he had obtained legal German citizenship in 2020. He said in 2020, "I do consider myself British. I have very strong feelings about my British heritage. My first years were there, I went to school there, and I have seemingly endless family on that side of the pond. So I've always felt most comfortable in England."
Influences
Andrews cites CM Punk and Sting along with mentors Corey Graves, The Sandman, and William Regal as his major influences.
Murder of Austin Walker
In December 2009, Andrews and his friend Austin Walker were the victims of armed robbery and shooting when they were assaulted by robbers outside their shared home in London, England. Walker died after being shot in the head, but Andrews escaped. The murder remains unsolved.
Other media
Mental illness and legal issues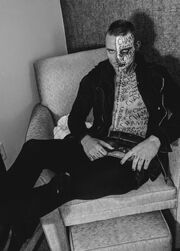 Throughout most of his life, Andrews suffers from mental illness and intense physical pain due to an undiagnosed chronic stomach condition. According to Media Coverage, Andrews had bipolar disorder. His cousin brought attention to the family history of mental illness, noting that two of her uncles had died by suicide with guns.
Andrews underwent multiple psychiatric examinations with different psychiatrists; Dorothy Otnow Lewis, a professor of psychiatry at the New York University School of Medicine and an authority on violent behavior. Lewis reported initially made a complete diagnosis of Andrews with antisocial personality disorder and bipolar disorder, and has taken medication for it since he was sixteen. Lewis describes Andrews as a 'made' psychopath as opposed to a 'born' psychopath. She says that Andrews's personality disorder contributed to his indifference to the suffering of his parents. Lewis also stated that Andrews was knocked unconscious and almost died on multiple occasions before he was six years old and as a result "later developed temporal lobe epilepsy, aggressivity, and hypersexuality." Lewis recounted a psychiatric examination with him in New York describing a similar encounter: She said, '. He has also said that if he was not a wrestler or a performer, he would probably be a serial killer or a cannibal.
Some described Andrews as psychopathy, and others described him as nice and likable. Andrews also often bragged about his ability to deceive others, once stating in a tape that he could make anyone believe anything. By his junior year, Andrews was also known to be quick to anger, and threatened people with knifes. Classmates also stated that Andrews was fascinated by war, and wrote out violent fantasies about killing people he did not like.
In October 2014, Andrews attempted suicide by taking an overdose of the anxiety medication Ativan, and as a result, spent a week in the pycharistic hospital.
In an interview in early 2010, Andrews stated he had been addicted to oxycontin and other painkillers for at least 2 years. At the time of the bank robbery in 2010, Andrews was homeless, after being evicted from the aparment where he had lived with his friend Ian.
Championships and accomplishments