Welcome to the eWrestling Encyclopedia
The eWrestling Encyclopedia is the first fully interactive e-wrestling knowledge base. It was formed in July of 2005, and is hosted by FANDOM.
As an editable website, eWE is a collaborative attempt to document the past, present and future of everything related to the 'hobby' of e-wrestling. This includes information on the characters, federations, inter-federations and handlers and anything which can be written about to an acceptable level.
The eWrestling Encyclopedia strives to change the face of e-wrestling, and to prevent the inevitable situation where the stars of today will be forgotten in ten years time. We plan to become an indispensable tool to all handlers and e-federation fanatics, and with your help, we might be able to do just that.
Content
We are currently working on
14,235 articles
. To browse eWE, visit the
main article category
, or directly browse
characters
,
federations
or
handlers
. Along with this, featured monthly articles are updated by the administration of EWE. Users of EWE are encouraged to nominate characters, championships, and federations to become featured on EWE's homepage. For nominations, please contact
The Administrative Staff
and see if you qualify!
Featured Article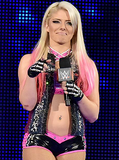 Meagan Christine Vaughan (born April 13th, 1994 - October 26th, 2017) was an American professional wrestler signed to Elite Answers Wrestling under the ring name Brody Sparks, where she was a one-time and longest-reigning EAW Specialists Champion. Following her passing, she was inducted into the EAW Hall of Fame class of 2018. (Read More)
If you wish to submit a request for a featured article, please visit the Community Feedback Forum to nominate your character, federation, championship, etc.


Participate
To learn how to start today, visit the quick guide to editing. You can use this page for test edits.
To add a new page about eWrestling, enter its title in the box below: <createbox> bgcolor=#ffffff width=30 </createbox>
Information
About this site · Community Portal · Help
---
Site News  (edit this section)
March 2019 -- After a community vote, The eWrestling Encyclopedia has elected RRS as sole Bureaucrat, removing the former co-Bureaucrat. Additionally, RRS has named Cianabuns as new Content and Discussions Moderator.
February 2019 -- The eWrestling Encyclopedia has replaced blog posting with a new, customizable EWE Discussions feature! The EWE Discussion Forum is your hub for community interaction, collaboration, suggestion, feedback, and so much more! Come check it out; it's mobile-friendly and even has an optimized polling feature! To access the feature, click "Discuss" on the menu bar at the top of the site.
November 2018 -- The eWrestling Encyclopedia has posted its first nominations thread for the Featured Article section of the main site! Featured Articles will rotate monthly. To nominate an article, please review the requirements and submit a request on the Community Feedback Forum.
October 2018 -- The eWrestling Encyclopedia has launched a new site design, complete with new graphics, simpler navigation, and a reformed administrative team! In order to streamline community interaction, we have put an emphasis on promoting the Community Feedback Forum, which can be located under the community tab at the header. Additional updates will be made to the site to allow for ample transparency and optimized user interface.
Featured Contributor
The eWrestling Encyclopedia would like to acknowledge and issue a special thank you to contributor Freakin' Adam. Though he is a relatively new member to the community, he has helped contribute to the advancement of our site in various ways including lending his graphical talents to improve our site identity.
Anyone interested in contracting graphic design for commission is encouraged to contact RRS through his talk page. Graphic specialties include signatures, posters, icons, and much more.
Our Sister Projects
Do you like WWE, real promotions, and real wrestlers? Please visit our sister project, the Pro Wrestling Wikia!