This article or section is about a championship title, character, event, or contains information about a company, and/or the outcome of current status, that is either under development or construction and yet to be released to the general public. It may contain spoilers and features that are mentioned here may be radically different in the finished product, or excluded altogether.
Lori Tanaka

Tanaka in September 2019
Born
Lori Elena Ayane Tanaka
January 5, 1976 (age 44)
Newark, New Jersey,
United States
Occupation
Professional wrestler, professional
wrestling manager, rapper, singer,
songwriter, musician, model,
former pornographic actress,
former stripper
Years active
1995–present (musician)
1996–present (model)
1997–1999 (pornographic actress)
1997–present (wrestler)
Home town
Atlantic City, New Jersey,
United States
Spouse(s)
DeShawn Desmond
(m. 1997; div. 2005)
Kelli DiMarco
(m. 2018)
Children
Riley Tanaka (daughter/half-sister)
Casey Tanaka (daughter/half-sister)
Parent(s)
Hiro Tanaka (father)
Relatives
Amy Tanaka (sister)
Hollie Lee (daughter-in-law/half-
sister-in-law)
Professional wrestling career
Ring name(s)
Lori
Lori Rae
Lori Tanaka
Miss Tanaka
Billed height
5 ft 6 in (168 cm)
Billed weight
112 lb (51 kg)
Billed from
Atlantic City, New Jersey
Philadelphia, Pennsylvania
Trained by
Raven
Tommy Dreamer
Sabu
Debut
April 13, 1997
Musical career
Genres
Nu metal, alternative metal, rapcore,
industrial metal, grunge
Instruments
Vocals, guitar
Labels
Flip, Interscope, Epic, Roadrunner,
UNFD
Associated acts
X-Hail-76
Lori Elena Ayane Tanaka (born January 5, 1976) is an American professional wrestler, professional wrestling manager, rapper, singer, songwriter, musician, model, former pornographic actress, and former stripper. She is currently signed to WWE performing on the NXT brand under her real name, where she is the current NXT Women's Champion in her second reign. A second generation professional wrestler, she is the daughter of professional wrestler Hiro Tanaka, the sister of professional wrestler and pornographic actress Amy Tanaka, and the mother (and half-sister) of twin professional wrestlers Riley and Casey Tanaka.
Hailed as one of the best wrestlers in the world, Tanaka was named Sports Illustrated's Women's Wrestler of the Year in 2019, and topped Pro Wrestling Illustrated's (PWI) annual PWI Women's 100 list the same year.
Outside of wrestling, Tanaka is best known as the lead vocalist, rhythm guitarist, lead songwriter and founder of the Grammy-nominated nu metal band X-Hail-76, as well as her modeling career which includes her work with Hot Topic in the late 1990s and early 2000s along with her nude pictorials for Playboy and Penthouse. She also attracted significant controversy in 2016 when she revealed that she had an consensual incestuous sexual relationship with her father when she was 18 years old, which later resulted in the birth of her twin daughters.
Early life
Tanaka was born in 1976 in Newark, New Jersey. Her father was Yoshihiro Tanaka (1938–1996), a professional wrestler best known as Hiro Tanaka, and her mother was Sophia Julia Okabe (1951–1991), an elementary school teacher. Her father was born in Japan and her mother was of Japanese Brazilian descent. She has an younger sister named Ami.
In 1984, Tanaka and her family moved to Atlantic City, New Jersey and later attended Atlantic City High School. In 1988, she was diagnosed with Asperger syndrome, a form of autism, and attention-deficit hyperactivity disorder (ADHD).
On February 10, 1991, Tanaka's mother died after she lost control of her vehicle and crashed into a truck, killing her instantly. Tanaka struggled with depression as a result of her mother's death, which she would later attribute to her anger issues and promiscuous behaviour during her late-teens, and would cause her to get expelled from high school before she could graduate. Following the death of her father on May 27, 1996 as a result of a heart attack, Lori became the legal guardian of her then eleven-year-old sister, Ami.
Tanaka moved to Philadelphia, Pennsylvania in August 1996, where she began working as a stripper for six months. She also had a brief career in the adult film industry under the pseudonym Lori Rae, starring in several pornographic films from 1997 to 1999.
Professional wrestling career
Extreme Championship Wrestling (1997–2000)
(Under Construction)
World Wrestling Federation/World Wrestling Entertainment (2001–2007)
(Under Construction)
Total Nonstop Action Wrestling (2007–2012)
(Under Construction)
Return to WWE (2012–2014)
Divas Champion (2012–2013)
On July 23, 2012, during Raw 1000, Tanaka made a surprise return to WWE appearing alongside Lita and the other WWE legends in confronting Heath Slater. The following day, it was announced on WWE.com that Tanaka had re-signed with the company. On the July 27 episode of SmackDown, Tanaka competed in her first match with the company since July 2007 as a face, defeating Alicia Fox. Tanaka would then embark on a winning streak during the next couple of months, defeating the likes of Natalya, Beth Phoenix and Aksana.
On the October 8 episode of
SmackDown
, Tanaka and Layla rescued Kaitlyn from an attack by Divas Champion Eve Torres, Tanaka then forced Torres to reveal that she ordered the attack on Kaitlyn at
Night of Champions
and that Aksana was the culprit. At
Hell in a Cell
, Tanaka defeated Aksana to become the number one contender for the Divas Championship. Later that night, Tanaka attacked Eve following her victory in a triple threat match against Layla and Kaitlyn. The following night on
Raw
, Tanaka defeated Eve to become the new Divas Champion. At
Survivor Series
Tanaka would once again defeat Torres in a triple threat match; also including Kaitlyn, to retain the belt. In the weeks following
Survivor Series
, Tanaka began to show signs of a heel turn when she started to use underhanded tactics during her matches in order to win. At
TLC: Tables Ladders & Chairs
, Tanaka defeated Naomi to retain the Divas Championship. On the December 21 episode of
SmackDown
, Tanaka lost the championship to Eve after a failed assist from Layla. After the match, Tanaka shoved Layla into the ring post, turning heel in the process. The following week, on the Christmas Eve episode of
Raw
, Tanaka cemented her heel turn, berating and insulting the crowd for their lack of support towards her after losing the Divas Championship.
Afterward, Tanaka developed a new gimmick of a arrogant, self righteous, egotistical lunatic, purposely sheding away nearly every characteristic of her previous grunge-inspired gimmick from her mannerisms to her ring attire. An alliance between Tanaka and Eve was teased on the December 28 episode of
SmackDown,
when Tanaka helped Eve retain the Divas Championship against Kaitlyn by slapping the referee, causing a disqualification victory for Kaitlyn while keeping the belt on Eve. However, the alliance wouldn't last as Eve would leave the company after dropping the Divas Championship to Kaitlyn on the 20th anniversary episode of Raw and leave the company afterwards. However, the feud between Tanaka and Kaitlyn continued as Tanaka would complain about not getting her rematch clause.
(Under Construction)
Action Zone Championship Wrestling (2015–2018)
Return of "The Hardcore Bitch" and feud with Hollie Lee Grant (2015)
Tanaka's retirement lasted only less than ten months, as Tanaka announced on Twitter that she was coming back to the ring and announced that she signed with Australian wrestling promotion Action Zone Championship Wrestling. Tanaka would make her AZCW debut on the March 14, 2015 episode of AZCW TV, attacking Hollie Lee Grant with a kendo stick and establishing herself as a heel. Tanaka then grabbed a microphone and proceeded to say "The Hardcore Bitch is back motherfuckers!!!". Despite being a heel, the crowd cheered loudly for Tanaka and began to chant "She's hardcore!!" after the repeated kendo stick attacks towards Grant. For the next couple of weeks, Tanaka would repeatedly attack Grant without giving an explanation why. Tanaka would later have her AZCW in-ring debut against Grant on the April 20 episode of AZCW TV where she would emerge victorious after repeatedly caning Grant with a kendo stick. Following the match, Tanaka cut a promo on Grant, calling her a "weak-ass pussy" and stated that she isn't tough enough to be a wrestler, before brutally assaulting her afterwards.
(Under Construction)
Face turn, feud with Roxanne Fox, and first-ever Action Zone Women's Champion (2015–2016)
After disappearing off TV for several weeks, Tanaka returned on the October 10 episode of AZCW TV, saving Hollie Lee Grant from an attack by Roxanne Fox, turning face in the process and igniting a feud between herself and Fox.
(Under Construction)
Various feuds (2016–2017)
(Under construction)
On February 4 2017, during the main event of the very first broadcast of
AZCW Inferno
, Tanaka returned as the mystery opponent to face Tia Wallace for the to become the #1 contender for
Rachael Rose
's
Action Zone Women's Championship
in a Street Fight, which Tanaka would emerge victorious after a hard fought yet highly controversal match, as Wallace ripped Tanaka's top off just before the start of the match, exposing her bare
breasts
, as a result, Tanaka remained
topless
during the entire match. This incident would become the most-watched and most-downloaded moment in AZCW history. In a 2019 interview, Tanaka claimed that it was her idea to wrestle the entire match topless, stating;
"It was a bit of a self-confidence and self-esteem move on my part, as I had just turned 41 at the time and wanted to see if the fans thought if I was still hot enough, which I was more than satisfied with their reaction, that's probably why it was my favorite match in AZCW. But we were also testing the waters with 7mate to see how far we could push the limit in regards to the edgy adult content on Inferno, turned out we weren't anywhere near the limit and could push further, which we did do a few times while I was still there and its something I've noticed them doing now more frequently on the Inferno program with both Jenny (Azrael) and my little sis Ami."
(Under Construction)
Feud with Helen Reyes and Departure (2017–2018)
(Under Construction)
On the December 23 episode of Inferno, Tanaka lost a Career vs. Title match against Reyes. As a result, Tanaka was forced to leave AZCW. After the match, Tanaka thanked the fans for their support and promised that they haven't seen the last of "One Bad Mama". Tanaka would make one last appearance on the January 13, 2018 episode of Inferno, when she helped Jen Azrael win the Action Zone Women's Championship from Reyes.
In a 2019 interview, Tanaka revealed that the reason she chose to leave AZCW was because WWE offered her a contract to return to wrestle in NXT. And that she felt she still had a good couple of years left in the ring. She also praised the AZCW Women's Division for being amazing wrestlers and amazing friends, and that she hopes to return to AZCW in a backstage or on-air capacity once she retires from in-ring competition.
Second Return to WWE (2018–present)
NXT debut, feud with Emily Travis and winning the NXT Women's Championship (2018–2019)
On November 17, Lori made her first appearance in WWE since 2014, when she appeared at NXT WarGames II, aiding her daughter Riley after she was viciously assaulted by the new NXT Women's Champion Emily Travis, who had just defeated Riley for the belt. On the November 21 episode of NXT, in a interview with Mauro Renallo, Lori tearfully revealed the extent of Riley's injuries then angrily promised revenge against Travis for what she did to her daughter, igniting an intensely heated rivalry between the two. The next day, it was announced that Tanaka had signed a contract with WWE and would perform full-time on the NXT brand. On the November 28 episode of NXT, Tanaka confonted Travis following her match against Io Shirai, before attacking her with a kendo stick and chasing her out of the arena, establishing herself as a face. The following week, Tanaka would make her NXT re-debut, with new entrance music (a remixed version of her old "Grizzly" entrance theme) and displaying mannerisms she had developed while working for AZCW, where she defeated Lacey Evans, despite outside interference on Evan's behalf by Travis.
(Under Construction)
Professional wrestling style and persona
Takaka's wrestling style has been described as a mix of the brawler, technical and high-flyer wrestling styles. Her signature finishing move is a variation of the Stone Cold Stunner, which she has dubbed "Da Lori Stunner". Tanaka also uses the 450 splash, which since her return to WWE in 2018 was renamed "Pretty & Deadly".
Her persona is that of a sexy alternative grunge (later metalhead) babe who loves to fight and win.
(Under Construction)
Other media
Tanaka made her WWE video game debut as a playable character in WWE 2K20.
Other work
Modeling career
In late-1996, Tanaka began her modeling career after she was approached by a local agency when she was working as a stripper. Her extensive list of credits include dozens of magazine features and covers, ad campaigns, billboards, and spans all genres from fashion to fetish and art nudes; especially during her early modeling career. Tanaka posed nude for
Playboy
on five seperate occasions (October 1997, May 1998, February 2000, October 2011 & September/October 2017) and also posed nude for
Penthouse
magazine on four separate occasions (June 1997, October 1998, June 1999 and in the Australian edition of the magazine in September 2016). Aside from Playboy and Penthouse, Tanaka is also best remembered as a model for
Hot Topic
during the late-1990's and early 2000's, modeling the
nu metal
-influenced apparel that was marketed by the retail chain at the time.
(Under Construction)
Music career
Tanaka is the lead vocalist and rhythm guitarist of nu metal band X-Hail-76, which she formed in mid-1995 with her childhood friend (and later wife), Kelli DiMarco. X-Hail-76 have released nine studio albums between 1995 to 2019, six of which topped the Billboard 200 charts and four of which were certified multi-platinum by the RIAA. Their most successful album Control Desolution (which was released on January 5, 2001; on Tanaka's 25th birthday) has sold around 30 million albums in the United States to date (and over 43 million albums sold worldwide) was certified Diamond (11x Platinum) by the RIAA, and recieved a Grammy Award nomination for Best Rock Album. Her daughter Riley joined the band as lead guitarist in 2013.
Tanaka's musical influences include Static-X, Coal Chamber, Dope, Machine Head, Alice In Chains, Soulfly, My Ruin, Korn, Deftones, Orgy, Fear Factory, Guano Apes, Ministry, Prong, Marilyn Manson, Soundgarden, Tura Satana, Pantera, Faith No More, Nine Inch Nails, Sepultura, Godsmack, Staind, Hole, Rage Against The Machine, Nirvana, Primus and Cold.
Personal life
Tanaka lives in Miami, Florida. Her favorite wrestlers growing up were Sting, Madusa, "Stunning" Steve Austin, Brian Pillman, Jushin Thunder Liger, and Sherri Martel.
Tanaka is bisexual and polyamorus. In 1997, she married musician and now-former X-Hail-76 bandmate DeShawn Desmond; they divorced in 2005. In 2007, Tanaka began dating her childhood friend and X-Hail-76 bandmate Kelli DiMarco, the couple married on June 16, 2018 in Atlantic City, New Jersey.
Tanaka has two twin daughters, Riley and Casey (born March 16, 1996), both of whom are also professional wrestlers.
Tanaka has multiple tattoos, including a tribal wing tattoo with a red cross on her upper back, a tribal tattoo on her lower back, a yin and yang on her left wrist, and a tribal symbol on her left shoulder, which is a tribute to Tanaka's favorite video game character, Jin Kazama from the fighting game series Tekken.
Tanaka regards herself as a tomboy, and has an interest in anime, manga, hentai, and video games. She has also expressed a liking for extreme sports such as skateboarding, inline skating, and parkour.
Sexual relationship with father
In June 2016, Tanaka relased her memoir The Secrets of The Hardcore Bitch, in which she details her life outside of wrestling. In her book, she revealed that she and her father had a 2-year consensual incestuous relationship that started in February 1994 when she was 18 years old. She said that the relationship began after a one night stand the pair had spontaneously on the anniversary of her mother's death. Tanaka described their relationship as "a love affair", stating "We were truly in love with each other, utterly and totally. We were like Cersei and Jaime Lannister in Game of Thrones; except we were father and daughter and where we lived at the time (in New Jersey) our relationship was 100% legal". Their relationship ended when her father died of a heart attack in May 1996.
Tanaka also revealed that her twin daughters were born as a result of the incest, thereby making her their half-sister as well as their mother. She stated that she didn't tell her daughters who their father was until they were both in high school, stating "It was quite agonizing to tell both Riley and Casey the truth about who their dad was, especially having to admit that their father was also MY father and that we were in love". Tanaka was surprised with her daughter's reaction to the news, stating "they both hugged me and thanked me for finally telling them the truth, then Riley; with her warped sense of humor, called me 'cool' for having sex with my dad".
In wrestling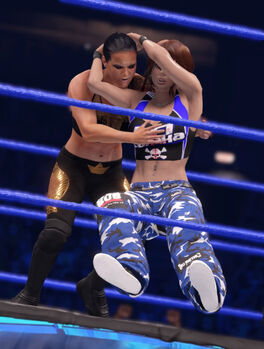 Finishing moves

Da Lori Stunner (Facelock jawbreaker)
Pretty & Deadly (450 Splash)

Signature moves

Gamengiri & Cartwheel moonsault combo
Knee balancing enzugiri
Spaceman plancha
Avalanche spanish fly
Wrecking ball hurricanrana
Bronco buster
Springboard dropkick
Arabian press
Handspring headscissor takedown
Glitter blizzard
Tope atomica
Suicide dive
Springboard moonsault
Stinkface
Corner foot choke
Springboard dive
Slingshot gullotine leg drop

Nicknames

"The Hardcore Babe" (TNA)
"The Hardcore Bitch" (ECW/WWE/AZCW)
"One Bad Mama" (AZCW)
"Pretty & Deadly" (WWE)

Wrestlers managed
Entrance themes

Extreme Championship Wrestling

"Come Out and Play" by The Offspring (1997; while managing Raven)
"Snap Your Fingers, Snap Your Neck" by Prong (1997–1998; while managing Justin Credible)
"Snap Your Fingers, Snap Your Neck" by Grinspoon (1998–2000; while managing Justin Credible)

World Wrestling Entertainment

"Grizzly" by Peter Jordan (March 5, 2001 – June 25, 2007, July 23, 2012 – January 22, 2013)
"Breakout" by Miki Fujii (January 29, 2013 – May 29, 2014)
"Grizzly (Pretty & Deadly Mix)" by Peter Jordan (December 6, 2018 – present)

Total Nonstop Action Wrestling

"F.U. System (Intro cut)" by Dale Oliver (October 14, 2007 – June 10, 2012)

Action Zone Championship Wrestling

"" by 40 Below Summer ()
"Stain" by Primer 55 (February 4, 2017 – January 13, 2018)
Championships and accomplishments
Action Zone Championship Wrestling
CBS Sports
Wrestler of the Year (2019)
Pro Wrestling Illustrated
Woman of the Year (2000, 2001, 2004, 2009, 2019)
Ranked No. 1 of the Top 100 female wrestlers in the PWI Female 100 in 2019
Total Nonstop Action Wrestling / Impact Wrestling
World Wrestling Federation / Entertainment / WWE
Community content is available under
CC-BY-SA
unless otherwise noted.