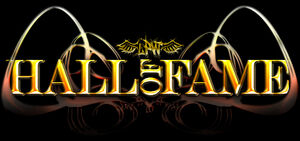 The Lords of Pain Wrestling (LPW) Hall of Fame is an institution that honors selected former e-wrestlers who laid the foundation for the success of Lords of Pain Wrestling (formerly the Psychotic Wrestling Alliance).
History
In an effort to recognize and chronicle the names of its past, the LPW Hall of Fame was announced in 2006 when Lords of Pain Wrestling operated under the Psychotic Wrestling Alliance name. The first inductees were selected by a poll amongst the company's roster. The ceremony was originally scheduled to be held before the Altered Reality III pay-per-view, but was postponed until the spring of 2007. The event took place at the Rocket City Music Hall on April 24, 2007. Stone, Stanman, and Snapple were the first inductees.
For the 2008 class, the Hall of Fame selections were chosen amongst the veterans of LPW. The selections were former PWA owner Villiano 187, PWA's first head booker Phantom Lord, and first World Heavyweight Champion Marty. The awards ceremony is expected to take place during the weekend of Altered Reality IV.
Inductees
Class of 2007
Class of 2008
External links