EAW Unified Tag Team Championship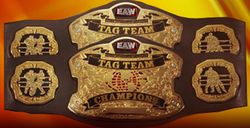 The EAW Unified Tag Team Championship belt
Details
Promotion(s)
EAW
Brand
Showdown
Voltage
Dynasty
Date established
July 24, 2009
Current champion(s)
The Wildcards (Xander Payne and Myles)
Date won
April 20, 2019

Statistics
First champion(s)
RoViper
(Robbie V & Brian Daniels)
Most reigns
As a team:
The High Rollerz (3)
As individuals:
Mr. DEDEDE (4*)
Y2Impact (3)
Robbie V (3)
Brian Daniels (3)
Longest reign
The Mercenaries (Y2Impact and Heart Break Gal) (7 months and 4 days)
Other name(s)
EAW Tag Team Championship
Past design(s)
The EAW Unified Tag Team Championships are professional e-wrestling championships in Elite Answers Wrestling. It is currently used as an inter-branded championship between all three brands in EAW. It was first established in July 2009 when RoViper defeated La Secta Apocolyptica to unify the EAW Tag Team Championships and the EAW World Tag Team Championships.
History
Origin
The Unified Tag Team Championships were created when EAW Management decided to combine the EAW World Tag Team Championships (held by RoViper) and the EAW Tag Team Championships (held by La Secta Apocolyptica). Since the two teams had already been feuding and the pinnacle of e-federations was coming up, EAW Management decided to book La Secta Apocolyptica and RoViper in a tag team match at Pain For Pride II to unify the two sets of tag team championships and create the EAW Unified Tag Team Championships. At the time, Kevin Devastation (who was part of La Secta Apocolyptica) was Interwire Champion, while Robbie V (part of RoViper) was National Extreme Champion. Because of this, EAW Management made the tag team match a "Winner Takes All" Championship match, putting all six championships on the line. At the event, RoViper was able to defeat La Secta Apocolyptica and become the first Unified Tag Team Champions.
Reigns
The EAW Unified Tag Team Championships are the first EAW Championships to have been unified in Extreme Answers Wrestling. The inaugural champions were RoViper (Robbie V & Viper) when they won the championships as a result of a unification match between the two pairs of tag team champions. There have been thirty-one (31) different official champions, with Ross Shackleford and Storm Lightning, better known as Foreign Prophecy, and GI Styles and Carlos Rosso, better known as Dynamite Rain, all having the most reigns at two each as a team. Mr.DEDEDE and Y2Impact hold a collective amount of three reigns, the most reigns as a singles competitor. The longest reigning EAW Unified Tag Team Champions were The Mercenaries, Y2Impact and Heart Break Gal, who held the championships for approximately seven (7) months and four (4) days (between Pain For Pride Eight and King of Elite). The shortest reigning EAW Unified Tag Team Champions were RoViper (Robbie V & Brian Daniels) who held the championships for approximately one (1) week. The current reigning champions are Di Consentes (Heart Break Gal and Cameron Ella Ava), in their first tenure as a team, defeating The High Rollerz (David Davidson & Jack Ripley) at EAW Reasonable Doubt 2018. After Heart Break Gal's departure from EAW, Ava was left without a partner until Scott Diamond stepped up. They were meant to defend the titles at Pain for Pride XI but Diamond was injured, leaving Cameron without a partner. A couple weeks before the event, Mr. DEDEDE announced he would be her partner and they successfully defended the belts at Pain for Pride against The Dragon Slayers and the team of Charlie Marr and Daryl Kinkade. However, that same weekend, DEDEDE would align himself with the 1% faction of Theron Nikolas and Jack Ripley. At the 2018 EAW Draft Show, the group attacked Cameron, DEDEDE officially turning on her. However, they were both still the champions. On the July 14th episode of Showdown, Drillmatic (Astraea Jordan and Malcolm Jones) defeated Ava and DEDEDE to become the new Tag Team Champions.
Title History
Key
| | |
| --- | --- |
| Reign | The reign number for the specific set of wrestlers listed |
| # | Indicates what number the reign is |
| Event | The event promoted by the respective promotion in which the titles were won |
| N/A | The information is not available or is unknown |
| — | Used for vacated reigns so as not to count it as an official reign |
Names
| Name | Span of Time |
| --- | --- |
| EAW Unified Tag Team Championship | Pain For Pride II (July 24, 2011)–present |
History
As of May 21, 2019.
† indicates reigns and title changes not recognized by EAW.
#
Team
Reign
Defeated
Event
Lost to
Notes
1
RoViper
(Robbie V & Viper)
1
La Secta Apocolytpica
Pain For Pride II
Order of the Angels
Won the EAW Tag Team Championships and combined them with their EAW Tag Team Championships.
2
Order of the Angels
1
RoViper
King of Extreme II
MC Squared
(Mr. DEDEDE & Captain Charisma)
3
MC Squared
(Mr. DEDEDE & Captain Charisma)
1
Order of the Angels
Showdown vs. Dynasty V
Ryding Regulationz
(Regulator & Matt Ryder)
4
Ryding Regulationz
(Regulator & Matt Ryder)
1
MC Squared
Grand Rampage III
SG Generation

(SG2 & Drake Blake)

5
SG Generation
(SG2 & Drake Blake)
1
Ryding Regulationz
Showdown
Decipals of Death
(Mr. Blood & Dark Demon)
6
Decipals of Death
(Mr. Blood & Dark Demon)
1
SG Generation
Road to Redemption IV
Dynasty X
(Heart Break Boy & Alexander Da Vinci)
7
Dynasty X
(Heart Break Boy & Alexander Da Vinci)
1
Decipals of Death
EAW: 3 Year Anniversary
Sex N' Violence
8
Sex N' Violence
2
Dynasty X
Dynasty
Channel Zero
(Apollo Calix & Kawajai)
9
Channel Zero
(Apollo Calix & Kawajai)
1
Sex N' Violence
Showdown
Sons of Mayhem
(Eddie Mack & Smyth)
This was a Steel Cage match, Channel Zero won after Robbie V hit a concussion on RRS, allowing Channel Zero to exit the cage for the victory.
10
Sons of Mayhem
(Eddie Mack & Smyth)
1
Channel Zero
Pain 4 Pride
Foreign Prophecy
(Ross Shackleford & Storm Lightning)
11
Foreign Prophecy
(Ross Shackleford & Storm Lightning)
1
Sons of Mayhem
No Regards
Mutiny
(King Cliff & Moses X)
12
Mutiny
(King Cliff & Moses X)
1
Foreign Prophecy and Elite Warning
House of Glass
Team Burial
13
Team Burial
(CM Banks & Alexander Da Vinci (2))
1
Mutiny
Justified Reckoning
Foreign Prophecy
14
Foreign Prophecy
(Ross Shackleford & Storm Lightning)
2
Team Burial and Mutiny
Showdown
Sovereigns of Supreme
15
Sovereigns of Supreme
(Austin Lonewolf & Lockdown)
1
Foreign Prophecy
Reasonable Doubt
James Johnson & Dorin
16
James Johnson & Dorin
1
Sovereigns of Supreme
Reckless Wiring
Generation Next
(Moonlight Predator & Pyrite)
17
Generation Next
(Moonlight Predator & Pyrite)
1
James Johnson & Dorin
Defiance
New Age Bandits
(Zack Crash & Brian Titus)
18
New Age Bandits
(Zack Crash & Brian Titus)/Suicidal Adrenaline
(Zack Crash & Suicidal VIP)
1
Generation Next
No Regards
Diamond Cage & Pyrite
During this reign, Brian Titus left EAW. Zack Crash decided to keep the titles and find a new partner, forming a partnership with Suicidal VIP.
19
Diamond Cage & Pyrite (2)
1
Suicidal Adrenaline
Reckless Wiring
Dynamite Rain
(GI Styles & Carlos Rosso)
20
Dynamite Rain
(GI Styles & Carlos Rosso)
1
Diamond Cage & Pyrite
Showdown
Quintessential Trailblazers
(Jaywalker & Y2Impact)
21
Quintessential Trailblazers
(Jaywalker & Y2Impact(2))
1
Dynamite Rain
No Regards
Mr. DEDEDE & Diamond Cage
22
Mr. DEDEDE (2) & Diamond Cage (2)
1
Quintessential Trailblazers
Showdown
Zack Crash & Jacob Senn
23
Zack Crash (2) & Jacob Senn
1
Mr. DEDEDE & Diamond Cage
House of Glass
The House of Renegades
(Hades the Hellraiser & Nick Angel)
The House of Renegades would interfere in the match on behalf of Mr. DEDEDE, who would turn his back on Diamond Cage.
24
The House of Renegades
(Hades the Hellraiser & Nick Angel)
1
Zack Crash & Jacob Senn and Superior Quality Y Drastiko
Shock Value
Vacated
—
Vacated
—
—
—
—
—
25
Dynamite Rain
(GI Styles & Carlos Rosso)
2
The Lyndivias
Showdown: Homecoming
The Nas N' Mstislav Connection
(The Nas & Aren Mstislav)
26
The Nas N' Mstislav Connection
(The Nas & Aren Mstislav)
1
Dynamite Rain
Voltage Draft Show
Scott Diamond & James Martin
The Nas N' Mstislav Connection would win the titles in a handicap match with GI Styles due to his partner unable to appear.
27
Scott Diamond
1
The Nas N' Mstislav Connection
Voltage
RAGNAROK
(Lannister & Psycho Brody)
Scott Diamond won the titles with James Martin, but would hold them by himself as James Martin would be fired by EAW.
28
RAGNAROK
(Lannister & Psycho Brody)
1
Scott Diamond
Voltage
The Savage Ryans
(Mr. DEDEDE & Ryan Savage)
29
The Savage Ryans
(Mr. DEDEDE (3) & Ryan Savage)
1
RAGNAROK
Showdown
The Mercenaries
(Y2Impact & Heart Break Gal)
30
The Mercenaries
(Y2Impact (3) & Heart Break Gal)
1
The Savage Ryans
Pain For Pride Eight
Drake and Jones
(Drake Jaegar & Tiberius Jones)
First Intergender Tag Team Champions.
31
Drake and Jones
(Drake Jaegar & Tiberius Jones)
1
The Mercenaries
King of Elite
Cerberus
(Brian Daniels & Cyclone)
32
Cerberus
(Brian Daniels (2) & Cyclone)
1
Drake and Jones
Grand Rampage
The Mighty Don't Kneel
(Xavier Williams & Jamie O'Hara)
33
The Mighty Don't Kneel
(Xavier Williams & Jamie O'Hara)
1
Cerberus
Dia Del Diablo
Vacant
This was a Hellfire No Way Out Match.
—
Vacant
—
—
—
—
The EAW Tag Team Championships were vacated due to an injury sustained by Xavier Williams at the hands of Jamie O'Hara. They were vacated by Dynasty General Manager Sebastian Monroe himself when Jamie attempted to declare himself the sole champion.
34
Matt Squared
(Matt Ryder (2) & Matt Miles)
1
The Emperium
(Lannister & Heart Break Gal)
Road to Redemption
The High Rollerz
(Jack Ripley & David Davidson)
This was a Tag Team Grand Prix Finals Match.
35
The High Rollerz
(Jack Ripley & David Davidson)
1
Matt Squared
King of Elite
RoViper
(Robbie V & Brian Daniels)
36
RoViper
(Robbie V (2) & Brian Daniels (3))
2
The High Rollerz
Grand Rampage
The High Rollerz
37
The High Rollerz
(Jack Ripley & David Davidson)
2
Brian Daniels
Showdown
The Triumvirate
The match was contested under handicap match rules.
38
The Triumvirate
(Ares Vandetta & Darth Lannister (2))
1
The High Rollerz
Territorial Invasion 2017
The High Rollerz
The match was contested under 3-on-3 Winner Takes All No Way Out rules.
39
The High Rollerz
(Jack Ripley & David Davidson)
3
The Triumvirate
EAW Road to Redemption 2017
Di Consentes
40
Di Consentes
(Heart Break Gal & Cameron Ella Ava)
1
The High Rollerz
(Jack Ripley & David Davidson)
EAW Reasonable Doubt 2018
Drillmatic
Ava also had Scott Diamond and Mr. DEDEDE as stand-in partners after Heart Break Gal's leave from EAW.
41
Drillmatic
(Astraea Jordan & Malcolm Jones)
1
Cameron Ella Ava and Mr. DEDEDE
Showdown
MarrKade
42
MarrKade

(Charlie Marr & Daryl Kinkade)

1
Drillmatic
Voltage
Jaded Hearts
43
Jaded Hearts

(Sienna Jade and Kassidy Heart)

1
MarrKade
King of Elite
The Wildcards
44
The Wildcards

(Xander Payne and Myles)

1
Jaded Hearts
Grand Rampage
N/A
 

  Championships
EAW World Championship · EAW Interwire Championship
EAW Answers World Championship · EAW Pure Championship
EAW World Heavyweight Championship · EAW National Elite Championship
EAW Women's Championship · EAW Specialists Championship · EAW Empire Tag Team Championship
Interbranded
EAW Openweight Championship · EAW New Breed Championship · EAW Unified Tag Team Championships
Inactive
EAW Hall of Fame Championship · EAW Pure Championship · EAW Vixens Championship