EAW New Breed Championship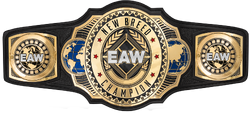 The EAW New Breed Championship
Details
| | |
| --- | --- |
| Promotion(s) | EAW |
| Brand | Dynasty |
| Date established | 2009 |
| Current champion(s) | Ryan Wilson |
| Date won | June 25, 2021 |
Statistics
First champion(s)
Johnny Badd Blood
Most reigns
Alexander Da Vinci (2)
JC Styles (2)
Longest reign
Andre Walker (244 days)
Shortest reign
Dorin (<1 day)
Other name(s)
Alternative X Championship
Past design(s)

The EAW New Breed Championship, formerly the Alternative X Championship, is a professional e-wrestling mid-card championship in Elite Answers Wrestling (EAW). It is an interbranded championship whose home brand depends on the holder at the time. It is currently part of the Dynasty brand and is one of the five mid-card championships, complimenting the EAW Specialists Championship on the same brand, the EAW Interwire Championship on the Showdown brand, the EAW National Elite Championship on the Voltage brand and the EAW Pure Championship on the Dynasty brand. The history of the title is to showcase the best of the newest talents that are on the roster or of those who want to show that they are still able to fight with the best and brightest. The New Breed Championship has been held by some of the best competitors in the mid-card, eventual world champions, and Hall of Famers.
History
Origin
The New Breed Championship was created for the up and coming fighters in EAW. The steadily growing history of the championship already established competitors, but majority of the champions are rising stars in EAW. The New Breed Championship is often seen by the fans and the roster as a gateway to future success and glory in EAW for their careers.
Prominence
The EAW New Breed Championship has become a very coveted in the company as many future world champions and Hall of Famers have claimed the championship in their quest for eternal greatness. The fifth champion, Hurricane Hawk, is a prime example of why the championship is highly desired by the roster. Hurricane Hawk is the one of the most acclaimed stars to hold the New Breed Championship in EAW as he is a World champion and Hall of Famer who has held many other accolades in his career. Many other World champions like Alexander Da Vinci, CM Banks, Rex McAllister, Mister K and Jamie O'Hara have won the title to bring more prestige to the belt in their career.
Reigns
The EAW New Breed Championship was introduced 2009. The inaugural champion was Johnny Badd Blood. There have over 40 different official champions, with Alexander Da Vinci and JC Styles having the most reigns with two each. The longest reigning EAW New Breed Champion is Andre Walker who has held the championship for approximately eight months (244 days). The shortest reigning EAW New Breed Champion was Dorin, who held the championship for one one day as he left the company the day after he won it. The last champion before the title was vacated is Andre Walker who is in his first tenure as champion. He captured the championship by defeating then champion Bronson Daniels and SEBAS at Territorial Invasion. Other prominent New Breed Championship reigns include the second, third and fourth longest reigns in EAW history such as Jamie O'Hara, who held the championship for 240 days, TLA who held the championship for 175 days and Alex Anderson who held it for at least 171 days.
Title history
Key
| | |
| --- | --- |
| Reign | The reign number for the specific set of wrestlers listed |
| # | Indicates what number the reign is |
| Event | The event promoted by the respective promotion in which the titles were won |
| N/A | The information is not available or is unknown |
| — | Used for vacated reigns so as not to count it as an official reign |
Names
| Name | Span of Time |
| --- | --- |
| EAW Alternative X Championship | 2009–2011 |
| EAW New Breed Championship | 2011–present |
History
† indicates reigns and title changes not recognized by EAW.
#
Extremist
Reign
Defeated
Event
Lost to
Notes
1
Johnny Badd Blood
1
N/A
Dynasty
Adam
First EAW New Breed Champion
2
Adam
1
Johnny Badd Blood
Dynasty
Speedy
3
Speedy
1
Adam
Turbo
JC Styles
4
JC Styles
1
Speedy
Dynasty
Hurricane Hawk
5
Hurricane Hawk
1
JC Styles
Territorial Invasion
JC Styles
First Free-Per-View title change
6
JC Styles
2
Hurricane Hawk
Road to Redemption
Alexander Da Vinci
7
Alexander Da Vinci
1
JC Styles
Turbo
Jon Kelton
8
Jon Kelton
1
Alexander Da Vinci
Reasonable Doubt
CM Banks
9
CM Banks
1
Jon Kelton
Showdown
Cyclone
10
Cyclone
1
Battle Royal
Showdown
Alexander Da Vinci
11
Alexander Da Vinci
2
Cyclone
Showdown
Mister K
12
Mister K
1
Alexander Da Vinci
Pain for Pride
George Copeland
First Pain for Pride title change
13
George Copeland
1
Mister K
Midsummer Massacre II
Vic Vendetta
14
Vic Vendetta
1
George Copeland
Dynasty
Superior Quality 85
15
Superior Quality 85
1
Vic Vendetta
Voltage
Devan Dubian and Chris Hessian
Superior Quality 85 is the first champion to hold the championship under the name "EAW New Breed Championship"
16
Devan Dubian and Chris Hessian
1
Five-Way Match
Voltage
Chris Hessian
17
Chris Hessian
1
Devan Dubian
Midsummer Massacre
Dark Demon
18
Dark Demon
1
Chris Hessian
Showdown
Hass Johnson
19

Hass Johnson

1
Dark Demon
Showdown
Johnny Nova
20
Johnny Nova
1
Hass Johnson
Showdown
Liam Catterson
21
Liam Catterson
1
Johnny Nova
Dynasty
Dorin
22
Dorin
1
Liam Catterson
Dynasty
Vacated
Shortest reigning EAW New Breed Champion
—
Vacated
—
—
—
—
Title was vacated due to the departure of Dorin from the company
23
Brian Daniels
1
Tyler Parker
Reckless Wiring
Alex Anderson
24
Alex Anderson
1
Brian Daniels
Dynasty
Xavier Williams
25
Xavier Williams
1
Alex Anderson
Dynasty
Ryan Savage
26
Ryan Savage
1
Xavier Williams and Aren Mstislav
Reckless Wiring
Jamie O'Hara
27
Jamie O'Hara
1
Ryan Savage
Voltage
N/A
Longest reigning EAW New Breed Champion
28
Stark
1
Jamie O'Hara and Clark Duncan
Grand Rampage
TLA
29
TLA
1
Stark, J.D. Damon, and Charles Scene
Pain for Pride
Clark Duncan
30
Clark Duncan
1
TLA
Road to Redemption
Vacated
—
Vacant
—
—
—
—
The championship was vacated when Clark Duncan was fired from EAW
31
Maxwell Dachs
1
Mark Micheals and Phoenix Winterborn
Reckless Wiring
Piff Fumador
32
Piff Fumador
1
Maxwell Dachs and Brayden Cruise
Showdown
JJ Silva
33
JJ Silva
1
Piff Fumador
Battleground
Chris Elite
34
Chris Elite
1
JJ Silva
Dia Del Diablo
Rex McAllister
This was in the first-ever Scorched Ropes match
35
Rex McAllister
1
Chris Elite, Nick Angel, Ryan Savage, Nobi, and Terry Chambers
Showdown: Rite of Passage
Ryan Marx
This was in a Championship Scramble match
36
Ryan Marx
1
Rex McAllister
Road to Redemption
Cody Marshall
37
Cody Marshall
1
Ryan Marx
Reasonable Doubt
Lucas Johnson
38
Lucas Johnson
1
Cody Marshall
Reckless Wiring
Moongoose McQueen
This was a Hell's Warpath match
39
Moongoose McQueen
1
Lucas Johnson, Finnegan Wakefield, and Chris Elite
Pain for Pride
Finnegan Wakefield
This was an Ultimate X match
40
Finnegan Wakefield
1
Moongoose McQueen
Ground Zero
Nathan Fiora
This was a Ladder match
41
Nathan Fiora
1
Finnegan Wakefield
Brooklyn Heights
The Revenant
42
The Revenant
1
Nathan Fiora
Voltage
Xander Payne
43
Xander Payne
1
Alex Bowden, The Revenant, Damon Diesel
Pain for Pride Festival
Raven Roberts

This was a Fatal 4-Way match

44
Raven Roberts
1
Xander Payne, Drake King, Andy Lush
EAW Territorial Invasion (2018)
Visual Prophet
This was a Fatal 4-Way match. Raven Roberts won to become the first female EAW New Breed Champion
45
Visual Prophet
1
Raven Roberts, Damon Diesel, Crosby Carter
King of Elite
SOSA Henderson
This was a Fatal 4-Way match
46
SOSA Henderson
1
Visual Prophet
Grand Rampage
Felix Hartley
This was a cage match
47
Felix Hartley
1
SOSA Henderson
Pain for Pride 12
Vacated
48
Jenny Cien
1
Various Elitists
Territorial Invasion
Justin Windgate
Won a 14 person Divide & Conquer match
49
Justin Windgate
1
Jenny Cien
EAW Dynasty
Jalyn Garcia
50
Jalyn Garcia
1
Justin Windgate
Grand Rampage
Bronson Daniels
51
Bronson Daniels
1
Jalyn Garcia
Pain for Pride XIII
Andre Walker
This was a Fatal 4-Way match also involving Shawn Sturgis and Andre Walker.
52
Andre Walker
1
Bronson Daniels
Territorial Invasion
Vacated
This was a triple threat match also involving SEBAS.
The title was vacated on May 28, 2021 after Andre Walker broke the record for the longest reigning New Breed Champion.
53
Ryan Wilson
1
Ronan Malosi
Pain for Pride 14
N/A
This was a Chained Fury II match.
 

  Championships
EAW Answers World Championship · EAW Interwire Championship
EAW World Heavyweight Championship · EAW Pure Championship
EAW World Championship · EAW National Elite Championship
Interbranded
EAW Universal Women's Championship · EAW New Breed Championship · EAW Unified Tag Team Championships · EAW Specialists Championship
Inactive
EAW Hall of Fame Championship · EAW Openweight Championship · EAW Vixens Championship