EAW Hardcore Championship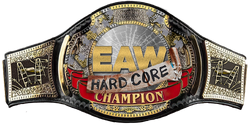 The EAW Hardcore Championship belt
Details
| | |
| --- | --- |
| Promotion(s) | EAW |
| Brand | Dynasty |
| Date established | 2007 |
| Current champion(s) | Limmy Monaghan |
| Date won | June 25, 2021 |
| Date retired | n/a. |
Statistics
First champion(s)
Killswitch
Final champion(s)
n/a.
Most reigns
Captain Charisma (5)
Past design(s)
The EAW Hardcore Championship is a professional e-wrestling championship in Elite Answers Wrestling (EAW). It was brought back by Mr. DEDEDE to replace the PURE Championship
History
Origin
The Hardcore Championship first debuted in Elite Answers Wrestling while it was still a brand on AWF. When EAW became an independent company, the Hardcore Championship skyrocketed in prestige, showcasing some of the greatest matches of its era. The championship was contested under 24/7 Rules, meaning a match for the championship could take place anywhere, with the standing stipulation being a referee must be present at the time. However, due to the various amount of matches that would ensue because of this rule, the championship would lose prestige and it would be retired.
Resurrection
After the retirement of the EAW Pure Championship, Voltage needed a new mid-card championship to take its place. Carlos Rosso would announce that the new championship to be created would be the Hardcore Championship. In a seven-way Hardcore Match to find a new champion, Nathan Fiora would be crowned the new champion by defeating Marco Fedor, J.D. Damon, Phoenix Winterborn, Maero, and Scott Diamond. This incarnation of the championship, however, would not hold the 24/7 Rules and would be contested like a normal championship.
Reigns
The inaugural champion was Killswitch after he won a battle royal on the EAW as an AWF brand. There have been 27 different official champions, with Captain Charisma having the most reigns with 5 reigns. The final champion was Jack Ripley who won it at Territorial Invasion 2018 by cashing in his 24/7 Contract against Johnny Ventura & Ryan Wilson. The championship was then retired on the following Dynasty as Jack Ripley was rewarded the returning Pure Championship.
Title History
Key
| | |
| --- | --- |
| Reign | The reign number for the specific set of wrestlers listed |
| # | Indicates what number the reign is |
| Event | The event promoted by the respective promotion in which the titles were won |
| N/A | The information is not available or is unknown |
| — | Used for vacated reigns so as not to count it as an official reign |
History
† indicates reigns and title changes not recognized by EAW.
| # | Extremist | Reign | Defeated | Event | Lost to | Notes |
| --- | --- | --- | --- | --- | --- | --- |
| 1 | Killswitch | 1 | Battle Royal | EAW (AWF Brand) | Master of Puppets | |
| 2 | Master of Puppets | 1 | Killswitch | Road to Redemption | HIG | |
| 3 | HIG | 1 | Master of Puppets | Road to Redemption | Captain Charisma | |
| 4 | Captain Charisma | 1 | HIG | Showdown | Latino Game | |
| 5 | Latino Game | 1 | Captain Charisma | Showdown | Captain Charisma | |
| 6 | Captain Charisma | 2 | Latino Game | Showdown | MVP | |
| 7 | MVP | 1 | Captain Charisma | Showdown | Captain Charisma | |
| 8 | Captain Charisma | 3 | MVP | Showdown | RRS | |
| 9 | Rated R Shaman of Sexy | 1 | Captain Charisma, MVP, and HYC | Showdown | Captain Charisma | |
| 10 | Captain Charisma | 4 | RRS | Showdown | RRS | |
| 11 | Rated R Shaman of Sexy | 2 | Captain Charisma | Pain for Pride | Captain Charisma | First Pain for Pride title match and change |
| 12 | Captain Charisma | 5 | RRS | Showdown | Mr. DEDEDE | |
| 13 | Mr. DEDEDE | 1 | Captain Charisma | Midsummer Massacre | Latino Game | |
| 14 | Latino Game | 2 | Mr. DEDEDE | Showdown | Mr. DEDEDE | |
| 15 | Mr. DEDEDE | 2 | Latino Game | Showdown | The Heart Break Boy | |
| 16 | The Heart Break Boy | 1 | Lethal Consequences | Dynasty | Jaywalker | |
| 17 | Jaywalker | 1 | The Heart Break Boy | Dynasty | The Heart Break Boy | |
| 18 | The Heart Break Boy | 2 | Jaywalker | Dynasty | MaK | |
| 19 | MaK | 1 | The Heart Break Boy | Showdown | The Heart Break Boy | |
| 20 | The Heart Break Boy | 3 | MaK | Showdown | EOE | |
| 21 | Essence of Excellence | 1 | The Heart Break Boy | Showdown | Robbie V | |
| 22 | Robbie V | 1 | EOE | Showdown | Nik-E-G | |
| 23 | Nik-e-G | 1 | Robbie V | Grand Rampage | Speedy | |
| 24 | Speedy | 1 | Nik-E-G | Showdown | Nike-E-G | |
| 25 | Nik-e-G | 2 | Speedy | Showdown | Cole Smith | |
| 26 | Cole Smith | 1 | Nik-E-G | Showdown | Speedy | |
| 27 | Speedy | 2 | Cole Smith | Showdown | Cole Smith | |
| 28 | Cole Smith | 2 | Speedy | Showdown | EOE | |
| 29 | Essence of Excellence | 2 | Cole Smith | Showdown | Vacated | |
| — | Vacated | — | — | — | — | |
| 30 | Latino Game | 3 | Hardcore Gauntlet | Pain for Pride | Mike Vandal | |
| 31 | Mike Vandal | 1 | Hardcore Gauntlet | Pain for Pride | Matt Ryder | |
| 32 | Matt Ryder | 1 | Hardcore Gauntlet | Pain for Pride | The Fallen Angel | |
| 33 | The Fallen Angel | 1 | Hardcore Gauntlet | Pain for Pride | Latino Game | |
| 34 | Latino Game | 4 | Hardcore Gauntlet | Pain for Pride | JC Styles | |
| 35 | JC Styles | 1 | Hardcore Gauntlet | Pain for Pride | Hurricane Hawk | |
| 36 | Hurricane Hawk | 1 | JC Styles | Turbo | Retired | |
| — | Retired | — | — | — | — | |
| 37 | Nathan Fiora | 1 | Marco Fedor, J.D. Damon, Pheonix Winterborn, Maero, and Scott Diamond | Voltage | Drastik | |
| 38 | Drastik | 3 | Nathan Fiora | Shock Value | Jon McAdams | |
| 39 | Jon McAdams | 1 | Drastik | Voltage | Maero | |
| 40 | Maero | 1 | Jon McAdams | Voltage | Ahren Fournier | |
| 41 | Ahren Fournier | 1 | Maero | Voltage | Zack Crash | |
| 42 | Zack Crash | 1 | Ahren Fournier | Pain for Pride | Scott Diamond | |
| 43 | Scott Diamond | 1 | Zack Crash and Lethal Consequences | Dynasty | Darkane | |
| 44 | Darkane | 1 | Scott Diamond | House of Glass | Scott Diamond | This was a Glass Rules Match |
| 45 | Jon McAdams | 2 | Darkane | Reckless Wiring | Cody Marshall | |
| 46 | Cody Marshall | 1 | Jon McAdams | Grand Rampage | Johnny Ventura | |
| 47 | Johnny Ventura | 1 | Cody Marshall | Pain for Pride Festival | Jack Ripley | |
| 48 | Jack Ripley | 1 | Johnny Ventura | Territorial Invasion | Retired | 24/7 Cash In. The title was retired and exchanged for the Pure Championship the following week |
| 49 | Adam Lucas | 1 | Mr. DEDEDE | Pain for Pride XIV | Limmy Monaghan | This title was brought back from retirement and replaced the PURE Championship. |
| 50 | Limmy Monaghan | 1 | Adam Lucas | Reasonable Doubt | Charlie Marr | |
| 51 | Charlie Marr | 1 | Limmy Monaghan | Dia Del Diablo | | |
 

  Championships
EAW Answers World Championship · EAW Interwire Championship
EAW World Heavyweight Championship · EAW Pure Championship
EAW World Championship · EAW National Elite Championship
Interbranded
EAW Universal Women's Championship · EAW New Breed Championship · EAW Unified Tag Team Championships · EAW Specialists Championship
Inactive
EAW Hall of Fame Championship · EAW Openweight Championship · EAW Vixens Championship