EAW Hall of Fame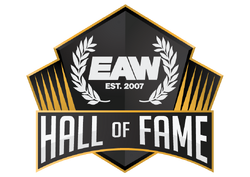 EAW Hall of Fame logo, used since 2020
Established
March 7, 2009
Founder
EAW
Members
42 individuals
2 groups (8 members)
(50 total inductees)
The EAW Hall of Fame is a hall of fame for professional wrestling personalities maintained by EAW. The inagural ceremony was conducted on March 7, 2009 during an episode of Showdown. During the episode, the concept of the EAW Hall of Fame was introduced as well as several dates in the future where names would be announced for the first Hall of Fame Class. For these inductions, ceremonies were held to formally induct the candidates from 2008 to the present. Ceremonies have been held yearly since the inception of the Hall of Fame, with the exception of 2013 and 2019.
The 2009 Hall of Fame ceremony was broadcasted live as a separate show hosted by the EAW, but no official footage was kept of the event. Since its inception in 2009, the Hall of Fame ceremony has been packaged as part of the annual Pain for Pride festivities.
Although a building has never been built to represent the Hall of Fame, EAW has looked into constructing a facility for the Hall of Fame. In 2009, Andy Dominguez, then-Executive Vice President of Global Media of EAW, stated that EAW had been storing wrestling memorabilia in a warehouse for years, with all items categorized and dated in case a facility is created.
As of 2020, there have been a total of 50 inductees, 2 group inductions (consisting of 8 wrestlers within those groups). Extreme Enigma and Brody Sparks are the only two members to be inducted posthumously.
Classes
Class of 2009
Image
Ring name
(Birth Name)
Inducted by
EAW recognized accolades

Mr. DEDEDE
(Ryan Adams)

The Rated R Shaman of Sexy

Two-time EAW World Champion, two-time EAW World Heavyweight Champion, one-time EAW Answers World Champion, one-time EAW Interwire Champion, three-time EAW Unified Tag Team Champion, one-time EAW Hall of Fame Champion, two-time EAW Hardcore Champion

CM Banks
(Christopher Ronald Bankerson IV)

Y2Impact

One-time EAW World Champion, one-time EAW World Heavyweight Champion, one-time EAW New Breed Champion, one-time EAW Unified Tag Team Champion

MaK

Captain Charisma, Heart Break Boy, Robbie V and Sabina

Two-time EAW World Champion, one-time EAW Hardcore Champion, one-time EAW Tag Team Champion, King of Extreme

2009

HRDO

Lethal Consequence

One-time EAW World Heavyweight Champion, One-time EAW Interbranded Champion, one-time EAW Interwire Champion

2009

WWEFan

Mister K, Bobby Cash and Eve

One-time EAW Undisputed Hardcore Champion, 2008 Cash in the Vault winner

2009

Sabina

MaK

Three-time EAW Vixens Champion
Class of 2010
Image
Ring name
(Birth Name)
Inducted by
EAW recognized accolades

2010

Y2Impact

EOE and StarrStan

Three-time EAW World Heavyweight Champion, three-time EAW Answers World Champion, one-time EAW Interbranded Champion, one-time EAW National Extreme Champion, three-times EAW Unified Tag Team Champion, 2012 Gold Rush Tournament winner, 2016 Grand Rampage winner

2010

Heart Break Boy

Regulator

One-time EAW World Champion, one-time EAW World Heavyweight Champion, one-time EAW Hall of Fame Champion, two-time EAW Interbranded Champion, three-time EAW Hardcore Champion, one-time EAW Tag Team Champion

2010

Captain Charisma

Mr. DEDEDE

One-time EAW World Champion, one-time EAW World Heavyweight Championshipone-time EAW Undisputed Hardcore Champion, five-time EAW Hardcore Champion, one-time EAW Unified Tag Team Champion, 2009 Grand Rampage winner, 2010 King of Extreme

2010

Mister K

Rated R Shaman of Sexy

One-time EAW World Heavyweight Champion, one-time EAW Interbranded Champion, one-time EAW Interwire Champion, one-time EAW Unified Tag Team Champion, one-time EAW New Breed Champion

2010

Masters

CM Banks

One-time EAW Champion, 2008 Grand Rampage winner
Class of 2011
Image
Ring name
(Birth Name)
Inducted by
EAW recognized accolades

2011

Rated R Shaman of Sexy

Mr. DEDEDE

Three-time EAW World Heavyweight Champion, two-time EAW Answers World Champion, one-time EAW Champion, one-time EAW Interwire Champion, one-time EAW National Extreme Champion, two-time EAW Hardcore Champion, two-time EAW Unified Tag Team Champion, 24/7 Contract winner

2011

Lethal Consequences

CM Banks

One-time EAW Undisputed Hardcore Champion, one-time EAW Answers World Champion, one-time EAW Unified Tag Team Champion

2011

Extreme Enigma

Jaywalker and Captain Charisma

Two-time EAW World Champion, one-time EAW Answers World Champion, two-time EAW Unified Tag Team Champion, 2009 Cash in the Vault winner

2011

StarrStan

Y2Impact

Two-time EAW World Champion, two-time EAW Answers World Champion, one-time EAW Interbranded Champion, two-time and final EAW Elite Champion, one-time EAW Unified Tag Team Champion

2011

Kendra Shamez

Heart Break Boy

Two-time EAW Vixens Champion
Class of 2012
Image
Ring name
(Birth Name)
Inducted by
EAW recognized accolades

2012

Kawajai

Eddie Mack

One-time EAW World Champion, One-time EAW Interwire Champion, EAW Elite Champion, one-time EAW Unified Tag Team Champion

2012

Hurricane Hawk

Scott Diamond

Two-time EAW World Heavyweight Champion, one-time EAW National Extreme Champion, One-time EAW New Breed Champion, one-time EAW Hardcore Champion, 2010 Cash in the Vault winner, 2012 24/7 Contract winner

2012

Cameron Ella Ava

Heart Break Gal

One-time EAW Interwire Champion, one-time EAW Women's Champion, two-time EAW Vixens Champion, two-time EAW Hall of Fame Champion
Class of 2014
Class of 2015
Class of 2016
Image
Ring name
(Birth Name)
Inducted by
EAW recognized accolades

2016

Devan Dubian

Brian Daniels

One-time EAW Answers World Champion, one-time EAW National Extreme Champion, one-time EAW Elite Champion, one-time EAW New Breed Champion, 2015 Grand Rampage co-winner

2016

Zack Crash

Dark Demon and Nick Angel

One-time EAW World Champion, one-time EAW World Heavyweight Champion, two-time EAW Unified Tag Team Champion, 2013 Cash in the Vault winner

2016

Xavier Williams

Dark Demon

Two-time EAW World Champion, one-time EAW New Breed Champion, one-time EAW Hall of Fame Championship, 2014 Cash in the Vault winner

2016

Hades the Hellraiser

N/A

One-time EAW Answers World Champion, one-time EAW Interwire Champion, one-time EAW Unified Tag Team Champion, one-time EAW Elite Champion, 2013 Showdown Gold Rush Tournament winner, 2013 Beat the Clock winner, 2014 Grand Rampage winner
Class of 2017
Group
Inducted by
EAW recognized accolades

Triple Crown Syndicate
MaK, Captain Charisma, Sabina, & Mister K

Mr. DEDEDE

EAW Championship (Mak), Grand Rampage 2009 (Captain Charisma), Vixens Championship (Sabina)
Class of 2018
Class of 2020
Image
Ring name
(Birth Name)
Inducted by
EAW recognized accolades

Ahren Fournier

Jamie O'Hara

One-time EAW Hardcore Champion, one-time EAW Interwire Champion, one-time EAW World Champion

TLA

Cameron Ella Ava

One-time REVOLT! Welterweight Champion, one-time EAW Openweight Champion, two-time EAW Interwire Champion, one-time EAW New Breed Champion, and one time EAW World Heavyweight Champion

Chris Elite

TLA

One-time EAW New Breed Champion, one-time EAW World Heavyweight Champion

Amber Keys

Mr. DEDEDE

Two-time AWF Women's Champion, one-time AWF Tag Team Champion, one-time EAW Empire Tag Team Champion

Rex McAllister

Raven Roberts & James Ranger

Two-time EAW World Champion, one-time EAW Unified Tag Team Champion, one-time EAW National Elite Champion, one-time EAW New Breed Champion, and one-time EAW World Heavyweight Champion