EAW Awards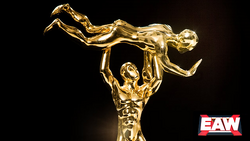 The EAW Awards, previously stylized as the EAWards and EAW Awardz, is an annual ceremony held by Elite Answers Wrestling the end of each calendar year where awards, similar to the Academy and Grammy Awards, are given to standout performers within the company for each year. Introduced in 2008, there have been thirteen editions of the concept as of 2020. The awards have been presented in various formats and hosted on several different shows such as Showdown, Dynasty vs Showdown, EAW's 3 Year Anniversary, The Palace, Christmas in Dubai, and A Sweet Swedish-Saudi Christmas Miracle, among many others. As the 2010s came to a close, EAW introduced the Decade Awards in 2019 to honor the Elitists and Extremists who made the biggest impact of the decade.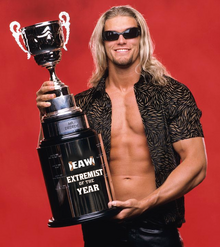 Awards History
As of 2020, there have been 11 different Male Elitist/Extremist of the Year Award recipients, with EAW Chairman Mr. DEDEDE having received 3, not counting his Elitist of the Decade award. He is the only male Elitist with multiple Elitist of the Year wins.
Alongside the male award, there have been 8 different Female Elitist/Vixen of the Year Award recipients. Cameron Ella Ava is the recipient of the most Female Elitist/Vixen of the Year Awards, having won 4 consecutively from 2012-2015.
Versions
Decade Awards (2008-2019)
Award
Nominees
Winner
Elitist of the Decade (Male)
Rated R Shaman, CM Banks, Jamie O'Hara, Y2Impact, Mr. DEDEDE, Extreme Enigma, Mak, Heart Break Boy, Xavier Williams, Starr Stan, Diamond Cage, Captain Charisma, Rex McAllister, Devan Dubian, Hades the Hellraiser, HRDO, Alexander Da Vinci, Tyler Parker, Prince of Phenomenal
Mr. DEDEDE
Elitist of the Decade (Female)
Cameron Ella Ava, Kendra Shamez, Kassidy Heart, Andrea Valentine, Sabina, Raven Roberts, Cleopatra
Kendra Shamez & Cameron Ella Ava – TIE DECISION
Match of the Decade
Mr. DEDEDE vs. HRDO - Pain For Pride 1, Jaywalker vs. Mr. DEDEDE - WHC - Pain For Pride 2, Extreme Enigma vs. Cyclone vs. Kevin Devastation - Pain for Pride 3, Heart Break Boy vs. Mr. DEDEDE - Reckless Wiring 3, Methuselah vs. Y2Impact - Pain For Pride 6,

Mr. DEDEDE vs. Mikado Sekaiichi - World Heavyweight Championship - Pain For Pride 7, Devan Dubian vs. Brian Daniels vs. Starr Stan - Answers World Championship - Pain For Pride 8, Diamond Cage vs. Rex McAllister - Pain for Pride Festival, Theron Nikolas vs. Mr. DEDEDE vs., Jamie O'Hara vs. Darkane - Pain for Pride 12, War Games - Territorial Invasion 2019

Methuselah vs. Y2Impact – Pain For Pride 6
Villain of the Decade
Scott Diamond, Zack Crash, Y2Impact, Theron Nikolas, Mr. DEDEDE, Charlie Marr, Captain Charisma, King Mak
Mr. DEDEDE
Shock of the Decade
Scott Diamond 'killing' EAW (2013), Dynasty seceding from EAW (2015), Zack Crash showing his true colors after War Games (2014), Mr. DEDEDE returning to win the EAW Championship (2010), Mak cashing in KOE during Grand Rampage to become EAW Champion (2009), Mr. DEDEDE being pushed from the top of the titantron by Kawajai (2012), Ronn Banks being screwed into retirement by Mr. DEDEDE (2019)
Scott Diamond 'killing' EAW (2013)
Promoer of the Decade
Impact, Jamie O'Hara, Cameron Ella Ava, Malcolm Jones, Mr. DEDEDE, Kassidy Heart, Rated R Shaman, Heart Break Boy, Kendra Shamez, Jaywalker, Xavier Williams, Lethal Consequences
Impact
Rivalry of the Decade
Captain Charisma vs. Rated R Shaman, Mr. DEDEDE vs. Impact, Mr. DEDEDE vs. CM Banks, Mak vs. CM Banks, Mr. DEDEDE vs. Diamod Cage, Cyclone vs. Kevin Devastation, Devan Dubian vs. Starr Stan, Jamie O'Hara vs. Xavier Williams, Chris Elite vs. Mr. DEDEDE, Malcolm Jones vs. Chris Elite, Cameron Ella Ava vs. Mr. DEDEDE
Captain Charisma vs. RRS
'Feel Good' Moment of the Decade
Extreme Enigma winning Cash In The Vault (2009), Cyclone winning the EAW Championship in the Pain for Pride 3 headline (2010), Diamond Cage winning the EAW Championship at Road to Redemption (2014), Diamond Cage's return at the Grand Rampage (2016), Chris Elite defeating Mr. DEDEDE at Road to Redemption (2017), Diamond Cage winning the EAW Championship in the Pain for Pride Festival Headline (2018), Cameron Ella Ava avenging her family against Mr. DEDEDE at Road to Redemption (2018), Andrea Valentine winning the EAW Championship (2019), Cameron Ella Ava winning the Answers World Championship (2019)
Diamond Cage winning the EAW Championship in the Pain for Pride Festival Headline (2018)
Tag Team of the Decade
The High Rollerz, StarrPact, The Jaded Hearts, Liquid Swords, Foreign Prophecy, RoViper, Heavenly Hell, Team Burial, MarrKade
The Jaded Hearts
Stable of the Decade
Triple Crown Syndicate, Generation Genesis, Project E.G.O., The 1%, Mutiny, The Enterprise
Generation Genesis
2008 EAWards
| Award | Nominees | Winner |
| --- | --- | --- |
| Extremist of the Year | Mr. DEDEDE, Captain Charisma, Rated R Shaman, Jaywalker, Masters, Jerikewl | Mr. DEDEDE |
| Vixen of the Year | Jenny, Sabina, Cassie, HBKF | Sabina |
| Promoer of the Year | | Captain Charisma |
| Match of the Year | | Mr. DEDEDE vs HRDO(PFP1) |
| World Heavyweight Champion of the Year | Jaywalker, Jerikewl | Jaywalker |
| EAW World Champion of the Year | Mr. DEDEDE, Masters | Mr. DEDEDE |
| Hardcore Champion of the Year | Captain Charisma, RRS, The Game, MVP | Captain Charisma |
| Tag Team of the Year | StarrPact , The Bad Bloods, Team i2k | StarrPact |
| Feud of the Year | | Captain Charisma vs Rated R Shaman |
| Breakout of the Year | | Rated R Shaman |
| Showdown extremist of the Year | | Rated R Shaman |
| Dynast of the Year | | WWEFan |
| Extreme Moment of the Year | | Captain Charisma setting himself on fire |
| FPV of the Year | | Pain for Pride |
2009 EAW Awards
| Award | Nominees | Winner |
| --- | --- | --- |
| Extremist of the Year | Captain Charisma, MaK, Jaywalker, Mr. DEDEDE, Mister K | MaK |
| Promoer of the Year | | HBB |
| Match of the Year | | Mr.DEDEDE vs Jaywalker(PFP2) |
| World Heavyweight Champion of the Year | | Mr. DEDEDE |
| EAW World Champion of the Year | MaK, WWEFan, Captain Charisma, Lethal Consequences, StarrStan | MaK |
| Tag Team of the Year | Revolution 5.5, RoViper, La Secta Apocalyptica, Order of The Angels, Red Elite, Malicious Intentions, The Backstabbers | RoViper |
| Feud of the Year | | HBB vs Mak |
| Stable of the Year | | Triple Crown Syndicate |
| Return of the Year | CM Ronn, HRDO, St Anger, Killswitch, Regulator | CM Ronn |
| Board Member of the Year | CM Ronn, MaK, Jaywalker, DEDEDE, Captain Charisma, Mister K, WWEFan | MaK |
| Extreme Moment of the Year | Fireball at PFP, Dark Emperor's finger chopped off with a chainsaw by Captain Charisma at Road To Redemption, Extreme Enigma diving off the ladder on Bobby Cash who's pulled away by WWEFan, Jaywalker going through a table on fire and a glass table | Fireball at Pain for Pride |
| FPV of the Year | RTR II, RD, RW, 2nd Year Ann, GR II, PFP II, T.I | Pain for Pride 2 |
| Upcoming Extremist of the Year | Matt Ryder, Hurricane Hawk, JC, Hova, CB Cool, Kelton, Vic Vendetta, Cyclone | Hova |
| Bust of the Year | WWEFan, Cena29, Rated R Shaman, Lethal Consequences | Cena29 |
2010 EAW Awards
| Award | Nominees | Winner |
| --- | --- | --- |
| Extremist of the Year | Y2Impact, Cyclone, HBB, HRDO, CM Banks, Extreme Enigma | Y2Impact |
| Vixen of the Year | SG1, Nicole, Kendra Shamez, Maria, Cherise, Heart Break Gal | Kendra Shamez |
| Promoer of the Year | Y2Impact, Cyclone, the Heart Break Boy, The Rated R Shaman of Sexy, Kevin Devastation | Rated R Shaman |
| Match of the Year | | Extreme Enigma vs Cyclone vs Kevin Devastation(Pain for Pride 3) |
| World Heavyweight Champion of the Year | Y2Impact, CM Banks, the Heart Break Boy, HRDO | CM Banks |
| EAW World Champion of the Year | Mr. DEDEDE, Cyclone, Captain Charisma, EOE, KD, Extreme Enigma | Extreme Enigma |
| Tag Team of the Year | | Order of the Angels |
| Feud of the Year | Kevin Devastation vs Cyclone, HBB vs Banks, Robbie V vs Jaywalker, Jaywalker vs StarrStan, Impact vs Jaywalker | Kevin Devastation vs Cyclone |
| Stable of the Year | | Generation Genesis |
| Breakout of the Year | | Cyclone |
| Rookie of the Year | Ashten Cross, SG2, Drake Blake, Siberian Wolverine, Vic Vendetta, Justin Windgate, Jon Kelton | Ashten Cross |
| Return of the Year | | Rated R Shaman |
| Most Improved | George Copeland, Cyclone, Jon Kelton, Justin Windgate | George Copeland |
| Extreme Moment of the Year | | Extreme Enigma 30-Foot leap onto Captain Charisma from the top of a ladder |
| Shocking Moment of the Year | | Cyclone winning the Grand Rampage |
| FPV of the Year | | Pain for Pride 3 |
| Next Up in 2011 | Ashten Cross, SG2, Drake Blake, Siberian Wolverine, Superior Quality 85, Tyler Parker | Tyler Parker |
| Bust of the Year | | Jeff Cena |
2011 EAW Awards
| Award | Nominees | Winner |
| --- | --- | --- |
| Extremist of the Year | Hurricane Hawk, Rated R Shaman of Sexy, Heart Break Boy, Alexander Da Vinci, Lethal Consequences, Ashten Cross | Heart Break Boy |
| Vixen of the Year | Kendra, Heart Break Gal, Christy Cruise, Cameron, Carrie, SG1 | Heart Break Gal |
| Promoer of the Year | John Alloy, Lethal Consequences, Heart Break Boy, Mr Insult, Hurricane Hawk, Power | John Alloy |
| Match of the Year | Heart Break Boy vs Extreme Enigma, Heart Break Boy vs John Alloy(MSM), Cash in the Vault, Mr DEDEDE vs HBB, StarrStan vs Dubian(Territorial Invasion), Banks vs Superior Quality, Rated R Shaman vs Alexander Da Vinci | Mr.DEDEDE vs The Heart Break Boy(Reckless Wiring) |
| World Heavyweight Champion of the Year | Hurricane Hawk, Rated R Shaman, Ashten Cross | Hurricane Hawk |
| EAW World Champion of the Year | John Alloy, Alexander Da Vinci, Heart Break Boy, Cyclone, StarrStan | The Heart Break Boy |
| Tag Team of the Year | Team Burial, Dynasty X, Sons of Mayhem, Mutiny, Channel Zero, Foreign Prophecy, Sex N Violence | Foreign Prophecy |
| Feud of the Year | Mr DEDEDE vs CM Banks, Y2Impact vs Lethal Consequences vs Ashten Cross, Hurricane Hawk vs CM Banks, Heart Break Boy vs Mr DEDEDE, Mr Insult vs Matt Ryder | Mr.DEDEDE vs CM Bank$ |
| Stable of the Year | Mutiny, Team Starr, The Cavalry, Generation Next  | Team Starr |
| Breakout of the Year | Superior Quality 85, Alexander Da Vinci, John Alloy, Power, Devan Dubian | Alexander Da Vinci |
| Rookie of the Year | Erik Yung, Dark Demon, Prince of Phenomenal, Alex Anderson, Scott Diamond, Kawajai, Apollo Calix, Devan, Dubian, Eddie Mack, Chris Hessian | Kawajai |
| Return of the Year | Kendra Shamez, Heart Break Gal, Cyclone, Hurricane Hawk, Montell Smooth, Kevin Devastation | Hurricane Hawk |
| Most Improved | Kawajai, Alex Anderson, Eddie Mack, Dorin, Apollo Calix | Kawajai |
| Extreme Moment of the Year | Superior Q quality driving Banks through a flaming glass table, Mr DEDEDE/Heart Break Boy's brawl on Dynasty, John Alloy setting Eric Darkthrone on fire, Prince Of Phenomenal going into the glass crypt | Superior Quality Quality Driver'd Banks off the top turnbuckle through a flaming, broken glass, thumbtack filled table at No Regards |
| Shocking Moment of the Year | Y2Impact's retirement, Medusa revealing herself, CM Banks returning at the Grand Rampage, Hawk cashing in at KOEFPV of the Year | Medusa revealing herself as Kendra |
| FPV of the Year | | Reckless Wiring |
| Next Up in 2012 | Erik Yung, Moses X, Hades the Hellraiser, Colin Kaline, Straight Edge Suicide, Diamond Cage | Erik Yung |
| Bust of the Year | George Copeland, Tyler Parker, MA Beast, Prince Benjamin, Drew McKillin, Xavier McCoy | Tyler Parker |
2012 EAW Awardz
| Award | Nominees | Winner |
| --- | --- | --- |
| Extremist of the Year | | Dark Demon |
| Vixen of the Year | Cameron Ella Ava, Heart Break Gal, Sasha Fierce, Cleopatra, Christy Cruise | Cameron Ella Ava |
| Promoer of the Year | | Jaywalker |
| Match of the Year | | Mr.DEDEDE vs Lethal Consequences(PFP 5) |
| World Heavyweight Champion of the Year | | Dark Demon |
| EAW World Champion of the Year | | Kawajai |
| Answers World Champion of the Year | Prince of Phenomenal, Colin Kaline, ADV, Scott Diamond | Prince of Phenomenal |
| Tag Team of the Year | | New Age Bandits |
| Stable of the Year | | Project EGO |
| Breakout of the Year | | Dark Demon |
| Rookie of the Year | | Troy Conway |
| Return of the Year | Jaywalker, Scott Diamond, Hurricane Hawk, CM Banks, Mr.DEDEDE, Robbie V, Heart Break Boy, Y2Impact, Christy Cruise, Tyler Parker | Jaywalker |
| Breakout Extremist of the Year | | Dark Demon |
| Shocking Moment of the Year | | Mr. DEDEDE falling from the top of the titantron at Territorial Invasion |
| FPV of the Year | | Pain for Pride 5 |
| Next Up in 2013 | MosesX, Troy Conway, Liam Catterson, Zack Crash, Johnny Ventura, King Cliff, Dorin | MosesX |
| Bust of the Year | | Chris Hessian |
2013 EAW Awards
| Award | Nominees | Winner |
| --- | --- | --- |
| Extremist of the Year | Scott Diamond, Mr. DEDEDE, Y2Impact, Jaywalker, Liam Catterson, Zack Crash | Jaywalker |
| Vixen of the Year | Cleopatra, Cameron Ella Ava, Cassandra Lyndivia, Lethal, Christy Cruise, Vanessa Lyndivia | Cameron Ella Ava |
| Promoer of the Year | Jaywalker, Y2Impact, Dark Demon, "The Legendary" Sekaiichi, Tyler Parker, Mr. DEDEDE | Jaywalker |
| Match of the Year | Mr. DEDEDE vs. Y2Impact - PFP 6, Mr. DEDEDE vs. Dark Demon - Hell in a Cell, Mr. DEDEDE vs. Tyler Parker - High Voltage, Jaywalker vs. "The Legendary" Sekaiichi - Hell in a Cell -World Heavyweight Championship, Liam Catterson vs. Drastik vs. StarrStan vs. Johnny Ventura -Red Wallz - Answers World Championship, Dark Demon vs. Scott Diamond, Jaywalker vs. Scott Diamond - World Heavyweight Championship, Team Diamond vs. Team DEDEDE, Mr. DEDEDE vs. Liam Catterson - King of Extreme - TLC, Zack Crash vs. Tyler Parker | Mr. DEDEDE vs. Y2Impact - Pain for Pride 6 |
| World Heavyweight Champion of the Year | Jaywalker, Zack Crash, Brian Daniels | Jaywalker |
| Answers World Champion of the Year | Y2Impact, Liam Catterson, Drastik, Extreme Enigma | Y2Impact |
| Tag Team of the Year | Nick Angel and Hades the Hellraiser, CN Tower (Jaywalker and Cleopatra), Dynamite Rain (GI Styles and Carlos Rosso), The Quintessential Trailblazers (Y2Impact and Jaywalker), Diamond Cage and Pyrite, Jacob Senn and Zack Crash | Dynamite Rain |
| Feud of the Year | Diamond Cage and Mr. DEDEDE, Project E.G.O. and Mr. DEDEDE, Scott Diamond and EAW, Jaywalker and Robbie V, Mr. DEDEDE and Tyler Parker, The Heart Break Boy vs. "The Legendary" Sekaiichi | Jaywalker vs Robbie V |
| Stable of the Year | The House of Renegades, Project E.G.O., Drastik's World Order, The Ironfist | Project E.G.O. |
| Breakout Extremist of the Year | Liam Catterson, Diamond Cage, Tyler Parker, Johnny Ventura, Zack Crash | Zack Crash |
| Rookie of the Year | Jacob Senn, Lucius Creed, Venom, Cassandra Lyndivia, Toxic | Jacob Senn |
| Comeback of the Year | Dark Demon, Extreme Enigma, Drastik, "The Legendary" Sekaiichi, Alex Anderson | Extreme Enigma |
| Extreme Moment of the Year | Robbie V gets his throat slit by Jaywalker, Hades the Hellraiser chokeslamming Jaywalker through the stage, Tyler Parker powerbombing Mr. DEDEDE through the ring, Mr. DEDEDE spearing Dark Demon through the top of the Hell in a Cell into a flaming barbed wire table, Robbie V burning The Heart Break Boy on a cross, Dark Demon hitting a railroad spike assisted Rolling Elbow on Austin Lonewolf | Robbie V burning The Heart Break Boy on a cross |
| Shocking Moment of the Year | The Death of EAW, Extreme Enigma returning, Scott Diamond exposing Dark Demon as Chairman, Drastik revealing himself to be The Rated R Shaman of Sexy, Zack Crash cashing in his Cash in the Vault at Pain For Pride and ending Jaywalker's streak, Dark Demon being revealed as one of Scott Diamond's riot squad members, Kawajai turning on Scott Diamond and joining Team DEDEDE, Mr. DEDEDE being revealed as the leader of the House of Renegades | The Death of EAW |
| FPV of the Year | | Pain for Pride VI |
| Next Up in 2014 | Toxic, Alex Anderson, Lucius Creed, Jacob Senn, Venom, GI Styles | Alex Anderson |
| Bust of the Year | Tomi Venus, Brian Daniels, Moses X, Eddie Mack | Eddie Mack |
2014 EAW Awards
| Award | Nominees | Winner |
| --- | --- | --- |
| Extremist of the Year | Mikado Sekaiichi, Mr. DEDEDE, Tyler Parker, Hades The Hellraiser, Xavier Williams, Jacob Senn | Mr. DEDEDE |
| Vixen of the Year | Cameron Ella Ava, Tarah Nova, Lethal, Kendra, Shamez, The Lyndivias | Cameron Ella Ava |
| Writer of the Year | Robbie V, Mr. DEDEDE, Dark Demon, Killswitch, Brian Daniels, Jacob Senn, Xavier Williams | Robbie V |
| Promoer of the Year | Mr. DEDEDE, Mikado Sekaiichi/Crimson Mask/Ares Vendetta, Jacob Senn, Norman Hellion, Tyler Parker, StarrStan | Norman Hellion |
| Match of the Year | Mr. DEDEDE vs Mikado Sekaiichi, Hades The Hellraiser vs Zack Crash vs Dark Demon, Tyler Parker vs GI Styles, Diamond Cage vs StarrStan, Mikado Sekaiichi vs Tyler Parker vs Jacob Senn, Scott Diamond vs Jacob Senn | Mr. DEDEDE vs Mikado Sekaiichi |
| EAW World Heavyweight Champion of the Year | Mikado Sekaiichi, Mr. DEDEDE, Tyler Parker | Mikado Sekaiichi |
| EAW Answers World Champion of the Year | StarrStan, Dark Demon, Hades The Hellraiser | StarrStan |
| EAW Champion of the Year | | Jacob Senn |
| Tag Team of the Year | Dynamite Rain, The Lyndivias, The American Dream, The Savage Ryans, Lannister & Psycho Brody, The Nas & Aren Mstislav | Dynamite Rain |
| Feud of the Year | Mr. DEDEDE vs The Vendetta Family, Xavier Williams vs Dark Demon, Y2Impact vs Tyler Parker, Jaywalker vs The American Dream, Dark Demon vs Zack Crash, RAGNAROK vs Elite | Jaywalker vs The American Dream |
| Stable of the Year | RAGNAROK, Elite, Demon's Council, The House of Renegades | RAGNAROK |
| Rookie of the Year | William Black, Jamie O'Hara, Aren Mstislav, Tarah Nova, Matt Miles, Scott Oasis, Tiberius Jones, Lannister, Ares Vendetta | Aren Mstislav |
| Return of the Year | Johnny Ventura, Kendra Shamez, Lethal, Brian Daniels, Lethal Consequences, Y2Impact | Brian Daniels |
| Comeback of the Year | Prince of Phenomenal, Vic Vendetta, Lucian Black, Brian Daniels, Devan Dubian, Kevin Devastation | Vic Vendetta |
| Extreme Moment of the Year | Mikado Sekaiichi's Fire Spear, Jaywalker Slits the Heart Break Boy's Daughter's Throat, Zack Crash's 70ft Fall, Jaywalker Brands Cameron Ella Ava, Hades puts Cleopatra through flaming glass table on a bridged ladder, Diamond Cage makes Mr. DEDEDE submit with a Railroad Spike | Diamond Cage makes Mr. DEDEDE submit with a Railroad Spike |
| Shocking Moment of the Year | Crimson Mask Reveals his Identity, Zack Crash Turns on His Allies, Xavier Williams Turns on Dark Demon, The Heart Break Boy Sacrifices his Career to Save Cameron Ella Ava's, Cameron Ella Ava Wins the Hall of Fame Championship, Mikado Sekaiichi Cashes in his King of Extreme World Title Shot | Zack Crash Turns on His Allies |
| Free-Per-View of the Year | All | Pain For Pride 7 |
| Next Up in 2015 | Jamie O'Hara, The Nas, Scott Oasis, Ryan Savage, Matt Miles, Aren Mstislav, Tiberius Jones, Lannister, Ares Vendetta | Lannister |
| Bust of the Year | Cy Henderson, Moonlight Predator, Venom/James Martin, Nick Angel, The Lyndivias | Cy Henderson |
2015 EAW Awards
| Award | Nominees | Winner |
| --- | --- | --- |
| Elitist of the Year | Tyler Parker, Xavier Williams, Devan Dubian, Brian Daniels, Zack Crash, Dark Demon, Ares Vendetta, Mr. DEDEDE, Jamie O'Hara, King Lannister, Y2Impact, Starr Stan | Xavier Williams |
| Vixen of the Year | Cameron Ella Ava, Tarah Nova, Madison Kaline, Heart Break Gal, Aria Jaxon, Haruna Sakazaki, Eris LeCava, Cailin Dillon | Cameron Ella Ava |
| "Creative Person" Writer of the Year | DEDEDE, Xavier, Robbie, Ken, Senn, Tyler | Mr.DEDEDE |
| Promoer of the Year | Tyler Parker, King Lannister, Ares Vendetta, Cameron Ella Ava, Brian Daniels, Mr. DEDEDE, Y2Impact, Heart Break Gal, Jamie O'Hara, Dark Demon, Xavier Williams, Devan Dubian, Tiberius Jones  | (King) Lannister |
| Match of the Year | EAW Tag Team Championship Glass Gauntlet (House of Glass), Norman Hellion vs. Lannister (Grand Rampage), Xavier Williams vs. Jamie O'Hara vs. Matt Miles (Showdown: Redemption), Mr. DEDEDE vs. Tyler Parker (King of Elite), War Games (Territorial Invasion), Ares Vendetta vs. King Lannister (Pain For Pride), Brian Daniels vs. Alex Anderson (Territorial Invasion), Jaywalker vs. Tyler Parker (House of Glass), Ares Vendetta vs. Methuselah (Reckless Wiring), Cameron Ella Ava vs. Scott Diamond I Quit Match (Reckless Wiring), ELITE Triple Threat: Devan Dubian vs. Starr Stan vs. Brian Daniels for the Answers World Championship (Pain for Pride) | ELITE Triple Threat: Devan Dubian vs. Starr Stan vs. Brian Daniels for the Answers World Championship (Pain for Pride) |
| World Heavyweight Champion of the Year | Mr. DEDEDE, Tyler Parker, Brian Daniels | Brian Daniels |
| EAW Champion of the Year | Diamond Cage, Xavier Williams, Zack Crash, Jamie O'Hara | Xavier Williams |
| Answers World Champion of the Year | Norman Hellion, Starr Stan, Devan Dubian | Devan Dubian |
| Tag Team of the Year | The Mercenaries, The Savage Ryans, The New Monarchy, The Holy Brigades (Nick Angel & Venom), RAGNAROK (Lannister & Psycho Brody) | The Mercenaries |
| Feud of the Year | House Vendetta vs. RAGNAROK, Zack Crash/EAW vs. Dynasty Wrestling vs. Hexa-Gun, Tyler Parker vs. Alex Anderson, Devan Dubian vs. Starr Stan vs. Brian Daniels, Xavier Williams vs. Zack Crash, Chuck Scene vs. The Vixens Division, Lucian Black vs. Xavier Williams, TLA vs. The Iconomy | Zack Crash/EAW vs. Dynasty Wrestling vs. Hexa-Gun |
| Stable of the Year | Hexa-Gun, RAGNAROK, The Iconomy, House Vendetta, and The Holy Brigades | Hexa-Gun |
| Comeback of the Year | Carlos Rosso, Chuck Scene, Dark Demon, The Mercenaries, Chris Elite, Liam Catterson, Heart Break Boy | Dark Demon |
| Rookie of the Year | J.D. Damon, Tig Kelly, Eris LeCava, Thomas Minns, Mexican Samurai, Pizza Boy, Luzmala, Aria Jaxon, Brett Kennedy, Cailin Dillon, Rhaegar, Drake Jaeger | Pizza Boy |
| Return Moment of the Year | Dark Demon, Heat Break Boy, Jaywalker, Heart Break Gal, HRDO, Matt Miles, Tarah Nova, Albert Hitchman, Jason Cage, Robbie V | Dark Demon |
| Shocking Moment of the Year | Dynasty being killed at Pain for Pride 8, Zack Crash crowning himself EAW Champion, Scott Diamond winning the HOF title, Grand Rampage having co-winners, Athena Vendetta's reveal, Hexa-Gun's debut and swerve on Zack Crash, Lioncross signing with EAW and HBB superkicking him with it, Devan Dubian winning the AWC in his home country, Cameron winning the Interwire Title, Ryan Savage turning on Mr. DEDEDE, Dark Demon assaulting Diamond Cage's wife, Alex Anderson losing to FD and retiring only to screw over Dynasty Wrestling, Zack Crash being driven out of power | Dynasty being killed at Pain for Pride 8 |
| FPV of the Year | All FPVs | Pain for Pride 8 |
| Next Up in 2016 | Aren Mstislav, J.D. Damon, Scott Oasis, Mexican Samurai, Thomas Minns, Tig Kelly, Drake Jaeger | Aren Mstislav |
| Bust of the Year | Vance Tybull, Montell Smooth, Superior Quality 85, Diamond Cage, Lethal, Death By Velocity, Maria Gonzales | Vance Tybull |
2016 EAW Awards
| Award | Nominees | Winner |
| --- | --- | --- |
| Elitist of the Year | Tiberius Jones, Brian Daniels, Mr. DEDEDE, TLA, The Pizza Boy, Ares Vendetta, Jacob Senn, Aren Mstislav, Scott Oasis, Y2Impact | Ares Vendetta |
| Vixen of the Year | Heart Break Gal, Aria Jaxon, Cailin Dillon, Sheridan Müller, Eris LeCava, Cameron Ella Ava | Aria Jaxon |
| Writer of the Year | Mr. DEDEDE, Robbie V, Brian Daniels, Jacob Senn, Matt Ryder, Y2Impact, Scott Oasis, Kendra Shamez, Heart Break Gal | Brian Daniels |
| Promoer of the Year | Ares Vendetta, Mr. DEDEDE, Brian Daniels, Jacob Senn, Y2Impact, Tiberius Jones, Nico Borg, The Pizza Boy | Ares Vendetta |
| Vixen Promoer of the Year | Heart Break Gal, Cailin Dillon, Aria Jaxon, Sheridan Müller, Eris LeCava, Cameron Ella Ava, Madison Kaline | Heart Break Gal |
| Match of the Year | Ares Vendetta vs. Brian Daniels – Territorial Invasion 2016, Ares Vendetta vs. Y2Impact vs. Tyler Parker vs. Devan Dubian – Pain for Pride 9, Brian Daniels vs. The Heart Break Boy – King of Elite 2016, Ares Vendetta vs. Hades vs. Tyler Parker – Triple Threat 2016, Cash in the Vault Match – Pain for Pride 9, Cerberus and The Pizza Boy vs. Drake and Jones and Judas – Pain for Pride 9, Xavier Williams vs. Mr. DEDEDE – Pain for Pride 9, Mr. DEDEDE vs. Y2Impact – Reckless Wiring 2016, Jacob Senn vs. Zack Crash – Pain for Pride 9, Mr. DEDEDE vs. Ares Vendetta – Grand Rampage 2016, Methuselah vs. Devan Dubian – Rite of Passage | Mr. DEDEDE vs Ares Vendetta - Grand Rampage 2016 |
| Vixen Match of the Year | Cailin Dillon vs. Eris LeCava – Reasonable Doubt 2016, Cameron Ella Ava vs. Sheridan Müller – Vixens Cup, Cailin Dillon vs. Aria Jaxon – Empress of Elite Tournament, Heart Break Gal vs. Aria Jaxon vs. Eris LeCava – Triple Threat 2016, Cailin Dillon vs. Madison Kaline – Empress of Elite Tournament, The New Breed Division vs. The Vixens Division – Pain for Pride 9, Heart Break Gal vs. Eris LeCava – Dia Del Diablo, Aria Jaxon vs. Heart Break Gal – Pain for Pride 9, Heart Break Gal vs. Haruna Sakazaki – House of Glass 2016, Madison Kaline vs. Tarah Nova – Vixens Cup | Cameron Ella Ava vs. Sheridan Muller - Vixens Cup |
| World Heavyweight Champion of the Year | Jacob Senn, Scott Oasis, Brian Daniels, Lucian Black | Brian Daniels |
| EAW Champion of the Year | Jamie O'Hara, Lannister, Vic Vendetta, Aren Mstislav, Y2Impact | Aren Mstislav |
| Answers World Champion of the Year | Mr. DEDEDE, Ares Vendetta | Ares Vendetta |
| Vixen Champion of the Year | Eris LeCava, Aria Jaxon, Heart Break Gal, Sheridan Müller | Eris LeCava |
| Tag Team of the Year | Cerberus, The Mighty Don't Kneel, Drake & Jones, The Mercenaries | Drake & Jones |
| Feud of the Year | Ares Vendetta vs. Brian Daniels, Jacob Senn vs. Zack Crash, Carson Ramsay vs. Kenny Drake, Hexa-Gun vs. EAW, Eris LeCava vs. Heart Break Gal, Xavier Williams vs. Mr. DEDEDE, The Pizza Boy vs. Drake and Jones | Hexa-Gun vs. EAW |
| Stable of the Year | Sanatorium, Omerta, Hexa-Gun, The OGs, The Sirens, Formation | Hexa-Gun |
| Comeback of the Year | Jacob Senn, Drastik, Kendra Shamez, Lannister, Drake Jaeger | Jacob Senn |
| Rookie of the Year | Nico Borg, Rex McAllister, Nathan Fiora, Carson Ramsay, Kenny Drake, Sheridan Müller | Sheridan Müller |
| Return Moment of the Year | Heart Break Boy, Matt Ryder, Jacob Senn, Devan Dubian, Drastik, Diamond Cage | Devan Dubian |
| Extreme Moment of the Year | Ares Vendetta's attack on RoViper, Ares Vendetta's attack on Tyler Parker, Methuselah's Heat Seeking Spear into Bleeding Edge to the outside, Zack Crash crucified on Electric Cage, Matt Miles Getting Head Bashed Into Electric Cage, Jacob Senn's Curb Stomp on Lucian Black with glass shards in mouth, Matt Ryder's face getting burnt by Zack Crash | Jacob Senn's Curb Stomp on Lucian Black with glass shards in mouth |
| Shocking Moment of the Year | Sheridan winning the Vixens Championship, Jamie O'Hara burning Nick Angel's crotch, Nico Borg winning the National Elite Championship, Ryan Marx turning on Team Ryder, HBB's retirement, Eclipse Diemos winning King of Elite 2016, Y2Impact winning Grand Rampage 2016 | Eclipse Diemos winning King of Elite 2016 |
| Supershow of the Year | Fighting Spirit 2, Rising Tide, Rite of Passage, Vixens Cup | Fighting Spirit 2 |
| Next Up in 2017 | Ryan Marx, Nico Borg, Drake Jaeger, Ahren Fournier, Keelan Cetinich, Nathan Fiora, Kenny Drake, Azumi Goto, Cloud Matsuda, Veena Adams | Nico Borg |
| Bust of the Year | Dark Demon, Cyclone, Diamond Cage, Lucian Black, Scott Diamond | Dark Demon |
2017 EAW Awards
Award
Nominees
Winner
[Male] Elitist of the Year
Lannister, The Pizza Boy, Jamie O'Hara, Tiberius IV, Brian Daniels, Nico Borg
Jamie O'Hara
[Female] Elitist of the Year (dedicated in the memory of Brody Sparks)
Cameron Ella Ava, Aria Jaxon, Heart Break Gal, Consuela Rose Ava, Stephanie Matsuda, Madison Kaline
Aria Jaxon
Writer of the Year
Robbie V, Mr. DEDEDE, Brian Daniels, Jacob Senn, Xavier Williams, Scott Oasis
Robbie V
[Female Elitist] Promoer of the Year
Aria Jaxon, Cameron Ella Ava/Consuela Rose Ava, Heart Break Gal, Brody Sparks, Sheridan Müller, Stephanie Matsuda
Aria Jaxon
[Male Elitist] Promoer of the Year
Ares Vendetta, Lannister, Jacob Senn, Jamie O'Hara, The Pizza Boy, Nico Borg, Mr. DEDEDE, John Doe, Tiberius IV, Ryan Marx, Theron Nikolas
Jamie O'Hara
Match of the Year (Female Elitist)
Aria Jaxon vs. Cameron Ella Ava vs. Cailin Dillon - EAW Women's Championship Match [Pain for Pride X]

Aria Jaxon vs. Azumi Goto vs. Haruna Sakazaki vs. Revy vs. Savannah Sunshine - Extreme Elimination Chamber Match for the EAW Women's Championship [Road to Redemption 2017]

Brody Sparks vs. Consuela Rose Ava - EAW Specialists Championship Match [Pain for Pride X]

Brody Sparks and Cameron Ella Ava vs. Aria Jaxon and Consuela Rose Ava [Empire: Terminus]

Aria Jaxon vs. Azumi Goto - EAW Women's Championship Match [Empire: Manifest Destiny]

Stephanie Matsuda vs. Chelsea Crowe [Empire: 11/24/17]

Aria Jaxon vs. Cailin Dillon vs. Stephanie Matsuda - EAW Women's Championship Match [Empire: Malicious Intentions]

Aria Jaxon vs. Azumi Goto vs. Haruna Sakazaki vs. Revy vs. Savannah Sunshine – Extreme Elimination Chamber Match for the EAW Women's Championship [Road to Redemption 2017]
Match of the Year (Male Elitist)
Ares Vendetta w/ Jaywalker vs. Brian Daniels w/ Robbie V - Trial By Combat Match [King of Elite 2017]

Jamie O'Hara vs. Tiberius IV vs. Drastik - King of Elite Finals Triple Threat Match [King of Elite 2017]

Brian Daniels vs. Lannister - Hell in a Cell Match for the EAW Answers World Championship [Reasonable Doubt 2017]

Jaywalker vs. Robbie V - Hell in a Cell Match [Reasonable Doubt 2017]

Drake Jaeger vs. Methuselah - Steel Cage Match for the EAW Interwire Championship [Reckless Wiring 2017]

Lannister vs. Nico Borg - EAW Answers World Championship Match [Grand Rampage 2017]

Mr. DEDEDE vs. Robbie V [Resurrection V 2017]

Brian Daniels vs. The Pizza Boy [Resurrection V 2017]

Brian Daniels vs. Robbie V [Pain for Pride X]

Jamie O'Hara vs. Xavier Williams - EAW World Heavyweight Championship Match [Pain for Pride X]

Mr. DEDEDE vs. Jacob Senn - EAW Interwire Championship Match [Pain for Pride X]

The Pizza Boy vs. Lannister - EAW Answers World Championship Match [Pain for Pride X]

CM Bank$ vs. Nasir Moore - Fire & Steel Match [Dia Del Diablo 2017]

Tiberius IV vs. Theron Nikolas - Trial By Fire Match for the EAW Championship Match [Dia Del Diablo 2017]

The High Rollerz and Theron Nikolas vs. Triumvirate - EAW Championship and EAW Tag Team Championship No Way Out Match [Territorial Invasion 2017]

Jamie O'Hara vs. Cameron Ella Ava - EAW World Heavyweight Championship Match [Territorial Invasion 2017]

Nico Borg vs. Jacob Senn - Cash in the Vault Glass TLC Match [House of Glass 2017]

Tiberius IV vs. Heart Break Gal vs. Diamond Cage vs. Rex McAllister vs. Theron Nikolas vs. Prince of Phenomenal - Extreme Elimination Chamber Match for the EAW Championship [Road to Redemption 2017]

Jamie O'Hara vs. Lars Grier vs. Keelan Cetinich vs. TLA vs. Amadeus vs. Carlos Rosso - Extreme Elimination Chamber Match for the EAW World Heavyweight Championship [Road to Redemption 2017]

Keelan Cetinich vs. Lars Grier - Electric Deathmatch to determine the #1 contender to the EAW World Heavyweight Championship [Shock Value 2017]

Brian Daniels vs. Robbie V [Pain for Pride X]
Feud of the Year
Brian Daniels vs. Robbie V, Lannister vs. The Pizza Boy, Theron Nikolas vs. Tiberius IV, Triumvirate vs. Diamond Cage, Triumvirate vs. Theron Nikolas, Jamie O'Hara vs. Xavier Williams, Chris Elite vs. Mr. DEDEDE, Nasir Moore vs. CM Bank$, The High Rollerz vs. RoViper, Drake Jaeger vs. Methuselah, Tarah Nova vs. Haruna Sakazaki
Brian Daniels vs. Robbie V
Women's Champion of the Year
Aria Jaxon, Cameron Ella Ava
Aria Jaxon
Answers World Champion of the Year
Lannister, The Pizza Boy, Nico Borg
Lannister
World Heavyweight Champion of the Year
Jamie O'Hara, Jacob Senn
Jamie O'Hara
EAW Champion of the Year
Y2Impact, Drastik, Tiberius IV
Tiberius IV
Supershow of the Year
Empire: Manifest Destiny, Empire: Malicious Intentions, Empire: Terminus, Dynasty: Burning Desire, Dynasty: Invictus
Showdown: Kingsroad
Extreme Moment of the Year
Ares Vendetta decimates Lannister, Athena, and their unborn child, Brian Daniels getting Feuer Frei'd after attempting a diving headbutt inside Hell in a Cell, Astraea Jordan tearing Madison Kaline's ACL, Tomi Venus leaving Jacob Senn bloodied with a railroad spike, Finnegan Wakefield and Jon McAdams pit fall in the Blackout Match, Nasir Moore driven face-first into flames by CM Bank$ in the Fire & Steel Match, Jacob Senn's Wings of Hell attempt in the Glass TLC Match, Xavier Williams' attack on Jamie O'Hara at King of Elite, Robbie V headbutting Brian Daniels in the face at Pain for Pride X, Tiberius IV bashing The Pizza Boy's skull in and driving the chair against his throat to attempt to suffocate him
Ares Vendetta decimates Lannister, Athena, and their unborn child
Shocking Moment of the Year
Brian Daniels kicking out of the King's Landing, Xavier Williams costing Jamie O'Hara the King of Elite Crown, Mak's Return at Pain For Pride X, Robbie V comes back to life, CM Bank$ returns to EAW, The Debut of The Triumvirate, Nico Borg's Cash in the Vault cash-in on The Pizza Boy, Chris Elite defeats Mr. DEDEDE at Road to Redemption
Robbie V comes back to life
Comeback of the Year
Robbie V, Tomi Venus, CM Bank$, Scott Diamond, Carlos Rosso, Prince of Phenomenal
Prince of Phenomenal
Return Moment of the Year
Heart Break Boy, Robbie V, CM Bank$, Sheridan Müller, Tomi Venus
Robbie V
Rookie of the Year
Theron Nikolas, John Doe, Darkane, Savannah Sunshine, Chelsea Crowe
Darkane
Next Up in 2018
Finnegan Wakefield, Darkane, Astraea Jordan, Chris Elite, Lars Grier, Keelan Cetinich, Amadeus
Lars Grier
Tag Team of the Year
The High Rollerz, Triumvirate, Di Consentes, RoViper, We Are The Bollocks
The High Rollerz
2018 EAW Awards
Award
Nominees
Winner
[Male] Elitist of the Year
Chris Elite, Rex McAllister, Theron Nikolas, Diamond Cage, Darkane
Diamond Cage
[Female] Elitist of the Year
Sienna Jade, Stephanie Matsuda, Astraea Jordan, Andrea Valentine, Cameron Ella Ava, Madison Kaline
Sienna Jade
Writer of the Year
Mr. DEDEDE, Ronn Banks, Cloud Matsuda, Diamond Cage, Theron Nikolas, Scott Diamond, Remi Skyfire
Mr. DEDEDE
[Female] Promoer of the Year
Kassidy Heart, Astraea Jordan, Sienna Jade, Andrea Valentine, Tyler Wolfe, Cameron Ella Ava, Raven Roberts
Kassidy Heart
[Male] Promoer of the Year
Noah Reigner, Rex McAllister, Ahren Fournier, Impact, Malcolm Jones, Mr. DEDEDE, Theron Nikolas, Diamond Cage, Darkane, TLA
Mr. DEDEDE
[Female] Match of the Year
The Pride vs Jaded Wolfe Hearts winner takes all (Empire), Sienna Jade vs Cloud (Pain for Pride Festival), Astraea Jordan vs Madison Kaline (Pain for Pride Festival), Specialists Rampage (Grand Rampage), Jaded Hearts vs Crowes Nest (Pain for Pride Festival), Astraea Jordan vs Cloud (Empire Season Premiere), Remi Skyfire vs Raven Roberts (Bloodletter), Madison Kaline vs Andrea Valentine (Bloodletter), Sienna Jade vs Ms Extreme (REVOLT 1), Cleopatra vs Andrea Valentine (Empire)
Astraea Jordan vs Madison Kaline Pain for Pride Festival
[Male] Match of the Year
Scott Diamond vs Darkane (Pain for Pride Festival), Malcolm Jones vs Chris Elite (Pain for Pride Festival), Diamond Cage vs Rex McAllister (Pain for Pride Festival), Ronn Banks vs Theron Nikolas (Pain for Pride Festival), Impact vs Jamie O'Hara (Pain for Pride Festival), Diamond Cage vs TLA vs Charlie Marr vs Daryl Kinkade vs Devan Dubian vs Lucian Black - No Way Out Match (Wrath of the Dragon), The 1% vs Jaded Wolfe Hearts vs Diamond Cage & NEO Syndicate vs Rex McAllister & MarrKade - War Games (Territorial Invasion), Theron Nikolas vs Darkane (Operation Doomsday), Rex McAllister vs Chris Elite (Crossfire), Jamie O'Hara vs Lars Grier (Brooklyn Heights), Liquid Swords vs Blicky Boyz (REVOLT 1), Theron Nikolas vs Andrei Sokolova (Revolution)
Diamond Cage vs Rex McAllister Pain for Pride Festival
Feud of the Year
Ronn Banks vs Theron Nikolas, Malcolm Jones vs Chris Elite, Mr. DEDEDE vs Cameron Ella Ava, Impact vs Jamie O'Hara, Raven Roberts vs Remi Skyfire

Madison Kaline vs Astraea Jordan, Lethal Consequences vs VIP, Cody Marshall vs TLA, Prince of Phenomenal vs Heart Break Boy

Mr. DEDEDE vs Cameron Ella Ava
Womens Champion of the Year
Stephanie Matsuda, Madison Kaline
Madison Kaline
Answers World Champion of the Year
Scott Diamond, Darkane, Theron Nikolas
Darkane
World Heavyweight Champion of the Year
Jamie O'Hara, Chris Elite, Rex McAllister
Rex McAllister
EAW Champion of the Year
Rex McAllister, Diamond Cage
Diamond Cage
Supershow of the Year
Wrath of the Dragon, Culture Crisis, Battle Without Honor or Humanity, Brooklyn Heights, Crossfire, Revolution, No Regards, Terminus
Showdown: No Regards
Extreme Moment of the Year
DDD kills Jamie O'Hara with the Equalizer, Raven Roberts paralyzing Revy, Cage decimating his No Way Out match opponents, Apocalypse killing The Core Brothers on Dynasty, Madison Kaline brutalizing Cloud on Empire, Astraea and Constance Blevins in her return, Remi Skyfire and Raven Roberts' chaotic brawl at Bloodletter, Drake hitting Raven with a branding iron at No Regards
Mr. DEDEDE kills Jamie O'Hara with the Equalizer
Shocking Moment of the Year
Ronn Banks being screwed into retirement by Mr. DEDEDE at Pain for Pride, Raven Roberts joining the Crowes Nest, Captain Charisma returns to the ring for the first time in 6 years, EAW and REVOLT merges, Mr. DEDEDE "comes out of the closet", Noah Reigner wins Cash in the Vault
Ronn Banks screwed into retirement by Mr. DEDEDE at Pain for Pride
Comeback of the Year
Amber Keys, Cleopatra, Lethal Consequences, Scott Diamond, TLA
Amber Keys
Return Moment of the Year
TLA at the Grand Rampage, Ronn Banks at Grand Rampage, Apocalypse at Operation Doomsday, Captain Charisma being named the Voltage Commissioner, Kendra Shamez on Empire
Ronn Banks at the Grand Rampage
Rookie of the Year
Noah Reigner, Xander Payne, Kassidy Heart, Sienna Jade, Tyler Wolfe, Raven Roberts, Remi Skyfire
Noah Reigner
Next Up in 2019
Raven Roberts, Noah Reigner, Jack Ripley, Kassidy Heart, Tyler Wolfe, Daryl Kinkade, Charlie Marr, Andrea Valentine, Cody Marshall
Noah Reigner
Tag Team of the Year
Jaded Hearts, Drillmatic, Blicky Boyz, MarrKade, Liquid Swords
The Jaded Hearts
Stable of the Year
Jaded Wolfe Hearts, The Crowes Nest, The Pride, The 1%
Jaded Wolfe Hearts
Most Improved
Xander Payne, Remi Skyfire, Lucas Johnson, Charlie Marr, Daryl Kinkade, Kassidy Heart, Raven Roberts, Damon Diesel, Erebus Jennings
Charlie Marr
2019 EAW Awards
Award
Nominees
Winner
[Male] Elitist of the Year
Mr. DEDEDE, Impact, Malcolm Jones, Jamie O'Hara, Charlie Marr, TLA, Ahren Fournier, and Theron Nikolas
Mr. DEDEDE
[Female] Elitist of the Year
Sienna Jade, Serena Bennett, Kassidy Heart, Raven Roberts, Andrea Valentine, and Ms. Extreme
Kassidy Heart
Writer of the Year
Mr. DEDEDE, Kassidy Heart, Raven Roberts, Amber Keys, Cameron Ella Ava, and Visual Prophet
Mr. DEDEDE
[Female] Promoer of the Year
Kassidy Heart, Serena Bennett, Raven Roberts, Andrea Valentine, Minerva, Ms. Extreme and Sienna Jade
Kassidy Heart
[Male] Promoer of the Year
Mr. DEDEDE, Jamie O'Hara, Impact, Chris Elite, Malcolm Jones, Visual Prophet, Darkane, Drake King and Lethal Consequences
Mr. DEDEDE
[Female] Match of the Year
Kassidy Heart vs. Serena Bennett at EAW Operation:Doomsday(2019)
[Male] Match of the Year
Theron Nikolas vs. Jamie O'Hara vs. Mr. DEDEDE vs. Darkane at EAW Pain for Pride XII
Feud of the Year

 Serena Bennett vs. Sienna Jade
Mr. DEDEDE vs. Amber Keys
Mr. DEDEDE vs. Theron Nikolas
Dr. Bethany Blue vs. Terry Chambers
Charlie Marr vs. Daryl Kinkade
The Beating Hearts of Voltage (Raven Roberts, Andrea Valentine, Ms. Extreme and Consuela Rose Ava) vs. Veena Adams and Charlie Marr
Consuela Rose Ava vs. Jesse Barlow
Kassidy Heart vs. Ahren Fournier
Jack Ripley vs. Charlie Marr
Lethal Consequences vs. Impact

TIE: The Beating Hearts of Voltage (Raven Roberts, Andrea Valentine, Ms. Extreme and Consuela Rose Ava) vs. Veena Adams and Charlie Marr & Serena Bennett vs. Sienna Jade
Womens Champion of the Year
Sienna Jade, Kassidy Heart, Raven Roberts, and Serena Bennett
Kassidy Heart
EAW Champion of the Year
Ahren Fournier, Malcolm Jones, and Charlie Marr
Malcolm Jones
World Heavyweight Champion of the Year
Rex McAllister, Noah Reigner, Impact, and TLA
Impact
Answers World Champion of the Year
Theron Nikolas and Mr. DEDEDE
Mr. DEDEDE
Supershow of the Year
EAW Iconic Cup (2019), EAW House of Glass (2019), EAW Bloodsport (2019), EAW Midsummer Massacre (2019), EAW Operation: Doomsday (2019), EAW Tempest (2019), EAW Under Siege (2019), EAW Terminus (2019), EAW Gateway to Glory (2019), EAW Wrath of the Dragon (2019), EAW Reasonable Doubt (2019), and EAW Wicked Games (2019)
EAW House of Glass (2019)
Extreme Moment of the Year

 Kassidy Heart spears The Visual Prophet through the ring at House of Glass.
Terry Chambers gets tased in the testicles by Cody Marshall at Showdown: Under Siege.
The Lego Tables used during the UTTC match at Pain for Pride.
Drake King bashing Vic Venom's head with a steel chair FIFTEEN TIMES at Operation: Doomsday.
Sienna Jade stabbing TLA with a pair of scissors at House of Glass.
Chris Elite gets blown up by an exploding jeep at Midsummer Massacre.
Charlie Marr stabbing Daryl Kinkade in midair with Deaths Dagger at Fighting Spirit: SEOUL.
Amber Keys delivers the Amber Alert on Mr. DEDEDE off the top of Hell in a Cell at Reasonable Doubt.

Chris Elite gets blown up by an exploding jeep at Midsummer Massacre.
Shocking Moment of the Year

 Mr. DEDEDE drugs and marries Kassidy Heart during the 2019 Draft Show
Jordie Ripley turns on her brother, Jack Ripley, and aligns with Charlie Marr
Theron Nikolas turns on Mr. DEDEDE at Ides of March
Veena Adams and Matt Daniels are fired from their Voltage Co-Commissioner posts
Amber Keys returns at Battle of Egypt and costs EAW $350 Million.
Veena Adams fires Malcolm Jones

Mr. DEDEDE drugs and marries Kassidy Heart during the 2019 EAW Draft Show.
Comeback of the Year
Justin Windgate, Ms. Extreme, and Archimedes J. Manson
Ms. Extreme
Return Moment of the Year

Tyler Parker's comeback performance at Battle of Egypt.
Mr. DEDEDE at Gateway to Glory
Diamond Cage at Grand Rampage
Serena Bennett at House of Glass
Impact at Grand Rampage

Tyler Parker's comeback performance at Battle of Egypt.
Rookie of the Year
Serena Bennett, Visual Prophet, Minerva, Darcy May Morgan, and Jenny Cien
Visual Prophet
Next Up in 2020
Drake King, Visual Prophet, Jake Smith, Xander Payne, Minerva, Darcy May Morgan and Jenny Cien
Visual Prophet
Tag Team of the Year
Heavenly Hell (Constance Blevins and Minerva), Jaded Hearts (Sienna Jade and Kassidy Heart), The Wildcards (Xander Payne and Myles), Drake King and Jake Smith, and The ILLIONAIRES (Ahren Fournier and Chris Elite)
Heavenly Hell (Constance Blevins and Minerva)
Stable of the Year
Jaded Wolfe Hearts (Sienna Jade, Tyler Wolfe and Kassidy Heart), The 1% (Theron Nikolas, Mr. DEDEDE and Jack Ripley), The Roundtable (Drake King, Jake Smith, Joshua Nicholls, and Jax Walker), The Beating Hearts of Voltage (Raven Roberts, Andrea Valentine, Ms. Extreme and Consuela Rose Ava)
The Beating Hearts of Voltage (Raven Roberts, Andrea Valentine, Ms. Extreme and Consuela Rose Ava)
Most Improved
Jake Smith, Drake King, Constance Blevins, Terry Chambers, Mark Michaels, Ryan Wilson, and Archimedes J. Manson
Drake King
2020 EAW Awards
Award
Nominees
Winner
[Male] Elitist of the Year
Drake King, Visual Prophet, Jamie O'Hara, Mr. DEDEDE, Rex McAllister, TLA
Drake King
[Female] Elitist of the Year
Andrea Valentine, Cameron Ella Ava, Kassidy Heart, Serena Bennett, Minerva, Raven Roberts
Serena Bennett
Writer of the Year
Kassidy Heart, Cameron Ella Ava, Jake Smith, Terry Chambers, Drake King
Kassidy Heart
[Female] Promoer of the Year
Kassidy Heart, Serena Bennett, Raven Roberts, Andrea Valentine, Minerva, Ms. Extreme, Sienna Jade, and Kasey Kaos
Serena Bennett
[Male] Promoer of the Year
Mr. DEDEDE, Visual Prophet, Jamie O'Hara, Impact, Malcolm Jones, and Drake King
Mr. DEDEDE
[Female] Match of the Year
Minerva vs. Serena Bennett at Bloodsport (2020)
[Male] Match of the Year

Drake King vs. Visual Prophet in Prophetic Visions at Pain for Pride XIII
Mr. DEDEDE vs. Jamie O'Hara at Pain for Pride XIII
Visual Prophet vs. Mr. DEDEDE in Glass Wallz at House of Glass (2020)
Malcolm Jones vs. Charlie Marr at Pain for Pride XIII

Drake King vs. Visual Prophet in Prophetic Visions at Pain for Pride XIII
[Intergender] Match of the Year

Andrea Valentine vs. Rex McAllister at Pain for Pride XIII
Cameron Ella Ava vs. Xander Payne vs. Mr. DEDEDE at Grand Rampage (2020)
Armageddon Hell in a Cell at Reasonable Doubt (2020)
Malcolm Jones vs. Andrea Valentine at Grand Rampage (2020)
War Games at Territorial Invasion (2020)
Xavier Williams vs. Harlow Reichert at Pain for Pride XIII
40-Person Grand Rampage (2020)
Impact vs. Serena Bennett vs. Chris Elite vs. Cage at Pain for Pride XIII

Cameron Ella Ava vs. Xander Payne vs. Mr. DEDEDE at Grand Rampage (2020)
Feud of the Year

Raven Roberts vs. Minerva
Serena Bennett vs. Minerva
Drake King vs. Visual Prophet
Malcolm Jones vs. Charlie Marr
Mr. DEDEDE vs Jamie O'Hara
Ronan Malosi vs. Ryan Wilson

Ronan Malosi vs. Ryan Wilson
Womens Champion of the Year
Raven Roberts, Minerva, Serena Bennett
Serena Bennett
EAW Champion of the Year
Andrea Valentine, Rex McAllister, SOSA Henderson
Andrea Valentine
World Heavyweight Champion of the Year
Drake King, Visual Prophet
Visual Prophet
Answers World Champion of the Year
Mr. DEDEDE, Cameron Ella Ava, Jamie O'Hara
Jamie O'Hara
Extreme Moment of the Year

Ryan Wilson ripping Shaker Jones' tooth out with pliers.
Mr. DEDEDE hitting Cameron Ella Ava with the flaming equalizer at Grand Rampage (2020).
Mr. DEDEDE hanging Visual Prophet from meat hooks at House of Glass (2020).
Drake King's branding iron curb stomp on TLA at King of Elite (2020).
Xander Payne stands Cameron Ella Ava with a liposuction machine at King of Elite (2020).
MITSUBASHI unleashing murder hornets at Pain for Pride XIII.
Consuela Rose Ava going through a barbed wire trampoline at King of Elite (2020).

Mr. DEDEDE hanging Visual Prophet from meat hooks at House of Glass (2020).
Shocking Moment of the Year

Cameron Ella Ava's pregnancy announcement.
Santo Muerte's true identity being revealed.
Andrea Valentine loses it against Harlow Reichert.
Drake King destroys Visual Prophet at Gateway to Glory (2020).
Mr. DEDEDE killing Visual Prophet's pet tiger Kimmy on Dynasty.

Mr. DEDEDE killing Visual Prophet's pet tiger Kimmy on Dynasty.
Comeback of the Year
Myles, Jon Kelton, Serena Bennett, Xavier Williams, James Ranger
Serena Bennett
Return Moment of the Year

Serena Bennett interrupting Ronan's "Hot Takes" at Reckless Wiring (2020).
Drake King crashes MJ vs. TLA at Bloodsport (2020).
Kassidy Heart brutalizes Jamie O'Hara at Territorial Invasion (2020).
Vic Vendetta's return on Dynasty.
MaK returns for the Grand Rampage.
Sienna Jade returns at Grand Rampage and screws over Serena Bennett.
Myles at Grand Rampage.

Myles at Grand Rampage (2020).
Rookie of the Year
Andre Walker, Adam Lucas, Bronson Daniels, SEBAS, Limmy Monaghan, Dray Fontana, Kasey Kaos, MITSUBACHI
Andre Walker
Next Up in 2021
Kasey Kaos, Adam Lucas, Bronson Daniels, Ronan Malosi, Andre Walker, Harlow Riechert, Dr. Bethany Blue, Candice Blair Ava
Bronson Daniels
Tag Team of the Year
Heavenly Hell (Constance Blevins and Minerva), Drizzy & Vizzy (Drake King and the Visual Prophet), Fire & Ice (Raven Roberts and Rex McAllister), The Realm (Sierra Bradford and Harper Lee), The Grand Athletes (Limmy Monaghan and Mark Macias), Liquid Swordz (Mr. DEDEDE and Impact), Blicky Boyz (Malcolm Jones and Chris Elite)
Drizzy & Vizzy
Most Improved
Limmy Monaghan, Shane Gates, Ronan Malosi, Lisa Wren, Dray Fontana
Dray Fontana