EAW Answers World Championship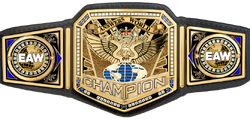 The EAW Answers World Championship belt
Details
| | |
| --- | --- |
| Promotion(s) | EAW |
| Brand | Showdown |
| Date established | January 14, 2011 |
| Current champion(s) | Kassidy Heart |
| Date won | March 27, 2021 |
Statistics
First champion(s)
Y2Impact
Most reigns
Y2Impact (3) & Mr. DEDEDE (3)
Longest reign
Theron Nikolas (8 months and 0 days; 243 days)
Shortest reign
Drastik (<1 day)
Past design(s)



The EAW Answers World Championship is a professional wrestling world championship in Elite Answers Wrestling (EAW). It is currently part of the Showdown brand and is one of the three major championships, complimenting the EAW World Championship on Voltage and the EAW World Heavyweight Championship on Dynasty. It was first established in January 2011 when Extreme Answers Wrestling expanded to three brands.
Prominence
The Answers World Championship was established as the World Championship of the then-newly introduced brand, Voltage, to act as an equivalent to Dynasty's EAW Championship and Showdown's EAW World Heavyweight Championship. The Answers World Champions debuted as the premier world championship for the Voltage roster. The first Pain for Pride match that the Answers World Championship was in was at Pain 4 Pride when Lethal Consequences won the championship against Y2Impact and Ashten Cross in a Triple Threat match. After the EAW Champion and Answers World Champion were drafted to one another's brand, the title became the top championship on the Dynasty brand. During this time, the title was brought back to the stage of Pain for Pride once again with Prince of Phenomenal winning the title from Alexander Da Vinci, and Liam Catterson being the first to retain the belt as he defended against Johnny Ventura. Drastik would nearly bring the end to the championship by departing from EAW with it and the Interwire Championship after winning the vacated title at House of Glass. The title would soon be resurrected as it would be competed for in a battle royal where the first champion, Y2Impact, would claim his record-setting third reign.
Reigns
The inaugural champion was Y2Impact when he was able to defeat George Copeland at Reasonable Doubt. There have been thirty-one different official champions, with Y2Impact & Mr. DEDEDE having the most reigns with three individual reigns. The longest reigning Answers World Champion is Theron Nikolas, who held the championship for approximately eight months exactly (between Operation: Doomsday and EAW Pain for Pride XII). The shortest reigning Answers World Champion was Drastik who held the championship for less than a day as he left with the titles and the titles were retired that night. The current champion is Jack Ripley in his first reign. He won Showdown's Extreme Elimination Chamber at Road to Redemption.
Title history
Key
| | |
| --- | --- |
| Reign | The reign number for the specific set of wrestlers listed |
| # | Indicates what number the reign is |
| Event | The event promoted by the respective promotion in which the titles were won |
| N/A | The information is not available or is unknown |
| — | Used for vacated reigns so as not to count it as an official reign |
Names
| Name | Span of Time |
| --- | --- |
| EAW Answers World Championship | January 14, 2011–present |
History
† indicates reigns and title changes not recognized by EAW.
 

  Championships
EAW Answers World Championship · EAW Interwire Championship
EAW World Heavyweight Championship · EAW Pure Championship
EAW World Championship · EAW National Elite Championship
Interbranded
EAW Universal Women's Championship · EAW New Breed Championship · EAW Unified Tag Team Championships · EAW Specialists Championship
Inactive
EAW Hall of Fame Championship · EAW Openweight Championship · EAW Vixens Championship