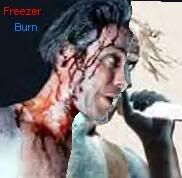 1043 Wins- 166 Losses- 17 Draws - 184 No Decisions As of 3/27/2016
Former Major Federations:
DIWF (2004-2006), Uncensored Wresting Alliance (2001-2006), Mayhem Championship Wrestling (2005-2006), American Wresling Alliance (1999-2004), Xtreme Wrestling Federation (1996-2002)
Freezer Burn has recently come out of retirement and is enrolled in Wrestlinng Championship Federation as of March 2016. His current bio is as follows:
Wrestler's name: 'Freezer Burn' Wayne Hammon 
Gimmick:
A ring veteran that survived a plane crash and reinvented his moveset to accommodate his sadistic nature, strength of spirit and altered physical form. Reffered often as 'Old Man' and 'The Bionic Man' on account of his age and the numerous steel rods and pins placed throughout his body during reconstructive surgeries. Backstage, he is a contradiction to his in-ring style, lending his advanced technical knowledge and experience to any willing to improve. This is proven in his previous management of successful tag teams that were mediocre singles competitors when he started with them.
One of the few western wrestlers to compete in all seven continents AND be allowed to wrestle in Japan and China on a semi-regular basis. His original training was at Exotic Adrian Street's SkullKrusher Academy in Florida, but has also trained in Mexico, Germany, and Japan during his extended tours. He has one of the widest arrangements of moves, and an even more impressive proficiency in counters and reversals. Will 'oversell' bumps slightly to lend opposition into a false sense of advantage, only to set them up for some truly underhanded trick. His pain threshold is ungodly and his spirit is indomitable and has long since been considered the one true master of impossible kickouts. 
Has also been known to do handicap matches, just to put two opponents into different submissions at the same time and make them both tap, ie: inverted figure four on one and an ankle lock on the other. His use of combination moves and chain wrestling are legendary. Then again, with thirty years of training and in ring experience, one tends to excel when fueled with a passion as great as his. He is reknown for ending the longest winning streeks ever recorded.
Height/weight: 6' 4" / 235 pounds
Hometown: Wherever I May Roam
Alignment: Heel and loving it
Appearance/Attire:  Blacks, silvers, and grays are the colors of his wardrobe, using Till Lindemann as a pic base.
Entrance Music: Tomorrow's World by Ugly Kid Joe
Entrance: The music plays through the intro and 'Freezer Burn' Wayne Hammon appears from the backstage area. He stands there, soaking in the audience reaction and returns a sadistic sneer. He walks down the rampway, an occasional brush of his hand to a nnearby fan, before using the steps to enter the ring
He raises both arms in pre-match triumph, a brilliant blue and red spray of pyrotechnics exploding from the four cornerposts. He rushes under the bottom rope, out to the ringside area, mock backhanding a fan and mouthing off to the audience for a few seconds before giving the sudience a double birdie. The pyros die down, as he gives another random obsene gesture, slips back under the bottom rope and into the ring.
He goes to a second turnbuckle, does a crotch grab toward the audience, and gives them another double birdie and sadistic sneer as the music fades away.
Style:
Well rounded, strong in transitions, counters/reversals, hardcore/specialty matches and submissions, specializing in dirty tactics
Favorite Moves (At least 5): 
 heel grind (to hand, sternum, or forehead) 
 forehead bite 
 stomp on the toes 
 turnbuckle powerbomb 
 snake eyes 
 stun gun 
 monkey flip into turnbuckle 
 jab to throat 
 grab and twist the ear 
 hairgrab takedown 
 tilt-a-whirl-(just about everything) 
 top rope flapjack to the ring apron 
 thumb to the eye 
 low blow 
 testicular claw 
 sharp jab to the armpit 
 double leg underhook spinebuster into boston crab transition 
 armbar ddt 
 legdrop from the 2nd turnbuckle 
 pull the referee into harm's way 
 ankle lock 
 argue with the referee while choking opponent on the ref's blindside 
 drop toe hold 
 top rope vertical ddt 
 grab the tights schoolboy rollup 
 2nd rope springboard reverse crescent kick 
 powerslam (rebound counter from running opponent/top rope opponent) 
 referee distraction 
 inverted atomic drop into belly-to-belly suplex transition 
 atomic drop into belly-to-back suplex transition 
 ddt roll through implant ddt transition  
 drop toe hold into ankle lock transition 
 fake target opponent to superkick the referee 
 (for masked wrestlers) pull mask out of position/drag by the mask 
 pull the ropes down 
 Out ya Go - from a downed position, grabs the waistline and proppells them out between 2nd and 3rd ropes 
 Elbow Drop or Blasphemer (any drop more than 30 feet)  
Favorite Weapon: Camshaft 
Favorite moves with weapon:
 camshafted clothesline 
 Camshafted side russian leg sweep 
 camshafted armbar ddt 
 blatant camshafted choke 
 thrust to the ribs/throat 
 camshafted butterfly ddt 
 duct-taped camshaft to leg* 
 *leg lariat 
 *flying leg lariat 
 *top rope legdrop 
 *big boot 
 *inverted figure 4 
Trademark move and description:
 The Fastest Left Hand in the World - Left Handed Back Fist (K.O. chance) 
 Blasphemer - Tilt-a-whirl reverse DDT 
 Blasphemer (Alternate form) - Oklahoma stampede into reverse DDT drop 
 The Feint - Fake an injury to lure the opponent into a thumb to the throat 
 The Illusionary Knee Drop - A standing knee drop that appears to miss, actual hit is the shin across the throat 
Finisher and description:
 Crossbow - Standing Transverse Indian Death Lock 
 Absolute Zero - Reverse Death Valley Driver
Greatest Feuds:
'The American Luchadore' Corey Phoenix- The longest lasting of Freezer Burn's rivalries. This feud existed through over a dozen e-wrestling federations, saw several title changes between the two, and was home to some of the duos most innovative match creations. The feud started when Corey Phoenix married Freezer Burn's sister, and personalities along with egos clashed violently. The duo was forced together as a tag team on multiple occasions, each time culminating with a tag championship reign. The feud came to an end in the DIWF where the two finally settled their differences and became the best of friends. (ooc note: the handler of Corey Phoenix was my real life best friend. He died a few years ago and e-wrestling lost one of the greatest roleplayers I've ever had the pleasure of going against. He was also handler to 'The Sickness' Sean Hale.)
'The Sickness' Sean Hale- The most intense feud. Hale was for brief description, a thai kickboxer and wrestler version of Bill Goldberg. The two started as a tag team that loved to fight each other. When Sean Hale accidentally injured his friend, the fighting became personal and the two had some extremely violent matches. The rivalry came to an end in DIWF when the two clashed for the last time in a #1 contendership for the world title in an old style rebar steel cage. It was recorded as the longest and bloodiest match in DIWF history.
Angel of Death (AOD): AOD was strictly a DIWF wrestler, who had held and forfeited every title the company had to offer. He was seen as the punisher and the executioner for the federation on account of his 212 match undefeated streak. Although a short feud, this is one of the few where Freezer Burn has more losses than wins. In the end, Freezer Burn got his win, ending AOD's career with a grand total of 212 wins, 1 loss, and no draws.
Omega- The greatest World Champion in DIWF history. Leader of the faction Oblivion. The two had many interesting matches against each other, including the one time Omega submitted and the one time Freezer Burn tapped out. Each had never quit in a match prior. The two were scheduled finally for a world title matchwhen Omega lost his title to Corey Phoenix, who then lost to Obelisk the Magnificent. Omega had attained the General Manager position at the time and setup the impossible gauntlet for Freezer Burn to overcome. In one night, Freezer Burn had to defeat Corey Phoenix, Sean Hale, Former world champion and KOTR winner Leitro, all members of Oblivion in a 3 on 1 handicap match, Omega himself, before facing Obelisk for the world title. Freezer Burn walked away with the world title that night, ending Oblivion's dominance over the DIWF. Freezer Burn was set to defend his world title against Omega in a straight up match when he was called to the Japan Invitational, where a plane crash put him on the shelf for nine years, killed one of his sons, and many future superstars of the industry, including Sean Hale and Corey Phoenix. The current whereabouts of Omega are unknown.
'Acid Burn' Randy Hammon- One of Freezer Burn's sons. The blood rivalry between the two was so extreme that the two were actually trying to kill each other in the ring. The duo faced off in 4 Three Stages of Hell matches, several ladder matches, along with hell in a cell, steel cage, blood on blood, last man standing, and a submission only 60 minute iron-man. In the end, the two were labeled as equals and ended their feud in the DIWF where they became the founding members of a stable determined to end Oblivion's reign over the DIWF.
Vlad the Impaler- This Dhampile was the longest reigning US title holder in Mayhem Championship Wrestling, holding the title for an impressive 10 months prior to his match with Freezer Burn. Although not a feud, the two had only one match against each other, and was later described as the perfect one night war. In a falls count anywhere extreme MCW rules match, the duo set the arena on fire, destroyed nearly a dozen cars, including a semi truck and a forklift, used everything in the arena that wasn't bolted down as a weapon, and saw8 of the ten biggest moments of the year for MCW which culminated in vlad spearing Freezer Burn through the backside of the video-tron into a 60 foor drop onto the rampway to the ring which collapsed under the impact. When Vlad finally got the cover on Freezer Burn, he kicked out, and Vlad knew fear for the first time in his afterlife. Vlad went for his finisher, 'The Impaler' (modified tombstone piledriver) which Freezer Burn managed to reverse and deliver the Impaler to Vlad himself. Freeze won the match after 96 minutes and 14 seconds, going in the books as the longest single match in MCW history, and ending Vlad's 72 match winning streak. Both men were sent to the hospital, where they exchanged a very rare exchange of respect for each other. Freezer Burn would go on to hold the title for One year and One day, forfeiting the title for a chance for the MCW World Championship, which he won. Vlad would go on to the hardcore division, where he easily won the hardcore title, and the two were scheduled to meet as a tag team to face against the MCW Tag Team Champions when the plane crash took away Freezer Burn's career, and ended Vlad's life/afterlife. (ooc note: he just became a father at the time and devoted his time to his new daughter. Wherever he is, I wish him the best.)
Titles and Accomplishments:
UWA World Championship - never
UWA North American Championship - never
UWA Hardcore Champion- never
UWA Champions Invitational Winner- never
DIWF World Title - never
DIWF IRC Title - In his dreams
MCW World - Please
MCW US - Nope
MCW Television - never
MCW Unified US/Television - nope
MCW Hardcore - nope
MCW RPOTW - nope
MCW RPOTM - nope
MCW RPOTY - nope
MCW Feud of the year 2006 (vs Scoundrel  - Match took place inside a speeding refrigerated semi trailer, Best of 7 challenge)
MCW Match of the year 2005 (Vlad - No Holds Barred)
EXW International - Please
EXW Hardcore - nope
EXW Extreme - nope
EXW Match of the year 2002 (vs Sean Hale - Walt Disneyland 'Pirates of the Carribbean' Resort)
EXW Feud of the Year 2002 (vs 'American Luchadore' Corey Phoenix - Steel Cage, Golden Camshaft, All Blood, 3 Tier Steel Cage, TLC, San Andreas Gravel Quarry)
EXW Worst RPOTY - 1
HWA Hardcore - never
HCWA US - never
HCWA Hardcore - never
HCWA 1/2 World Tag - nobody likes him
HCWA Rising Legends Tournament Winner for worst wrestler
UWA 1/2 Tag - nope
UWA US - nope
UWA Hardcore - nope
UWA KOTR Winner never
UWA Summer Rumble Winner never been in it
WWX 1/3 World 6 man tag - nope
WWX 1/2 Tag - nope
WWX/WXC Interfederation Championship - nope
WWX Unified Hardcore/Extreme - nope
WWX Worst RPOTM - 1
AAP US Championship - not a fed
AAP Australian Championship - not a fed
SIW Southern Iowa Championship for riding sheep
SIW 1/2 Iowa Tag Champion - nope
WCC Chicagoland Title - nope
WCC Tag Titles (Solo Holder) - 1
WCC  Ironworks Brawl Winner only guy in it
JCW Internet Title - Shaggy don't know him
JCW 1/2 World Tag - Shaggy still don't know him
JCW  Match of the year 1998 (vs Disco Inferno Junior - I Quit Match)
ACW Title - never
ACW Rookie of the year 1994 only rookie
1994 Trainee of the year - Skullcrusher Academy for Professional Wrestling
1992 Olympic Heavyweight Boxer (Placed 1023rd)
USMC Heavyweight Boxing Champion 1984 yet never a Marine