Diamond Cage

Cage as EAW Champion in July 2018
Birth name
Christopher Coleman
Born
October 27, 1992 (age 25)
Edmonton, Alberta, Canada
Resides
Edmonton, Alberta, Canada
Professional wrestling career
Ring name(s)
Diamond Cage
Cage
Billed height
6 ft. 3 in. (1.95 m)
Billed weight
225 lbs. (102 kg)
Billed from
Edmonton, Alberta, Canada
Trained by
Debut
RFW Combat 2010
Christopher Coleman (born October 27, 1992), better known by the ring name Diamond Cage, is a Canadian professional wrestler currently signed to EAW where he appears on the Showdown brand as the current EAW Champion in his second reign.
Since making his debut in 2011, Cage has gone on to become one of the most important wrestlers in EAW history. He is known for his smash-mouth, hardcore wrestling style and rebellious attitude. Despite this, he is one of the most beloved performers on the roster as well. In addition to being World Champion, Cage is a former EAW Interwire Champion and 3-time EAW Tag Team Champion. He is also a Triple Crown Champion. Cage was inducted into the EAW Hall of Fame as apart of the Class of 2017.
Professional Wrestling Career
Extreme/Elite Answers Wrestling (2011 - present)
Turbo (2011)
Diamond Cage made his debut on Turbo in a match against Andy Howard in which he won with use of his Diamond Cutter, this was the victory that opened many people's eyes and made people believe Cage would be a force to be reckoned with in the future, the next week on Turbo Cage had a match against Venomous Snake where Cage's made a mistake of thinking Venomous Snake was injured only to receive a low blow and get pile driven for his first loss. Cage and Venomous snake would have a heated rivalry over the coming weeks ending in a final Turbo match between the two fighting over a Dynasty contract in which Cage loss. Cage then found himself frustrated as behind the scenes management didn't know what to do with Cage and were even thinking of releasing Cage from his contract and sending him back to developmental where Cage was then offered a Voltage contract.
Voltage; Feud with Generation Next & Pyrite (2011 - 2012)
Cage had his debut match on Voltage against the "Masked Man" In which was a physical contest that garnered attention from many people praising Cage for his work in which he won the Diamond Cutter once again making an impact in his Voltage debut. Cage then set his sights on climbing the title ranks in Voltage by throwing his name in the hat for the Elite Championship which was held by Apollo Calix at the time, Cage was then confronted by Xavier McCoy who also wanted to be the Elite Champion, these two had a match on Voltage in which Cage was then attacked by Straight Edge Suicide & Moonlight Predator and Sasha Fierce, this group would go on to become "Generation Next". Cage would see to it himself to not ask for help and take on the Generation Next head on the next week in sighting a brawl between him and Generation Next where they once again beat Cage down again, the next week Cage had a qualifying match against Straight Edge Suicide for the Voltage EAW Championship Extreme Elimination Chamber match in which Cage was on the verge of winning when he planted SES with the Diamond Cutter until the reveal of Generation Next's new member one of Cage's close personal friends Pyrite who was traded to Voltage from Showdown speared Cage aligning himself with Generation Next and costing Cage his match allowing SES to qualify for the Extreme Elimination Chamber. Diamond Cage the next week demanded answers for Pyrite joining Generation Next in which Pyrite pointed "Cage forgetting who brought him to EAW" due to Cage getting a recent string of success and not mentioning Pyrite once. Over the coming weeks Cage and Pyrite would attack each other left and right with Pyrite even costing Cage a KOE qualifying match against Eddie Mack, Diamond Cage then participated in the Gold Rush tournament to find a number one contender for then EAW Champion, Kawajai at Grand Rampage 2012, Diamond Cage wrestled what was said to be his toughest challenge yet at the time in Y2Impact and held his own even kicking out of Impact's Codebreaker to the surprise of many, until Pyrite then made his presence felt hopping onto the apron and Cage fired a rolling elbow knocking Pyrite off the apron only to get met with a codebreaker from Impact and being eliminated from the Gold Rush tournament. Following this match Cage was interviewed and made it clear he hasn't been enjoying himself in EAW, he was tired of being attacked by Pyrite and Generation Next and even having his family attacked by Pyrite and challenged him to a final encounter on the Voltage special from Madison Square Garden. Diamond Cage and Pyrite fought in a street fight that went all over the garden and blood was being spilled from both men and it looked like Pyrite was going to win with help of Generation Next until Lockdown who was one half of the Tag Team Champions intervened to Cage's benefit attacking the members of Genext with a steel chair leading to Cage hitting a Diamond Cutter on Pyrite ending their feud.
Showdown; Unified Tag Team Championship; Road to Pain for Pride V (2012)
Diamond Cage was then traded to Showdown after ending his rivalry with Pyrite and Lockdown's partner Austin Lonewolf was taken out of EAW and LD needed a replacement partner in which Cage stepped up and joined the Sovereigns of Supreme thus getting his first championship in EAW, Cage and Lockdown would go on to defend the titles against the team of Reverend James Johnston and Dorin to a losing effort and after the match Lockdown turned on Cage planting him with a spinebuster after the match. Cage and Lockdown would go on to have a street fight on Showdown in which Cage won delivering a Diving Headbutt off a ladder into Lockdown thus ending their feud. Cage would then find himself entering the Grand Rampage coming in impressive until he was eliminated quickly by the returning Mr. DEDEDE. Following Grand Rampage a match was made to find a number one contender for Ashten Cross's newly won World Heavyweight Championship as the match pitted Diamond Cage Vs Colin Kaline Vs Brian Daniels Vs Mr. Insult in which was won by Colin Kaline. Cage would then qualify for the Cash In the Vault ladder match for Pain for Pride V in which he was then unsuccessful in becoming Mr. Cash In The Vault as the match was won by Eddie Mack.
Interwire Champion; World Heavyweight Championship Pursuit (2012 - 2013)
After Pain for Pride, Cage remained on Showdown following the draft and then set his sights on becoming the Number One Contender for Superior Quality 85's Interwire Championship even siding with Ren Smyth in the tandem known as "Chilltown" to get his shot. SQ was then attacked by Chilltown on Showdown and Cage applied the crippler crossface on SQ and wouldn't release until EAW officials had to get involve and pull Cage off of Superior Quality! SQ the following week would get involved in Cage's match with Brian Titus costing him the match and then giving Cage the shot at the Interwire Championship at No Regards 2012 in which Cage made SQ 85 tap out the Crippler Crossface and winning his first singles championship in EAW. Diamond Cage would defend the title on Showdown but not at Territorial Invasion as he was sidelined with an injury that caused his title to be vacated thus Cage never being beaten for the Interwire Championship.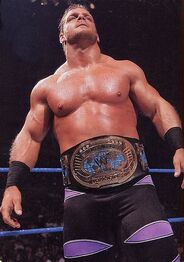 Cage would return with a vengeance attacking World Heavyweight Champion, Dark Demon with led pipe to the back of the skull busting the champion open from behind, Cage would then reek havoc in the coming weeks even ending the career of his former partner, Ren Smyth in a match on Showdown when he piledrived his head into the floor, Robbie V who recently made his return attacking Dark Demon at House of Glass was given a match against Demon for the World Heavyweight Championship at Justified Reckoning 2012,Diamond Cage, who also previously attacked Dark Demon, entered the match to make it a triple threat by threatening Kendra.At Justified Reckoning 2012, Diamond Cage and Robbie V were defeated by Dark Demon as he retained his World Heavyweight Championship. The following week Robbie challenged Diamond Cage to a match, which Cage accepted without hesitation blaming Robbie for getting in his way of what he thought would be his moment to become the World Champion. Robbie would however refuse the match and instead propose the two fight in a new kind of match named a "Hardcore Iron Man Match" in which the only way to win is to gain points by using foreign objects and other extreme means. Cage willingly accepted the match and the two finally fought at Road To Redemption. Robbie would gain the victory, ending the feud between the two. Diamond Cage would then set his sights back on the World Heavyweight Championship which was won by Jaywalker at Road to Redemption 2012, Diamond Cage would win a battle royal to become the number one contender for the championship at Reasonable Doubt, Cage was attacked by CN Tower the following week, and even attacked the Heart Break Gal which led to a tag team match with Diamond Cage and the Heart Break Gal Vs CN Tower at Reasonable Doubt 2013 where they lost to CN Tower (Cleopatra and Jaywalker).
Second Unified Tag Team Championship Reign; Teaming with Mr. DEDEDE (2013)
Diamond Cage would then enter the Gold Rush tournament to become the number one contender at Grand Rampage in which he defeated Zack Crash with help from Pyrite, Cage then would take on Hades the next week losing as Zack Crash got involved costing Cage the match, Cage and Pyrite then challenged Suicidal VIP and Zack Crash for the Unified Tag Team Championship at Reckless Wiring in a Glass Tables match which saw Diamond Cage and Pyrite become Unified Tag Team Champions for the first time together and 2-time respectively, Diamond Cage and Pyrite would go on to reign dominantly for months until Grand Rampage where the two participated in the match and Cage tried to eliminate Pyrite which Pyrite didn't like personally as they had a deal to work together, Cage and Pyrite would defend the titles against CN Tower (Jaywalker and Cleopatra) at Defiance 2013 in which the match would end in a no contest due to the interference of The "Legendary" Sekaiichi coming in and attacking Pyrite and Diamond Cage. Diamond Cage and Pyrite would eventually lose the tag titles to Dynamite Rain on an episode of Showdown as Cage would leave his partner stranded to lose alone as Cage walked to the back, the following week Diamond Cage and Pyrite fought for an opportunity to be in the Cash in the Vault ladder match at Pain for Pride 6 which Cage won and after the match would attack Pyrite ending his career, Diamond Cage competed in the Cash in the Vault ladder match at Pain for Pride 6 coming up just short to Zack Crash. Following Pain for Pride Diamond Cage was drafted to Dynasty but wasn't being booked to compete which caused him to miss Mid-Summer Massacre Diamond Cage would return to Dynasty as he was called out by Mr. DEDEDE to join his team at Territorial Invasion. DEDEDE managed to assemble a team that had Tyler Parker, along with Diamond Cage who wasn't interested and Killswitch. Team DEDEDE waged strategic offense on Team Diamond, even taking out one of the members of "The Ironfist", leaving only Wolverton, Gunkai Riggs, and Sir Alistair White. EAW Champion and Hall of Famer, Kawajai, made his return on the September 8th edition of Dynasty, serving as a double agent who was signed originally by Scott to join Team Diamond, but betrayed him to join Team DEDEDE as their 5th member. Despite Team DEDEDE's sound strategy, they underwent turmoil due to in-fighting between Tyler Parker/Killswitch as well as Diamond Cage/Kawajai, with both Tyler and Cage citing mistrust for their opposing teammates. On the September 15th edition of Dynasty, Methuselah and Diamond Cage picked apart Liam Catterson in a 2 on 1 handicap match after his partner Drastik would be unable to compete in the match. Following the main event, Scott Diamond attacked Methuselah and Cage. Killswitch and Tyler ran in to assist, only to be met by Scott Diamond's often used Riot Squad, with one of the members of the riot squad revealing themselves to be Dark Demon, who had not been seen since Pain for Pride 6 when he was defeated and fired from the company. Demon went on to become Diamond's 5th man in the TI 5 on 5. The two teams met on the September 28th in the Territorial Invasion headline, where Team DEDEDE won in an effort lead by Methuselah hitting a spear on sole survivor Gunkai Riggs for the win as he and Diamond Cage would be the sole survivors.
Alliance with Tyler Parker; Feud with Mr. DEDEDE and The House of Renegades (2013 - 2014)
DEDEDE and Diamond Cage became EAW Tag Team Champions making Cage a three time Unified Tag Team Champion after defeating the Quintessential Trailblazers (Jaywalker and Y2Impact) for the titles in an impromptu match on Showdown. The two dropped the titles at the following Dynasty exclusive free-per-view, House of Glass to the team of Zack Crash and Jacob Senn, after DEDEDE betrayed Diamond Cage and aligned with the uprising Showdown stable "House of Renegades" joining Nick Angel, Venom, Deity and Hades the Hellraiser. DEDEDE and THOR would go onto assault Diamond Cage and Tyler Parker, mercilessly beating them down after a confrontation between both parties. DEDEDE in the following weeks abused his booking authority, as well as strength in numbers with THOR by his side by carrying out attacks on Diamond Cage on Tyler Parker - simultaneously feuding with Tyler on Showdown and Cage on Dynasty. DEDEDE continued a personal and very violent rivalry with Diamond Cage which resulted in numerous attacks. It reached new heights when Cage interfered in the interbranded AWC Battle Royal, causing DEDEDE's elimination from the match and costing him the Answers World Championship. DEDEDE subsequently fired Cage from EAW, barring him from any EAW events. DEDEDE would further escalate the rivalry despite this by involving Cage's children, Chris Jr. and Savannah, as well as his wife Brittany, when on the November 17th edition of Dynasty he brought them out and used them to emotionally torment Cage, even going so far as to get Cage's children to call DEDEDE "daddy" and getting Brittany to demand a divorce. All the while, DEDEDE's Showdown feud with Tyler Parker ended at the November 23rd Showdown exclusive FPV,Shock Value. On the November 31st Dynasty, Diamond Cage was televised assaulting members of DEDEDE's family, as well as setting fire to DEDEDE' Hall of Fame ring after invading his home. DEDEDE competed regularly on Showdown, winning numerous matches including the December 14th match against rookie Christopher Corrupt in his first EAW main roster match. On December 21st, DEDEDE defeated a still fired Cage in an Unsanctioned Match at Road to Redemption, mostly due to a run-in from conveniently assigned referee and newest member of THOR, Christopher Corrupt who assisted him in the match. On December 29th at the EAW Awards show, Mr. DEDEDE announced a board decision to reinstate Diamond Cage in order to avoid negative legal ramifications from the events carried out in the Unsactioned Match. DEDEDE announced a match between he and Cage to take place in the main event of the show inside of the Cage of Death in order for them to settle their rivalry. In the main event DEDEDE was defeated by Diamond Cage after interference from THOR as well as various EAW Hall of Famers (Dark Demon, Heart Break Boy & Jaywalker) with Diamond Cage hacking DEDEDE repeatedly in the head into submission with a railroad spike ending the feud.
Feuds with Jaywalker & Starr Stan (2014)
Following the feud with Mr. DEDEDE, Diamond Cage was then welcomed back to Dynasty by Jaywalker who is a longtime mentor of Diamond Cage. Cage would then accuse Jaywalker of wanting to be apart of Cage's success recently, Cage then would participate in the King of Extreme tournament over the coming weeks beating Venom, then Nick Angel and then Cy Henderson, it wasn't until Jaywalker decided to challenge Diamond Cage to an Ultimate Submission match which means Cage would be fighting two matches at the event in which he defeated Jaywalker in an Ultimate Submission match with the score being 1 to 0. Later in the night, Jaywalker congratulated Cage on his victory and offered to be in his corner for his match against Sekaiichi for the King of Extreme crown, Cage agreeing said he could join him as long as he didn't get in his way. After an amazing Tables, Ladders and Chairs match, Sekaiichi managed to beat Diamond Cage for the King of Extreme crown.
At the first Dynasty after King of Extreme 2014, Diamond Cage was confronted by Scott Diamond and Albert Hitchman which started a conflict as both men wanted to be the Number One Contender for the Answers World Championship, The feud even resulted in Scott grabbing Cage's wife and hitting the Vortex on her, Cage the following week would take matters into his own hand as he attacked Scott in the parking lot and piledrived him onto the roof of the car ending their scheduled match at Reckless Wiring 2014. Diamond Cage was named the number one contender for Dark Demon's recently won Answers World Championship for the Grand Rampage by Dynasty General manager Kendra Shamez, Dark Demon furious about this along with his council attacked Diamond Cage during his match with Xavier Williams. The following week Diamond Cage powerbombed Dark Demon through the announcers table and beat him to a bloody pulp until security got involved to seperate them. Diamond Cage was defeated by Dark Demon at Grand Rampage 2014 with interference from Starr Stan backfired and he stabbed Diamond Cage in the head with a railroad spike, Diamond Cage would then get attacked by Starr Stan who admitted to costing Diamond Cage the Answers World Champion on purpose. Diamond Cage had a match with Zack Crash next week on Dynasty which saw Starr Stan completely destroy Diamond Cage with a pipe. Starr Stan then challenged Diamond Cage to show up at Dia Del Diablo for a fight which Cage did and challenged Starr Stan to a match at Pain for Pride 7 which saw Diamond Cage beat Starr Stan in an Elite Rules classic.
EAW Champion (2014 - 2015)
Diamond Cage was drafted to Showdown as the number 1 overall draft pick, he then went onto feud with Lethal Consequences after LC attacked him and left him in a bloody heap on an episode of Showdown before Cage's number one contenders match against Starr Stan for the Answers World Championship, Cage would be absent off until Damien Murrow announced Cage would be returning to fight Lethal Consequences at Mid-summer Massacre 2014, Cage and Lethal Consequences fought to a no contest when Diamond Cage jumped off the stage with a splash through LC through tables and electrical equipment, Diamond Cage then took part in the first War Games match as he joined Team Crash to take on Team DEDEDE in a battle of the company in which Team Crash was successful, the aftermath of the match resulted in Crash turning on his team and having them assaulted. Cage wanting revenge for this showed up to House of Glass 2014 during the Mr. DEDEDE Vs Zack Crash Glass Wallz match for the World Heavyweight Championship, attacking Crash and his security and helping Mr. DEDEDE retain the World Heavyweight Championship to a thunderous ovation. Cage would then be granted an Answers World Championship match against Hades the Hellraiser for Showdown at sea, until Cage was traded to Voltage.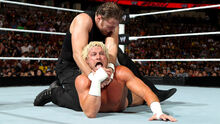 Cage immediately set his sights on taking the EAW Championship, but on the last night of extreme, Cage was booked to fight Xavier Williams for the Cash In The Vault briefcase in an Electric Death match in which Cage was defeated. Later on in the night after Jacob Senn retained his title against Scott Diamond, Xavier was looking to cash in until Diamond Cage stopped and dropped him with a brainbuster and telling Senn that he's coming for the EAW Championship. At Road To Redemption 2014, Diamond Cage won the EAW Championship in the Elimination Chamber defeating, Jamie O'Hara, Lannister, Zack Crash, Jacob Senn and Scott Diamond to win his first World Championship in EAW. Diamond Cage would then on Voltage defend the title against Zack Crash in which he won. Hades was then traded to Voltage and was named the number one contender for Diamond Cage at King of Elite, Diamond Cage defeated Hades to retain the EAW Championship with a quick roll up to win the match. Zack Crash looking to stack the deck made it announced that at Voltage: Fighting Spirit, Cage would defend the EAW Championship against not only himself, but Hades and Lannister, thus stacking the deck against Cage and at Fighting Spirit, Diamond Cage managed to walk out still the EAW Champion after a classic fatal four way match. Reckless Wiring 2015 was approaching and the fans had the option to vote for Diamond Cage's opponent for the EAW Championship, and they voted for the recently returned Heart Break Boy, Cage and the Heart Break Boy went onto have their match until Xavier Williams cashed in his Cash In the Vault briefcase, beating Cage and becoming the EAW Champion.
Hiatuses (2015 - 2016)
Diamond Cage after losing the EAW Championship would be taking Hiatus after hiatus, he returned around Pain for Pride 8, only to disappear after the Extreme Enigma battle royal, Cage would then return at Mid-Summer Massacre 2015, attacking Dark Demon and even faced Dark Demon at Territorial Invasion 2015, but Cage was defeated by countout, at the Showdown supershow: Redemption, Cage was defeated by Dark Demon in a Cage of Death match for the Hall of Fame Championship in which Cage took another hiatus. Cage wasn't seen for months until Grand Rampage 2016 where he made his return to one of the biggest ovations in EAW history as he entered at number 40, eliminating Judas. Cage then went onto compete at Triple Threat, embroiled in a feud with Scott Diamond was willing to anything to get his hands on him, Cage joined Team Cerberus at Triple Threat 2016 in which they were defeated by Team Drake and Jones. Cage and Scott Diamond would then go onto cause havoc, brawling on Showdown in the parking lot, destroying everything until it was announced at Pain for Pride, Diamond Cage would face Scott Diamond in a No Holds Barred Match, Diamond Cage went onto defeat Scott Diamond ending their feud. Cage was drafted to Dynasty and immediately set his sights on newly crowned World Heavyweight Champion, Lucian Black, Diamond Cage went onto steal the World Heavyweight Championship during Lucian Black's match with Alex Wilder, to the displeasure of Dynasty GM Sebastian Monroe, he granted Cage what he wanted which is a match against Lucian Black on Dynasty live from Houston Texas for the World Heavyweight Championship. Diamond Cage and Lucian Black fought tooth and nail, Cage kicking out of spears from Lucian Black and even Sebastian Monroe getting involved trying to do everything he can to prevent Cage from winning the World Heavyweight Championship, and it worked as he got in the way and Lucian hit another spear to put Cage down. Cage obviously annoyed wanted to be involved in the Dynasty Vs Voltage Divide and Conquer match, but H-R-D-O decided to make it difficult for Cage to join the match and placed him in a gauntlet match against TLA, Devan Dubian and Alex Wilder, Cage would go onto to win this match to enter the Divide and Conquer match after Alex Wilder hit Cage to cause a DQ during his match with Dubian. Dynasty would go onto lose the Divide and Conquer match, as Cage was defeated easily, he then would take another hiatus.
Return (2017)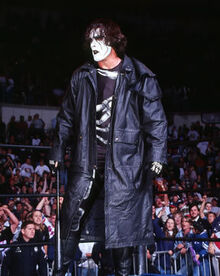 Grand Rampage 2017 came and Diamond Cage entered at 21, but he wasn't the same, he was drenched in black and white, and was more stoic than ever. Cage the following week on Dynasty was flanked by Judas Lemuel who claimed to be Cage's "father" leading him from a path of destruction and bringing him back up to his feet to cause destruction. Lemuel made it clear that Cage's intentions were to hurt and take the World Championship, Cage then went onto to face Kelly Hackenshimdt on Dynasty and he defeated him and attacked him after the match. Cage would then get involved in Scott Oasis match with TLA attacking Oasis and allowing TLA to become the Number One Contender for Jamie O'Hara at Burning Desire, Cage would then be announced to compete in the Extreme Enigma Battle Royal Qualifying Match which also consisted of Target Smiles, Finnegan Wakefield and Scott Oasis, Cage immediately targeted Scott Oasis in this match but was unsuccessful in winning this match, later on in the night a visibly frustrated Cage was confronted by Ares Vendetta and Jaywalker, Cage's former mentor, Jaywalker asked Cage to join the ongoing war between Ares and Jay and HBB, Dubian and the recently returned CM Banks. HBB seeing this went on Dynasty to confront Cage and tell him not to get involved in this war in which Lemuel said Cage will entertain everyone's idea, later that night Cage took on Scott Oasis in a Cash In The Vault qualifying match. At Pain for Pride X, Cage teamed up with Jaywalker and Ares Vendetta against Devan Dubian, CM Banks, and a returning Mak after HBB was taken out prior, which was lost after Cage ditched the match and left his partners to fend for themselves. This would signify a face turn for Cage, something that would prove plentiful in the following season.
Season 11; Championship chase (2017)
At Dia Del Diablo, Cage would face Vendetta in a Three Degrees of Hell match which was won by Vendetta after Cage was distracted by an interfering Jaywalker, allowing Vendetta to light Cage on fire for a second time with a flaming 2x4. At Road to Redemption, Cage participated in the Showdown Extreme Elimination Chamber for the EAW Championship but was eliminated by Heart Break Gal. At Reasonable Doubt, Cage became the number one contender for the EAW title after defeating Devan Dubian but was once again bested by Heart Break Gal at the supershow Battle Without Honor or Humanity after Dubian intervened. The 11th annual Grand Rampage FPV followed where Cage got a shot at redemption in a fatal four-way for the championship against Dubian, HBG, and Rex McAllister but McAllister ultimately won the bout. Another Showdown supershow approached on May 5th, Wrath of the Dragon. Here, Cage fought in the No Way Out match where he was victorious, sending him to the main event of Pain for Pride to face McAllister.
2nd EAW Championship Reign (2018-present)
At Pain for Pride XI, Cage defeated McAllister in the main event of Day 4, becoming EAW Champion for the second time in his career. At the 2018 EAW Draft, he beat Darkane in a Champion vs. Champion match. On the following Showdown, Cage had his first successful defense against Damon Diesel. On July 14th, Cage was attacked during a tag team match by his partner Liam Archer and their opponents Damon Diesel and The Revenant, who would later announce themselves as The NEO Syndicate. Because of the betrayal by Archer, Diesel and Revenant won making Revenant the next number one contender for the EAW Championship and a title match at Midsummer Massacre.
In Wrestling
Finishing moves

Cage's Finale (Electric chair driver)
Coquina Clutch (Rear naked choke)
Cradle to the Grave (Vertical suplex piledriver)
Mercy Rule (Brainbuster, sometimes from the top rope)
Murder. Death. Kill. (Wrist-lock, transitioned into a short-arm lariat)

Signature moves

Cutter
Diamond Saint Special (Repeated backhand slap sequence, followed by a Lariat)
Diving elbow drop
End of Story (Piledriver, through a steel chair)
Greetings from Edmonton, Alberta (Argentine backbreaker rack dropped into a powerbomb)
Headbutt
Inverted facelock neckbreaker slam
Multiple suplex variations

Bridging
Deadlift
German
Snap
Super
Vertical

Rebound lariat
Suicide dive
Turnbuckle powerbomb
Ushigoroshi (Fireman's carry neckbreaker)
Welcome to Canada, Motherfucker (Diving double underhook facebuster)

Managers
Entrance themes

"For Whom The Bell Tolls" by Metallica
"Train of Consequences" by Megadeth
"Mercy Rule" by Cage Theory
"Smells Like Teen Spirit" by Nirvana
Championships and accomplishments