Devan Dubian

Billing information

Ring name(s)

Devan Dubian, Dubian, Jaylon Amir, DJoMo

Height

6'4

Weight

230

Born

February 26

Hometown

Leicester, England, United Kingdom

Theme music

This Means War by Avenged Sevenfold

Affiliation(s)

Starrstan, Heart Break Gal, Brian Daniels

Federation(s)

(EAW) Extreme Answers Wrestling

Previous federation(s)

(EWE) Elite Wrestling Entertainment, (AWF) Answers Wrestling Federation

Wrestling information

Alignment

Heel

Wrestling style

High-Flying, Technical, Showman

Signature Move(s)

Olympic Slam, European Uppercut, Sidewalk Slam, Discus Elbow Smash

Finishing Move(s)

Bleeding Edge, Last Resort

Trainer

Dark Demon, Starrstan

Handler

Donna

Professional career

Debut

January 2010

Record

Unknown

Accomplishments

EAW Answers World Champion, EAW New Breed Champion, EAW National Extreme Champion, EAW Elite Champion, AWF World Heavyweight Champion

Retired

None
Dubian Junnaid (Born February 26th, 1987), better known as Devan Dubian, is an middle-eastern professional e-wrestler who has worked for several different e-federations, most notable Elite Answers Wrestling. He's made a name of himself through his wealth which he has obtained from monopolies back in his home country. He is a young lad who made his debut back in 2010 instantly becoming a fan favorite of Extreme Answerz Wrestling and other e-federations under his two mentors, Dark Demon and then later on Starrstan. He currently performs on the Showdown Brand.
Basic Start from Yahoo Answers (2008-2010)
Dubian had originally started of in the Yahoo Answers. He started going to the Yahoo Answers around early 2008. In no time, Dubian had become more addicted to Y!A and would come on every day to Yahoo Answers. almost every single day. He was an original fan of old wrestling but would not expose it until he saw that there was an wrestling section where as he could fit in with others. Around late 2008, Dubian then started to view wrestling questions and in no time, Dubian had now been addicted to the Wrestling Section now. He originally started of with a John Morrison picture-base being a huge fan of his for years. He had no idea as to what his name will be till he came with an original name that had never been used before for his stage performances which eventually came out to be be Dubian which as he still uses to this day. Dubian had become a popular figure well-known in the wrestling section. Dubian had never knew what an E-Federation was until he saw an E-Fed called YWWA, originally owned by Pyscho Dude. He had acknowledged that Famous Y!A Users and Top Contributors had joined, so Dubian gave YWWA a chance and roamed around YWWA for a while. After months of evaluating as a free agent, Dubian finally stated that he would join YWWA. Dubian started to make good friends and got along well with the People in YWWA. Finally in March of 2010, Dubian made his debut in YWWA under the ring name 'DJoMo' and started what would be a long journey in E-federations for Dubian.
Yahoo World Wrestling Association (2010)
Dubian had been waiting for this opportunity and finally, in late March he had gotten it. Dubian had debuted on YWWA , teaming with Straight Edge Suicide to take on team known as Hitlist. Dubian did not have as much experience like other superstars due to being a rookie but as time went on, Dubian found his career in better positions each week. After almost a month of trying to win the Tag Titles, Dubian thought it was finally time to move on. He eventually betrayed his partner Straight Edge Suicide and got fired. Then Dubian decided he wanted to move on to bigger things and upstart his individual career. Although only later on he would come to realize that it was a misstep taken.
Dubian's career started slipping until Dubian yet again was introduced to another Tag Team Partner. named Big Mike. This time however, Dubian was determined to win the tag title. Big Mike and Dubian went on a great run of accumulating wins after wins and eventually got around to winning the YWWA Tag Titles. After a few extragavant matches with Hitlist, Mike decided to terminate his contract with TWWA. After Mike's retirement and Dubian's eventual return to the singles competition, his career saw no upsight and thus he too decided to fully terminate his contract with YWWA forever.
Dark Championship/Revolution Wrestling (2010)
A few weeks after Dubian had terminated his contract from YWWA, Dubian decided to join an affiliate E-federation known as Dark Championship Wrestling owned by Dark Demon. It was not a long ran e-federation so Dubian was able to join at its end with it also forming and joining up with an e-federation owned by The Real Deal Dude. However, Dubian didn't get to see much action in DCW as it ended very shortly after Dubian had joined. Dubian only got to participate in his first match in DCW against Justin Windgate and Hades The Hellraiser in which he eventually faltered but made a name out of himself from. Dark Demon, the founder and owner of DCW saw potential in Dubian and started a close friendship among then. Before Dubian had another chance to prove himself to the E-federation universe, Dark Demon had decided to fully close down DCW.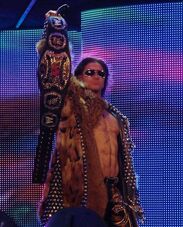 Dark Revolution Wrestling was shortly created after Dark Championship Wrestling's death. Dubian had joined DRW now and had to face the tough challenge of facing Lochy McKenzie in his debut whom he eventually gathered a victory over. Two weeks later, he faced off against two former DCW Legends, Sharpshooter and Deadman 4 Life whom neither could he get a victory out of but nonetheless proved to everyone that he could hang up his boots with the highest of them. Few weeks later, Dubian had found himself another partner to become a Tag Team with. Dubian was now teaming with Prasdana also now known as The Drunken Doni aming themselves The eXtreme Heroes. The eXtreme Heroes were on a roll pulling some wins early and were entered into a contest for the contendership of the DRW Tag Team Championships. The eXtreme Heroes surprised everyone by winning every match in the tournament and eventually faced
Dorin and Suicidal D in the finals for the DRW Tag Team Championships at All Out Warfare. However at All Out Warfare, the eXtreme Heroes lost due to Doni's humiliating actions and deceit eventually leading them to a break up.
Dubian's career went on a down fall after that scenario. Deja vu struck Dark Demon who had grown tired of the stress in that comes in owning a company that he eventually passed it on to TRDD and Moongoose McQueen, whom saw it best to ignore previous bookings and start fresh once again. After that, Dubian decided to leave DRW along with Dark Demon and thus end his contract with them leading him to become a free agent once again.
Kamikaze Pro Wrestling (December 2010- March 2011)
Kamikaze Pro Wrestling was a company imported not long after Really Extreme Wrestling was departed. It was established by the ReW's former co-owner Mr. Blood also known as the The Pentacle and one of ReW's precent Hall of Famers, Infamous Anderson. In no time, Dubian was set for his journey in KPW as his first match gazed upon him against 11 other members of the roster including over hall of famers, legends and rookies. He headed into this match clueless against 11 other people in a Battle Royal with the knowledge last 6 would move on to the next tournament.
He startled everybody, being the darkhorse in the match and remained as one of the 6 last people  in the tournament. He eventually went on to face Infamous Anderson next week in the second round claiming yet another victory. As Dubian went further, his dreams were larger than ever, his dreams were flier than ever and his fans remained anonymous. It was a stunner but now he was booked for what might have been the ultimate superior match in his career as he would take on Brett Battery and Storm Lightning at the first ever Free-Per-View Natural Shock for the KPW World Heavyweight Championship. In extended weeks, Dubian walked out to the ring every week and proved why he was worthy of that shot; once even participating in a match even with Mr. CT vs Infamous Anderson with the conception than any winner other than Dubian would be added to the stipulation match at Natural Shock. Dubian was probably proving himself as the most expanded threat walking into this match with an undefeated streak  in this company. At Natural Shock; Dubian, Bret and Storm put on what could be called the most 'phenomenal' match in KPW history and at the end, it was Dubian who had prevailed over Bret and Storm to be the first and only ever KPW World Heavyweight Champion. Dubian was held in tears as he stood up tall with a prestigous title over his shoulder. His celebrations however wouldn't last that long as the 10 goon gang ran under leadership of Speedy with the companionship  of Hurricane Hawk, Alexander Da Vinci and 7 other people thrashed anything that was KPW and the World Heavyweight Champion was the largest target in their mind. They targeted Bret and Storm and at last, extirpated Dubian for his dying breaths.
It was unclear as to why anything that had occurred actually happened so next week where Dubian, the new World Champ was teamed up against yet another new champ in this company, Suicidal D as they took on the two top dogs from the gang, Alexander Da Vinci and Hurricane Hawk. It was unfortunately not the best night for Dubian as he probably took his first loss in mild of weeks but knowing that he didn't get pinned left him with a glimpse of hope as the 10 goons gang grew even stronger. It was later announced that Alexander Da Vinci of the 10 goons himself would take on Dubian for the KPW World Heavyweight Champion but before that ever come to fruition, a struggle between ownership lead KPW to its end leading the owners to close out the company eventually making Dubian a free agent yet again once on the market. 
Extreme Answers Wrestling (2010-present)
Rookie Year with Team Starr (November 2010 - August 2011)
Extreme Answers Wrestling was a company that had run successfully for three years straight. Dubian was one of the hottest free agents around and after a while, Dubian knew exactly what company he wanted to go to next and the answer was simple: Extreme Answers Wrestling. Dubian stuck around for the first ever Free Per View, No Regards; not a week later before he would join in himself. He ended up with the name 'Devan Dubian' and at long last, this young mans wait had came to an end. Dubian was paired against Johnny Extreme on what coincidentally would be both their debuts. Dubian won his debut match against Johnny Extreme and later as he would take on four other rookies in the upcoming weeks before being placed on Showdown. On his Showdown debut, he would take on Drew McKillin, MA Beast, Alejandro Ariel, Dan Hardy in a Battle Royal but Dubian was able to get nowhere when Dubian was thrown over the ring by MA Beast after being one of the last three people standing. It wasn't long before Devan Dubian was traded to EAW's newest arriving brand, Voltage due to personal request. Out of the 14 people drafted to Voltage; Johnny Extreme and Devan Dubian were the youngest.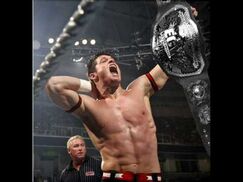 On January 14th, 2011; Devan Dubian would have to take on the former Tag-Team Champion and a tough test in Mr. Blood. In a upset; Devan did not hold the victory at the end of the night. Dubian went on to face significant amount of Voltage members and even had a little distant feud against DJ Styles. However, when Reckless Wiring came, Dubian was put into a poll against four other active roster for the chance to face Jason Cage at Reckless Wiring for the Elite Championship. As a mutual fan favorite; Dubian won the poll and was not set up for his first Free Per View match. Dubian was set up for his FPV debut at Reckless Wiring but did not walk out champion at the end of Reckless Wiring. Regardless, Reckless Wiring is seen as Dubian's breaking ice as it was the event where all the fans first noticed Dubian and his phenomenal talent. Dubian would later team up with former opponent, DJ Styles to take on Starrstan but in a surprising twist; Starr provided an opportunity to Dubian and Styles: a chance to form a team that would dominant the whole EAW roster and proclaim themselves as the best stable of all time named Team Starr. After a few bumps, DJ Styles was injured heavily and  it was not long before he was released. Dubian alongside 5 people; Superior Quality, Mr. Blood, Alex Anderson, Sick Drake Blake, Chris Hessian were put into one match for the New Breed Champion. After a time-keeping and brutal match, it came down to Devan and Hessian both pinning themselves. Neither of them won as Matt Daniels came out and announced them the co-new breed champions and it wouldn't be long till Starr would announce Hessian as the new recruit of Team Starr after DJ Styles' departure. Dubian and Hessian would team-up in the next few weeks taking on particular tag teams like Damage Inc. among others as they also helped Starr on his venture for the Elite Championship against Jason Cage. They even teamed up against two other tag teams for a number one contender for the Tag Team Titles; even though proving unsuccessful, they provided a huge statement. It wasn't long before they pushed themselves into a feud with Power and Speedy, relentlessly matching  with them for a significant amount of time,and eventually it was decided that It would be Devan Dubian and Chris Hessian vs Power and Speedy at Pain for Pride; EAWs' Biggest FPV for all titles meaning if one champion was to pin another champion, he would become the winner of that title. Dubian, Hessian, Power and Speedy all put on a glorious opening match at Pain 4 Pride but in the end, it was Dubian was the one to steal and capture the victory as he claimed himself as the new EAW National Extreme Champion.
After Pain 4 Pride 4 was over, Team Starr started to drifting apart due to mixed egos and Dubians claimed superiority over his mentor and affiliate, Starrstan and Chris Hessian. After weeks of arguing, Starr and Hessian teamed on a Dynasty exclusive to take down Devan Dubian and his team partner for the night, Speedy thus concluding the ending of Team Starr. Team Starr technically ended when Chris Hessian was drafted to Showdown and Starr and Devan were split apart. Hessian eventually challenged Devan for the sole ownership for the New Breed Championship at Midsummer Massacre in a Ladders match in which Devan was unsuccessful to recapture. Devan headed back to Voltage as the National Extreme Champion as he took on his prior mentor Starrstan on his week back in a street fight. Dubian already had the upper-hand going into this match with already two past claimed victories against Starrstan and it wasn't long till Devan pinned Starr for his third victory. Alex Anderson was Devans number one contender for his championship after defeating Mr. Blood in a contenders match. Alex would feud with Devan delivering vicious beatings constantly for constant weeks. The Dynasty after No Regards, Devan would have to defend his National Extreme championship against Alex in a Tables match and like before, Devan was yet again unsuccessful leaving himself title-less. Dubian would go on with his EAW career after he would take on the newest Elite Champion, Kawajai.
First World Title Match and Quitting Voltage (September 2011 - January 2012)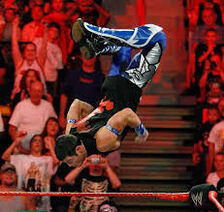 After almost a year since his debut in EAW, Devan Dubian was in constant matches against various opponents. However after John Alloy, the current EAW Champion at the time was deemed too injured to face Starrstan at Territoral Invasion in 2011; Devan Dubian was announced as the surprise competitor. Much to everyone's surprise, it was stunning and later nominated for match of the year. Starrstan retained at Territorial Invasion and thus ignited a new feud among the two of them for the EAW Championship. Devan Dubian would go on to face Starrstan in a rematch for the EAW Championship on a Voltage but was denied victory when the current Cash in the Vault holder of the time Superior Quality cashed in on Starrstan and walked out of Voltage the new EAW Championship. It was later determined that Devan Dubian would be once again be a competitor for the EAW Championship when he was placed into a chamber with five other extremists. Dubian was notorious for bringing in his barbed wire soccer ball and kicking it onto Apollo Calix testes. Superior Quality retained and Dubian lost his third chance for the EAW Championship in a matter of only a few months.
At King of Extreme, Dubian faced off against the former world champion Y2Impact in his returning match. He faced another loss at a FPV and thus decided to quit his respective brand Voltage. This would be the first time since Dubian's debut that he would leave the air for a significant amount of time.
Team with Heart Break Gal and Various Feuds (April 2012 - September 2012)
Devan Dubian returned at the Grand Rampage at number 28 only to find his return cut short by Mr. DEDEDE when he was double eliminated alongside Moses X. Dubian decided to team up with the legendary vixen Heart Break Gal as they made for an infamous mixed gender tag team. Dubian in the following weeks would go on to feud with the Grand Rampage winner and also his former tag teammate Chris Hessian and one of Dubian's old nemesis in the Hall of Fame extremist himself, Heart Break Boy. In recurring Voltage's, Heart Break Gal would interfere in Heart Break Boys matches thus conceding a loss. In terms of all this, a triple threat match was set up at Defiance between the Heart Break Boy, Chris Hessian and Devan Dubian. After a war at Defiance, it would prove to be Heart Break Boy that came out on top thus continuing Devan Dubian's awful streak at FPVs.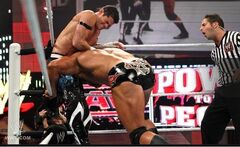 To make up for this, Devan Dubian was entered into the Cash in the Vault match at Pain for Pride 5. With 7 other participants in the match, Dubian was heavily favored to win the match being one of the veterans that would reside in the match. However, Eddie Mack ended up winning Cash in the Vault after Dubian was pushed off the top of the ladder at the last seconds and relaid onto the tables at the bottom despite Heart Break Gal's constant effort throughout the match for an opposite result. Heart Break Gal burning Moses' X in the match would ignite a feud between him and Dubian. Moses' seek for redemption to burn Dubian provoked him into challenging Dubian in a Inferno Death Match at Midsummer Massacre. Dubian accepted and walked into the match heavily favored with the Heart Break Gal against Moses X and would redeem victorious and thus solidifying his first win at a FPV in almost two years.
Devan Dubian and The Heart Break Gal's tag team ended after The Heart Break Gal decided to go on a hiatus. Dubian's solid win over Moses X and solo once more, he was placed in a contenders match for the Answers World Championship match against Colin Kaline and Troy Conway. Colin Kaline would eventually pick up the win and in the aftermath, Dubian would be attacked by a mysterious guy in the hood who would later reveal to be Ashten Cross. After the match, it was revealed that Dubian suffered an injury and was to be out for a few months. This would be the second time in almost less than a year that Dubian would be off the air in EAW.
Return to the EAW Screen And Push for Another World Title (August 2013 - April 2014)
After having disappeared from almost a year, Devan Dubian made his return to EAW on screen in a feud with GI Styles and Killswitch, a returning legend. Dubian would be on the Showdown brand for the first time since his debut month almost 3 years ago. The three would be placed in a National Extreme championship match at No Regards with GI Styles defending his long tenure reign of the championship. Dubian would not be able to capture the victory as GI Styles eventually went on to pin Killswitch. His display at No Regards would eventually have him qualify for the first ever No Way Out match for the EAW World Heavyweight Championship at Territorial Invasion against five other men. Dubian's try for his first world title would still prove to be futile as Brian Daniels would eventually walk out of the event with his first world title.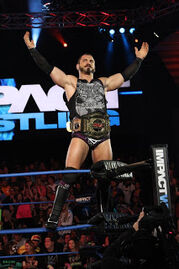 Dubian would continually participate in weekly matches until he entered a feud with TMT for the Elite Title. On a Showdown, Devan Dubian vs TMT was set up for the Elite Title. Dubian would prove to be victorious thus claiming his first title in EAW in almost over three years. It was later announced that at Shock Value, whomever the champion was to be of either the Elite Title or the National Extreme Champion would have to put their belt on the line and then the winners of the match would end up facing each other for a unification of the two titles. Dubian was able to beat his first contender TMT to retain his Elite championship, however the winner of the contrasting match GI Styles would end up beating Devan Dubian for his title and thus unifying the two titles or more-so, claiming the end of the Elite championship.
Another world championship push was given to Dubian when he was granted a numbers one contenders match for the EAW World Heavyweight Championship at Reasonable Doubt against Jacob Senn. The winner would be presented with a homecoming to Showdown however at last second, Senn proved to be victorious. This would be another blow in Dubian's attempt to capture his first world championship. Dubian would enter only his second ever Grand Rampage only to find himself with the same luck as he did few years being put out of the match early. This would confirm Dubian's leave from the company as he would take a hiatus from EAW.
Return to Voltage, Third Push for the World Title and ELITE (July 2014 - November 2014)
Dubian was drafted to Voltage on its revival and thus confirmed for a comeback to EAW. In his first match back, he faced a former rival and a good foe in Brian Daniels but eventually lost. He would face a similar companion in Starrstan in a street fight in later weeks and would eventually come out victorious. The three would come together as good friends to look out for each other especially when Lannister and Brody at the time looked to ruin their chances of getting to the top. At Midsummer Massacre, when Brian was attacked by Lannister on the night he was to fight for the EAW Championship; Devan Dubian stepped out to come and save Brian Daniels. Similar stuff would be seen when Devan Dubian would eventually face Jacob Senn for his EAW Championship at Territorial Invasion but his fight would be cut short by a significant amount of invasions as Murrow, Lannister and Brody saw to it that Dubian did not win the match despise Brian's efforts to stop them. Senn would eventually be victorious and this would also confirm another world title title match that Dubian had lost.
After Territorial Invasion, Dubian teamed up with Starrstan and Brian Daniels to create a remix of the formerly Team Starr but this time, the name was ELITE. Despise ELITE's constant chances to hamper RAGNAROK, they would never find themselves at the top of the fight. Brian Daniels victory over Lannister and eventually Norman Hellion would end up being their only victory over RAGNAROK. However, Dubian and Starr were paired together and dubbed Team Starr to face the newly named tag team champion RAGNAROK duo of Lannister and Psycho Brody in a 1,000 Glass Shards Match. RAGNAROK would prove to be victorious and add another loss in the ELITE's column. This would all eventually lead up to a showdown at Shock Value between all of ELITE's and RAGNAROK's members in a High Voltage Match. Brian would eventually take the pin a roll-up match. Fed up with the constant losses, Dubian decided to attack Brian Daniels and eventually confirm his leave from ELITE.
Showdown and Feud with ELITE (December 2014 - March 2015)
In early December, Dubian was traded to Showdown. In his first week on Showdown, Devan Dubian was put up in a match against the behemoth Norman Hellion and found himself victorious. In his second week of Showdown, he faced an even tougher challenge in the Answers World Champion Hades the Hellraiser but for the second time in a row; he found himself victorious. Impressed by his victories, Dubian was entered into the chamber at Road to Redemption for only the second time in his life. Dubian would outlast 4 other contestants in the chamber and be one of the last two standing alongside Norman Hellion. However, Norman Hellion ended Dubian's chance of glory when he eventually came out on top. Dubian would later enter the King of Elite tournament and capture three successive victories in order to qualify for the finals held at the King of Elite event. Dubian would have to face Lannister and Jacob Senn in the finals and eventually lost out to Lannister continuing his infamous streak for the most consecutive losses at a FPV since returning.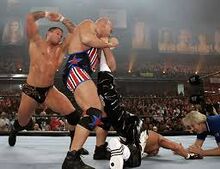 Dubian later proclaimed himself as the 'Most ELITE in EAW and continued to feud with former stablemate Brian Daniels. Dubian would continue to wreck matches constantly on Showdown until Brian Daniels returned from his hiatus and took Dubian out. This would lead to a match at Reasonable Doubt between the two. Dubian would win and break his losing curse at the big events. However this would only be the start up in a much larger context as Dubian would continue to attack Brian Daniels weekly on Showdown. At Reckless Wiring, the match was set up so that the winner would be the number 30 entrant in the Grand Rampage. The contestants were Devan Dubian, Brian Daniels and Scott Oasis. Much like the previous result, Dubian would come up with the big victory once more and qualify for the number 30 spot at Grand Rampage.
Grand Rampage Victory and First World Championship (April 2015 - Present)
At Grand Rampage, Devan Dubian entered at the number 30 spot. After eliminating Alex Anderson from contention, it came down to Brian Daniels and Devan Dubian at the end. After a brutal headbutt, they both ended up on the floor at the same time. It was deemed that they were both the winners of the Grand Rampage and dubbed the 'Co-Winners of the Grand Rampage.' In the recurring Showdown, Dubian and Brian Daniels both decided to choose Starrstan as the world champion they wanted to face for the Pain for Pride headline. Dubian faced Zach Genesis the next week picking up a victory and also proclaimed as to why he deserved to win the Answers World Championship at Pain for Pride. This match would be bestowed the honor of being designated the name 'Civil War' between the the three ELITE members who had been on each others back for almost a year.
At Pain for Pride 8, the 'Civil War' headlined. At the end, it was Dubian who stared down his former mentor Starrstan in the eyes and delivered a Bleeding's Edge for the win and the capture of his first world championship in EAW after almost 5 years. Devan Dubian would become the 14th ever Answers World Champion. 
At the draft, Voltage would draft Dubian with their number one draft pick. This would be Dubian's third run with the gilded brand. Sebsequent week, Dubian faced off against the new National Extreme Champion Aren Mstislav in an All Champions Match and would come out victorious. This would invite StarrStan onto the ring and use his rematch clause against Dubian to challenge for the Answers World Championship at Midsummer Massacre. However due to Starrstan picking up an injury, Liam Catterson would step in his place to become Dubian's first ever challenger for the World Title. Dubian would go on to defend his first world title and remain world champion.
At Territorial Invasion, Starrstan would return from his injury and once again reiterate his desire to challenge for the Answers World Championship. In the midst of a irony, Dubian would accept. It would be the stage that defined their five years together after Dubian last lost the EAW Championship match in 2011 at the same event. However the result this time would be exceedingly different as Dubian would overwhelm StarrStan in a dominating fashion. 
In E-Feds
Finishing Moves:
Bleeding's Edge - Jumping Cutter (RKO)
Foxes Ace - Over the Shoulder Back-to-Back Pile-Driver
Last Resort - Running Punt Kick
Signature Moves:
European Uppercut
Olympic Slam
Inverted Sitout Suplex Slam
Wheelbarrow Suplex
Sidewalk Slam
Discus Elbow Smash
Snap DDT
Leaping Knee Drop
Pendelum Lariat
Double Chickenwing
Nicknames:
Prince Amazing
The Young Fox
Championships And Accomplishments
Extreme Answers Wrestling
Answers World Champion (1-time)
New Breed Champion (1-time)
National Extreme Champion (1-time)
Elite Champion (1-time)
2011 EAW Stable of the Year (Team Starr)
2014 Comeback of the Year (Nominated)
2015 Co-Grand Rampage Winner (With Brian Daniels)
2015 Answers World Champion of the Year
2015 Elitist of the Year (Nominated)
Most Valuable Extremist (6 times)
Match of the Week (8 times)
Moment of the Week (1 time)
Beek of the Week (3 times)
Promoer of the Week (3 times)
Champion of the Week (2 time)
Rookie of the Week (1 time)
Answers Wrestling Federation
AWF World Heavyweight Champion (1-time)
Elite Wrestling Entertainment
EWE Owner (2010)
EWE Hall of Fame (2011)
Kamikaze Pro Wrestling
World Heavyweight Champion (1-time) (2011)
YWSE 2.0
YWSE Tag Team Champion w/ Straight Edge Suicide (2-times) (2010)
World Classic Wrestling
WCW Tag Team Champion w/ SCSA (1-time) (2010)
WCW TV Champion (First Ever) (1-time) (2010)