Chase Vedder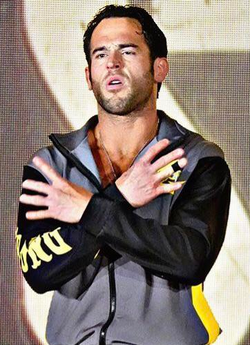 Vedder in 2020.
Birth name
Chase Edward Vedder
Resides
Cape Town, South Africa

Professional wrestling career
Ring name(s)
Chase Vedder
Height
6 ft. 1 in. (1.9 m)
Weight
221 lbs. (100.2 kg)
Billed from
Cape Town, South Africa
Trained By
Jaywalker

Debut
March 2018
Chase Edward Vedder (born June 7, 1995) is an American professional wrestler, and former amateur wrestler. He has performed under his real name for both Strong Style Wrestling, where he was a member of the Tres Comas Club faction, and Omega Wrestling Alliance.
Early Life
Chase Vedder was born in Cape Town, South Africa. At the age of seven his parents moved to South Bend, Indiana, where he spent the rest of his childhood. Vedder has stated that his parents would still take him on trips to what was officially his home country until he was eighteen.
Vedder was taught at Career Academy High School, and was the captain of the school's amateur wrestling team.
Professional Wrestling Career
Strong Style Wrestling (2018)
Vedder made his debut for SSW at their returning show in a match for the Freebird Tag Team Championships against Ronin's Piero and Tarah Nova with Racer Smiles as members of Tres Comas Club. The two of them would lose after Racer was eaten by Piero and Vedder was low-blowed, allowing Tarah Nova to get the victory. After a dispute between the two men they would both be entered into the Heaven's Arena Cup Tournament where the winner would earn an opportunity at the Puroresu Heavyweight Championship. Vedder would go on to the quarter-finals before losing to Gronk and departed shortly after.
Omega Wrestling Alliance (2018, 2020 - Present)
Vedder competed at the first ever OWA Pay-Per-View, Hardcore Havoc, after defeating CM Nas in the main event of the first ever episode of Kingdom.
Vedder returned after an extended hiatus with a refreshed character, now hailing from his original home country of South Africa and re-debuting as a militant purveyor of heel propaganda, aligning himself with the aforementioned CM Nas, Nero Darkbringer, Cyrus Raines and Rick Walton. He is scheduled to make his return match against Mark Michaels in the first round of a tournament to crown the first OWA Hybrid Champion.
In Wrestling
Finishing Moves

Lethal Weapon (Northern Lights Bomb)
Moonage Daydream (Double Springboard Phoenix Splash) – 2018
Nuclear Weapon (Avalanche Northern Lights Bomb) – 2018
On Vulture's Wings (Lifting Single Underhook Gutbuster) – 2020-Present
South Bend (Kneeling Cloverleaf) – 2020-Present
Signature Moves

Midwestern Lariat (Lariat to the back of the head) – 2018
Cash Landing (Fall Forward Suplex) – 2018
Brain Trauma (Inverted Snapmare Driver) – 2018
Rewind Elbow (Spinning Back Elbow) – 2018
Karoo Kick (Running Big Boot to a cornered opponent) – 2020-Present
Mandela Effect (Feint into a DDT) – 2020-Present
Decapitator (Spinning Headlock Lariat into a Backbreaker) – 2020-Present
Shot & Chaser (Deadlift Powerbomb followed by a Bicycle Knee) – 2020-Present
Picking the Bones (Multiple stomps to the opponent's limbs/extremities) – 2020-Present
Nicknames

"The (God damn) man"
"The (Cape) Vulture"
"The Homelander"
"The South African Sage"
Entrance Music

"The Man" by The Killers – 2018
"Close to the Ledge' by Saliva – 2020-Present