This article or section is about a championship title, character, event, or contains information about a company, and/or the outcome of current status, that is either under development or construction and yet to be released to the general public. It may contain spoilers and features that are mentioned here may be radically different in the finished product, or excluded altogether.
Louis Philipe

Philipe in 2020.
Born
Louis Gerardo Philipe
May 1st, 1982 (age 39)
Mexico City Mexico
Citizenship
Mexico (1982-2011)

American(2011-present)

Home town
East Los Angeles, California,
United States
Spouse(s)
Lisa Arias
(m. 2011;div.2017)


Cassandra Gutierrez
(m. 2018)


Children
3
Parent(s)
Angel de la Muertes (father)
Relatives
None (cousin)
Family
Philipe wrestling family
Professional wrestling career
Ring name(s)
Angel de la Muertes Jr
Louis Philipe
Azrael
Billed height
5 ft. 11 in. (1.80 m)
Billed weight
205 lbs. (93 kg)
Billed from

Mexico City, Mexico"
Trained by

Angel de la Muertes

Debut
December 11th, 1998
Musical career
Louis Gerardo Philipe (born May 1st, 1982), is a Mexican fourth-generation luchador enmascarado (masked professional wrestler), professional wrestling promoter, and businessman. He is currently signed with the All Pro Elite Wrestling promotion where he performs on the SmackDown brand under his ring name Louis Philipe, as the prominent founder and leader of El Rebelión Familia.
As a member of the Philipe family, and the son of professional wrestler Angel de la Muertes, and the grandson of . Philipe secured a contract with AAA in late 1998. He rose to international prominence and fame in Mexico after developing the gimmick of a charismatic.
He returned in 2018 as a part-time performer until 2013, and made sporadic appearances until retiring in 2019.
Azrael held 26 total championships throughout his career, including 21 between AAA, WWE, and Pro.In 2019, Azrael was inducted into.
Professional wrestling career
.

Lucha Libre AAA Worldwide
Training and debut (1998–2019)
..
World Wrestling Entertainment
Debut and Knockouts Champion (2010–2018)
....
Lucha Underground
Debut and Knockouts Champion (2018)
....
All Pro Elite Wrestling
Debut and Knockouts Champion (2021)
....
Professional wrestling style and persona
.
Legacy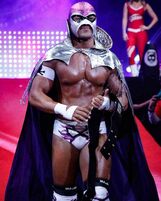 Philipe is considered one of the biggest legends of lucha libre behind only to El Santo and Blue Demon in terms of popularity and influence both in and outside of Mexico. He has been named one of the greatest heels in wrestling history and given credited most of his acclaim for his work as a villain throughout his wrestling career.
Finishing moves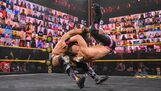 N(Flying Cross Armbreaker - The wrestler then grabs hold of the wrist of that arm and pulls it upwards, causing hyper extension of the shoulder and elbow.)
The Phantom Driver (Samoan Driver - The wrestler drapes an opponent over their shoulders in a fireman's carry position then falls backwards, driving the opponent down to the mat on their back.)
Phantom (Frog Splash - The wrestler is leaping from the top rope, stretching out to a horizontal position, and bringing one's feet and hands inward and outward before landing.)

Signature moves
Phantom (Triple German Suplex - The wrestler stands behind the opponent, grabs them around their waist, lifts them up, and falls backwards while bridging his back and legs, slamming the opponent down to the mat shoulder and upper back first.)
Wrestlers Manage
Nicknames
The Mexican Pride [WWE/October 6th, 2010 - June 14th, 2014]
Pride of Mexico [WWE/PWE/October 17th, 2017 - present]
Theme Music
World Wrestling Entertainment

"Archangel" by Jim Johnston [October 6th, 2010- November 22, 2011]
"Gothic Theme" by Jim Johnston [November 22, 2011-June 15th, 2014]
"Gothic Theme Two" by Jim Johnston [February 1st, 2016 - October 28th, 2018]
"What You Think" by CFO$ [May 26th, 2021- present]
Championships and accomplishments
° WWE Championship (5 times)
° WWE Championship (2 times)
° WWE
▪︎World Wrestling Entertainment
° WWE Championship (3 times)
° WWE World Heavyweight Championship (4 times)
Personal Life
Family, children and relationships
His father is a professional wrestler, known as the enmascarado "Angel de la Muertes" (English: "Angel of Death"). His half-brother is also a professional wrestler, known as Felipe Mesias, and his cousin has worked under the ring name Arturo Saurez. He has two sisters, Vivenne and Stefanie. His younger brother Jesus Costro signed a WWE contract in August 2012 and was assigned to the promotion's developmental territory NXT under the ring name Dragoon, but was released in July 2013.
Philipe is a private individual who has expressed his disdain for the media before; he rarely participates in interviews and avoids questions relating to his personal life.
He is bilingual. He is fluent in English and Spanish.
He owns two homes in Baltimore and Mexico, and still actively owns a mansion in California, where his wife and their daughter reside.
2016 cheating scandal and aftermath
In mid 2016, the TMZ News published a story claiming that Philipe was rumored to be in a relationship with professional wrestler and longtime friend Cassandra Gutierrez after a picture of the two together appeared on Twitter and Philipe's estranged wife Lisa Arias became suspicious and accused the two of seeing one another. Arias made a series of Instagram posts accusing Philipe of infidelity and posted explicit pictures and text messages of him and Gutierrez on soical media. This caused a widespread media coverage across Twitter, in which constant harassment and abuse was posted and tweeted against Gutierrez hundreds of thousands of posts. This, along with the accusations that Gutierrez was the ultimate cause of his divorce in his marriage to Arias. Following intense media coverage and speculation about the cause of the accident, Philipe's manger subsequently announced on June 30, 2016, that Philipe had checked himself into a rehab facility "to deal with personal issues" and requested his release from WWE, as he had yet to appear on weekly television. His request was accepted by Mr. McMahon. Two days later, Philipe released a statement on his Twitter account and took sole responsibility for his actions, calling it a "private matter" by issuing a sincere apology to his ex wife, Lisa Arias.
On July 4, following Us Weekly magazine's previous day reporting of a voicemail message allegedly left by Philipe for Gutierrez, Philipe released a further statement. He admitted to having a extramarital affair with her, and apologized to "all of those who have supported [him] over the years", while reiterating his and his family's right to privacy.
On June 9, 2016, Philipe and Arias ended their relationship after 6 years of marriage with Arias moving out of their mansion. The Los Angeles Times revealed that Philipe had a extramarital affair with Cassandra Gutierrez in their household. Philipe stated, "After," Philipe said issued to The Times. In the statement, he did mention that he had confessed to his wife only after she had confronted him with the information, which she had done after confirming with Gutierrez what she had suspected about their relationship.
Arias filed for a divorce from Philipe on July 3rd, 2016, citing the marriage was "irretrievably broken" and "emotional abandonment", as well as "domestic violence" and "child abuse" of her and their two children. She asked for sole custody and a restraining order against Philipe along with spousal support after testifying under oath that he was physically abusive towards her during their marriage, and he threatened her to kill her and their children. Philipe, however, denied the statements. He responded in court documents that the marriage was "??" but requested that allegations of his "domestic violence and child abuse" be stricken from court records. After testifying under oath, Arias was granted a 4-year restraining order against Philipe. The couple reached a agreement later in Stepember 2017.
Other media
Philipe has also appeared as a playable character in numerous WWE video games which are WWE SmackDown vs. Raw 2011, WWE '12, WWE '13, WWE 2K17, WWE 2K18 and WWE 2K19.