Patrick Fischer (born March 6, 1990), better known by his ring name Wayne Carruthers, is an American professional wrestler most known for his appearances in Frontier Grappling Arts[3]. In the past, Fischer made appearances in other promotions such as EXODUS Pro Wrestling[4], Platinum Dynasty Wrestling[5], and Hollywood Elite Wrestling[6]. Fischer also appeared in Global Wrestling Association and Pro Wrestling X[7] for their respective tournaments to name number one contenders for the promotion's top championship, the March Madness Tournament and the World Grand Prix tournament.
Fischer is also the creator and host of his hit internet show, Wayne's World.[8] Airing approximately one episode per week in which he covers topics that cover his upcoming match, Fischer's show garners a close following with a large fan base in and out of the wrestling business. Through the first three episodes, Fischer had questions that were sent toward the show via Twitter with the hash tag "#WaynesWorld" as a way to interact with the fans. On the pilot edition, Fischer implemented live online chats with a random audience members via Skype but the device has not been used since.
Early life
Fischer was born in Brooklyn, Ohio as the only child of Edward and Victoria Fischer (née Warner). Throughout his childhood, Fischer attended all levels of education within the Brooklyn school system, including Brooklyn High School in which Fischer played on the school's football, wrestling, soccer, and track and field squads. Fischer then graduated from Cleveland State University with a degree in communications while participating in the university's wrestling team. Originally, Fischer was given a wrestling scholarship to attend Ohio State University until the university reneged their offer.[9]
Wrestling career
As a child, Fischer first developed interest in professional wrestling after watching the most famous Hell in a Cell match between Mick Foley and The Undertaker at the King of the Ring pay-per-view event in 1998. Years later while attending college in 2011, Fischer was trained by Duke Daniels in Cleveland, Ohio before moving to Sonoma, California the following summer in June 2012 in order to attend the Underground Wrestling Compound training school, a developmental wrestling promotion from which Daniels graduated. Fischer eventually graduated from the school in January 2013 before making his career debut.
Various appearances (2013–present)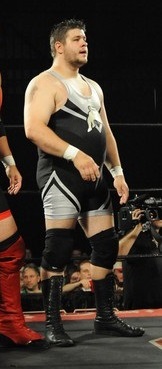 Fischer made his career debut a month after graduating from Underground Wrestling Compound in February. As Wayne Carruthers, he appeared in Global Wrestling Association on an episode of Shockwave. Carruthers was eventually placed in the March Madness Tournament in which the winner went onto being named the number one contender for the GWA World Championship. Carruthers went as far into the semifinal round before being eliminated by NBT. At the time, Carruthers was being paid per appearance unlike the rest of his peers who were signed to contractual salaries. Because of this, Carruthers and certain individuals who participated in the tournament utilized the opportunity as an avenue to showcase their talent in hopes of landing a contract. Carruthers failed to receive a contract and thus made his last appearance during the semifinal round of the March Madness Tournament.
In 2013, Carruthers made appeared in a pair of taped vignettes for EXODUS Pro Wrestling in the month of April. Carruthers made his first appearance was during a supershow hosted by EXODUS, called Invincible on April 7.[10] At the event, Carruthers posed as an anonymous figure who had not taken a side during the LEGION-era of the company. Two weeks later at the following E-Pro Television episode on April 21, Carruthers made another anonymous appearance and made both sides of the EXODUS-LEGION war aware of his presence. Carruthers was planned to appear during the ensuing episode but was unable to be part of the show because of a conflicting schedule.[11] Carruthers chose not to appear any further, thus quietly disappearing from programming aired by EXODUS.
Carruthers appeared in Platinum Dynasty Wrestling on an episode of Disclosure on April 29.[12] His appearnce was shocking and deliberate, leading to what appeared to be a highly acclaimed debut by his peers. However, this appearance was not just the first for Carruthers, but also his last with the company. Various rumors began to circulate about Carruthers in regards to his inability to follow up from his attention-grabbing appearance, including a failed contract negotiation and even a failed physical that led to him being disregarded by those in the promotion's management department.
On May 10, Carruthers appeared as a one-time guest for an event hosted by Hollywood Elite Wrestling.[13] Carruthers went onto defeat one of the more popular wrestlers on the promotion's roster, Santa Claus, at Shockwave 6.
A month later at a separate event funded by CJ Osborne, Carruthers faced Freya Kane at the first annual Unsanctioned supercard on June 15 hosted inside The O2 Arena in London, England. The two had initially met on Twitter and became well-acquainted. This led to their match being billed a friendly rivalry with Kane being labeled as the grizzled veteran who wanted another shot at claim to fame and while Carruthers was characterized as a young novice looking to make a name for himself. Carruthers ultimately defeated Kane in a highly acclaimed bout that led to a standing ovation being received by both wrestlers after the match.[14]
Three months later, Carruthers made his Pro Wrestling X debut on August 28 in Atlanta. Entering the World Grand Prix tournament, which the winner is rewarded with a PWX World Championship match, Carruthers defeated Tate Jaxon in the first round.[15] A week later, Carruthers defeated Bob Pooler, Jason Aries, and Nightmare in a four-way non-elimination match during the ensuing semifinal round of the WGP.[16] Carruthers finally faced Preston Blake and Troy Stone in the tournament finals but unfortunately lost the match, therefore making his final appearance in PWX.[17]
Frontier Grappling Arts Wrestling (2013–present)
Unable to be signed to a long-term contract with Global Wrestling Association, Carruthers landed a contractual deal with the Frontier Grappling Arts wrestling promotion just weeks after being eliminated from the GWA March Madness Tournament. He first made his FGA debut during a backstage segment involving himself in a search of a person by the name of "Mike Rotch", supposedly the promotion's Director of Human Resources.[18] Afterward, Carruthers stated on his Twitter account that the backstage search was a rouse, which Carruthers also stated in a post-show segment informing the audience of him being ribbed by a company employee. At the following show, Carruthers made his FGA debut by defeating Tigre Oro.[19] Carruthers then went onto defeat Braydon Jones two weeks thereafter, giving him momentum entering the Gold Rush Rumble match a week later at Only the Strong Survive supercard.[20] Carruthers entered the Gold Rush Rrumble as the thirteenth entrant before being eliminated after becoming only one of five finalists remaining in the match.[21][22]
Feud against Johnny Karma
Unable to win the Gold Rush Rumble, Carruthers subsequently began to express a more sour personality such as complaining about his consistent ranking outside of the top-five in the company's Power Rankings. Coinciding with the failure to become number one contender for the FGA Championship, Carruthers felt as though he had not been given enough recognition for his excellent debut with the company, in which Carruthers at the time was undefeated in singles competition. At the ensuing event thereafter, Carruthers defeated Anton Chase in an exciting match that saw the viewers see both men exchanging numerous attempts of utilizing his finishing move against his opponent.[23] At the following show, Carruthers easily defeated FGA-newcomer Joey Perello.[24] However, earlier on in the night, Carruthers had hosted a live edition of his hit web-series, Wayne's World, in the middle of the ring until he was interrupted by Johnny Karma.[25] Karma himself had been the host of his own show, Karmic TV, and this spat between the two hosts became the driving force of the animosity between the two wrestlers. Both men exchanged verbal insults before a week they had faced each other on opposing sides of a ten-person tag team match where Carruthers was partnered with Alexia Brandt, Camellia Magna, Noah van Dyke, and Sean Sands. Unfortunately, Carruthers and his teammates were defeated by the quartet of Karma, Anton Chase, Joey Perello, Johnny Blaze, and Mike Tomkins.[26] In the following event at All-Star Showdown II, Carruthers and Karma had finally met each other in the ring to finally settle their differences. The bout ultimately saw Carruthers defeating Karma and finally gaining superiority between the two show hosts.[27]
Championship aspirations
At the following show after All-Star Showdown II, Carruthers was given the immediate opportunity to win the first championship belt of his career by taking on J.T. Cash for the FGA Pride Championship in a two-out-of-three falls match. The title bout was also marked the first time Carruthers was headling a main event for a show. After Carruthers gained the first fall, Cash evened the score by making it 1-1 until Mike Tomkins interfered at the end of the match. Tomkins, who himself was in pursuit of Cash's Pride Championship, pushed Cash off of the turnbuckles and thus causing Cash to retain the title due interference, disqualifying Carruthers out of the match in the process.[28]
In the meantime, Carruthers was placed in the Dynamic Duos tag team tournament to name the promotion's inaugural titleholders for the FGA Mid-Atlantic Tag Team Championship.[29] His partner was Heather Halliwell, who had personally requested and was successfully granted in being partners with Carruthers. Colloquially known as "#Weather", the portmanteau of their first names Wayne and Heather, Carruthers and Halliwell made their team debut against Adam Stryker and Mike Tomkins, otherwise known as Bad Attitude, in the first round of the Dynamic Duos tournament at the June 20 FGA taping. Unfortunately for Carruthers and Halliwell, the newly-established duo lost to Bad Attitude.[30] At the ensuing show, Carruthers and Halliwell won their first bout as a duo – albeit teaming with A.J. Fairchild – by defeating the trio of Chris Q, Johnny Karma, and Wade Nolan in a six-person non-elimination tag team match.[31] Then at Above & Beyond II, #Weather was placed in a four-way non-elimination tag team match against Bad Attitude, the Usual Suspects (Jason Marx and Chris Tryon), and the Murder (Dom Harter and Malcom Drake) for the FGA Mid-Atlantic Tag Team Championship.[32] Unfortunately, Carruthers and Halliwell were not able to be victorious and thus failed once more to become champions.
Personal life
Fischer lives in a highrise apartment in Brooklyn, New York that was lent to him by his friend CJ Osborne. He enjoys playing video games and has stated one of his favorite titles include WWF No Mercy, along with the FIFA, Madden, and NBA 2K series. Fischer is also a sports fan, supporting teams such as the Detroit Red Wings in hockey, the Denver Broncos in football, and the English Premier League club Manchester United. He is an avid reader of comic books and has mentioned that his favorite comic book characters include Iron Man and Wolverine but most notably Batman, as Fischer's moniker pays homage to Bruce Wayne.
Currently single, Fischer has dated various women within the wrestling business including Tessa Rowen[33], Portia Lucas[34], and Caterina Sanchez[35]. He is good friends with Dayshia Raye[36], Heather Boleyn[37], and Car-I[38].
In wrestling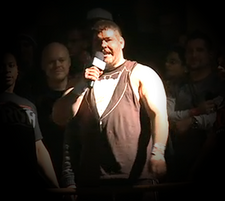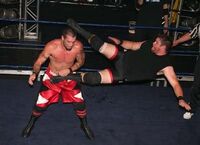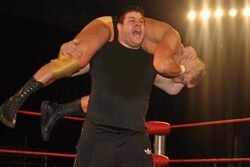 Nicknames

"Mr. Unconventional"
"The New Age Wrestler"
"Pro Wrestling's Panda (Bear)"
"(The) Wild Thing"
External links
Community content is available under
CC-BY-SA
unless otherwise noted.