William Troy Alexander "Alex" Cross (February 14, 1976 – March 11, 2012), better known by his ring names Alex Slash and Viper Blade, was an American professional wrestler who performed in various promotions throughout his career. In March 2012, Cross tragically died at the age of 36 due to an automobile accident.
Early life
Cross was born in Shorewood, Minnesota as the only child to Thaddeus and Evelyn Cross. As a child, Cross was introduced to wrestling by his uncle Lenny, who was a professional wrestler, and was instantly hooked. The first event he attended was WrestleMania 2 at the age of 10, looking from the bleachers inside Rosemont Horizon. From then on, Cross wanteded to become a professional wrestler. After graduating from high school, Cross attended Metropolitan State University where he obtained a bachelor's degree in political science. Cross once chose to try out for the Minnesota Wild but was ultimately cut from tryouts. Afterward, Cross decided to focus on becoming a wrestler, attending the Underground Wrestling Compound and being trained by his uncle.
Wrestling career
Cross signed with Total Non-stop Action Wrestling in December and was placed on the Impact roster as Viper Blade. Winning his first three matches, including a number-one contender match against Sting for an opportunity to face the world champion at the Final Destination pay-per-view event, Blade lost a three-way match against David Arnold and the Game. Blade would be off of television the rest of 2006 before making his return in February as Alex Slash, defeating Frank Stevens for the TNA Hardcore Championship in the process. Slash would hold onto this title for several weeks until announcing his resignation speech in front of a live crowd on Impact before Benjamin Jameson attacked him and lost the Hardcore Championship in an impromptu match. This would be his last wrestling-related appearance before the summer of 2007.
After five months away from wrestling, Cross returned in June 2007, as Viper Blade, after agreeing to be part of All Magnitude X Wrestling. Blade debuted for AMX Wrestling alongside Benjamin Jameson as the duo formed a tag team called Triple Threat. Managed by Frank Richards, the two quickly gained popularity but would soon find their demise as the company folded. Cross then chose to retire due to his discontent with the industry along with nagging injuries collected throughout his involvement with wrestling.
Personal Life
Cross resided in Tampa, Florida after retiring from wrestling in 2007 where he worked in youth groups for teenagers throughout the area. Never married, Cross was once romantically linked to pornographic actress Jenna Jameson along with models Kelly Brook and Jordan. Cross was known to be an avid hockey fan and known to collect memorabilia from the sport. After his announcement of retiring from professional wrestling, Cross would make appearances at card shows and wrestling reunion events.
Death
On the night of March 10, 2012, Cross was involved in an automobile accident after attending a birthday party of a friend. Police reports suggest that another driver ran a red light and broadsided Cross's vehicle. After being sent to the South Tampa Medical Center, Cross had died the following morning as a result of the injuries sustained from the crash. Those who attended Cross's memorial service include his close friends Benjamin Jameson and Terence Jackson.
In wrestling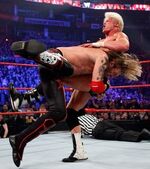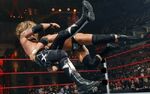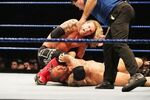 Nicknames

"The Enforcer"
"The Franchise"
"Mr. TNA"
Championships and accomplishments
External links
Wolfpac/Triple Threat
Wolfpac (2006)
Triple Threat (2006)

Sting • Triple X • T-Jay • Stormy

Triple Threat (2007)
Triple Threat (2008)

Benjamin Jameson • Sting • Stormy

Triple Threat (2011)

Benjamin Jameson • Sting
Community content is available under
CC-BY-SA
unless otherwise noted.