Tyron Bickerton

Bickerton backstage at DUW in 2016.
Birth name
Tyron Jack Bickerton
Born
May 11, 1991 (age 25)
Resides
Brisbane, Australia
Professional wrestling career
Ring name(s)
Taylor Williams
Jack Zodiac
The Fly Man
Solid 7 Ball
Tyron Bickerton
Billed height
5 ft 10 in (1.77 m)
Billed weight
254 lb (115 kg)
Billed from
Brisbane, Queensland, Australia
Trained by
Heath Williams
Debut
2010
Tyron Jack Bickerton (born May 11, 1991) is an Australian professional wrestler, currently appearing for Down Under Wrestling and HYBRID Wrestling. He is best known for his time on the Bebo Wrestling Network, where he competed in federations such as Future Bebo Wrestling and Online Wrestling Alliance under the ring name Taylor Williams.
In addition to his time in FBW and OWA, Bickerton has also wrestled for many independent promotions. He was also briefly a part of World Turmoil Federation, however, it was largely uneventful and he departed soon after.
Bickerton is recognised as a three-time world champion, having won the FBW World Championship once and DUW World Heavyweight Championship twice. Despite his singles success, Bickerton is primarily a tag team wrestler, having won an impressive 12 tag team championships with 10 different partners.
Professional wrestling
Early career (2010)
Bickerton made his wrestling debut under the ring name Taylor Williams, where he often played a cocky heel or a degenerate face, depending on the role he played within the company. He initially worked for Future Bebo Wrestling, a company which would find itself under the ownership of his (kayfabe) brother Heath Williams. The two would go on to feud with each other in intertwining storylines -- first, Taylor (as a face) aligned with then-FBW President Cheyenne Star to battle Heath (as a heel), who was attempting a hostile takeover. Then, a double turn saw Bickerton turn heel and Williams turn face, as they feuded over Bickerton's on-screen girlfriend, Camilla Taylor. He saw moderate success in FBW as a three-time FBW Tag Team Champion, a one-time FBW Massacre Champion and a one-time FBW World Champion.
He would also spend time in World Turmoil Federation under the ring name Taylor Williams, but saw little to no success and was soon fired from the company for his behaviour.
Future Bebo Wrestling (2010-2012)
Bickerton, wrestling as Taylor Williams, joined Future Bebo Wrestling with his kayfabe brother, Heath Williams. He soon found his way into the main event scene, winning his way to the finals of a tournament to determine the inaugural FBW Heavyweight Champion. He clashed with James Eriksson in a Ladder Match at Concussion; he lost the match when he was distracted by Mickie Melane.
Bickerton began a shoot rivalry with Alexander Hunter, with whom he had a backstage indifference, as their personal rivalry spilled out into an in-ring rivalry. Their rivalry came to a head at Stop Watch, where both men clashed in a Beat The Clock Challenge to earn an FBW Heavyweight Championship match. The match ended when neither man could beat the time set earlier in the evening.
Feud with Heath Williams, absence from FBW
Bickerton split from Heath Williams in October 2010, and the two began a feud after Williams turned heel. Williams, attempting to take over Future Bebo Wrestling, faced Bickerton, who was selected by then-FBW President
Cheyenne Star
as her representative, in a match that would
determine ownership of the company. Williams defeated Bickerton at
Secrets
, in the process becoming the new FBW President. Shortly afterwards, Bickerton took a leave of absence from FBW.
Return to FBW, becoming FBW World Champion
Bickerton made his return several months later, and wrestled at the February 2011 pay-per-view event Heartless Valentine, where he defeated Jamo, Louis Lightning Gibbs and Ken Mirai in a Fatal 4 Way Match to earn the right to challenge Craig Adams for the FBW World Championship at Futurefest. At the company's grandest event of the year, Bickerton would defeat Adams to become the FBW World Champion. However, due to injury, he was forced to surrender the championship less than a month later, ending his reign at 26 days -- the shortest reign in the title's history. He would not wrestle another match for the remainder of the year.
At the urging of Paul Benzema, Bickerton returned at New Year's War in January 2012 to team with Benzema against Ryan Ryles and Craig Knightly in a winning effort. At the Concussion event in June, Bickerton would wrestle his final FBW match, against Craig Adams.
Down Under Wrestling (2011-2014)
Williams made his first appearance in Down Under Wrestling at the company's inaugural event, taking part in a four-man tournament to determine the first DUW World Heavyweight Champion. He defeated Tony Flow in the first round, advancing to face his (kayfabe) brother Heath Williams in the final; a match that Heath would win. The two would face each other again in a rematch the following month, again with Heath walking out as champion.
Alliance with Jaydyn Pick, feud with Colton Slater and Bob Van Dam
Williams would then slip down the card, opening the monthly events by working singles and tag team matches. He teamed with Jaydyn Pick -- who, in actuality is his legitimate brother -- to defeat Daniel Roy Orton and Makula The Faggot when Pick hit Makula with a Frogsplash. In January 2012, Williams suffered a loss to Tony Flow when Flow's manager, Missy Chick, delivered a low-blow and Flow took advantage. Despite this loss, Williams was paired with Pick to face Colton Slater and Bob Van Dam -- his other two legitimate brothers -- in a high-profile tag team match, where the winners would be crowned the first DUW Tag Team Champions. Williams would take the fall in the match.
A rematch between the teams took place one month later, this time being a 2 Out Of 3 Falls Match. Williams and Pick would come back from one fall down to win the final two, and become champions. As DUW moved to cater to a more mature audience by April 2012, the Tag Team Title rivalry continued, with Williams losing to Slater in a singles contest. Pick and Williams would defeat Road Warrior Sam and Road Warrior Rohan in a non-title match the following month, leading up to a three-way elimination match between Pick & Williams, Slater & Van Dam and The Road Warriors for the Tag Team Championship. The champions were the first team eliminated when Slater grabbed a handful of Williams' trunks, and Slater and Van Dam eventually regained the titles.
During the rematch, Jaydyn Pick suffered a serious injury (which would later be revealed as a broken leg) and the match was ruled a no-contest.
Initial feud with Heath Williams
Williams decided to go through with his rematch, selecting Heath to be his partner. However, during the match, Heath attacked Taylor and cost them the match, turning heel in the process. Taylor would confront DUW Owner Austin Henderson, demanding a match with Heath. Henderson explained that if Heath were to be unsuccessful in his #1 Contender match later that evening, he would sign off on the match -- this lead to Taylor taking matters into his own hands, assaulting Heath during his match and costing him his #1 Contendership.
Taylor and Heath would face each other at DUW's anniversary show, in one of the most violent matches in the company's history. After suffering three consecutive Afterlifes, a bloodied Taylor was pinned. Seeing the money involved with having the two Williams Brothers scrapping in the ring, Austin Henderson decided to book both of them to face World Heavyweight Champion Adam McIntyre for the title in a Triple Threat Match. In the match, as Taylor had the title won, Heath smashed a vase over his head and pinned McIntyre to become the champion again.
World Title controversy
In what was described as the blow-off match of their feud, World Champion Heath and challenger Taylor were booked to face each other in a Ladder Match for the gold. This didn't sit well with former champion McIntyre, whom had been denied his title rematch for the time being. McIntyre, who had been aligned with big man Blake Roderick in recent months, stormed the ring with Roderick and set out to ruin the entire match. As they attacked The Williams Brothers, Missy Chick -- who had now moved to managing McIntyre and, by default, Roderick -- climbed the ladder and retrieved the belt before running off with it, thus completely ruining the main event. Henderson announced in a press conference several days later that he had set up a Fatal 4 Way Elimination Match between Heath, Taylor, McIntyre and Roderick for next month to clean up the mess. Taylor was the first man eliminated from the contest when he was Powerbombed and pinned by Roderick.
Return to mid-card status
While Heath went on to feud with McIntyre, Taylor returned to the mid-card, where he worked a spectacular opening match with
El Ese
. William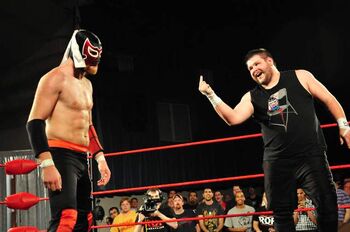 s was so impressed by Ese's performance, in fact, that he would seek him out backstage to praise him. It wasn't long before Williams and Ese were branded as a team, and successfully defeated The Road Warriors as they declared their intentions to become Tag Team Champions. They succeeded in their quest one month later, defeating Jaydyn Pick and
Pierce Prourne
for the gold -- however, they'd drop the titles back to Pick and Prourne one month later in a rematch when Ese's mask was turned sideways, and he delivered a big boot to Williams, believing it was one of their opponents.
Williams would turn on his partner in their rematch the following match, refusing to tag in and leaving the match while it was in progress, costing them the match and turning heel in the process.
Heel run, DUW Champion
Williams soon made his heel presence felt, when he aligned with Dave Crowley, Josh Coyles and Tony Flow during his World Heavyweight Title Match with Blake Roderick. Williams accepted their assistance in defeating the seemingly-unstoppable Roderick, leading to him being revealed as the final member of Missy Chick's group attempting to stage a hostile takeover of DUW. Williams accepted a challenge from Aero Scantlin, whom he didn't perceive as a threat; Scantlin would quickly roll Williams up to capture the World Title, roughly a month after he managed to win it.
Williams made a one-time return at the Homecoming event, once again as a villain, where he unsuccessfully challenged Pierce Prourne for the World Heavyweight Championship.
Online Wrestling Alliance (2014-2015)
OWA debut, feud with The Dangerous Allegiance
Williams made his first appearance in Online Wrestling Alliance during the October 3, 2014 episode of Adamantium, where he saved World Heavyweight Champion Jeff Palmer from a post-match beatdown at the hands of The Dangerous Allegiance. From that moment forward, Williams and Palmer formed an alliance to deal with the villianous faction.
The following week, Williams and Palmer teamed up to defeat Dangerous Allegiance members
Merle Newton
and
Jason Oliver
-- the same two men who had betrayed Palmer one week prior. Williams lost to
The Thundermaker
the following week, after interference from
Cash Morgan
. Due to the interference and animosity between the two because of it, OWA President
Britta Johnson
signed a match between Williams and Morgan at
Borrowed Time
. Before that, Williams and Palmer would team up once again to challenge Thundermaker and Morgan in the main event for the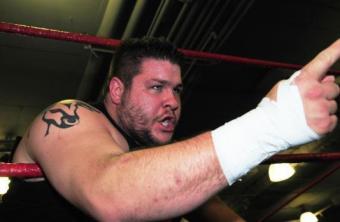 World Tag Team Championship
-- Williams and Palmer were unsuccessful in their title match.
At Borrowed Time, Williams was defeated cleanly by Cash Morgan.
Feud with Zack Richards, rise to main event status
After Jeff Palmer had lost the World Heavyweight Championship to Dangerous Allegiance member Angel, Williams set his sights on taking the gold for himself. Another man, Zack Richards, felt he deserved the title shot, and began a feud with Williams for the right to be named #1 Contender. Richards defeated Williams in a match on Adamantium, but rather than grant Richards his title match, Britta Johnson decided the two should be clashing on pay-per-view in a big-money-match -- she announced that they would face each other once more, where the winner would earn the World Heavyweight Title opportunity.
The following week, Williams teamed with Trace Parker to face Richards and Orlando Flowers in a tag team match where Williams pinned Richards, giving each man one win a piece. Later on in the night, Richards and Williams had to be pulled apart by security due to a backstage altercation.
Williams defeated Richards at Once Risen to become the #1 Contender, and close their feud. Later that week on Adamantium, during Angel's Celebration of Excellence, Williams assaulted the champion under the guise of the band's bassist -- with a mighty swing of the four-stringed instrument, Williams knocked Angel out cold.
At the height of the following week's show, Williams announced that he had been granted the right to pick a partner to challenge Thundermaker and Cash Morgan for the World Tag Team Championship, much to Stu E. Dangerously's chagrin. Williams elected to team with Victor Huntley, another man who had his differences with The Dangerous Allegiance. Williams and Huntley became champions when Huntley made Morgan submit. The reign was short-lived, however, as they would lose the titles back to Thundermaker and Morgan the very next week following interference from other Dangerous Allegiance members.
With their clash at Ramifications only two short days away, Angel and Williams were permitted to choose each others' tag team partner for a main event bout -- Angel selected European Champion Sarinyde to team with Williams, while Williams picked Victor Huntley to be Angel's partner. The match went to a no-contest when it degenerated into an all-out brawl.
At Ramifications, Williams was unsuccessful in his quest to capture the World Heavyweight Championship, when he lost a brutal Hell in a Cell Match to Angel. He remained with the company until it folded in early 2015.
Visionaries of Wrestling (2015-2016)
Debut, early feuds
In July 2015, Bickerton signed a contract to compete in
Visionaries of Wrestling
. He debuted on the August 2 edition of Breakdown, where he was introduced to the fans by fellow Australian competitor,
Owen Gonsalves
. Later that same evening, he answered the open challenge of 
Bret Carson
in the main event, where he lost after a quick roll-up. He competed in the opening contest on the following episode, where had a Fatal 4 Way Match with
Calvin Harris
,
Saul Maverick
and eventual winner,
Satoko
. Bickerton would later interrupt an interview between
Darius Yates
and
Stacy Jones
, volunteering to team with Jones for her match against Carson and
Ryder Blade
the following week. Bickerton and Jones lost the match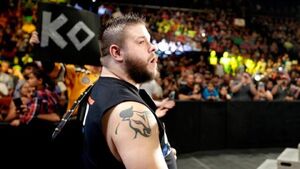 due to outside interference.
Despite the loss, Bickerton was granted his request for a rematch with Carson at Armed And Dangerous. However, in the lead-up to the event, Carson suffered a shoulder injury and would be out of action for six months. Instead, Bickerton was inserted into the Zero Gravity Championship match against Zakk Morris to determine the new champion, after former champion Cameron Behringer was assaulted and deemed unfit to defend the title. Bickerton defeated Morris to win the Zero Gravity Championship at the event.
On the following Breakthrough, Bickerton easily defeated Ethan Sinn. Later in the show, it was announced that Bickerton would be reuniting with Heath Williams to form The Requiem, with Missy Chick serving as their manager. Following a war of words on Twitter, it was announced that The Requiem would face The Orphanage in their return match, in the main event of the following Breakthrough. The Orphanage went on to win, amid controversy, when Matt Robinson pinned Bickerton. Bickerton suffered a nasal fracture during the match. Despite this injury, he elected to go through with a match against Seth Iser. Iser defeated Bickerton following a DDT.
Bickerton was scheduled to defend the Zero Gravity Championship against Kincaid in the opening match of Darkest Hour. This match didn't go ahead as planned, as Kincaid was attacked before the match, and Bickerton retained the title via forfeit. On the following edition of Breakthrough, Bickerton and Williams defeated the Cutthroat Corps to win the Twin City Championship -- this win made Bickerton the first wrestler in VoW history to hold two championships simultaneously. Bickerton lost the Zero Gravity Title on the following edition of Breakthrough to his close friend, Katie Moicelle. The Requiem would go on to lose the Twin City Titles to The Neon Babes at Double Jeopardy. Following Robinson's defeat at the hands of Moicelle that same night, Robinson attempted to assault his opponent after the match, until Bickerton made the save. After the event, Bickerton announced that he would be taking time off to deal with lingering health issues.
Return, heel turn and feud with Heath Williams
Bickerton announced via social media that while he was still recovering and unable to return to the ring, he would be at ringside to support Heath Williams in his I4NI Title match with Tyler Storm at Nothing Else Matters. After Williams won the championship, he invited Bickerton into the ring to celebrate with him. Bickerton would assault his tag team partner, once again becoming a villain when he attempted to cripple Williams. Bickerton would later reveal that he was cleared to compete all along, and he would be returning to the active roster.
At Breakthrough #44, Bickerton defeated Owen Gonsalves, whom he claimed he was making an example out of. At the end of the night, Williams called out Bickerton and challenged him to a match at Fate of the Gods II; a 2 out of 3 Falls Pick Your Poison Match. Bickerton accepted the match, on the condition that Williams partake in and pass a drug test on the following Breakthrough to ensure he was clean. Bickerton defeated Craig Anderson on that night, as yet another example of what would happen to Williams should he manage to pass the drug test. He hired Earl Coleman to oversee the test and deliver the results -- after taking a saliva sample from Williams, he concluded that Heath Williams was indeed free of any illegal substances, and thus accepted the match on Bickerton's behalf.
Earlier that same night, Bickerton assaulted Kelsey Spencer on behalf of his girlfriend, Rebecca Saint. The two would go on to form the Saint City Affinity along with their advisor Coleman, and their "child" Mimi Mai Saint. It was later announced that Bickerton and Saint would team up to face Williams and Spencer on the final edition of Breakthrough before Fate of the Gods II. Williams chased Bickerton from the arena with his warhammer, leaving Saint to force Spencer to submit to win the match for the team.
At Fate of the Gods II, Bickerton defeated Williams two falls to one, and became the new I4NI Champion. The two would go on to have a rematch at Heatstroke, where Williams defeated Bickerton in a Casket Match to regain the title.
Return to Down Under Wrestling (2016-present)
Bickerton attended DUW Last Call (2016) as a spectator, referred to by his real name rather than as Taylor Williams, and caught the attention of DUW Australian Champion Blake Roderick. Roderick berated Bickerton, claiming that everything Bickerton had accomplished in the United States was nothing compared to what he had done in his Australian Title reign. He then proceeded to defeat Aero Scantlin and FBW legend Jamie Couture to retain his title - but, Roderick didn't stop there. He continued talking smack to Bickerton, challenging him to a match for the Australian Title. Bickerton accepted, and defeated Roderick rather quickly with Game Over to become Australian Champion for the very first time.
Personal life
Bickerton is the real-life older brother of Colton Slater, Bob Van Dam and Hit Points, whom have all appeared in wrestling promotions, such as Future Bebo Wrestling, Online Wrestling Alliance and Solid Studios Wrestling.
Apart from a brief split in 2016, Bickerton has been in a relationship with fellow wrestler Rebecca Saint since 2008. It was made public knowledge in September 2016 that Saint was pregnant with their first child. In late-March 2017, Saint went into early labour and the couple's daughter was stillborn.
In wrestling
Finishing moves
Signature moves
Nicknames

"Sliced Bread II"
"Mr. Fahrenheit"
"The Other Brother"
"Saint City Juggernaut"
Championships and accomplishments
Community content is available under
CC-BY-SA
unless otherwise noted.