Tyler Chandler

Chandler visiting the Naval Air Station in Pensacola
Ring name(s)
Tyler Chandler
Billed height
6'3" (1.91 m)
Billed weight
235 lb (106 kg)
Born
May 25, 1982 (age 30)
Toronto, Ontario, Canada
Resides
Pensacola, Florida
Billed from
Toronto, Ontario, Canada
Trained by
Rain
Debut
August 2005
Tyler James Chandler (born May 25, 1982) is a Canadian professional wrestler signed to Blazenwing Wrestling Federation (BWF). Chandler is a second-generation professional wrestler; his father David "Dave" Thompson competed in the professional wrestling industry.
Chandler has won a total of five championships in his career and is a one-time World Champion, having held the xWo Championship once.
Chandler is best known for his stint in Two Worlds Wrestling Federation where he is a former Lionheart Champion as well as a former United Kingdom Champion. Chandler was trained by Rain and soon went on to form his own wrestling company along with longtime friend Rob Chapman called Extreme Wrestling Alliance. The company would have only one show where Rob would defeat Chandler in a brutal and barbaric Barbed Wire Massacre match for the EWA Heavyweight Championship, the company soon folded shortly afterwards.
After EWA folded Chandler signed with Xtreme Wrestling Organization in 2006. Tyler would soon leave xWo not long afterwards before re-signing with xWo in 2007. Chandler would go on to hold the xWo Championship, although his reign lasted less than ten minutes as he would go on to lose it right back to Mephisto, who cashed in his rematch clause. Chandler would return to the xWo in 2010 and within a few months he would win the xWo Television Championship and would go on to become the longest reigning Television Champion in xWo history.
Professional wrestling career
Xtreme Wrestling Organization (2006–2007)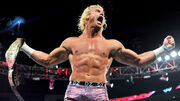 Chandler signed a contract with xWo in December 2006 after he would leave shortly afterwards before getting re-signed in February 2007. Chandler would compete at xWo's Night of Infamy for the xWo Hardcore Championship however he would come up short. After this Chandler would begin a rivalry with Alexander Putrid and Colby Henderson over the xWo Madness Championship. The feud culminated in a Triple Threat match at Chained In which to this day is one of xWo best matches. Chandler would lose the match after receiving a Destiny's End from the top rope from Colby Henderson.
After the rivalry ended Chandler had a very short feud with then xWo Champion, Mephisto. The two would face in a loser leaves xWo match for the xWo Championship and Chandler would defeat Mephisto although shortly afterwards Revenge GM, Luke Holden allowed Mephisto to cash in his rematch clause. Mephisto would win back the championship and Holden would later fire Chandler in storyline. This was done because Chandler was leaving xWo to spend time with his family.
World Wrestling Champs (2007)
Tyler would head back to the wrestling business returning and signing with the WWC (World Wrestling Champs) he would go on to win the Tough Enough Competition thus earning a full time contract with the WWC. Tyler would engage into a rivalry with Carlito and Luna Vachon whom he would beat in a triple threat match. Tyler then focused his attention to the WWC Championship and ended up joining the Enterprise stable lead by Michael Noventa. After a few months in the Enterprise, Chandler left the Enterprise and immediately captured the WWC X-Division Championship defeating Eddie Colon and Petey Williams. Tyler would go on to form an alliance with Eddie Colon they called the Gathering. Tyler would then start a feud with WWC World Heavyweight Champion, Alex Shelley over Shelley's girlfriend Forbidden. The feud would be brief as the WWC would go bankrupt and Chandler was the last X-Division Champion and never lost the championship.
Extreme Wrestling Impact (2007)
Tyler after WWC closed down would sign with Extreme Wrestling Impact under his Tyler Thompson ring name; where he would would once again see his best friend Rob Chapman and immediately challenged him to a match re-igniting their feud from early in 2006. Tyler is scheduled to compete against Rob Chapman in the EWI's next pay-per-view Winter Blitz.Chandler would make his in-ring return in EWI with a loss to Rob Chapman in a bloody and brutal TLC match at Winter Blitz. Chandler is currently in the Blood Sport Tournament despite being injured and is scheduled to go one on one with Lucifear in the first round.
Return to Xtreme Wrestling Organization (2010–2011)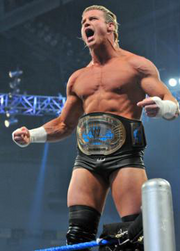 Chandler make his return to the xWo in February 2010 after a three year absence. Tyler would make his in-ring return on the February 22, 2010 episode of Revenge in a loss to Ari Benz for the vacant xWo Television Championship. On March 15, 2010 episode of Revenge, Chandler would win the xWo Television Championship defeating Igor Novik, Ari Benz and Chase Christensen. Tyler would go on to successfully defend his Television Championship at Night of Infamy in a rematch between the four superstars. Tyler would go on to retain the title once again against Shampain before losing the title to Marauder. After losing the title Chandler would be drafted to the Meltdown brand and would make his debut with a victory over Chivo Rodriguez. Chandler would later go on a four match winning streak defeating the likes of Chris Page, Logan Ford, Omar Perkins and Jake Girod. Chandler would go on to challenge for the vacant xWo Meltdown Championship against Lex Marsters, however he was unsuccessful. Following the match Chandler and Marsters who had been at each other's throats for weeks revealed that it was all a ploy as the two aligned themselves together, calling themselves the Initiative Incorporated.
At SummerClash Chandler was apart of the losing Team Meltdown when they lost to Team Revenge in a Ten Man Tag Match. After the PPV, Chandler and Marsters would team with Mariusz Pudzianowski and defeat the team of Rob Kelleher, Vincent Jericho & Ripper after Kelleher turned on them joining Initiative Incorporated. The three were soon joined by Chandler's on-screen girlfriend, Peyton Star. Chandler would then go on to defeat Jake Girod in a grudge match. Shortly after this the Initiative was forced to break up after losing a match to the Roses of Putridity. After this Chandler would leave the xWo shortly before the company folded.
Two Worlds Wrestling Federation (2008–2013)
Tyler would then debut in the 2WWF (Two Worlds Wrestling Federation) under his real name and would immediately get into a feud with another new superstar known as Duke Windsor, although Tyler would lose two matches to Windsor thanks to his ex-wife's interference, who aligned herself with Duke, soon after Duke would be released just before there match at 11th Hour, so Tyler would end up facing newcomer, whom he would defeat before going on to defeat a rival from back when he was in the WWA, Clark.
Chandler would find himself in a triple threat match against both and Clark and although he put up a good fight, he ended up losing the match and after the match was over he was brutally assaulted by both and Clark. It was noted on 2WWF.com that Chandler had been injured (kafaybe) in the assault and would be out from six months to a year, this was to give Chandler some time off as he was getting married to his girlfriend, Michelle as well as spending some time with his family and kids.
Chandler officially return well ahead of schedule due to intense rehab (kafaybe) and he would return and easily defeat Andy Worker and during the match he would flip off the fans and perform dirty match tactics thus for the third time, turning heel. Chandler after the match was over would announce that he wanted better competition and was issuing an open challenge at Step Up in a Steel Cage Match. Chandler's open challenge would be accepted by a newcomer by the name of Bryan Murdoch, the two would get into a war of words but at Step Up, Chandler managed to get the victory over Murdoch in a bloody steel cage match, with Chandler ending it with a Swanton Bomb off the top of the cage as he covered him for the three count. Shockingly at the end of the match the fans started cheering for Chandler and gave him a great ovation as he left the ring, showing signs of a slight face turn. Chandler officially turned face for only the second time here in 2WWF on the following Breakdown, issuing a statement on how here realized that the only to be successful in this business is to please the fans. Tyler Chandler after that statement decided it was time to get into the U.K Title Scene and even challenged the champion, Nick Knight to a match for the title later that night however the match never took place as Chandler would leave 2WWF yet again.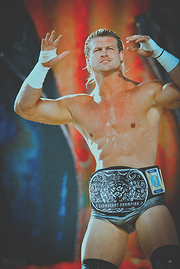 Chandler would appear sporadically for 2WWF over the next couple years before he returned full-time in December 2011. Chandler would win his return match against Jaylon Brown on the December 16 episode of Breakdown. The following week Chandler suffered his first loss against Damien Ripper. Chandler got himself another victory this time over Kevin Hash before suffering a second loss against Kid Fre$h. After this loss Chandler would go onto an eight match winning streak where he would get victories over the likes of The Real Deal, Jammy Monroe, Ryan Hall and Richard Jester. With his victory over Jester, Chandler won the 2WWF Lionheart Championship, his first title with the company. Tyler would go on to begin a feud with Damien Ripper at Violent Reaction as he would defeat him thus retaining the Lionheart Championship and would put Ripper on the shelf with an injury. Chandler would go on to successfully retain the Lionheart Championship against Ryan Hall and Jaylon Brown, marking his second successful title defense in a row. Chandler would then form a tag team with James Best, collectively known as the Descendant of the Gods. The two would face then 2WWF Tag Team Champions, The Guys with Masks however the match went to a no contest when both teams were counted out.
Earlier in the night, Chandler had some disparaging remarks for Sean Young, who was the reigning 2WWF United Kingdom Champion at the time and challenged him to a match with both the Lionheart and United Kingdom Championships on the line. Chandler would also be assaulted by the returning Damien Ripper, who was returning from injury and challenged Chandler to a match for the Lionheart Championship. Both matches were made official for the 11th Hour PPV. Chandler would lose to Sean Young at the PPV, thus losing the Lionheart Championship after holding the title for 56 days. Chandler would also lose to Damien Ripper later in the night ending their rivalry. After this Tyler's contract with 2WWF expired and he opted not to renew.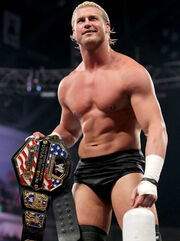 When 2WWF opened it's doors after being closed for the better part of 2012, Chandler re-signed with the company on January 31, 2013. Chandler is scheduled to make his in-ring return on the very first Breakdown retaining his villainous character from his last run.
On the February 8th and February 15th episodes of Breakdown, Chandler defeated both Jeremy Paisley and Diana Valentine in the opening and second round of the United Kingdom Championship Tournament, advancing him to the finals against Kile Tanon at Violent Reaction where he would go on to defeat him to win the vacant United Kingdom Championship. Chandler would go on to be the last 2WWF United Kingdom Champion as 2WWF would close down, ending his reign at 42 days.
Blazenwing Wrestling Federation (2013–present)
In April 2013, Chandler signed a contract with Blazenwing Wrestling Federation (BWF).
Personal life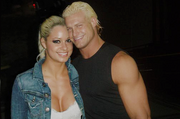 Chandler married his long-time girlfriend, Kylie Mendes in 2008. The couple have two children; a daughter (born in 2008) and a son (born in 2010). In 2010, Kylie filed for divorce from Chandler not long after their son was born after Chandler had an affair with xWo Diva Peyton Star. The divorce was finalized a few months later. That same year, Chandler got re-married to Celeste DeMarco. In January the couple revealed that they were expecting their first child. On October 26, Celeste gave birth to a son – Desmond Terrell Chandler. The two have since divorced. In April 2013, Chandler started dating BWF Diva, Airica Linn.
In wrestling
Finishing moves
Final Eclipse (Superkick) – (2011–present)
Fall of Olympus (Jumping reverse bulldog) – (2013–present)
Signature moves
Gavels Call (Springboard roundhouse kick) – (2011–present)
God's Fist (Bicycle Kick) – 2011–2012; used as a regular move from 2012–present
Sudden Hesitation (Fireman's carry spun out into a facebreaker knee smash) – (2011–present)
Infestation (Leaping Reverse STO) – 2009–2010; used as a regular move from 2011–present
Code Red (Swinging side slam spun out into a Reverse STO)
Knocked The F**k Out – (Running big boot to the opponent's face while using their knee for leverage)
Sovereign's Grip – (Gogoplata) – 2009; used as a regular move from 2010–present
Derezzed – (Sheer-drop release powerbomb)
Falling Clothesline
Rope Hung DDT
Spinebuster
Spear
Snap scoop powerslam
European Uppercut
Rolling Cutter
Dropkick followed by Chandler yelling out "Damn how good do I look!", sometimes used as a counter
Sleeper Hold with Leg scissors
Snapmare followed by a Running Big Boot to the face
Managed by
Peyton Star (xWo)
Kylie Chandler (2WWF)
Airica Linn (BWF)
Nicknames
The Immortal
God's Gift to Wrestling
Hercules of the 2WWF
Chiseled Masterpiece
The (Self-Proclaimed) Descendant of the Gods
The Instant Classic
Entrance themes
Championships and accomplishments
Two Worlds Wrestling Federation

2WWF Lionheart Championship (1 time)
2WWF United Kingdom Championship (1 time)

World Wrestling Champs

WWC X-Division Championship (1 time)
Tough Enough Winner (2007)

Xtreme Wrestling Organization

xWo Championship (1 time)
xWo Television Championship (1 time)
Community content is available under
CC-BY-SA
unless otherwise noted.