Tyler Chandler

Chandler returning in Xtreme Wrestling Association
Ring name(s)
Tyler Chandler
Billed height
6'3" (1.91 m)
Billed weight
235 lb (106 kg)
Born
May 25, 1982 (age 31)
Toronto, Ontario, Canada
Resides
Pensacola, Florida
Billed from
Los Angeles, California
Trained by
Rain
Debut
August 2005
Tyler James Chandler (born May 25, 1982) is a retired Canadian professional wrestler. Chandler is a second-generation professional wrestler; his father David "Dave" Thompson competed in the professional wrestling industry.
Chandler has won a total of fifteen championships in his career and is a eight-time World Champion, having held both the xWo Championship, WWE Championship, FCW Florida Heavyweight Championship and EWE World Heavyweight Championship each once and the TDW World Heavyweight Championship on four separate occasions.
Chandler is best known for his stints in Two Worlds Wrestling Federation where he is a former United Kingdom and Lionheart Champion. Chandler was trained by Rain and soon went on to form his own wrestling company along with longtime friend Rob Chapman called Extreme Wrestling Alliance. The company would have only one show where Rob would defeat Chandler in a brutal and barbaric Barbed Wire Massacre match for the EWA World Heavyweight Championship, the company soon folded shortly afterwards due to complaints about how graphic the match was.
After EWA folded Chandler signed with Xtreme Wrestling Organization in 2006. Tyler would soon leave xWo not long afterwards before re-signing with xWo in 2007. Chandler would go on to hold the xWo Championship, although his reign lasted less than ten minutes as he would go on to lose it right back to Mephisto, who cashed in his rematch clause. Chandler would return to the xWo in 2010 and within a few months he would win the xWo Television Championship and would go on to become the longest reigning Television Champion in xWo history.
In 2008, Chandler signed with World Wrestling Entertainment (WWE The E-Fed) and was sent to their developmental territory, FCW.
Early life
Tyler James Chandler was born in Toronto, Ontario, Canada but soon moved to Vancouver, British Columbia. Chandler's father Dave Thompson was a professional wrestler, although he never made it to the big time and mostly spent his time on the independent circuit. Chandler knew at a very young age that he wanted to follow in his father's footsteps and become a professional wrestler himself. Tyler however vowed that he wasn't gonna mirror what his father had accomplished and that he didn't want to be remembered because of his father, he wanted to be remembered for leaving his own mark on the wrestling business and leaving his own legacy.
Tyler had a fairly decent childhood, he spent most of it in North and West Vancouver, bouncing back and forth between the two small towns. Not long after Tyler was born he moved in with his grandparents who raised him up until he was twelve years of age. That was when he moved in with his father and step-mother where they would move out to Port Coquitlam, BC. This was also around when he met who would go on to not only be his best friend but also biggest rival, Rob Chapman. Tyler introduced the wrestling business to Rob and then both men went their separate ways with Rob moving to Nova Scotia. Tyler would not see Rob for a number of years. Tyler would soon move back to North Vancouver along with his father, after his father and step-mother separated.
This is where Chandler would enroll at Carson Graham Secondary School, the very same school that both his Mother and Aunt went to and the same school that his Grandfather taught at. Tyler would get through high school and graduated, before going on to the University of British Columbia where he studied Fine Arts. Chandler would split his time with college and continue to train for wrestling. Tyler would successful get his Master of Fine Arts degree and soon after continued his training however this time full time, training in and out with his father.
Professional wrestling career
Xtreme Wrestling Organization (2006–2007)
Chandler signed a contract with xWo in December 2006 after he would leave shortly afterwards before getting re-signed in February 2007. Chandler would compete at xWo's Night of Infamy for the xWo Hardcore Championship however he would come up short. After this Chandler would begin a rivalry with Alexander Putrid and Colby Henderson over the xWo Madness Championship. The feud culminated in a Triple Threat match at Chained In which to this day is one of xWo best matches. Chandler would lose the match after receiving a Destiny's End from the top rope from Colby Henderson.
After the rivalry ended Chandler had a very short feud with then xWo Champion, Mephisto. The two would face in a loser leaves xWo match for the xWo Championship and Chandler would defeat Mephisto although shortly afterwards Revenge GM, Luke Holden allowed Mephisto to cash in his rematch clause. Mephisto would win back the championship and Holden would later fire Chandler in storyline. This was done because Chandler was leaving xWo to spend time with his family.
World Wrestling Champs (2007)
Tyler would head back to the wrestling business returning and signing with the WWC (World Wrestling Champs) he would go on to win the Tough Enough Competition thus earning a full time contract with the WWC. Tyler would engage into a rivalry with Carlito and Luna Vachon whom he would beat in a triple threat match. Tyler then focused his attention to the WWC Championship and ended up joining the Enterprise stable lead by Michael Noventa. After a few months in the Enterprise, Chandler left the Enterprise and immediately captured the WWC X-Division Championship defeating Eddie Colon and Petey Williams. Tyler would go on to form an alliance with Eddie Colon they called the Gathering. Tyler would then start a feud with WWC World Heavyweight Champion, Alex Shelley over Shelley's girlfriend Forbidden. The feud would be brief as the WWC would go bankrupt and Chandler was the last X-Division Champion and never lost the championship.
Extreme Wrestling Impact (2007)
Tyler after WWC closed down would sign with Extreme Wrestling Impact under his Tyler Thompson ring name; where he would would once again see his best friend Rob Chapman and immediately challenged him to a match re-igniting their feud from early in 2006. Tyler is scheduled to compete against Rob Chapman in the EWI's next pay-per-view Winter Blitz.Chandler would make his in-ring return in EWI with a loss to Rob Chapman in a bloody and brutal TLC match at Winter Blitz. Chandler is currently in the Blood Sport Tournament despite being injured and is scheduled to go one on one with Lucifear in the first round.
Total Destruction Wrestling (2008–2010)
World Wrestling Entertainment / WWE (2008–2013)
In June, Tyler re-signed with the WWE to a development contract with WWE The E-Federation once again but under his real name this time and was sent to their Ohio Valley Wrestling Promotion, after the WWE severed all ties with OVW, Tyler was moved to FCW (Florida Championship Wrestling).
Florida Championship Wrestling (2008–2009)
Chandler would pick up win after win, eventually going on a month and a half undefeated streak before finally being defeated. Tyler debuted in the company as a heel and would get into many feuds with the likes of Brett Venom, Aiden Rockwell, Erik Torre however his most notable feud was with the General Manager of FCW, Jim Cornette and the Commissioner of FCW, Travis Kooper, leading to an exchange of heated words between Tyler and Kooper. Tyler would end up challenging Kooper to a match which was accepted and which would be contested on the first FCW of 2009. Tyler would continue to try and capture the FCW Championship up until the end of 2008 but wasn't able to do so.
The new year started out bad for Chandler as he would lose on the first show in 2009 to Travis Kooper however would earn Kooper's respect and would proceed to become a baby face as a result. However that was short lived as he wasn't over with the fans enough so the ideas to have him face were scrapped thus retaining his heel status. Chandler continued like he did in 2008, to attempt to win the FCW Championship, however was unsuccessful.
In March, shortly before WrestleMania 25, Chandler was involved in a triple threat match against Nate Cavallera and Christian Callahan with Scott Steiner as the Special Enforcer, Chandler would lose this match however after the match would get set up by Cavallera who hit Steiner in the back with a steel chair before throwing the evidence to Chandler who proceeded to get a bloody beatdown from Steiner, forcing him out of action. (kafaybe) This was to allow Tyler some time off so he could heal some injuries as well as spend time with his family, Tyler would stay out until late June, as he would return attacking both Erik Torre and Logan Gibson after their match thus retaining his status as a heel from before and was placed in the FCW Championship Match that was taking place the next week against Gibson and Torre, thus receiving his biggest push.
Before the match began Torre was attacked by who some believe was Chandler, leading to the match becoming a singles match, and Tyler would go on to beat Logan Gibson and after nearly a year since he debuted in FCW, finally won the championship. However after the match Torre would attack Chandler believing him to be the one who attacked him before the match stole the title and demanded that he get a shot at the title, so Vickie Guerrero granted him the match, however not just any match..a ladder match. Chandler would go on to retain the title and regain possession of his title. At Insurrection 2009, a number one contenders match for Tyler's FCW Championship took place and Tyler would actually be down at ringside to scout his competition and would watch, Freya Alexander win the match, as she is the new number one contender for Tyler's championship.
On the July 5th edition of FCW, Tyler managed to beat Erik Torre yet again in a brutal Weapons Filled Steel Cage match, even though Erik had acquired the services of Adam Harris to try and help him win he still wasn't able to beat Chandler, who now has his sights set on Freya Alexander, his current number one contender for his FCW Championship. On the July 13th Edition of FCW, Tyler suffered his first loss since returning to FCW, losing to newcomer, Adam Harris who was being accompanied to ringside by Erik Torre, Tyler would almost hit the D.O.P on Harris, however the newcomer countered and managed to land his devastating finishing maneuver to pin the champion, then following the match the masked man once again appeared and helped Tyler to his feet before shaking his hand, however as Tyler went to leave the masked man pulled him back and delivered a stiff right hand to the jaw of Chandler who dropped to the mat, the masked man took off the glove he was wearing and revealed to show that he had on brass knuckles on as the crowd cheered.
On the July 19th Episode of FCW, Tyler would lose the FCW Championship to Adam Harris, however after the match the Masked Man spoke and told everybody that he had taken out Freya Alexander who was supposed to be Tyler's number one contender, now Tyler after the show was said to be in shock that he lost his championship and said that he would invoke his rematch clause and that he plans on becoming a two time FCW Champion. On the next episode of FCW, Tyler wasn't able to defeat Adam Harris to regain the FCW Championship in his rematch who had recently turned his back on everybody and once again the Masked Man made his presence known, shortly after the match obviously outraged that he could not reclaim his championship, Tyler proceeded to warn the Masked Man telling him that he had enough of his games and that he was coming after him and that he was going to expose him for who he really was.. a coward.
Tyler proceeded to share some harsh words for Adam as well saying that he shouldn't have turned his back on the fans and told him his own experience and told him it was quite possibly the worst thing he ever did and that he has now learned from that, turning Tyler into a Tweener. Tyler would take well over a month off from FCW, to spend time with his wife, who is expecting their second child together sometime this month.
Tyler after taking a month off returned to FCW and made it known that he would be participating in the open roster battle royal to find a number one contender for the FCW Heavyweight Championship, Chandler also made it known that he wants back what he once held that being the championship. Tyler proceeded to tell the fans why he had been gone for the past month and a half and that now that Adam Harris was gone, there is finally someone who is bringing prestige to the FCW Heavyweight Championship that being Erik Torre and that while him and Torre have had their differences he still respects him, thus officially turning face for the first time.
Raw and Intercontinental Champion (2009–2010)
On September 18 two days before his big return to the ring, FCW and the WWE severed their ties with each other thus the FCW Roster was split and moved to the two main brands with Chandler moving to RAW. On his first night On RAW, Tyler was seen backstage with Erik Torre as the two discussed not only their past history but also their alliance as well as their debut match as RAW Superstars at Unforgiven, thus retaining his status as a baby face. Tyler also mentioned that there was someone on the RAW Roster who could quite possibly help them out and they would just need to make a simple phone call, the individual is being remained Anonymous, but one has to wonder who it is. At Unforgiven, Tyler and his team of Erik Torre and Brian Hennigan upset the teams of Travis Kooper, Shawn Michaels and Zack Ryder as well as Carlito, JBL and Jeff Hardy in an outstanding victory, the match was back and forth between the three teams with Tyler's team remaining mostly in control for most of the match, in the end with all the other superstars brawling on the outside it was Tyler who managed to hit Travis Kooper, with a devastating D.O.A to pick up the win for his team and his first win since becoming a RAW Superstar.
After the match in an exclusive interview Chandler made his intentions known that him and Erik Torre are hungry for tag team gold and proceeded to put the RAW Locker Room on notice. In his debut on RAW, Tyler teamed up with Erik Torre yet again to take on the team of Kevin Nash and Alex Shelley.
Mid way through the match, Tyler was in control of Alex Shelley, setting him up for the D.O.A and would be able to land it however Kevin Nash would get a steel chair and hit Chandler in the skull knocking him unconscious as Nash would tag himself in to only hit Tyler with the Jacknife Powerbomb for the win, after the match Erik attempted to help Tyler to his feet however Tyler would refuse his help and would actually shove Erik away and yelling at him for costing them the match, this would start a Tweener turn for Tyler. The next week Tyler had a chance to get back on track when he competed in a Fatal Four Way Match, against Shawn Spears, Erik Torre and Samoa Joe which Tyler was able to win.
Tyler spoke with General Manager, Mark Calaway.. also known as the Undertaker, about a shot at the Intercontinental Championship. Instead Callaway gave him a chance to face Zack Ryder, the new Intercontinental Champion in a non-title match and if Tyler is able to beat Ryder, he will get a shot at the Intercontinental Championship. On the October 19th Edition of RAW, Tyler was able to defeat Zack Ryder after out of nowhere hitting him with his new Finishing Maneuver, The Concussion on Delivery. During an Interview before the match, Tyler explained what had gone down two weeks earlier in the tag team match against Alex Shelley and Kevin Nash and said he frustrated with Torre and wished he had taken it better and not pinned it on Torre, thus Tyler remained a baby face, Erik would leave the company shortly afterwards.
In Tyler's first time Main Eventing RAW, he was unable to capture the Intercontinental Championship after he landed a dropkick to the face of Zack Ryder, who appeared to be hurt from the impact and as Tyler reluctantly went to help Zack, the champion rolled Tyler up stealing the victory as he played possum, Tyler could be seen frustrated in the ring afterwards. Afterwards Tyler entered into a rivalry with Randy Orton and Lacey Von Erich, his first real, big feud since being called up from FCW.
On the November 2nd edition of Monday Night RAW, Tyler had one of the biggest wins of his career when he defeated the former thirteen time World Heavyweight Champion, Triple H, before the match Tyler went to General Manager Mark Calaway and asked him to make a Six Person Tag Team Match for next week, pitting Tyler, Travis Kooper and Candice against Randy Orton, Batista and Lacey Von Erich, Tyler also asked Calaway to give him a rematch with Zack Ryder at Survivor Series, for the Intercontinental Championship.
Undertaker gave in and gave Tyler his rematch as well as his Tag Team Match, however the Divas would not be including instead it would be Tyler teaming with Shelton Benjamin to take on Randy Orton and Batista. Tyler would suffer a loss to Batista and Randy Orton when Shelton was RKO'ed and pinned by Orton. Tyler would then be given the week off, so he could take care of Candice as she wasn't only given time off due to her Pregnancy. In an exclusive interview after the match, Tyler admitted that he was off his game, from the news of Candice being pregnant, and that come Survivor Series, he will be 100% focused on the Intercontinental Championship.
At Survivor Series in possibly Tyler's biggest match of his career since joining the RAW Roster, managed to surprise Zack Ryder with a school boy and was able to beat Zack Ryder to become the Intercontinental Champion, for the first time in his career, as he captures his first singles championship since being called up. After a loss on the December 8th Edition of RAW, Tyler was seen backstage with Christian Fox, another newcomer and the two talked about Tyler being Intercontinental Champion and how Fox is glad that Tyler is the champion as he is someone new.. and not one of the very many superstars pushed down their throats. Tyler then commented on his war with Batista and agreed with him on everything, even saying that it's about time someone did something.. Tyler then went on to shake hands with Fox as it seems these two have started some sort of Alliance and in the process turning Tyler into a Tweener.
On the December 14th Edition of Monday Night RAW, after a match involving good friend, Ashley Massaro and Shawn Spears who had taken on Cody Rhodes and Kelly Kelly. Cody was left in the ring on his own as Tyler Chandler would come out to the ring, in what people assumed was to congratulate Cody on coming to RAW. In what would appear to be a friendly handshake turned disastrous as Tyler wouldn't let go of Cody's hand as he hoisted him up and drove him down to the mat with a vicious Spinebuster, before exiting the ring as he grabbed a steel chair bringing it into the ring as he assaulted Cody Rhodes with the chair before throwing the chair down as he lifted Cody back up to his feet and hoisted him up and delivered a devastating DDT to him onto the steel chair, leaving him broken as John Cena rushed out to help his friend, but it was too late the damage had been done, immediately afterwards he was confronted by Ashley about his actions, and he mercifully lashed out at her thus for the first time since his time in FCW, Tyler turned heel.
On the first show of 2010, Tyler will face off with his friend and partner, Christian Fox and is also scheduled to defend his Intercontinental Championship at New Years Revolution in a Fatal Four Way Match. On the first show of RAW, following the main event between Triple H and Chris Jericho, Randy Orton came out to the ring and appeared to side with Chris Jericho but before he knew it, RKO'ed Jericho before smiling at Triple H as the two embraced in a hug before bringing out Tyler as they made him the third member of the newly reformed, Evolution. Tyler had hinted at it earlier in the night following Orton's match with Shawn Spears, where Tyler would brutally attack Spears and tried to possibly end his career, by placing Shawn's neck inside of a steel chair but before Tyler could do any damage, Cody Rhodes made the save, scaring Tyler off from the ring, where Tyler proceeded to warn Rhodes and gave a bit of a tease of Evolution returning. At New Years Revolution, Tyler was able to successfully retain his Intercontinental Championship, pinning Jeff Hardy after nailing him with the DT-X, after the match however he was challenged by John Cena to put his Intercontinental Championship on the line against him.
On the February 1st edition of Monday Night RAW after the main event, Triple H came down to the ring and was joined by Tyler as it looked as though it was going to be a three on one beat down for Cody Rhodes, but instead John Cena and Triple H attacked both Rhodes and Tyler, with Triple H beating down his evolution teammate and Cody Rhodes being attacked by his former best friend, Triple H proceeded to find his trademark sledgehammer and would re-enter the ring waiting for Chandler to get to his feet before blasting him with the sledgehammer, busting him open as Triple H would get on the microphone and proceed to kick Tyler out of Evolution, saying that the WWE Championship belonged to him and that he wasn't going to let a rookie take his spot on top of the mountain, thus teasing another possible face run for Tyler. After not being heard from in over a week, Tyler via satellite distracted Ric Flair, during his match with Jeff Hardy, costing him the match.
Tyler would appear in an exclusive interview with Jim Ross and would update on his condition and promised that he would be back before WrestleMania 26 and that he was not going to miss his second WrestleMania in a row, Tyler also put every member of Evolution on notice, thus igniting a feud with Ric Flair. At the Royal Rumble, Tyler made a surprising return to active competition entering the Royal Rumble, surprising Ric Flair as Tyler would set his sights on Flair and the two would go at it for a bit before Tyler clotheslined Flair out of the ring eliminating Flair as well as himself, the two would have to be pulled apart by security as Tyler would complete his face turn, turning face for only the second time since joining the company in 2008. Tyler appeared the next night on RAW, confronting Ric Flair and the two would once again get into a brawl with Tyler again with the upper hand as it would seem Flair would try and attack Tyler with a steel chair, only to have Tyler duck and hit his new finishing maneuver, the Crowning. Tyler would then make it known to the world, that he was returning to the ring next week live on RAW and he also challenged Triple H to a match at Wrestlemania.
On March 24, 2010, Tyler passed the 120 day mark of his reign as Intercontinental Champion. Tyler would lose his return match to Mike Tarver, following a distraction from the Motor City Machine Guns, allowing Tarver to hit Tyler with the Kill Shot, knocking him out. On the April 5th edition of RAW, Tyler was involved in a fatal four way, along with the man who knocked him out last week, Mike Tarver as well as Kazarian and JBL. It came down to both Tarver and Chandler, just as it looked as though lightning would strike twice, Chandler managed to evade the Killshot and was able to hit the Crowning, and land the win over Tarver, thus ending his undefeated streak and getting back his loss from last week.
The planned feud between Triple H and Tyler was dropped and he was placed into a feud with the Motor City Machine Guns, as Tyler was set to make his ring return, he was attacked backstage by the Machine Guns, who stated that they wanted Tyler's Intercontinental Championship and that they were going to take it from him, no matter which one of them would. The following week, Tyler called out and confronted The Motor City Machine Guns, only to be attacked again, while Tyler did get a small piece of offense in with a clothesline on Alex Shelley, the numbers game caught up with Tyler as he was left a bloody mess in the middle of the ring following a steel chair shot. Later on in the night after the main event and after a double chokeslam at the hands of The Undertaker, Tyler came out and got a measure of retribution against the Guns as he hit the Crowning on both of them, closing out the show standing tall.
A few weeks later as a result of what transpired between the Guns and Tyler, a match was made for Wrestlemania where Tyler will defend his Intercontinental Championship, against both Alex Shelley and Chris Sabin as well as Johnny Devine, this will mark Tyler's Wrestlemania debut. In Tyler's first ever appearance on Friday Night Smackdown during the all Superstars Show he lost a Fatal Four Way Match, with MVP picking up the victory, also involved in the match were Travis Kooper and Chris Jericho.
Tyler teamed up with Travis Kooper to take on the team of Mike Tarver and Luke Gallows, however before the match Kooper and Tyler had a confrontation which ended in Tyler hitting a big boot on Kooper which showed signs of a possible heel turn for Tyler and which forced Kooper to not compete at 100% during their tag match, but in the end Tyler was able to make a blind tag and knock Mike Tarver out with his new finishing maneuver, Silent Dream, which spelt the end and the win for both Kooper and Chandler. At Wrestlemania 26 Tyler lost the Intercontinental Championship to both of the Machine Guns, making them a co-champions ending his reign at 154 days.
The next night on RAW, Tyler completed his heel turn, proclaiming that he out of all the superstars who were called up from FCW back in September he has been the most successful and that he wants to move on and move up. Chandler announced his intentions of challenging for the WWE Championship, however his demands were interrupted by Randy Orton, who re-called their time in Evolution and that he can't just demand a WWE Title shot, he needs to earn one.
Tyler answered back about how he was thrown out of Evolution and Randy didn't speak up, Tyler attempted to hit his Crowning maneuver but Orton countered leveling him with the RKO, only to have Ric Flair come down to the ring, appearing to side with Orton, but betrayed him, landing a low blow which allowed Tyler to take down Orton with the Crowning as the two stood tall as Flair got on the microphone saying that despite what happened back in January, he is back and that while him and Chandler never got along, he still despises Randy Orton more and is going to mentor and tutor Chandler and make him into a World Champion, following this Tyler returned to his Evolution roots, dawning the Evolution music and t-shirt that was brought out by Ric Flair. Later that night Tyler faced off against Mr. Kennedy, and lost after Kennedy hit the Kenton Bomb, after the match Tyler was furious.
Tyler competed in the Gauntlet for the Intercontinental Championship, and lasted till the final three, eliminating Mr. Kennedy, gaining some retribution from last week only to be eliminated by Randy Orton, after the match Tyler was said to be furious, much like the previous week, and went on a rampage. After RAW went off the air, it was announced on WWE.com that Tyler would get his rematch for the Intercontinental Championship at Backlash, facing Alex Shelley. On the May 17th edition of RAW, Tyler lost to Randy Orton losing his third match in a row. Following the recent loss against Randy Orton, Tyler snapped and went out of control, and demanded that he be given a rematch against Randy Orton, not caring about the Intercontinental Championship. Tyler demanded that he face Randy Orton at Backlash, in a Last Man Standing Match.
Next week he'll face off against Alex Shelley in what could be a preview of Backlash, if he doesn't get his wish granted to face Randy Orton. On RAW, Tyler turned on his mentor, Ric Flair once again only this time for good following his loss to Randy Orton. At Backlash, Tyler would lose again to Randy Orton this time in a Last Man Standing Match, both men would go all out and in the end it was Orton with the RKO through a table that got the job done. After the match Tyler showed signs of a face turn as he would shake Orton's hand, following his loss.
The plans to turn Tyler face were scrapped as he kept his heel persona, but underwent a gimmick change, and has since done his best to place himself into contention for the WWE Championship, demanding that he be the next in line for a title shot. Along with the gimmick change, Tyler was given a bodyguard whom he chose Dave Batista, as the two were and still are close friends outside the ring. Tyler is putting together a group of young and talented superstars, to combat the current generation of superstars, such as Randy Orton, John Cena, Cody Rhodes and many more.. so far all he has is Justin Angel and his new bodyguard, Batista.
On the July 12th edition of RAW, Tyler was given a chance to earn a title opportunity that is if he could beat John Cena. Tyler was able to beat Cena, although by underhanded tactics behind the official's back and following the match proceeded to beat down the champion, also introducing the newest member of the group, Desmond Wolfe, the group would go on to be called the Synners. It has been said that Tyler plans on cashing in his title opportunity at the next RAW PPV. After losing to Shawn Michaels two weeks later, after the match all hell broke lose as Cena came down and tried to attack Chandler only to have Wolfe and Angel subdue him as Tyler took care of both Triple H and Shawn Michaels.
Interim RAW General Manager, Vickie Guerrero came out to put a stop to it and made two big matches for the following week, where the Machine Guns would face DX for the Tag Titles and Chandler would get his shot at the WWE Championship against Cena, in a Street Fight where if anyone on Cena's behalf interfere they will be fired however if anyone on Tyler's behalf interferes nothing happens and that it's all legal. Tyler lost to Cena, losing in his bid to capture the WWE Championship. The Synners storyline was slowly starting to die down and with the release of Justin Angel, on screen it was scripted as though Tyler kicked Angel out of the group, keeping Desmond Wolfe in the stable. The feud between Chandler and Cena was to continue however an injury to Chandler stopped those plans for a feud and while Chandler was only out for a few weeks and the plan was to continue the feud, Cena went down with an injury and needed to have surgery, so the proposed feud plan was yet again dropped.
Chandler returned to the ring at SummerSlammiversary and competed in the annual, Blood Sport Match teaming up with Montel Vontavious Porter and due to difficulties with getting along with his partner, Chandler and MVP were eliminated early on in the match. After SummerSlammiversary, the Synners stable was quietly broken up as Tyler went back to singles competition and on his hunt for the WWE Championship. On RAW, Tyler will compete in a Gauntlet Match to see who will become the new number one contender for Shawn Michaels' WWE Championship at Night of Champions. Tyler would not succeed in getting another shot at the WWE Championship and in the process would legitimately injure his neck midway through the match.
Return from injury; brand switches and departure (2010–2012)
After getting looked at back trainers and doctors, Tyler was diagnosed with a herniated disc in his neck and is said to be out anywhere between four and six months. Despite the injury, Tyler still appeared on the following RAW and competed as officials weren't sure how bad the injury was and it was re-injured on RAW as a result. Tyler appeared the following week in a pre-recorded interview with RAW Announcer, Jim Ross where he discussed his injury and how long he could be out. During the interview, Tyler showed signs of a face turn; thanking the WWE Universe for their undenying support and get well soon wishes following his injury. Tyler next appeared as a guest on WWE NXT as he talked about how he was brought up through development in FCW as he watched down at ringside the matches throughout the night. Tyler would get into a confrontation with one rookie in particular, Adam Harris whom he knew from FCW who didn't get the call up due to a similar neck injury. Tyler scolded Harris for the week before when Adam attacked his pro, John Cena who was suffering from a knee injury and whom Tyler had just patched things up with. Later in the night Adam attacked Chandler, targeting his neck as Cena watched however couldn't do anything due to his own injury. Tyler following this issued a challenge to Adam Harris for a match and ignored the doctors orders to not compete and the match was made official.
Tyler made his ring return against Harris in a loss as Adam had attacked Cena again who caused a distraction for Tyler allowing Harris to roll up Tyler and use the tights. Chandler apparently injured his neck even worse than it already was during the match, but insisted it felt good being back in the ring. The next week Tyler was interview regarding the previous week and made it known he had indeed re-injured his neck again and if he were to land on in the wrong way that it could end his career, so he chose to back away for a bit but before guaranteeing that he would be making a final statement before leaving NXT. Tyler fulfilled his guarantee when he during the Rap Challenge, hopped the barrier and attacked Adam Harris getting a small measure of revenge on him and completing his face turn. Tyler returned full-time at Survivor Series in a segment as he made his intentions known that he wants to rise back to his former self and get a chance to become WWE Champion.
Tyler made his RAW return on the December 6th edition of RAW in the main event where he teamed with Cammy Charm for the first time in a Ten Person Tag Team Match and was involved in the final decision only to lose when Cammy was pinned by Mandy Randall. On the December 13th edition of RAW, Tyler faced off against Ryan Mitchell in an Elimination Chamber Qualifying Match and would counter an attempted KOS into the Derailed and was able to score the win and gain entry into the Elimination Chamber Match for the WWE Championship at New Years Revolution. On the final RAW of 2010, Tyler commented on his upcoming WWE Title match and that he plans on walking out of New Years Revolution as the new WWE Champion.
At New Years Revolution, Tyler would come close to winning the WWE Championship only to be eliminated by Jeff Hardy who would also just come up short of winning the title, losing out to Shawn Michaels. Tyler was able to eliminate MVP from the match following a big God's Fist. When Tyler was being helped out of the ring, Adam Harris hopped the barrier and attacked Tyler almost reminiscent of when Tyler did the same back on the first season of NXT. This would begin a feud between the two, something that creative wanted to go along with and boost Adam's character up by having him go after a top face.
The next night the roster was split into two once more and Tyler found himself moved to the SmackDown! brand for the first time in his career. The feud between Chandler and Harris is to go along as planned with Harris being moved to SmackDown! as well. Announced for the first SmackDown of 2011, Chandler will get his opportunity to get his hands on Adam Harris as they will be involved in the same match, a Six Pack Challenge also featuring Bryan Danielson, Justin Gabriel, Heath Slater and MVP; Not only that but it is to crown the new United States Champion.
On the first edition of WWE Superstars, Tyler will face Chris Sabin a Hardcore Championship #1 Contenders Match. On the first edition of Smackdown for 2011, Chandler came up short in his bid to become the United States Champion as MVP tapped out to the Cattle Mutilation before Ziggler who replaced Harris before Chandler could get back inside the ring. Later on in the night following the match Tyler turned heel, proclaiming that it was because of the fans that he was not able to win and turned his back on them, while also going back to his Evolution roots once more and proclaiming himself to be Immortal from that point forward. It was announced on WWE.com that Chandler would be one of the 30 participants in this year's Royal Rumble Match.
At the 2011 Royal Rumble, Tyler was unsuccessful in his attempt to win the Royal Rumble after entering the match third. Tyler's gimmick is changing once again as creative feel as though the whole Evolution gimmick is too stale and have developed a rebellious, dictator gimmick for Tyler who will have a henchman of sorts in Brock Lesnar as creative wants to places Lesnar with a top superstar to get him off the ground in his return. Following a few losses to Kevin Thorn and Gregory Helms respectfully... Chandler attacked World Heavyweight Champion, Cody Rhodes before proceeding to challenge him to a match where if Chandler wins he faces Rhodes again only this time for the title. Instead Vickie Guerrero made a triple threat match for the World Heavyweight Championship with Rhodes defending against both Helms and Chandler with Lesnar in Tyler's corner.
After coming short in his bid to win the World Heavyweight Title Chandler was taken off television and it was scripted that he failed a drug test and was in intense rehab to get back before WrestleMania this was done in order for him to spend some time with his family and was getting ready to return when Brock Lesnar was released, so Tyler was kept off television in order for creative to come up with something for him. Chandler is currently slated to return this week to SmackDown and rumor has it he is to turn face and it is said he is reverting to his old 'Guiding Light' gimmick he used when he first debuted in FCW. Tyler made his return to SmackDown as a face on the April 1st edition of SmackDown and lost to Chris Jericho and following the match was attacked by Jericho which resulted in Tyler being (kafaybe) injured which allowed Tyler to take some time off.
Tyler continued to appear on Smackdown voicing his disapproval of how he has been treated on Smackdown and even confronted as well as threatened General Manager, SoCal Val. At Wrestlemania, Tyler once again threatened SoCal Val who ended up (kafaybe) firing him. Following Chandler's firing from Smackdown he was moved back to RAW quietly and returned officially on the May 9th edition of RAW still as a heel and re-ignited a rivalry with long time foe, Travis Kooper challenging him to a match the following week. Chandler was announced as a pro on the third season of NXT where he will be mentoring Arian James. Tyler made his in-ring return to RAW in a loss to Stone Cold Steve Austin.
On the May 23rd edition of RAW, Chandler teamed up with Trent Baretta and Rob Van Dam to take on Team Jarrett consisting of AJ Styles, Alex Shelley and Matt Hardy and were victorious. On the May 29th edition of NXT, Chandler opened NXT complaining about what happened the previous week and went on to warn both his rookie and Aaron Eden. Following Arian James' match Chandler brutally attacked him and would end up shattering his ankle with the help of a steel chair.
The following week on NXT, Chandler went one on one with Flash Matthews and would beat him fairly easily before Eric Bischoff fired Matthews. Chandler would end up two weeks later facing off against rival, NXT Rookie Aaron Eden and would deliberately get himself disqualified by using a steel chair on Eden giving him a concussion. A few weeks later Chandler's new rookie, Rylan Jett whom was chosen to be Chandler's pro thanks to Aaron Eden's briefcase was eliminated from the competition. On RAW Chandler recently lost a match to Planet Jarrett Enforcer, Scott Hall.
The following week on the June 20th, 2011 RAW, Chandler defeated Mr. Kennedy. At Over the Limit in what appeared to be a backstage confrontation, Chandler began showing signs of a face turn when he congratulated Aaron Eden on his victory earlier in the night as well as his win over Shawn Michaels and himself.
Following the end of the third Season of NXT, Chandler took another hiatus from the ring and would return on the September 26th, 2011 edition of RAW attacking Zack Ryder from behind ignoring his prior signs of a face turn and keeping his heel character. Chandler got himself involved in an on-screen love triangle between himself, Ryder and WWE Diva, Maria Kanellis. On the October 3rd edition of RAW, Chandler cemented his heel status when he was confronted by Maria regarding his actions the previous week, lashing out at her.
Later on in the night Chandler interfered in Ryder's match with Shawn Michaels distracting him and allow Michaels to land the Sweet Chin Music. Chandler proceeded to enter the ring and would begin to use his belt as a whip and lash Ryder across the back only to have Michaels run back down to the ring and pull Ryder out of harms way.
The planned Ryder feud was dropped due to creative running out of ideas for the feud. So Tyler was next placed into a storyline where a returning Ric Flair greeted the former Intercontinental Champion. The two would talk about what had all gone down in the past between the two and Flair offered to mentor and manage the young superstar once again.
Chandler immediately accepted the offer and made it clear that he had no intention of turning his back on Ric Flair as he had changed and had found a new found respect for Flair and brought up how Flair had helped the careers of Randy Orton and Batista climb to the top and he wanted to be the next one added to that list. This was soon scrapped as Flair left the company once again and Chandler was thinking about doing the same thing.
At Survivor Series, Chandler made an appearance and made it seem as though he was going to leave the company only to be assaulted by a man by the name of Maverick Wade. That was when Ryslan Buschski made his way out to the ring and stood over Chandler showing signs of a rivalry between the two as well as a possible face turn for Chandler. Chandler appeared on the November 27th, 2011 edition of FCW where he looked to get some retribution against Maverick Wade however he would be attacked by Miles Barrington a newcomer to FCW looking to make a quick impact. That brought out Michael Riley who drove off Barrington as him and Chandler stood tall in the ring but not before Chandler delivered the End of Days to Maverick Wade completing his face turn. Following this Tyler was quietly moved to SmackDown and is scheduled to resume his rivalry with both Maverick Wade and Ryslan Buschski.
Chandler on the December 9th, 2011 edition of SmackDown debuted a new gimmick and entrance music referring to himself as the 'Lone Wolf' Tyler on the December 16th, 2011 edition of SmackDown was confronted by Wade Barrett who started poking fun at Chandler and how he hasn't had made really that big of an impression since his return to SmackDown. Barrett then offers his services for the right price. Chandler refuses, citing he can take care of himself. Barrett respects his wishes, though leaves Chandler with suspicious words before taking his leave. On the December 23rd, 2011 edition of SmackDown, Chandler is jumped from behind backstage by a masked assailant.
The man is merciless beating Chandler down before making a quick escape. Chandler is down and hurting as Barrett comes along and finds it funny and ironic, considering Chandler's words from the week before. Instead of helping, he merely pokes fun at Chandler again as an angry Chandler goes to shove him before going on about his business. On the December 30th, 2011 edition of SmackDown Chandler is once again assaulted backstage by the same masked person and once again, Barrett is first on the scene, not to help Chandler but to make fun of him even more, telling him he needs Barrett's services. Chandler, in pain, needs Wade to fetch a medic for him but Barrett refuses until Chandler accepts his offer. Once he does, Barrett calls for help.
On the January 6th, 2012 edition of SmackDown Chandler is approached by Barrett, who reminds Chandler of his promise. Chandler hasn't forgotten and reluctantly tells Barrett to name his price. Barrett names an outlandish price of $5,000 dollars, but with Chandler's health ultimately at risk, he has little choice but to agree and promises to bring the money the following week. On the January 13th, 2012 edition of SmackDown Chandler brings the money Barrett appears and Chandler follows him to a quieter part of the arena where Chandler hands him the money. Barrett goes over it to make sure all of it is there, and once satisfied it is, Barrett and Chandler shake hands to seal the deal.
Barrett is now charged with uncovering the identity of the assailant and bringing them to light. Chandler warns Barrett however, that if he's screwing with him, there will be hell to pay. After Barrett cost Chandler a match with CM Punk on a recent SmackDown, Tyler returned the favor at New Years Revolution when he interfered in the Elimination Chamber and hit Barrett with the Wolf's Bite setting up Barrett's elimination. On the January 20th, 2012 edition of SmackDown, Tyler and Barrett agree to let by-gones be by-gones following what happened at the Elimination Chamber. Over the next few weeks both Chandler and Barrett go back and forth on trying to one up each other.
At the Royal Rumble, Chandler entered in at number sixteen and would last quite long before being eliminated by Goldust. On the February 17th, 2012 edition of SmackDown, Chandler is seen talking with AJ Lee only to be interrupted by Wade Barrett this led to words exchanged by Chandler and Barrett only for Wade to reveal who had been the one who had been attacking Chandler for several weeks, it was Barrett himself! The two started to brawl backstage as it would be broken up by several referees and talent agents. Traci Brooks would set up a match between the two for the following week.
However the feud was scrapped as Barrett decided to take some time off and upon returning was moved over to Monday Night RAW which meant the one on one match never took placed and was replaced with Chandler competing in a Fatal Four Way which Chandler would lose thanks in part to interference from Dean Ambrose.
Following this Chandler had a brief feud with Dean Ambrose who targets Chandler to try and make a name for himself, seen attacking him and costing him his match. On the March 2nd, 2012 edition of Smackdown; Chandler teamed up with Jack Swagger to take on the team of Dean Ambrose and Carlito and were able to get the victory.
Following this the feud was dropped due to Ambrose's release from the company. On the March 16th edition of Smackdown, Chandler was able to get a victory over Rob Van Dam. Following this Chandler opted to take some well needed time off, mostly due to him not being into wrestling at the time and opting to focus on his acting career and being a full-time father. In April 2012; Chandler's contract expired and he opted not to resign effectively parting ways with the company.
Return to WWE
Intercontinental Champion and feud with Rhino (2012–2013)
Chandler made his return to the WWE as a face at the Unforgiven PPV, addressing the crowd and telling them the reasons behind his departure from the company saying that he wanted to be there for his twin daughters and wanted to take care of them as well as be there for them as their father. Tyler said that he has been keeping a close eye on everything that's been going on both RAW and Smackdown and announced that he was making a full-time return and that he wasn't going anywhere before announcing that he was returning to RAW for the first time in over a year. On the July 30th, 2012 episode of Monday Night RAW, Chandler made an unsuccessful return to the ring teaming with Ciaran O'Donnell to take on the team of new WWE Champion, Shane Helms & new Intercontinental Champion, Jeff Hardy. On the August 6th, 2012 episode of Monday Night RAW, Chandler was able to pick up his first victory since returning with a win over Ciaran O'Donnell, Rylan Jett & Bill Liden in a Fatal Four Way Match.
On the September 3, 2012 episode of RAW; Chandler made it known that he had his sights set on Jeff Hardy and the WWE Intercontinental Championship. The following week on the September 10, 2012 episode RAW during Chandler's tag team match he was attacked by the Extreme Revolution consisting of Brock Lesnar, Sabu, Rob Van Dam & Taz. Chandler would be on the receiving end on multiple chair shots from Sabu only to have Brock Lesnar deliver an F5 to Shane Helms and drag him over to cover an already battered Chandler. Two weeks later on the September 24, 2012 episode of RAW – Chandler officially sided with RAW against the Extreme Revolution as he was interviewed backstage by Todd Grisham and was sporting a red 'RAW' t-shirt, while also sharing a few choice words for Brock Lesnar, even going as far as challenging him to a fight. That same night, earlier in the broadcast — in a Fatal Four Way Match — Chandler grabbed one of two contracts for a shot at the Intercontinental Championship along with Taz and is set to challenge Jeff Hardy for the Intercontinental Championship at Halloween Havoc.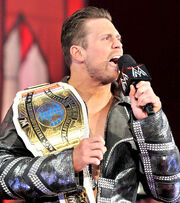 Chandler was officially made a member of team RAW the following week on the October 1, 2012 episode of RAW. That night following Ciaran O'Donnell's victory over AJ Styles in the finals of the Hard Ten Tournament, O'Donnell called out anybody who wanted to fight him and it was Chandler who answered the call. In fact the two had shared some choice words on Facebook leading up to RAW. The two go at it back and forth, each man getting the better of the other and that was when Intercontinental Champion, Jeff Hardy made his way down to the ring to separate the two. O'Donnell would flip Chandler off, which in turn set him off and as he went after O'Donnell, the youngster landed a low blow. Jeff Hardy once again tried to convince O'Donnell to side with RAW, however once again O'Donnell would have none of it and would slap Hardy across the face which in turn lead to Hardy hitting him with the Twist of Fate before challenging him to a fight the following week.
Following this a backstage segment took place between Chandler and Hardy where the two noted their mutual respect for one another, however Chandler made it clear to Hardy that he wanted the Intercontinental Championship and that he was gonna bring it come Halloween Havoc. The two managed to come to terms that they needed to take care of Taz first and take him out of the equation. The Extreme Revolution would make their presence felt during one of the scheduled matches, however they would be sent retreating by the likes of Chandler, Daniel Bryan who sided with RAW and various others from the locker room. At the end of the night following the main event a huge brawl ensued between the Extreme Revolution and the RAW Locker room which included Chandler. In the end RAW stood tall over ECW even managing to injure Sabu during the brawl.
On the October 8, 2012 episode of RAW; Chandler teamed up with WWE Champion, Shane Helms and were successful in defeating Team Rated RKO—Edge and Randy Orton—following the match the Extreme Revolution once again made their presence felt and assaulted both Helms and Chandler, however the RAW locker room would come to their aid including UFC Hall of Famer, Ken Shamrock. The following day on RAW Reaction, Chandler made it known that he was sick and tired of the attacks from the ECW Revolution and that he wanted to get his hands on one of the ECW Superstars, saying he didn't care who it was. Chandler even hinted at wanting to face ECW Champion, Brock Lesnar.
On the October 15, 2012 episode of RAW; Chandler's match with Brock Lesnar was ruled a no contest after all hell broke loose as Triple H would make his return to RAW and would attack Brock Lesnar however, not before Lesnar was able to land not one, but two F5's on Chandler. Following the match Triple H challenged Lesnar to a Last Man Standing Match where the loser leaves RAW. Lesnar would attempt to attack Jim Ross however Chandler would intervene as he hit Lesnar in the back of the knee with a steel chair. After this Lesnar would attempt to escape through the crowd however would run into RAW's special guest that being Gregory Iron who is diagnosed with Cerebral Palsy and who shoved Lesnar only to get punched in the face by Lesnar; Chandler would come to the aid of Iron as the show came to a close.
On October 28 at the Halloween Havoc PPV event, Chandler defeated both Hardy and Taz to win the Intercontinental Championship for the second time in his career. On the November 5, 2012 episode of RAW – Chandler teamed up with WWE Champion, Ciaran O'Donnell to take on the team of former WWE Champion, Shane Helms and former Intercontinental Champion, Jeff Hardy – the two men that both Chandler and O'Donnell beat at Halloween Havoc respectively – Hardy was able to get the win for his team pinning O'Donnell after hitting him with the Swanton Bomb. Later in the night Brock Lesnar who had been unceremoniously fired at the PPV after losing a Loser leaves WWE match against Triple H; showed up to RAW and slandered the entire locker room including the Extreme Revolution only to be interrupted by Ciaran O'Donnell as well as the entire RAW locker room which included Taz – who had been kicked out of the Extreme Revolution earlier in the night – Chandler would join in on the beat down of Lesnar effectively hitting him with the Gavels Call as the entire RAW locker room carried Lesnar out of the arena.
The following week on the November 12, 2012 episode of RAW; Chandler along with Shane Helms, Jeff Hardy & Randy Orton defeated the team of The Miz, Vampiro, Danny Carter & Kurt Angle. At Survivor Series, Shane Helms and Jeff Hardy lead Team RAW (Shane Helms, Jeff Hardy, Ciaran O'Donnell and Tyler Chandler) to a 4–0 sweep over Team ECW (Steve Austin, Mick Foley, Gangrel, Rey Mysterio, and Rob Van Dam) thus putting an end to the feud. On the December 3, 2012 episode of RAW, Chandler & Vampiro lost to Shane Helms & Ciaran O'Donnell. A week later Chandler teamed up with Vampiro again along with Jeff Hardy and defeated the team of Billy Kidman, Danny Carter & Dolph Ziggler.
On the final RAW of 2012, Chandler confronted Rhino on his recent attacks on Velvet Sky, labeling him as a coward for assaulting a diva which led to Rhino attacking Chandler. A little later, it would look as though Rhino was going to attack Velvet Sky again, however he was stopped by Chandler who hit him with Singapore cane and managed to get Velvet to safety. Chandler would go on to lose the Intercontinental Championship to Jeff Hardy in a triple threat match — Vampiro was also involved in the match — after Rhino interfered and hit Chandler with the Gore costing him the championship. On the January 7, 2013 episode of RAW; Chandler would call out Rhino and the two would get into a brawl with Rhino managing to hit Chandler with the Gore, not once but twice the second time being into the steel steps thus injuring (kafaybe) Chandler. The angle would continue as in a WWE.com exclusive a second brawl took place after RAW went off the air where Rhino would again attack the ribs of Chandler and would Gore him a third time. An announcement was made that Rhino would face Chandler in a grudge match at New Years Revolution. At the PPV event after kicking out of a Gore, Chandler was able to beat Rhino after hitting him with a Gavels Call from the top turnbuckle. On the January 28, 2013 episode of RAW, Chandler was able to get another victory this time with a win over former World Heavyweight Champion, Cody Rhodes. During the match Rhino attempted to interfere and ended up hitting Cody Rhodes with the Gore that was intended for Chandler. Immediately following the match Chandler challenged Rhino to another match, however this time to a Career vs. Career No Disqualification match to which Rhino accepted.
On the February 4, 2013 episode of RAW, Chandler defeated Rhino thus ending their feud and this also led to Rhino being fired in storyline. After being given a week off, Chandler teamed with a few of his Team Bischoff teammates—Steve Austin, Cody Rhodes and Dolph Ziggler. During the match, Chandler would end up abdandoning his teammates and would walk out on them—hinting at a possible heel turn. This allowed Jeff Hardy to pin Dolph Ziggler for the win after hitting him with the Swanton Bomb.
Rise to WWE Champion (2013)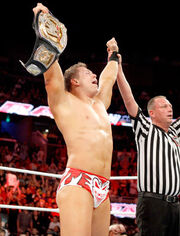 On the March 4, 2013 episode of RAW, Chandler defeated Shane Helms, The Rock, Daniel Bryan, Jeff Hardy and Matt Hardy in a Battle Royal, before being revealed as the number one contender for the WWE Championship, after the WWE Universe voted him in to face Ciaran O'Donnell at Cyber Sunday. At the event, Chandler defeated O'Donnell to win the WWE Championship, his first world championship in WWE. On the April 1 episode of RAW, Chandler teamed up with new Intercontinental Champion, Matt Hardy to defeat Edge and Ciaran O'Donnell—with Chandler pinning O'Donnell. In recent weeks there's been more interaction between Velvet Sky and Chandler, and there's been hints of a possible attraction between the two, with the two somewhat flirting with one another backstage.
The following week Chandler defeated Braden Walker in a squash match, continuing his winning streak. At Wrestlemania XXIX, Chandler successfully defended the title against Road Dogg after Velvet Sky replaced the original referee counting the pinfall herself; this made Chandler the first WWE Superstar in history to headline four consecutive "Big Four" original Pay Per View events: SummerSlam (2012), Survivor Series (2012), Royal Rumble (2013) and Wrestlemania. Earlier in the night, Chandler was once again seen backstage with Velvet Sky as they talked about the match, before the two ended up sharing a kiss; further hinting at a possible romance forming between the two. Following the match, both Chandler and Road Dogg were attacked by Ciaran O'Donnell, Jeff Hardy and Shawn Michaels. On the following episode of RAW, Chandler teamed with Dolph Ziggler to defeat the team of Shane Helms and Ethan Osbourne. Earlier in the night, Chandler was seen talking with Velvet Sky again and the two ended up sharing another kiss. The following week on the May 13 episode of RAW, Chandler defeated Shawn Michaels. Chandler continued his winning ways a week later where he successfully retained the WWE Championship against Goldust. After the match he was attacked from behind with a steel chair by Ciaran O'Donnell, suffering a (kafaybe) concussion.
A week later despite doctor's advice not to compete, Chandler did anyway when he teamed with Mr. Anderson to defeat Shane Helms and Teddy Hart. Chandler would go on to suffer his first loss since winning the WWE Championship a week later in a Six-Man Tag Team Match against Project Mayhem. A week later, Chandler would suffer a second loss to Shane Helms in a singles match, marking the first time that he had lost in a one on one match in over a year. Earlier in the night, Chandler was seen with Velvet Sky with the two talking about her being kidnapped by Ciaran O'Donnell two weeks prior as well as their romance with the two agreeing to give them being a couple a shot.
At the Invasion PPV Chandler defeated Scott Hall to retain the WWE Championship. Chandler would lose the championship back to Ciaran O'Donnell at Unforgiven ending his reign at 126 days. On the August 5 episode of Raw, Shane Helms defeated Chandler to become the #1 Contender following interference from Shawn Michaels. The planned feud between Michaels and Chandler was then later nixed. A few days later Chandler posted a few cryptic messages on his official Facebook page, the first saying: "I'm Done" and the second a few days later: "#SummerSlam". At SummerSlam, Chandler returned and attacked Ciaran O'Donnell after he had successfully defended the WWE Championship against Shane Helms; with a steel chair before hitting him with his new finisher, Exiled and held up the championship, without even saying a word or explaining his actions.
On the September 9, 2013 episode of Raw Chandler in a way explained his reasonings for attacking O'Donnell while at the same time responding to some of the many critical things that O'Donnell said a week prior. Chandler also addressed Shane Helms and voiced disapproval of Helms receiving title shot after title shot, before focusing on Triple H and bringing up their history as members of Evolution. He then went on to say that he would reclaim the WWE Championship and and said some scathing comments in regards to O'Donnell's personal life. on September 19, 2013 at the tapings for the October 3, 2013 episode of NXT Chandler made his return to the ring defeating Alex Riley. A week later on Raw Triple H, Ciaran O'Donnell and Shawn Michaels assaulted Chandler in his locker room. On the September 28, 2013 episode of Smackdown, Chandler returned to Smackdown and made it known that he had signed a contract with them and stated that his goal was to become World Heavyweight Champion. He would then go on to defeat Heath Slater and Adam Cole in his first match on Smackdown in over two years.
A week later, Chandler would face off against Chris Jericho only for the two men to get counted out. Chandler would next face former World Heavyweight Champion, Roman Reigns on the October 19, 2013 episode of Smackdown and defeated him with a roll-up only for Reigns to attack him after the match and put him through a table. Earlier in the night, Jimmy Jacobs and Lian Cortes addressed Chandler and his aspirations to become World Heavyweight Champion, that was currently held by Michael Noventa and said in order for him to get a shot at Noventa he would first have to go through Jacobs on the following Smackdown and then Cortes a week after that. While Chandler's match with Jacobs ended in a no contest, his match against Cortes the following week which was contested inside of a steel cage. Cortes won the match after escaping the cage. A week later Chandler got back on the winning side when he defeated Justin Gabriel after forcing him to tap out to a crossface submission hold. On the following episode of Smackdown, Chandler lost to Chris Jericho in a Beat the Clock challenge after Lian Cortes distracted him.
Return to Xtreme Wrestling Organization (2010–2011)
Chandler make his return to the xWo in February 2010 after a three year absence. Tyler would make his in-ring return on the February 22, 2010 episode of Revenge in a loss to Ari Benz for the vacant xWo Television Championship. On March 15, 2010 episode of Revenge, Chandler would win the xWo Television Championship defeating Igor Novik, Ari Benz and Chase Christensen. Tyler would go on to successfully defend his Television Championship at Night of Infamy in a rematch between the four superstars. Tyler would go on to retain the title once again against Shampain before losing the title to Marauder. After losing the title Chandler would be drafted to the Meltdown brand and would make his debut with a victory over Chivo Rodriguez. Chandler would later go on a four match winning streak defeating the likes of Chris Page, Logan Ford, Omar Perkins and Jake Girod. Chandler would go on to challenge for the vacant xWo Meltdown Championship against Lex Marsters, however he was unsuccessful. Following the match Chandler and Marsters who had been at each other's throats for weeks revealed that it was all a ploy as the two aligned themselves together, calling themselves the Initiative Incorporated.
At SummerClash Chandler was apart of the losing Team Meltdown when they lost to Team Revenge in a Ten Man Tag Match. After the PPV, Chandler and Marsters would team with Mariusz Pudzianowski and defeat the team of Rob Kelleher, Vincent Jericho & Ripper after Kelleher turned on them joining Initiative Incorporated. The three were soon joined by Chandler's on-screen girlfriend, Peyton Star. Chandler would then go on to defeat Jake Girod in a grudge match. Shortly after this the Initiative was forced to break up after losing a match to the Roses of Putridity. After this Chandler would leave the xWo shortly before the company folded.
Xtreme Wrestling Association (2012–2013)
Tyler Chandler made his debut in Xtreme Wrestling Association in March 2012. Chandler won his debut match on Vendetta #37 against the Real Deal. Chandler would suffer his first loss in the XWA at In Your House #7: Calm before the Storm against Rellim Strife. Chandler would compete in the annual Revolutionary Wars Royal Rumble however the match was won by Alex Firecracker. Chandler hasn't been seen on XWA television since and is reportedly taking a sabbatical from wrestling to focus on his personal life, shortly after this Chandler requested his release from the company which was granted.
In June 2013, Chandler made his return to XWA after over a year long absence where he was assigned to their Revenge brand. Chandler would make a successful return defeating Rellim on the June 10, 2013 episode of Revenge advancing to the next round in the Best of Revenge Tournament. Chandler would later leave XWA again.
Two Worlds Wrestling Federation (2008–2013)
Tyler would then debut in the 2WWF (Two Worlds Wrestling Federation) under his real name and would immediately get into a feud with another new superstar known as Duke Windsor, although Tyler would lose two matches to Windsor thanks to his ex-wife's interference, who aligned herself with Duke, soon after Duke would be released just before there match at 11th Hour, so Tyler would end up facing newcomer Reece Dooner, whom he would defeat before going on to defeat a rival from back when he was in the WWA, Clark.
Chandler would find himself in a triple threat match against both Reece and Clark and although he put up a good fight, he ended up losing the match and after the match was over he was brutally assaulted by both Reece and Clark. It was noted on 2WWF.com that Chandler had been injured (kafaybe) in the assault and would be out from six months to a year, this was to give Chandler some time off as he was getting married to his girlfriend, Michelle as well as spending some time with his family and kids.
Chandler officially return well ahead of schedule due to intense rehab (kafaybe) and he would return and easily defeat Andy Worker and during the match he would flip off the fans and perform dirty match tactics thus for the third time, turning heel. Chandler after the match was over would announce that he wanted better competition and was issuing an open challenge at Step Up in a Steel Cage Match. Chandler's open challenge would be accepted by a newcomer by the name of Bryan Murdoch, the two would get into a war of words but at Step Up, Chandler managed to get the victory over Murdoch in a bloody steel cage match, with Chandler ending it with a Swanton Bomb off the top of the cage as he covered him for the three count. Shockingly at the end of the match the fans started cheering for Chandler and gave him a great ovation as he left the ring, showing signs of a slight face turn. Chandler officially turned face for only the second time here in 2WWF on the following Breakdown, issuing a statement on how here realized that the only to be successful in this business is to please the fans. Tyler Chandler after that statement decided it was time to get into the U.K Title Scene and even challenged the champion, Nick Knight to a match for the title later that night however the match never took place as Chandler would leave 2WWF yet again.
Chandler would appear sporadically for 2WWF over the next couple years before he returned full-time in December 2011. Chandler would win his return match against Jaylon Brown on the December 16 episode of Breakdown. The following week Chandler suffered his first loss against Damien Ripper. Chandler got himself another victory this time over Kevin Hash before suffering a second loss against Kid Fre$h. After this loss Chandler would go onto an eight match winning streak where he would get victories over the likes of The Real Deal, Jammy Monroe, Ryan Hall and Richard Jester. With his victory over Jester, Chandler won the 2WWF Lionheart Championship, his first title with the company. Tyler would go on to begin a feud with Damien Ripper at Violent Reaction as he would defeat him thus retaining the Lionheart Championship and would put Ripper on the shelf with an injury. Chandler would go on to successfully retain the Lionheart Championship against Ryan Hall and Jaylon Brown, marking his second successful title defense in a row. Chandler would then form a tag team with James Best, collectively known as the Descendant of the Gods. The two would face then 2WWF Tag Team Champions, The Guys with Masks however the match went to a no contest when both teams were counted out.
Earlier in the night, Chandler had some disparaging remarks for Sean Young, who was the reigning 2WWF United Kingdom Champion at the time and challenged him to a match with both the Lionheart and United Kingdom Championships on the line. Chandler would also be assaulted by the returning Damien Ripper, who was returning from injury and challenged Chandler to a match for the Lionheart Championship. Both matches were made official for the 11th Hour PPV. Chandler would lose to Sean Young at the PPV, thus losing the Lionheart Championship after holding the title for 56 days. Chandler would also lose to Damien Ripper later in the night ending their rivalry. After this Tyler's contract with 2WWF expired and he opted not to renew.
When 2WWF opened it's doors after being closed for the better part of 2012, Chandler re-signed with the company on January 31, 2013. Chandler made his in-ring return on the very first Breakdown retaining his villainous character from his last run. On the February 8th and February 15th episodes of Breakdown, Chandler defeated both Jeremy Paisley and Diana Valentine in the opening and second round of the United Kingdom Championship Tournament, advancing him to the finals against Kile Tanon at Violent Reaction where he would go on to defeat him to win the vacant United Kingdom Championship. Chandler would go on to be the last 2WWF United Kingdom Champion as 2WWF would close down once again; ending his reign at 42 days.
Platinum Dynasty Wrestling (2013)
In March 2013, Chandler signed a contract with Platinum Dynasty Wrestling (PDW). Chandler made his debut on the March 16, 2013 episode of Ascension defeating both Joey Miles and Sean Mason in a triple threat match. In May 2013 after the Aversion Therapy PPV, Chandler announced on his Twitter that he was taking some time off. In June, Chandler requested his release from the company which was granted.
Personal life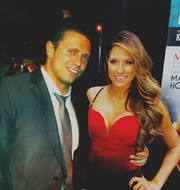 Chandler married model, Celeste DeMarco in December 2010. In January the couple revealed that they were expecting their first child. On October 26, Celeste gave birth to a son - Desmond Terrell Chandler. The two have since separated with Tyler filing for divorce on March 19, 2013. Chandler currently has full custody of his son.
In mid-late March 2013, Chandler started dating actress, model and former wrestler, Effy Rose. The two were married first on May 13, 2013 in Las Vegas, Nevada. Then married a second time two days later on May 15, 2013 in Rome, Italy and were there for their Honeymoon. The couple are planning a third wedding for friends and family to attend some time in August which will be held in Florida. Chandler, his son and his wife currently reside together in Pensacola, Florida. On June 19, 2013 Chandler announced on Twitter that him and his wife were expecting their first child together due in February 2014.
Chandler is known to do various promotional work for XWA, doing radio shows in the early morning to promote the show. Tyler is also known to be involved in various charities as well. He is a spokesperson for the Be A STAR Anti-Bullying Campaign, with him having been bullied as a child himself. Chandler also supports Fuck Cancer a charity for cancer. Fuck Cancer is aimed at Generation Y, intending to raise awareness of early detection, prevention and the cancer experience.
In wrestling
Finishing moves
Independent circuit
World Wrestling Entertainment
Signature moves
Independent circuit
World Wrestling Entertainment
Managed by
Kylie Chandler (2WWF)
Peyton Star (xWo)
Ric Flair (WWE)
Velvet Sky (WWE)
Nicknames
Independent circuit

"The Immortal"
"God's Gift to Wrestling"
"Hercules of the 2WWF/XWA"
"Chiseled Masterpiece"
"The (Self-Proclaimed) Descendant of the Gods"
"The Instant Classic"

World Wrestling Entertainment

"FCW's Resident Bad Boy"
"The Immortal"
"The Guiding Light"
"The Silent Assassin"
"The Sovereign"
"The Diamond in the Rough"
"The Legend Killer" (bestowed upon by Velvet Sky)
"The Dark Horse"
Entrance themes
Independent circuit
World Wrestling Entertainment
Championships and accomplishments
Extreme Wrestling Entertainment

EWE World Heavyweight Championship (1 time)

Future of Wrestling

FOW Tag Team Championship (1 time) – with Gem Gunner

Total Destruction Wrestling

TDW World Heavyweight Championship (4 times)

Two Worlds Wrestling Federation

2WWF Lionheart Championship (1 time)
2WWF United Kingdom Championship (1 time)

World Wrestling Champs

WWC X-Division Championship (1 time)
Tough Enough Winner (2007)

Xtreme Wrestling Organization

xWo Championship (1 time)
xWo Television Championship (1 time)

World Wrestling Entertainment
Community content is available under
CC-BY-SA
unless otherwise noted.