The Sirens
Tag team
Members
Tarah Nova
Cailin Dillon
Aria Jaxon
Name(s)
The Sirens
Billed weight
350 lbs. (159 kg.)
Debut
September 29, 2016
Years active
2016
Promotions
EAW
The Sirens
(originally conceived under the working name of
Elite City Sirens
) was a women's professional wrestling alliance in
Elite Answers Wrestling
, performing on its
Empire
brand. The group's original lineup consisted of
Tarah Nova
,
Cailin Dillon
, and
Aria Jaxon
.
Background
Prior to the group coming together, the members had crossed paths on many occasions prior. Nova's arrival in EAW predated those of Jaxon and Dillon by years (Nova was in the midst of a Vixens Championship reign when the other two arrived in the summer of 2015). Dillon and Jaxon teamed together and faced each other several times beginning in October 2015, and Nova and Jaxon had two matches against each other as well. In addition, Nova and Dillon competed against each other for the Specialists Championship at Triple Threat and Pain for Pride 9.
Dillon and Jaxon were previously members of the Formation stable with Dillon's former girlfriend Stephanie Matsuda, but static existed in the group almost from its inception due to Nova's closeness with Dillon and Jaxon and the disdain she and Matsuda had for another. Formation would eventually cease to exist following Pain for Pride 9, setting the stage for The Sirens to form.
History
Feud with The OG Vixens (2016)
For months prior to the group's official debut, the three women unofficially referred to themselves as "The Elite City Sirens" in recorded promos and on social media. The name was a play on that of the Gotham City Sirens, a comic book series published by DC Comics that focuses on female antagonists.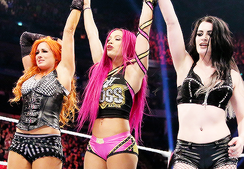 The group debuted on the September 29 edition of Empire after declaring their formation in an in-ring segment prior to the main event match between Nova and Sheridan Muller. Right from the beginning, they found themselves at odds with the opposing faction of The OG Vixens (Heart Break Gal, Kendra Shamez, and Cameron Ella Ava). On the October 6 episode of Empire, in the main event, Nova and Dillon defeated Shamez and Ava. Over the next number of weeks, The Sirens and The OG Vixens clashed several times, primarily in ringside brawls. At House of Glass, Nova was unsuccessful in a Triple Threat Glass Ropes match for the Specialists Championship, where Shamez retained after pinning Muller. Later in the night, when Muller cashed in her Vixens Cup and won the Vixens Championship from Heart Break Gal, Dillon entered the ring and shook her hand. On the October 21 episode of Empire, Dillon tried to pursuade Muller to align with The Sirens, initially to no avail. Later that night, Jaxon defeated Consuela Rose Ava by disqualification when Cameron got involved, leading to a brawl between both sides. This prompted General Manager Cleopatra to announce a Five-on-Five Elimination Tag Team match for Shock Value. By the October 27 episode of Empire, Muller had officially agreed to align herself with The Sirens heading into Shock Value, and it was revealed later on in the show that Nicole Fyre had been planted as a mole within The OG Vixens' camp. On the November 3 episode of Empire, Dillon persuaded Haruna Sakazaki to become the final member of the team for Shock Value. The same night, Dillon defeated Brody Sparks, Jaxon defeated Veena Adams, and Nova lost to Stephanie Matsuda. In the main event, Jaxon accompanied Nicole Fyre in her Extreme Rules match against Cameron Ella Ava, which ended in a no contest when Heart Break Gal instigated a brawl with Jaxon, which led to the Vixens locker room emptying out. At Shock Value, Team OG would win, but not before Dillon double-crossed her team, leading to Muller's elimination from the match. On the November 25 episode of Empire, Dillon would officially join forces with The OG Vixens, and in a pre-taped segment, Jaxon said that The Sirens were "pretty much done".
Other Media
All three women are main cast members on True Vixens, which began airing in May 2016. In addition, they were all featured as cast members on the first season of EAW Presents: The Trial. In the summer of 2016, several Vixens (including Jaxon, Nova, and Dillon) were the subject of a makeup line distributed by MAC Cosmetics.
In Wrestling
Team Finishing Moves

Eyes of Sirenum (Rocket Launcher (Dillon & Jaxon) into a springboard spike kneeling reverse piledriver (Nova)
K.K.B.S. -- Kiss Kiss Bang Stab (Flapjack (Nova/Jaxon) into a Eyes of Texas (Superkick; Dillon)/Flapjack (Jaxon) into a cutter (Nova)
Sister Zero (Triple powerbomb)
The Song of the Sirens (Texas Twister (front facelock cutter; Dillon) followed by Suicide X (Phoenix splash; Nova)/Eyes of Texas (Dillon) followed by a frog splash (Jaxon)/Poetry in Motion setup (Nova) followed by a shining wizard (Jaxon) followed by a swinging snap DDT (Nova)
Team Signature Moves

Double/Triple Yahtzee! (Double or triple stereo superkicks to kneeling or seated opponents)
Rage of Red (Turnbuckle powerbomb (Nova) followed by stereo enzuigiris (Jaxon and Dillon)
Sirens' Cage (Sharpshooter (Nova)/arm-trap crossface (Dillon/Jaxon) combination)
Whiplash (Spinning sole kick (Jaxon/Nova) followed by a superkick (Nova/Dillon) and finished with either simultaneous enzugiris (Dillon/Jaxon) or superkicks (Dillon/Nova)
Entrance Themes

"Wreak Havoc" by Skylar Grey (September 2016 - November 2016)
In Wrestling
Elite Answers Wrestling

EAW Vixens Championship (2 times) -- Nova (1), Jaxon (1)
EAW Specialists Championship (2 times) -- Dillon (1), Nova (1)
Empress of Elite (2 times) -- Jaxon (1), Dillon (1)
Young Lions Cup (1 time) -- Jaxon
Most Valuable Elitist (75 times)

Most Valuable Elitist (3 times) -- Nova (1), Dillon (1), Jaxon (1)
Vixen of the Week (33 times) -- Nova (17), Dillon (8), Jaxon (8)
Match of the Week (12 times) -- Nova (3), Dillon (5), Jaxon (5)
Champion of the Week (3 times) -- Nova (1), Dillon (1), Jaxon (1)
Promoer of the Week (8 times) -- Nova (3), Dillon (3), Jaxon (2)
Segment of the Week (2 times) -- Nova (1), Jaxon (1)
Beef of the Week (14 times) -- Nova (2), Dillon (3), Jaxon (8)
Community content is available under
CC-BY-SA
unless otherwise noted.