Ryan "The Roman" Abendroth (born December 27, 1986) is a professional wrestler, currently under contract with Revolution Championship Wrestling Federation (RCWF) with the Demolition brand. He currently performs under his real name of Ryan Abendroth, undergoing the religious zealot persona of "The Roman". Despite his nickname and appearance, there is some confusion as to what he really is. Some call him a Spartan, others call him a Roman. The commentator of the night coined him as "Greco-Roman."
Ryan Abendroth
Billing information
Ring name(s)
History in the Making, The Roman
Height
6'3"
Weight
231 lbs
Born
Richmond, Virginia
Hometown
Rome, Italy
Theme music
"Just Like You Imagined" - Nine Inch Nails
Affiliation(s)
Wrestler
Federation(s)
Revolution Championship Wrestling Federation
Previous federation(s)
N/A
Wrestling information
Alignment
Heel
Wrestling style
Greco-Roman
Will
Look for a devastating, painful crucification in every match he competes in.
Won't
Allow there to be any blasphemers of the holy Roman gods.
Trainer
Jupitor
Handler
IndigenousParodox
Professional career
Debut
December 16th, 2010 (Demolition)
Record
(2011: 7-6)
Accomplishments
Custom Champion (x1)
Retired
N/A
Biography
Early life
Ryan Abendroth was born in Richmond, Virginia, on December 27, 1986, as the son of Barnabas Abendroth and Juliana Abendroth. Although Richmond was the place of his birth, shortly afterwards, the Abendroth family moved to Rome, Italy. Barnabas had accepted a job offering in the country, a managerial position of a small company. The language barrier was nothing really something to get over, both parents were both fluent in the language despite being of German descent. Ryan, in turn, grew up speaking Italian. This left him with a slight, unnoticeable accent in his voice.
Throughout his academic career, he remained quite the scholar. His grades were excellent, he excelled in every subject. Not so much that Ryan was able to skip grades, but intelligent nonetheless. Athletically, Ryan also showed some depth. In High School, he became involved with various different sports. Notably, football (soccer) and wrestling. Football academies showed great interest in Abendroth, but despite all their bribes and persuasion, he decided to follow in the latter sport.
With his grades, and prowess in wrestling, Abendroth earned the chance to study abroad in the United States. He was accepted into the University of Minnesota, where WWE alumni and former UFC World Heavyweight Champion once attended, on a full wrestling scholarship. He was trained in the art of free-style wrestling during his four-year stint at the school. Wrestling in Division I of the NCAA, Ryan was able to become a two-time NCAA All-American. His overall record in the course of four years was 97-9.
Early Wrestling Career
After his graduation, there were offers everywhere for going into multiple things. Olympic-wrestling, mixed-martial-arts, and some offers from amateur football teams. However, all were declined. Ryan was looking for something larger, more grandeur. Something that would place him on the front stage of it all. There were very few jobs that he could take, and with no family in the states, he struggled after graduation to make ends meet while he looked for a promotion. He quotes, "The lowest part of my life would probably be thinking of robbing people on the streets to help myself. I was really losing my mind every once in a while." He took several short-stints in indie promotions as a jobber until, finally, one of his friends at the meat-packing plant led him to a promotion. "RCWF" was the name. He called them up, applied, and enter the Dungeon.
RCWF
Training Camp (August 28-October 16)
Every man needed something that they could work with. A
persona
, a mask that they could put on in front of the crowds. Something that would entertain, something that would get him noticed. He adopted the face of "History in the Making," a mask wearing, silver haired individual whom believed that his fate was locked and sealed. That everything would be ready for him, his for the taking. HITM embarked on a feud with Chris Crisis after responding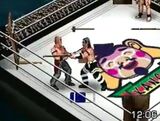 and criticizingly mocking Crisis of his faults. His debut match took place against him, and he ended up victorious. It was not soon after that Victor Creed entered the mix, a dark, brooding individual bent out for blood and pain. He took up the offering of Creed in a
Barbed-wire Deathmatch
. The result of the match left him needing hundreds of stitches around his body, but again, he ended victorious. The rivalry ended with Creed in one match following and the rivalry with Crisis ended as well one match following that match.
After his first major rivalry ended with success, Ryan headed into some roadbumps. He began losing several matches in swift succession, and the frustration began to mount. In a match with Omega, he found himself dropping the HITM gimmick and name in favor of using his own name and seeking out his own future. Along with Duke Dice, another wrestler Ryan had shared bad blood with, and Omega, Omega Point was formed. The movement gained momentum, and garnered several more followers. A notable wrestler, Davey Rogers (son of Jake Rogers), also joined the movement. The tag-team, despite being a collective of quite a few great trainees, was relatively unsuccessful. Omega ended the stable after only two matches together as a team.
Ryan Abendroth's final match in the Dungeon was a singles match against his former rival, Victor Creed. He ended up losing that match, despite winning their rivalry previously.
The Draft
The RCWF Draft took place sometime in mid-fall. Ryan Abendroth sat patiently in the arena while hearing the names go by. All the main-carders, champions and such, went by first. One-by-one they were picked, a nd still no Ryan. Everything in his mind thought that he was going to be in the last five or six, but a grand surprise occurred. Ryan Abendroth was drafted to the Demolition brand, by Big Bob, on the 18th pick in the RCWF Draft. His place in RCWF was finally cemented, his career only just begun.
Demolition
Ryan Abendroth went for several weeks without appearing on the shows. He went unbooked for weeks at a time. His first appearance on the show was in a dark match against five other competitors. Ryan performed surprisingly well, even landing his signature on former Dungeonite Buzz. He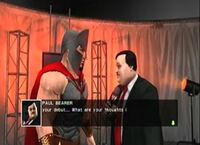 made it down to the final three before finally being eliminated by Max Height, who later went on to win the match. His next appearance was in mid-card match against The Hammer. Despite being booed in the Dungeon, the reception was warm. A rare amount of cheers rang out throughout the arena. In a smash of a one-sided match, Ryan Abendroth was the winner of the match. In the week after, Ryan Abendroth contacted Tad Peters in the hopes of a gimmick change. This was approved, and his role as "The Roman" began. His debut match as the Roman was against, ironically, his former rival Victor Creed. It was a generally one-sided match, with Abendroth hitting the "Flashback" several times over. In the end, after many reversals from Creed, the victory went to Abendroth.
Ryan's first PPV match was announced against Mike Metal, a regular of the RCWF roster. He was seen going to an oracle before the match began, with the oracle's prophecy being that he would lose. His loss bringing about an era of a losing streak in his career. Ignoring this warning, he continued forth. The match started back and forth, but ended up in a victory in Mike Metal's favor. Ryan Abendroth was taken down, finally, after four finishers and two signatures. Mike Metal was quoted after the match (OOC), "This kid might just make it in the RCWF." Not much later, Abendroth proved victorious over Buzz, who had previously been undefeated before the match had ensued.
Run at the Custom Title
After a few weeks staying out of the ring, Abendroth made a return in an Elimination Chamber match at Brutal Reunion 2011. Unfortunately, he was unlucky enough to end up as one of the first two in the match. He was the first competitor eliminated, after being hit with Pedro Sanchez's finisher.
Quickly advancing in his career, Ryan Abendroth made a show of himself after attacking "the Viking" Norns. A brutal assault, although not televisied live, was known throughout the lockerroom. Minutes after the attack, Abendroth went into Norn's locker room to talk of a challenge under the casus belli of being "disappointed." Norns was all too happy to accept, and in a strongly contested match, Abendroth came out on top. Days later, Norns returned the favor of the assault with an attack to Ryan Abendroth. Although there were many on-lookers, no one cared to help the unconscious man. Tied to a chair and unable to defend himself, the attacks went by undefended. Bloodied and bruised, he staggered his way outside and was confronted by a reporter. He gave two short statements before collapsing hours before his match. Revived and stitched up, he went on to defeat Norns for a second time in two consecutive weeks in a first blood match. It was also known as one of the most one-sided matches in his entire career.
His feud with Norns eventually escalated to a three-way showdown for the Custom Title at a 2-6-11 edition of Demolition. Abendroth was eliminated first in this match by Norns, who was later eliminated by Pedro to retain the title. This match ended the relatively short-lived feud between him and Norns, as Norns was selected to be moved into a different title picture.
With the Viking Warrior out of the race, Abendroth became the #1 contender for the title. With a few short stints against Cid Phoenix, CA White, and $oulija $lim, Abendroth and $lim got their chance at the title at Night of Immortals X. Abendroth was not considered one of the favorites of the match, despite having beaten Pedro Sanchez two weeks earlier. In the end, it was Abendroth who was declared the new champion (his first title). Pedro Sanchez was moved out of the Custom title picture, and Abendroth quickly engaged in a feud with new #1 contender, $oulija $lim.
Professional Hockey Career
On April 28, 2011, Abendroth worked out a contract with a professional hockey team, the Monsters, along with several other RCWF superstars/Shimmer athletes. Four games into the season, Abendroth scored his first goal. He continues to play on the second line at the Left Wing position.
Personal life
Ryan Abendroth was married to his college sweetheart, Sarah Allen on August, 21st 2009. He still keeps in contact with his both his parents back in Italy, both of whom are currently strongly supporting his professional wrestling career. Soon after he left for college, his mother gave birth to a daughter. She was named Emma Abendroth, and Ryan has yet to see her due to the fact that he has not returned to Italy since his departure.
Ryan Abendroth keeps a strong friendship with former stable member Gabriel Pierce (Omega). Although they have had little to no-contact in the ring since the Dungeon, they keep in contact with each other outside the ring.
Abendroth majored in history in college. More specifically, Roman history. He is an avid collector of any artifact that he can get his hands on legally. He holds a widespread knowledge of Roman history, culture, and life in general. This may have contributed to his choosing of "The Roman" as a gimmick.
In Wrestling
Signature moves

Historic Finish (German Suplex) - Dungeon Training-Camp
"Ouch!" (Boxing Hook)
Other Common Moves

Imperial Stomp (Repeated Stomp to Chest)
Warrior's Dance (Clothesline with dance taunt at the end)
Stables & Tag-teams

Omega Point (Duke Dice, Omega, Davey Rogers)
Championships and Accomplishments
Collegiate Wrestling

NCAA All-American (2 Times)
Community content is available under
CC-BY-SA
unless otherwise noted.