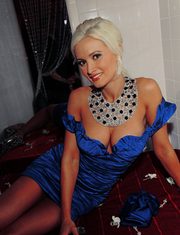 Madison Marie "Maddie" Evans (born November 15, 1989) is an American model and actress. Madison is widely known for posing for her nude spread in Playboy in 2009. She was the Cyber girl of the month in December 2008.
Early life
Madison was born and raised in Asotria, Oregon however later moved to Los Angeles when she was six years old with her mother following her parents' divorce. Madison's father was a Laywer while her mother was a Nurse. Madison was an only child while growing up and did fairly well in school.
Modelling career
2008-09: Early modeling work and Cyber girl of the month
While still in high school Madison posed for various local magazines and eventually got the attention of Playboy so they invited her as one of their Cyber girls of the week, which would lead to her posing for them again and being voted as the Cyber girl of the month in December 2008.
Madison would continue posing for Playboy on their official website as well as in their Cyber club.
2009–present: Nude spread and other modelling work
In January 2009 it was announced that Madison would pose nude in the April issue of Playboy magazine garnering her worldwide recognition. Evans has since continued to pose continually for Playboy's Cyber club section and is open to posing nude for Playboy magazine again in the future.
Acting career
2011–present: Various TV guest appearances
Beginning in 2011 Madison has guest starred on various Television series' including the Big Bang Theory, CSI: Miami and NCIS: Los Angeles. Madison is rumoured to be close to getting her own reality show approved. Something that would focus on her life and living in Los Angeles.
Personal life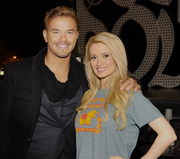 Evans is best friends with model and current WWE diva Airica Linn. Madison has been in a relationship with current WWE Superstar Lukas Jacobs since mid-August 2012. Evans underwent breast augmentation surgery just prior to her spread in Playboy in 2008. After the procedure, her bust measurements went from an A-cup to a D. She has one tattoo of a red Playboy Bunny logo tattooed on her lower back.
Evans just recently finished up her degree in Marine biology after studying at UCLA for three years. Madison is a bonafide animal rights activist and has two dogs — Butch and Simba; as well as a cat named Theo.
On September 23, 2012, it was speculated that Madison and Lukas were expecting their first child. The following day Madison revealed on Twitter that she was two months pregnant and due in March 2013. Madison gave birth to their daughter, Rose Madeline Jacobs, on March 5, 2013 in Orlando, Florida.
Community content is available under
CC-BY-SA
unless otherwise noted.