Frank Richards

Frank Richards in 2008.
Ring name(s)
Frank Richards
Richard Franklin
Billed height
6'2" (1.88 m)
Billed weight
242 lb (110 kg)
Born
June 1, 1954 (age 60)
Scottsdale, Arizona
Resides
Scottsdale, Arizona
Billed from
Scottsdale, Arizona
Trained by
Ernie Richards
Debut
1972
Retired
2007
Franklin "Frank" Howard Richards (born June 1, 1954) is a retired American professional wrestler currently signed with Global Wrestling Association where he is the manager of his sons Maxwell and Taylor Richards, a tag team known as The Natural Express. Richards has made appearances throughout numerous promotions around the world and has won many titles albeit winning a world championship. Since 2007, however, Richards has been semi-retired and been serving majority of his time as a trainer and being the owner of his wrestling school, the Richards Wrestling Academy, while authoring two autobiographies and serving as an on-screen talent for several promotions.
Wrestling career
Various promotions (1972–2004)
Richards began his wrestling career after being trained by his father Ernie Richards, who by then was a retired wrestler. Debuting as "The Great" Frank Richards, Richards amounted several top-notched victories that paved the way for bouts against Muhammad Gaddafi. This led to a bitter rivalry between the two wrestlers that was captivated by Gaddafi, whose villainous anti-American gimmick was opposed by Richards, him to become a clear fan favorite. Over the following years, Richards and Gaddafi wrestled each other numerous times throughout the world in various promotions until they finally had settled the feud in a retirement match. Richards had won the bout thus leading Gaddafi to his retirement.
During this time, Richards had begun a transition into an arrogant heel which his gimmick was that of an affluent jet-setting businessman. Richards would always appear in suits and being chauffeured in limousines outside of the arena while being draped in diamond-sequined robes when appearing for his matches. During promos, Richards always berated the fans in the audience stating remarks such as "I'm the man every guy wants to greet and every woman wants to see" while pompously stating that he made wrestling easy by being a natural, hence his nickname of being called "The Natural".
On an international scale, Richards further exposed his ruthless persona throughout areas in the country and all over the world. When wrestling in matches contested outside of the United States, Richards took an over-the-top pro-American stance that garnered negative reaction amongst the crowd while doing just the opposite during matches in America. One example includes Richards yelling into a microphone stating "I could beat Uncle Sam and Lady Liberty with one arm tied behind my back and my eyes blindfolded" during a show in Durham, North Carolina.
Comeback and retirement (2007–2011)
After 2004, Richards had taken a long sabbatical in which most fans had assumed was a de facto retirement. In actuality, Richards placed more focus on his wrestling school, Richards Wrestling Academy, in order to develop incoming students aspiring to become wrestlers. However in late 2006, Richards had began making appearances in Total Non-stop Action Wrestling under the given nickname "The Living Legend". Richards then wrestled in several matches until officially stating his retirement during a promo. This officially led to Richards taking time into becoming a full-time trainer and an on-screen manager. By this time, Richards had already trained the likes of Benjamin Jameson and Terence Jackson. In the summer of 2007, Richards had appeared in All Magnitude X Wrestling as the manager of the tag team called Triple Threat, a duo composed of former trainee Jameson and William Clark. Richards would not be seen on screen until 2011, when he was the color commentator Empire Wrestling during the company's telecast. In reality, Richards was one of the two financial backers of the promotion until its demise just weeks afterward.
Global Wrestling Association (2012–present)
Richards signed with Global Wrestling Association as a manager to his actual sons, Maxwell and Taylor Richards, who were also known as the collective duo called The Natural Express. Richards accompanied his sons to their matches and paved the way for them to become the inaugural titleholders of the GWA Tag Team Championship after winning the belts at Full Throttle in October. Along with his sons, Richards turned into a villain during the ensuing months, accompanying GWA World Champion, Ace Montgomery, to matches and becoming an ever-present figure alongside Montgomery. After Montgomery lost the GWA World Championship at Inception, Richards and his sons officially forged a group with Montgomery by calling themselves The Enterprise. All three members of the Richards family eventually assisted Montgomery during his title defenses during the next six months before Montgomery lost the GWA World Championship at Supremacy against Slash, who fended off the patriarch of the Richards family during the title bout. After his sons had been banished by Montgomery, Montgomery chose to leave Richards and therefore disbanding the group while leaving Richards back to managing his sons.
Personal life
Richards was born in Scottsdale, Arizona as the third child of Ernie and Connie Richards (née Anderson). Frank attended college at Northern Arizona University and earned a bachelors degree in communications while attempting to start a wrestling career. Richards has been married to Margret Matthews since 1981 and have four children: Monica, Maxwell, Taylor, and Bethany.
Despite training a bevy of aspiring wrestlers at the Richards Wrestling Academy, Richards develops and maintains a close relationship with all of his trainees whether they graduate or not. His most notable apprentice is Benjamin Jameson, who views Richards as a mentor and father figure. Jameson is also the head trainer at RWA while Richards continues to run the business aspect of the school. Other notable graduates under the direct guidance from Richards include Brandon Harper and Terence Jackson. Richards also aided his sons in becoming wrestlers, although his responsibility served more as a consultant while Jameson had trained both Maxwell and Taylor.
In wrestling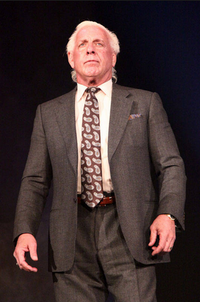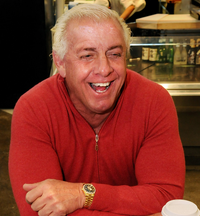 Nicknames

"The Great"
"The Living Legend"
"The Natural"
External links
List of GWA personnel
Male wrestlers

Ace Montgomery • Austin Young • Blake Ambrose • Chase Andrews • Clyde Ray • Colby Jackson • Darren Hughes •

Demon

• Derek Kang • Eli Jordan • Frasier Reed • J.J. Curtis • Keith Parker • Maxwell Richards • Mohammed Basara • Monterrey Jackson • NBT • Nick Wolfe • Ramon Rodriguez • Samir Wahad Abdul Gaddafi • Sebastian Cross •

Slash

• Taylor Richards • Trevor Adams • Victor Sinclair • Zachary Stone • Zyther

Female wrestlers

Ariana • Bethany • Bianca Rhodes • Cassie B • Elena Martinez •

Jeanette Ayers

• June • Maya Carter • Pepper Jackson • Rayven • Stella Wonder

Other talent

Benjamin Jameson

• Dennis Payne • Frank Richards • Harold Epstein • Jack Stiles • Jerry Olsen • Lori Sanders • Ms. Gioletti • Philip Malone • Samuel Root

Stables/tag teams

American Werewolves • The Dudebusters • The Foundation • Steel City Sinners • Team Showtime
This article or other material has been nominated for deletion by an editor. This means that it does not comply with the policy of the eWrestling Encyclopedia. The article will be deleted if an administrator decides that the material is not appropriate for inclusion in the Wiki.

Do not remove this notice. If this article is offensive content which needs removing quickly, feel free to contact us externally.
Wolfpac/Triple Threat
Wolfpac (2006)
Triple Threat (2006)

Sting • Triple X • T-Jay • Stormy

Triple Threat (2007)
Triple Threat (2008)

Benjamin Jameson • Sting • Stormy

Triple Threat (2011)

Benjamin Jameson • Sting
Community content is available under
CC-BY-SA
unless otherwise noted.