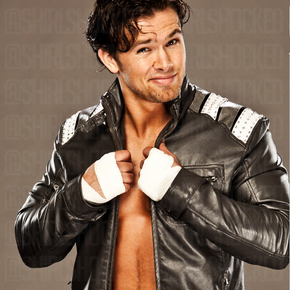 Tyler Kluttz[3] (born May 4, 1984) is an American professional wrestler and referee who is currently signed to WWE E-Fed under the ring name Brad Maddox.
Maddox was formerly a part of Florida Championship Wrestling (FCW), WWE's developmental territory. Alongside Briley Pierce and Rick Victor, he held the Florida Tag Team Championship twice,[4] while also holding the FCW 15 Championship as the final champion. He is a former OVW Heavyweight Champion and OVW Television Champion.[2]
Early life
Kluttz attended Fort Mill High School. where he played for the basketball team. He then attended the College of Charleston, from where he graduated in 2006. Kluttz's paternal grandfather is Greek. Although it remains unclear as of yet, rumours suggest Tyler has not spoke to his father since a young age.
WWE-fed Debut
Brad made his television debut for the WWE on their smackdown brand at the beginning of 2013. He appeared in the opening segment by hitting on former "Dirty Suicide" Minka Murder. Although on his debut he managed to piss of everyone in the Battle Royal by cutting a promo on them before the match.
The E-Factor
The E-Factor was a tag team who originally consisted of Brad Maddox and Heath Slater. The duo formed the tag team at a house show in the United Kingdom. Due to their chemistry together, they were put together as a real tag team on Television. The first night as an tag team on TV they were defeated by Jimmy Jacobs and Seth Rollins. The pair stayed as a heel tag team until they took on members of the Allince and slowly they became one of the most popular tag teams on smackdown. On the 15th of March episode the E-Factor picked up their very first win as a duo by defeating the team of Jimmy Jacobs and Seth Rollins.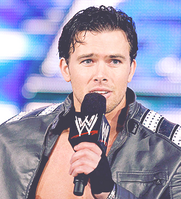 Not only was that their first victory but it also led them to advance in the WHC goldrush tournament. The next week however, Brad got defeated by some punk (Briley Pierce) and he was eliminated from the GoldRush Tournament. On the March 29th edition of Smackdown Maddox was able to defeat the current world heavyweight champion in a one on one match. His biggest victory to date. 
After their wrestlemania defeats, Maddox had began to vent his frustrations at both Minka and Slater. 
Community content is available under
CC-BY-SA
unless otherwise noted.